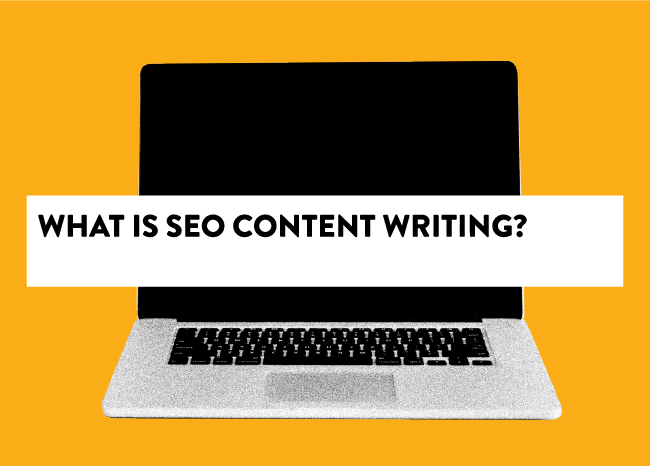 SEO content writing is the creation of content specifically for search engine optimization goals. The ultimate goal of SEO content is to drive organic search traffic.
There are different ways that content can achieve this goal, and they are equally important to your overall strategy. Content generally fits into two categories: keyword-focused and linkable content.
Keyword-focused content: content designed to target user search behavior for a specific query. Commonly searched terms are called "keywords" and their use can help a page stand out and attract organic traffic.
Linkable content: content designed to earn links from other websites. Links serve as a signal of trust, authority, and relevance to people and search engines; creating linkable content helps earn links and achieve SEO goals.
There is room for overlap between these approaches. Sometimes keyword-focused content will be linkable purely by virtue of its subject matter, or a piece of linkable content will naturally target keywords. However, it is generally more effective to focus on one primary goal for each piece of content.
While it's important to have a robust content profile, it's far more important to focus on quality than quantity. To develop quality content, it must be relevant to your audience, engaging, and helpful. When mapping out your content strategy, think about the searcher intent each piece of content will satisfy.
For example, you sell tires, and your site lacks a guide for checking tire pressure or tread depth. The absence of such valuable content represents a clear gap that can be filled to enhance the user experience and provide helpful information to your audience.
Creating a guide like that would present visitors with a valuable, informative resource, and the content would likely provide numerous opportunities for targeting strategic keywords. This provides focus and direction that should help to ensure all your content is part of a larger content marketing strategy.
Best Practices for SEO Content Writing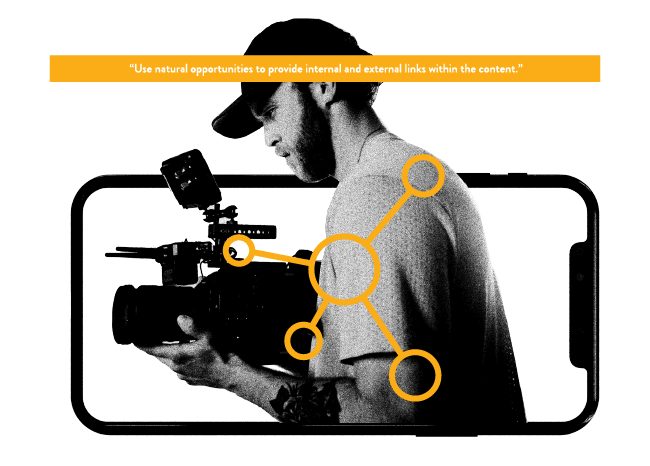 Creating SEO-friendly content is a balance between ensuring that search engines can understand your content and ensuring that it is valuable and engaging for readers.
While our goal is to rank for specific keywords, it's the people searching for those terms that we want to read and value our content.
Understand your audience: When you're writing content, consider who the intended audience is and what they are searching for. This helps drive keyword research, as well as focus the content to the audience's needs.
Provide readable and clear content: Your content should be clear and organized. Use logical headers and subheaders to clearly communicate the different subjects covered within the content. This makes it easy for readers to skim and provides a clear outline of the information, which is useful for search engine crawlers when indexing the page.
Include internal and external links: Use natural opportunities to provide internal and external links within the content. External links demonstrate the accuracy of your information by linking to an expert source. Internal links guide visitors around your site in a natural, unobtrusive way. Make sure the anchor text provides a concise explanation of where the link will lead.
Make content mobile-friendly: With the number of people browsing the internet on mobile devices increasing, optimizing content for mobile browsers is increasingly important.
While SEO should naturally be a top consideration for the content you create and host, it shouldn't come at the expense of the reader's experience.
Further Tips for SEO Content Writing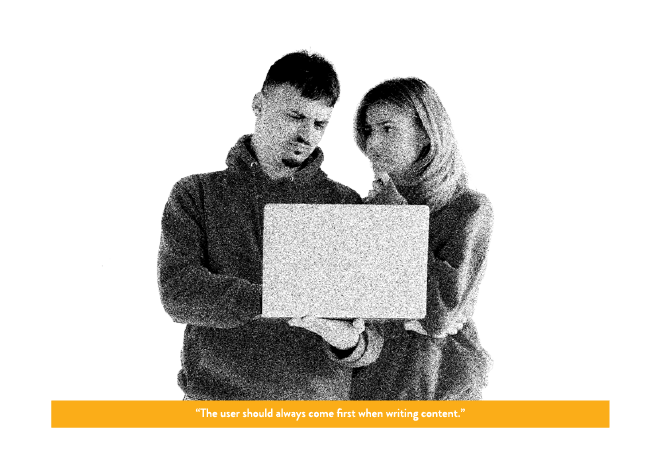 The user should always come first when writing content, but that doesn't mean you should disregard key components of SEO. It's possible to satisfy both users and search engines with proper care.
Emphasize content quality over quantity: It's better to have fewer, more high-quality pieces of content than many low-quality ones. Take the time to create valuable, well-researched content that provides value to your audience.
Consider snippets and schema markup: Including schema markup helps to provide search engines with more detailed information about your site's content, which allows them to respond more effectively to user search queries.
Incorporate long-tail keywords: A long-tail keyword is a longer, more specific phrase related to your head keywords. These terms often have less search, but may have less competition, and could target visitors closer to conversion.
The best content is informative, natural, well-organized, and serves a clear purpose. These aspects are equally important to human readers and search engines' ranking algorithms.
Common Mistakes for SEO Content Writing
Content for SEO is crucial in enhancing online visibility and improving a brand's reach. Many writers — especially those new to SEO — tend to make some common errors that may adversely affect their efforts.
Keyword stuffing: Some writers assume that overusing keywords in content will help to improve their site's ranking in Google. This is referred to as "keyword stuffing" and makes a page appear spammy, which can negatively impact the site's SEO performance.
Ignoring user intent: When targeting keywords, it's important to analyze the user intent behind a search query. If your content doesn't satisfy a visitor's needs, it could lead to an increase in bounce rates and decreased search engine rankings.
Skipping meta descriptions, title tags, and image alt text: These elements of metadata make a page's contents clear to search engines. They also play a role in whether users click a link from a search engine results page (SERP).
Failing to analyze performance: Effective SEO requires constant monitoring and adjustment. Analytics can measure the performance of your content and inform strategy.
Remember that SEO is a long-term strategy that requires continuous optimization and learning. To remain effective, stay up to date with SEO best practices and changes in search engine algorithms.
How Does Written Content Function Within a Larger SEO Strategy?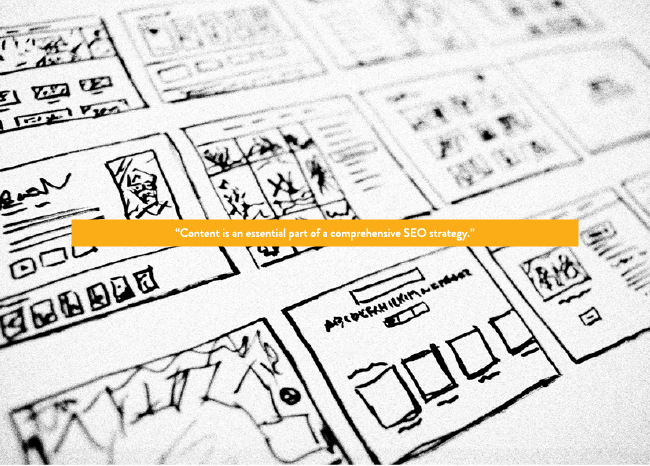 Content is an essential part of a comprehensive SEO strategy, and serves several functions, especially for long-term success.
Attracting organic traffic: High-quality, SEO-focused content can help your website generate traffic by ranking higher in SERPs.
Generating backlinks: Quality content is more likely to earn backlinks from other reputable sites, which is a key factor in how search engines rank your site's value and relevance and helps establish your brand reputation.
Engaging and retaining users: Well-written content can engage visitors, and encourage them to stay on your site longer. It also increases the likelihood that your content will get shared.
Conversion optimization: Ultimately, SEO-driven content marketing aims to turn visitors into customers. By creating content that aligns with user search intent at various stages of the marketing funnel, you can increase your chances of helping generate conversions.
Regularly creating and updating content can lead to sustained organic traffic, improved brand reputation, and increased conversions over time.
Revising Content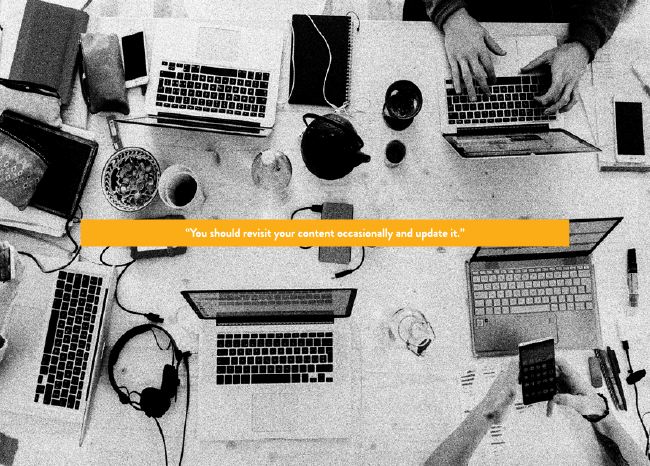 Even if a page performs very well, there is no guarantee it will continue to do so. Search engine algorithms often change, favoring different content. You should revisit your content occasionally and update it to adhere to current content standards and preserve E-A-T signals. In fact, Google's search algorithm has recently updated its E-A-T criteria to include an additional E for "experience," which highlights the importance of staying current with updates and trends.
Check for outdated information: Check to make sure all the information in your content is up-to-date and accurate. Inaccurate information can harm your credibility and your page's user experience.
Update keywords: Review your targeted keywords and look for opportunities to improve your keyword profile based on current search trends.
Review internal and external links: Check all links in your content and ensure they are still relevant and working. Replace outdated links with more current ones, and replace or remove broken links.
Optimize images: If your content contains images, make sure to take into account file size and its effect on page loading speed, as well as descriptive alt text with relevant keywords.
Monitoring your site's performance can help you recognize when a page may need re-optimization.
Style Guides and Other Resources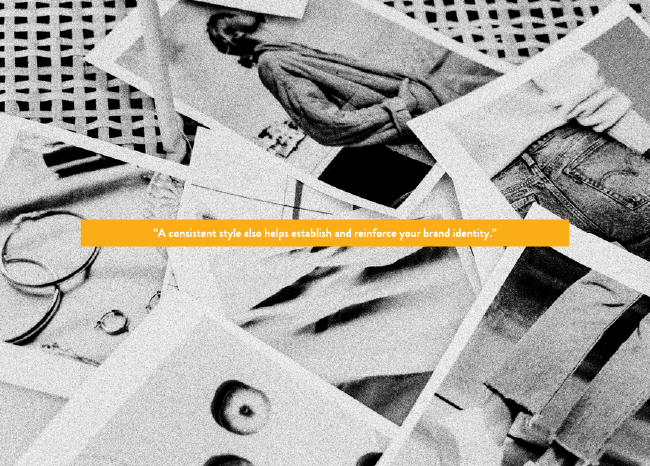 Style guides provide consistency and clarity that enhances readability and user experience, which are crucial to SEO. A consistent style also helps establish and reinforce your brand identity. Style guides set clear standards for acceptable content, which can save time in the editing process.
Some examples of common style guides and other useful writing resources include:
The Associated Press (AP) Stylebook: Widely used in journalism, this style guide provides guidelines for grammar and punctuation.
The Chicago Manual of Style: This comprehensive style guide is used in many types of writing. It provides guidelines for grammar, punctuation, style, and more.
Grammarly: This digital writing tool checks for grammar and spelling errors, along with providing tone and style suggestions.
Many style guides also include guidelines for writing inclusive content that is accessible. This is important for SEO as search engines favor content that provides a good user experience for all visitors.