Hello Linkarati readers! It's Tuesday, and you know what that means. It's time for another installment of Tutorial Tuesday, our weekly series that highlights an important SEO tool or process with a step-by-step tutorial.

This week we'll be covering the MozBar, which is one of my personal favorite tools. Moz is a prominent name within the SEO industry, and they offer a wide-ranging suite of helpful tools. The MozBar is one of Moz's most popular and useful tools. In this tutorial we will walk through the simple process of using the MozBar to quickly analyze link prospects. This process includes the following steps:
Download the MozBar
Utilize MozBar Data within the SERPs
Use MozBar to Drill Down into Individual Pages
Let's go through each of these necessary steps.
Step One: Download the MozBar
The MozBar is one of the easiest to use and most convenient tools offered by Moz, and you can even download a trial version for free.
The MozBar is an extension that can be used with Google Chrome or Mozilla Firefox. You can download the free version here, which provides a solid foundation of basic information.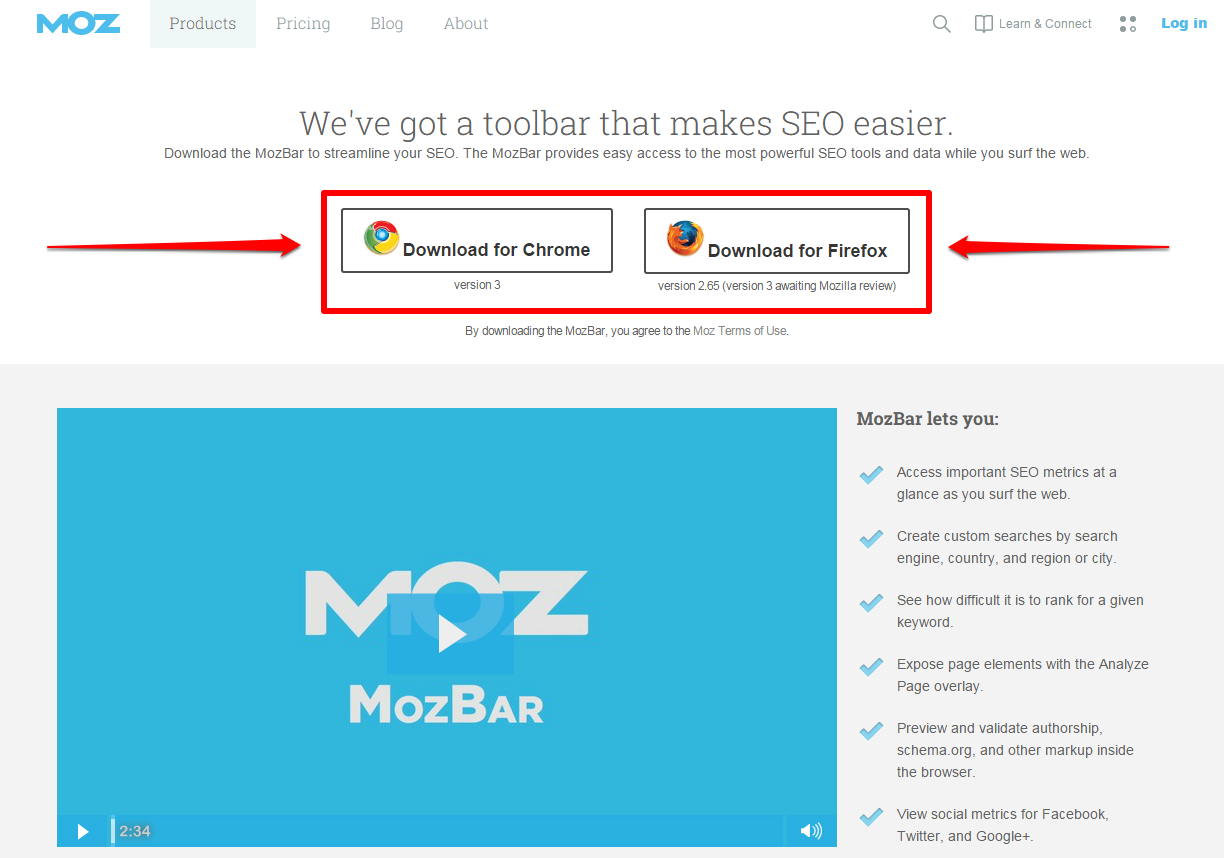 I will be highlighting the free version of MozBar in this tutorial, but if you want more detailed analysis you will need to purchase a Moz Pro subscription.
Also on this page you can quickly scan the MozBar features: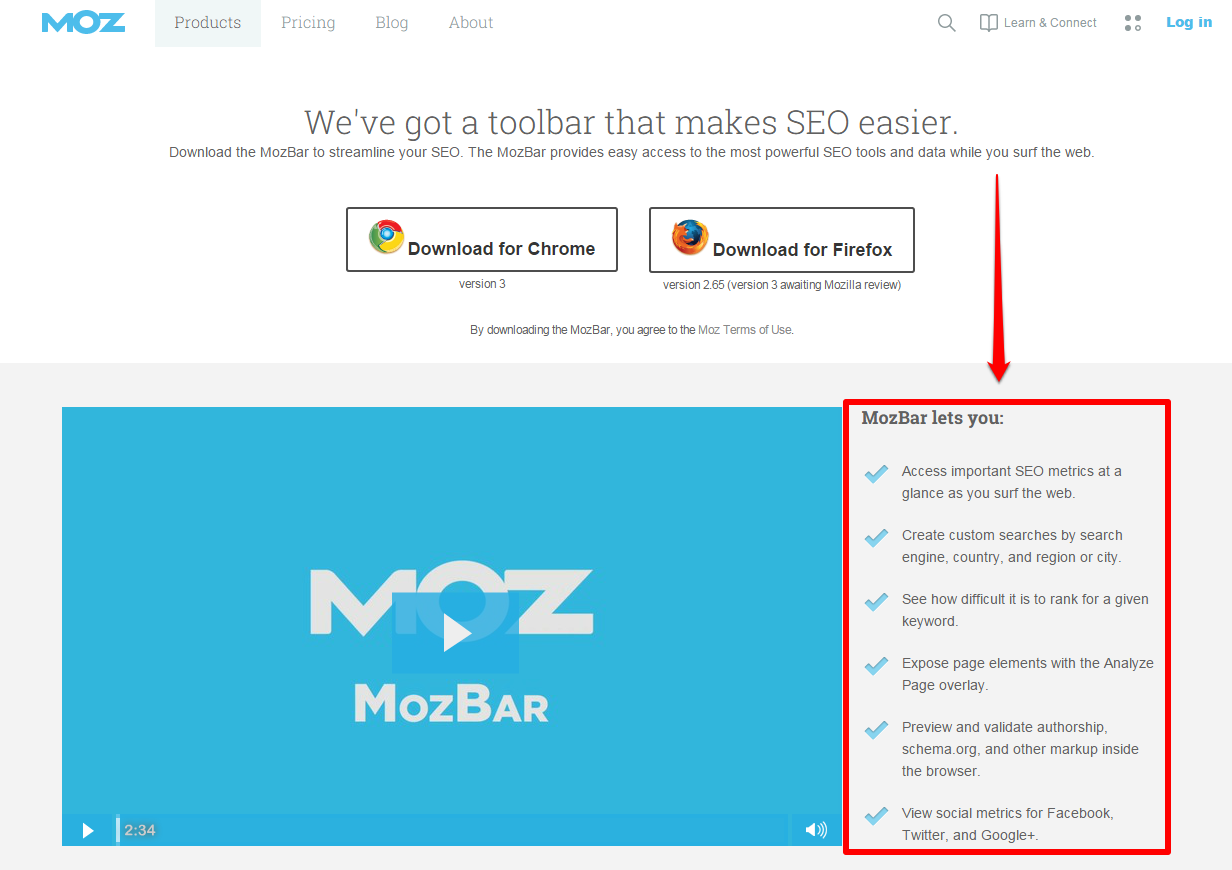 Or watch a short video that explains how MozBar works: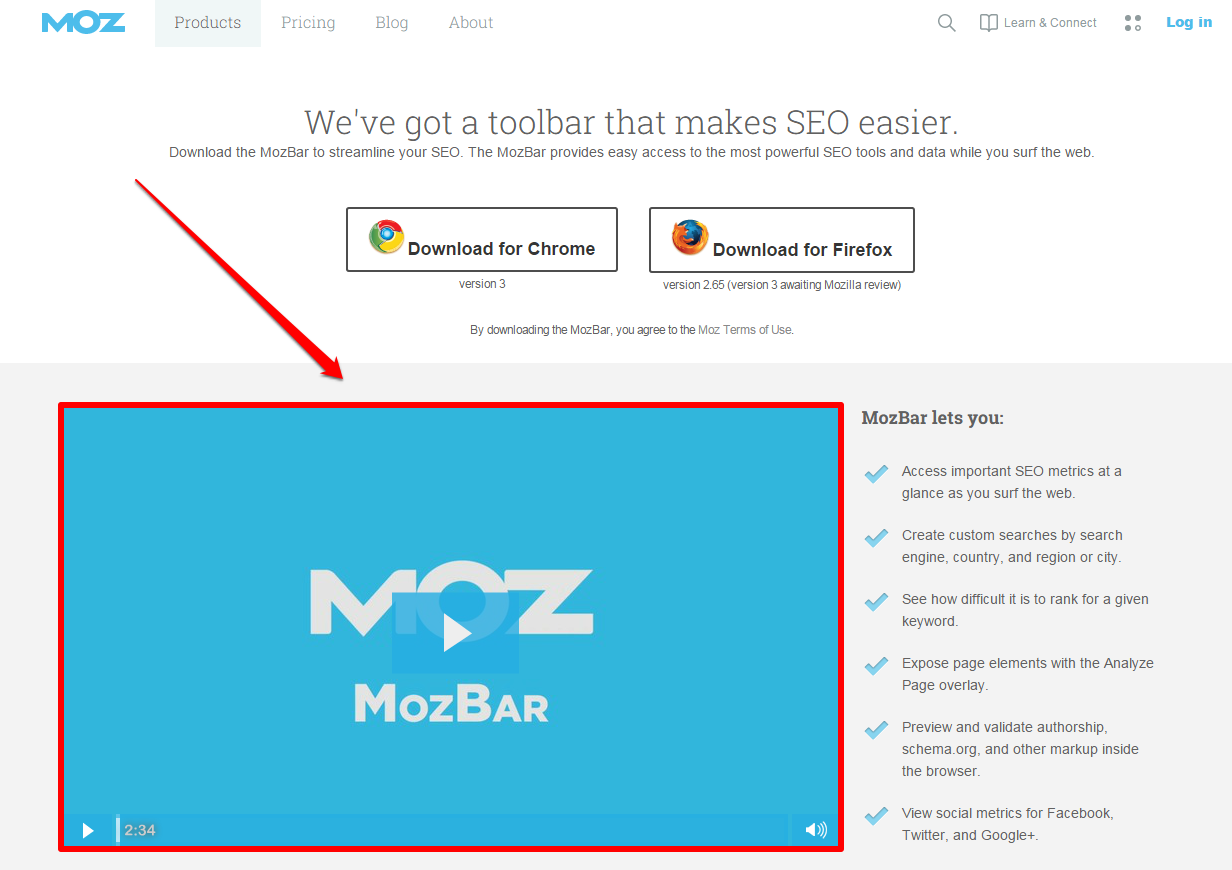 This video will help you understand the basics of MozBar, but for this tutorial we're going to dive into how you can use it to quickly assess potential link prospects. Download the appropriate version of MozBar for you (I will be using the Chrome extension throughout this post) and you'll be ready to move on to step two.
Step Two: Utilize MozBar Data within the SERPs
Now that you've downloaded the MozBar extension, you can begin using it directly within the search results.
As mentioned before I will be using the Chrome extension, which will show up next to your other extensions in the top-right section of your browser:

As you can see, when MozBar is not active it will show as the "M" icon. You can easily activate MozBar by clicking on the extension, which will initiate the MozBar drop down menu:

The drop down menu offers some nice metrics which we will get into later, but for now we will focus on how the MozBar can be used within Google's SERPs.
After navigating over to Google I can search for a query with the MozBar still active and start to analyze potential link targets from directly in the results. For example, let's say I was a company that produced cat food. Here is what it looks like when I search for "best cat food":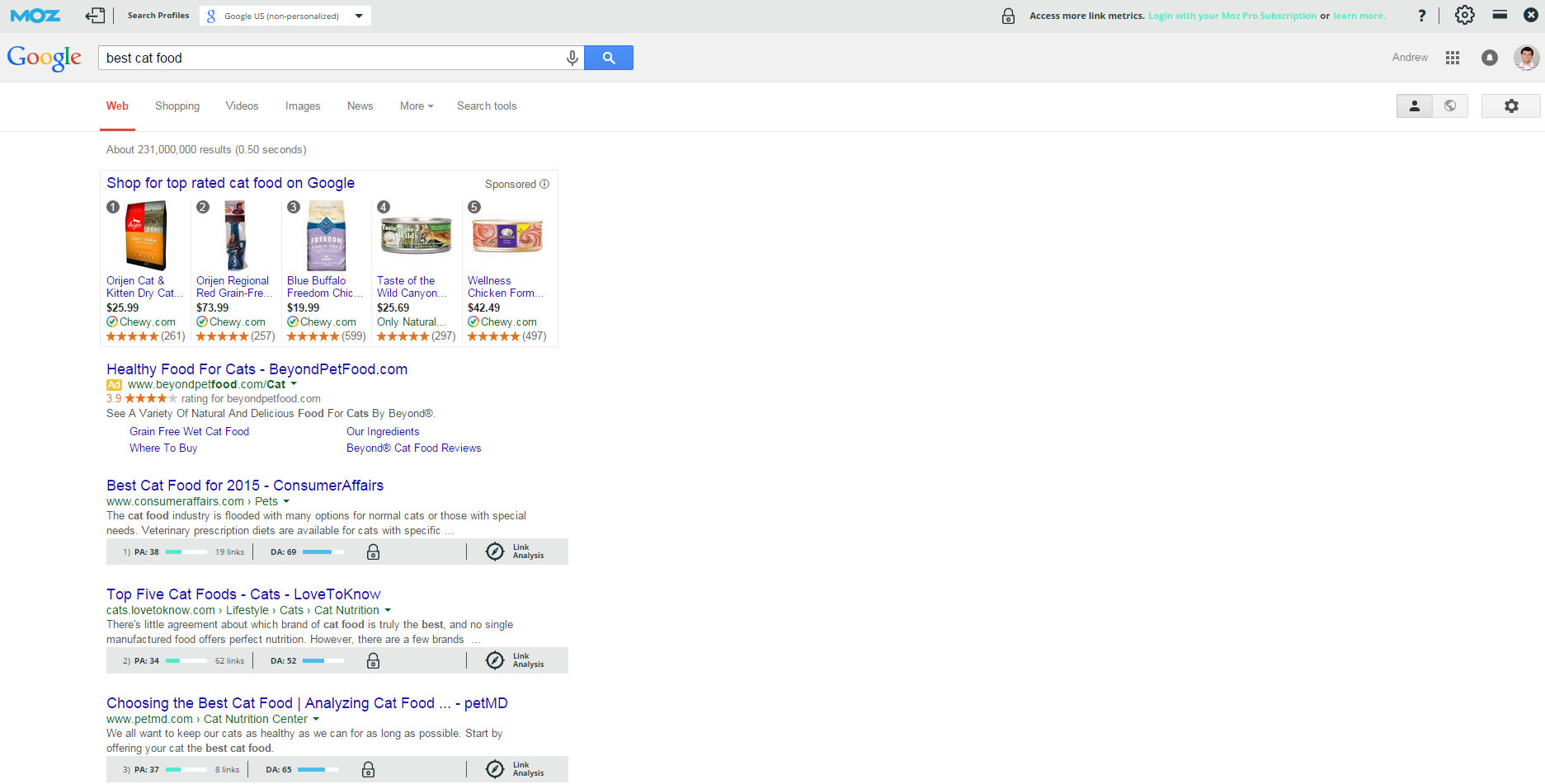 Looking at the results, I can see that the MozBar give me some surface-level metrics including Domain Authority (DA) and Page Authority (PA).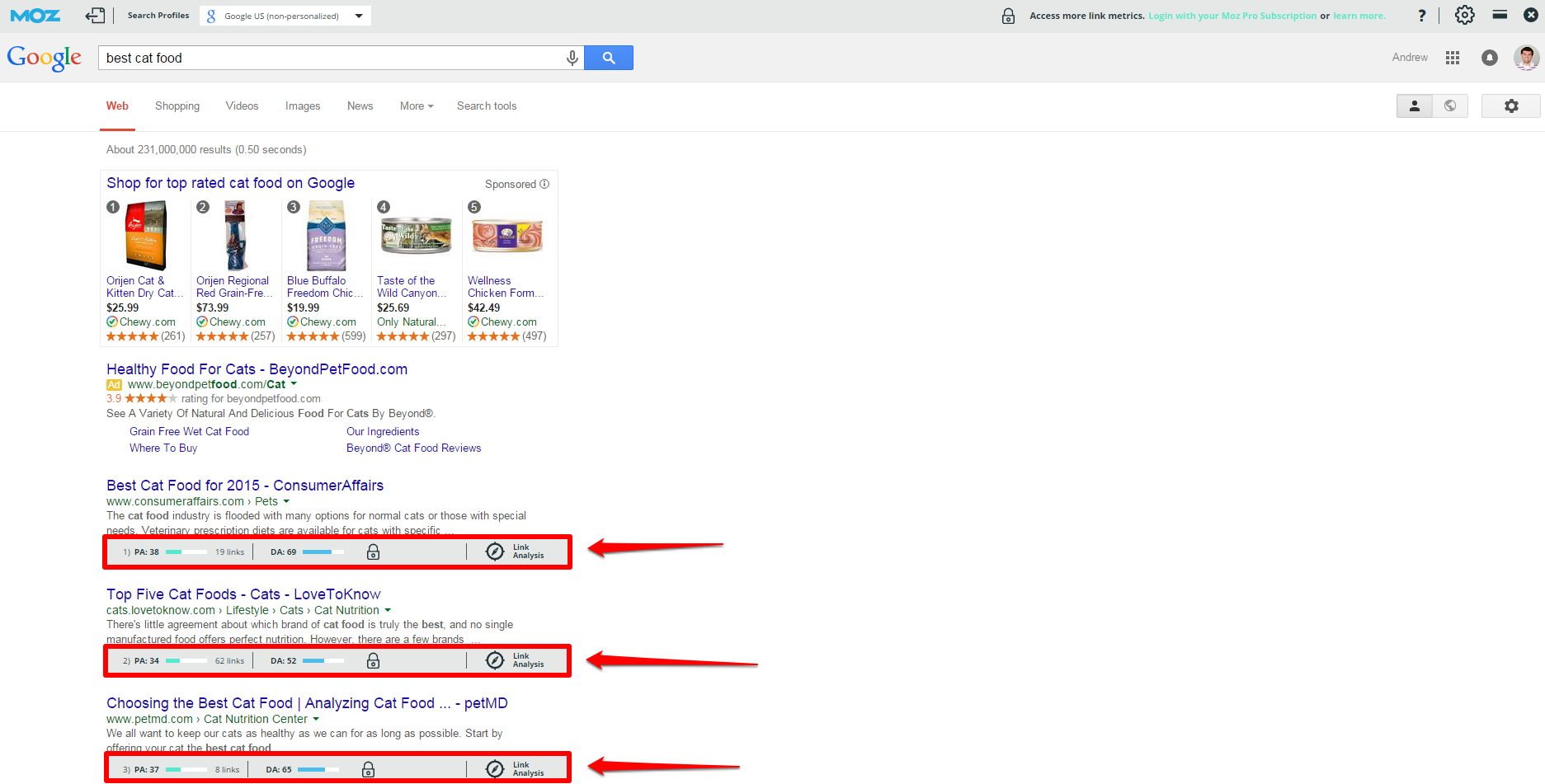 These metrics give a quick idea of the general authority associated with these sites. This data can help you quickly vet sites that have little to no authority as they will not offer as much SEO value for your links. I would caution against using strictly DA/PA to judge a site, however. A newer site will have low DA/PA, but could still be a legitimate link prospect.
The DA/PA metrics provided in the SERPs can offer some high-level analysis as you sift through the search results for link prospects. But once you come across a worthwhile prospect, it's worth digging deeper.
Step Three: Use MozBar to Drill Down into Individual Pages
After you've found what you believe to be a promising link prospect, it's time to use the MozBar to dig a little deeper.
Going back to the cat food example, here is one of the sites that showed up for the query "best cat food" – a prime link target.
Looking at the metrics provided by MozBar I can see the site has decent DA and PA, and low spam score: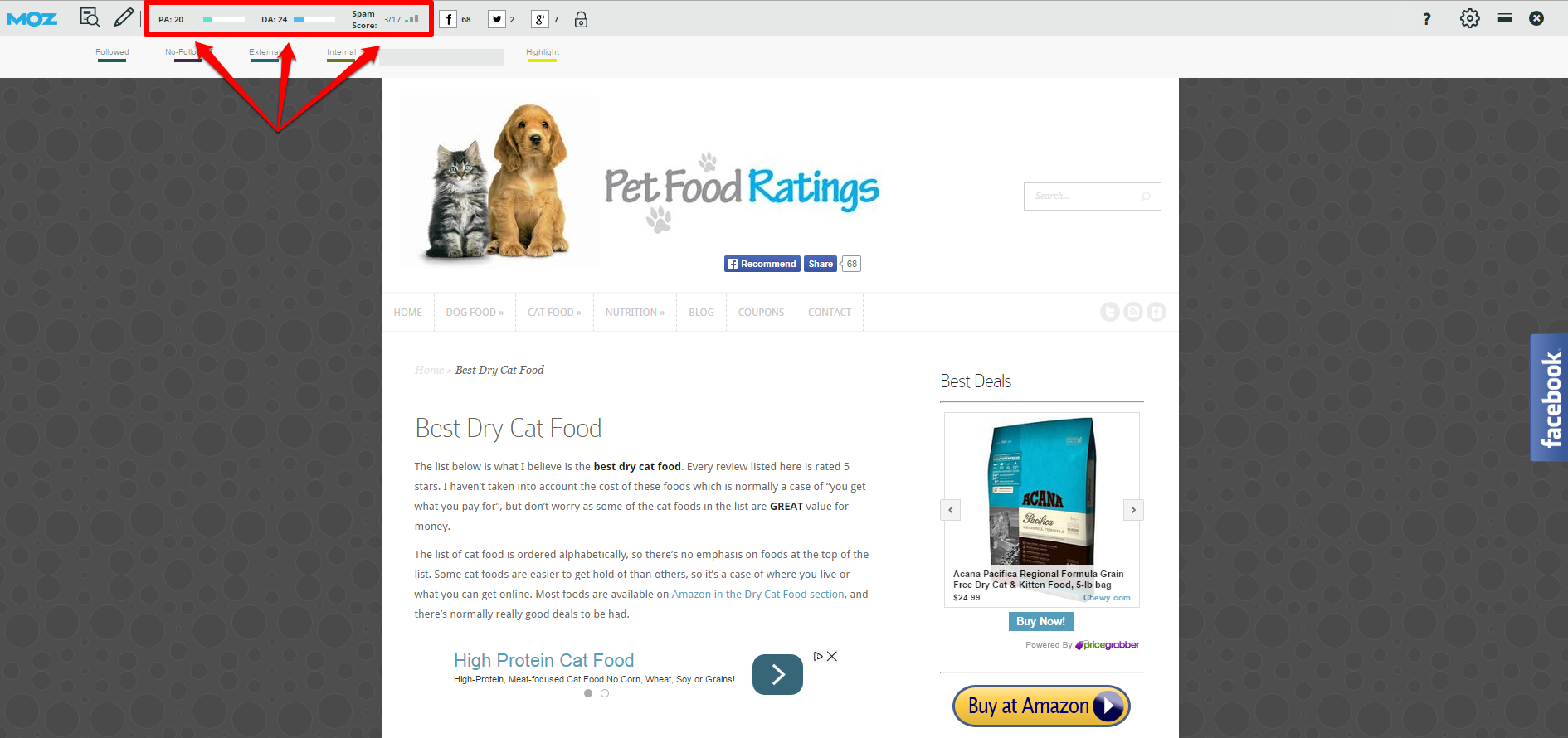 So far, so good. But we can use MozBar to look a little closer at the linking policies of the site. Scrolling down we see a list of links: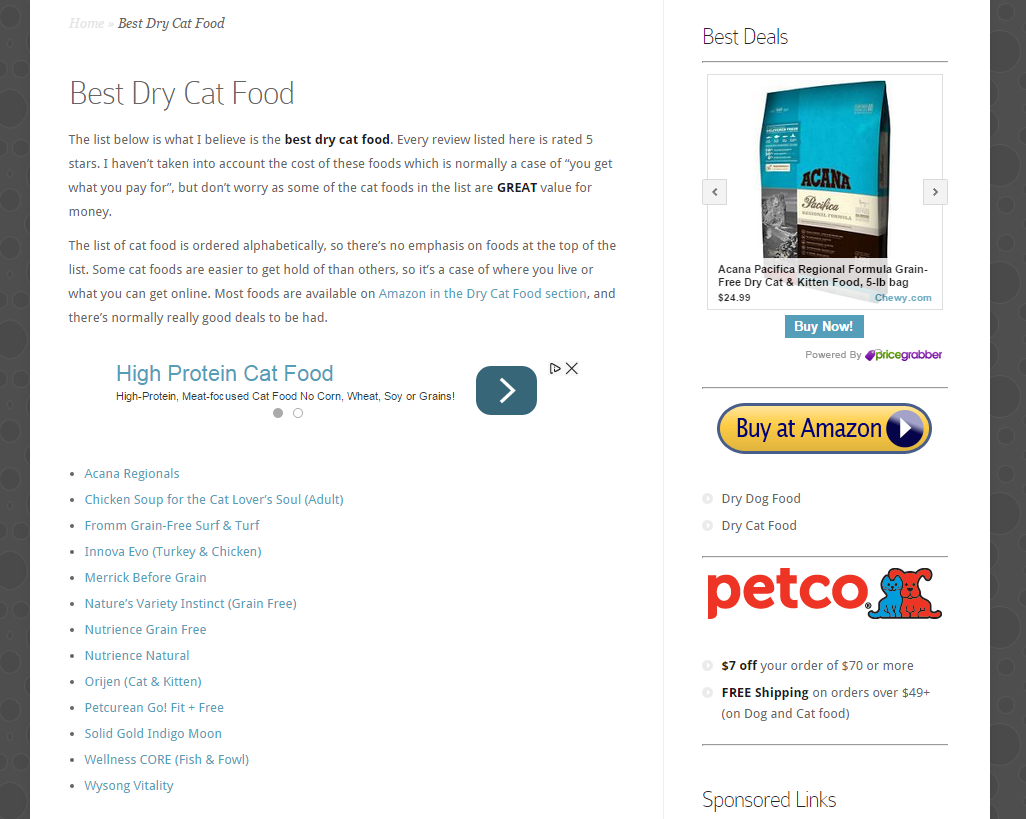 On the surface this looks like a promising spot for a link to our cat food company's site. However, using MozBar we can quickly discover that these are all internal links.
To do so, we click on the pencil icon labeled "Highlight Links":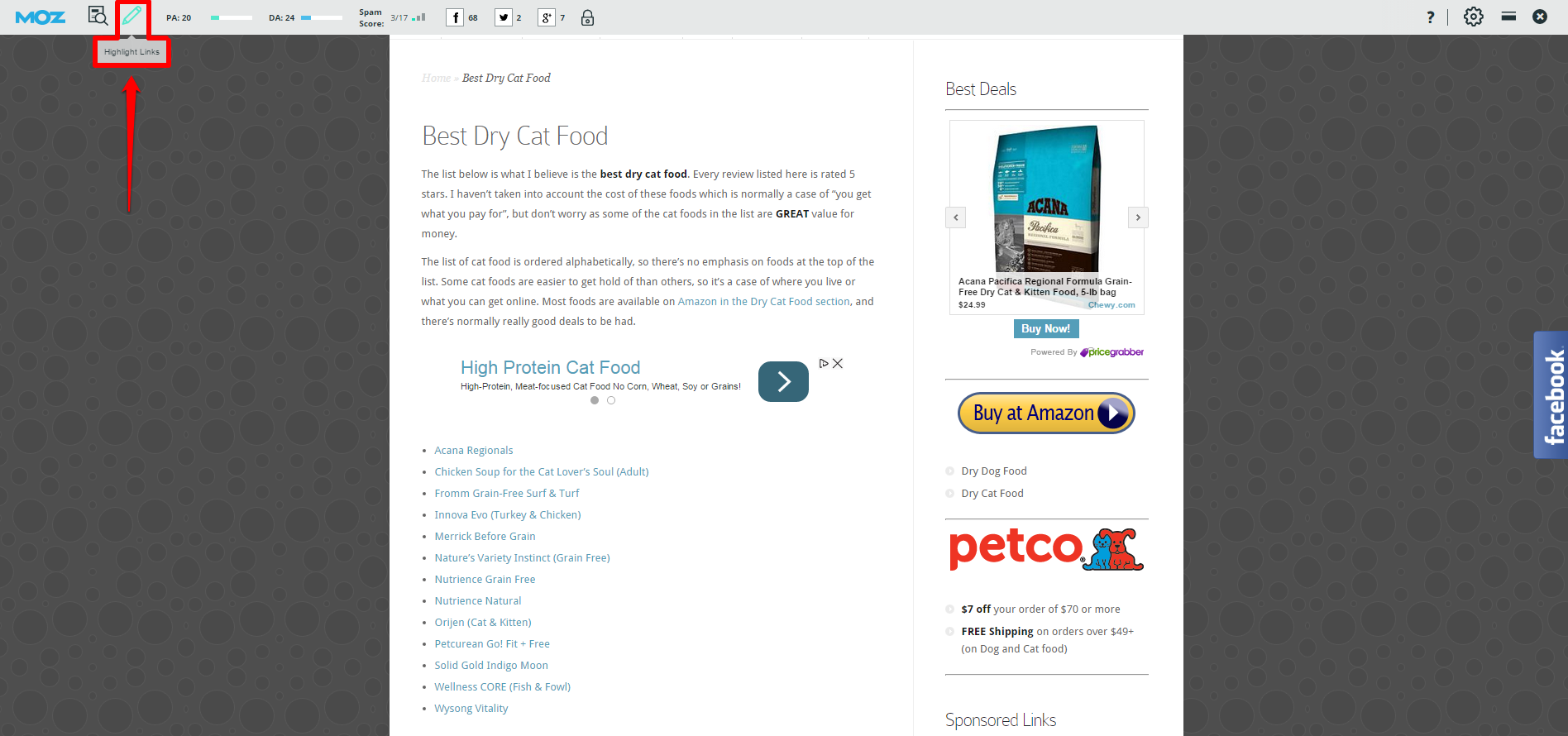 Clicking on this icon will drop down some additional options: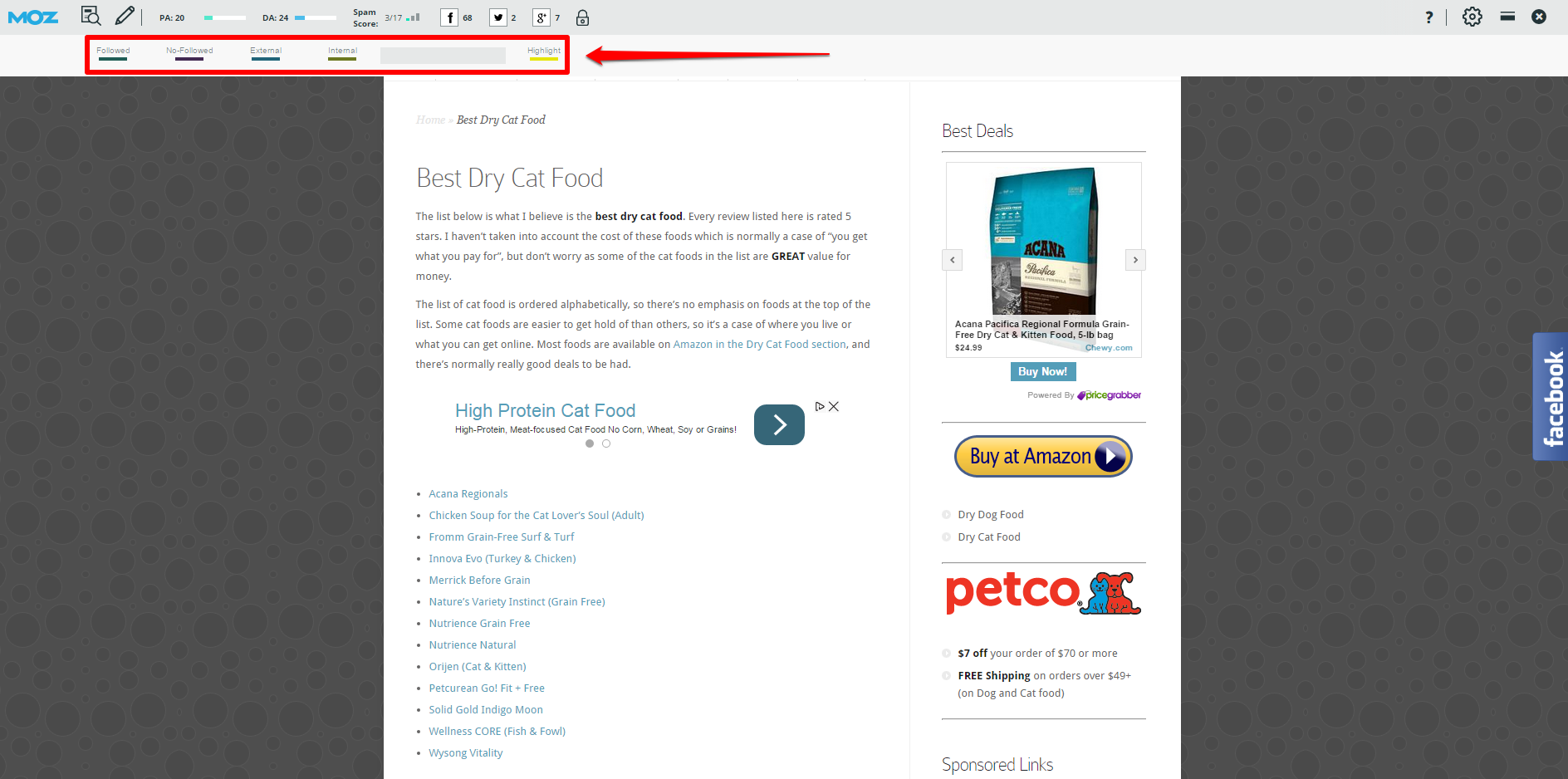 There are four different types of links you can highlight, including:
Followed
No-Followed
External
Internal
If we choose to highlight "Internal", we can see that the links listed here are all internal links.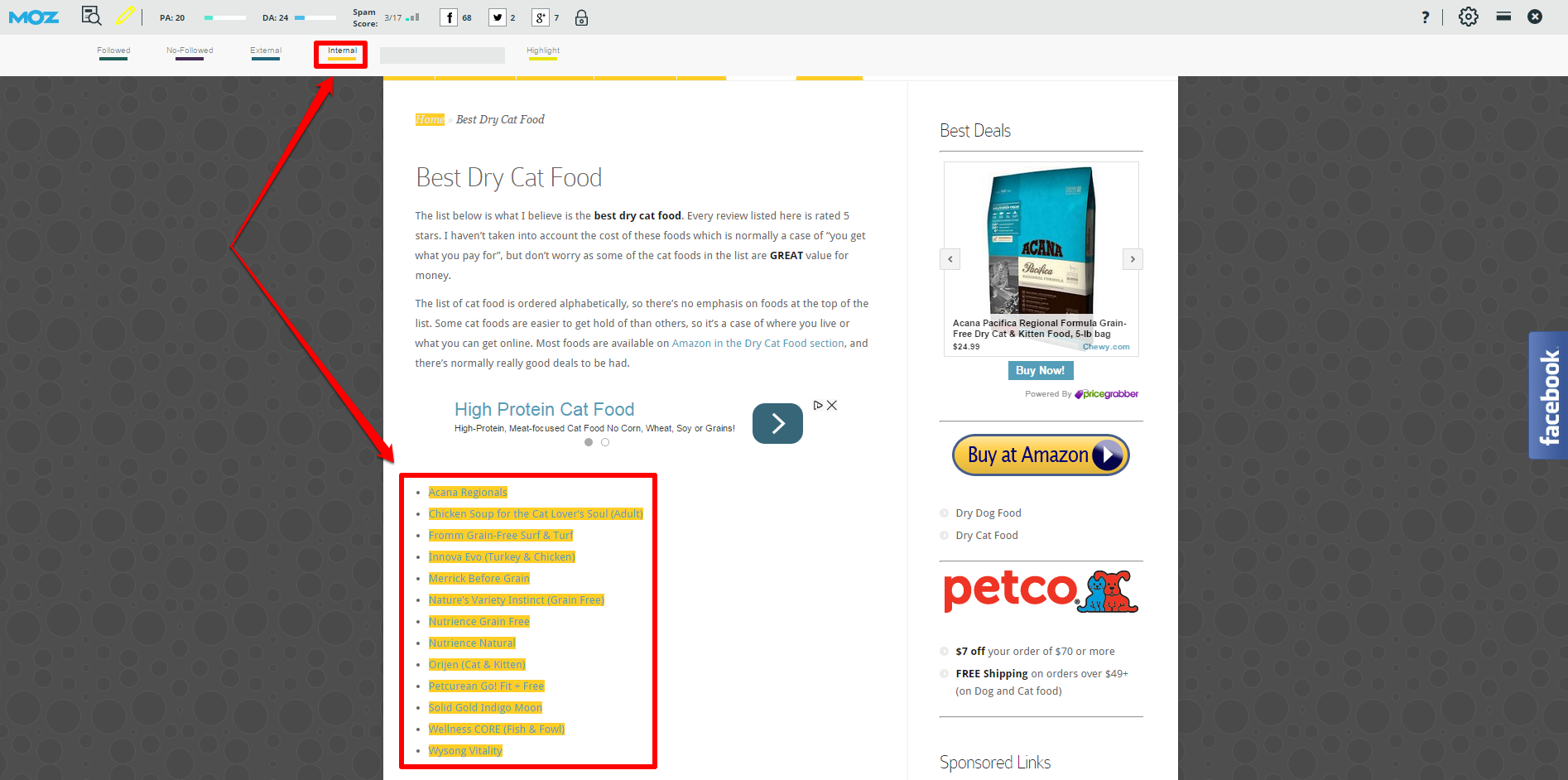 Since these links are all internal, this is not the appropriate place for a link to our cat food site.
However, we can dig deeper into the site by following one of these internal links. Here is the page we arrive at after clicking the first link "Acana Regionals":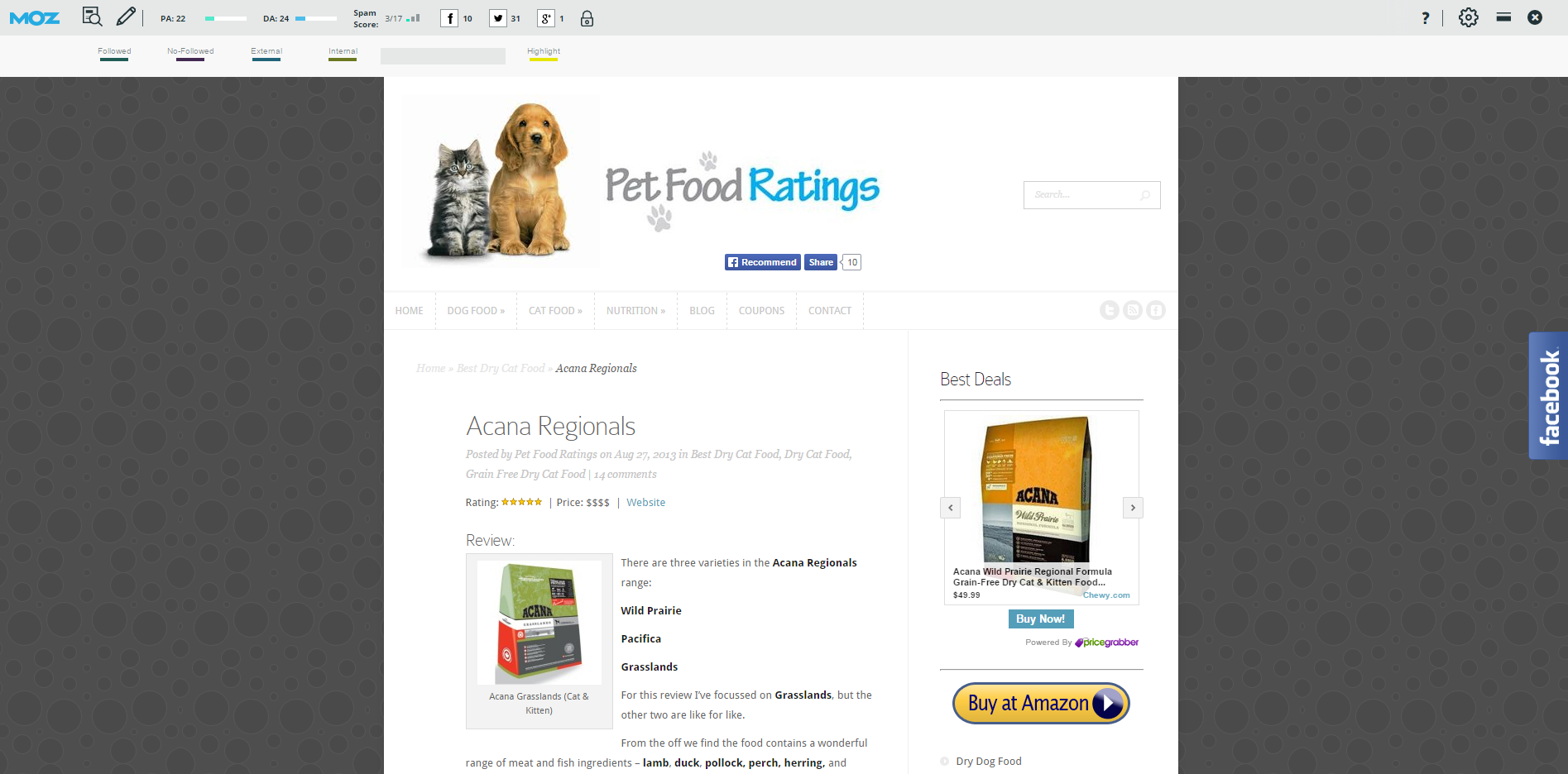 Glancing at the page we can quickly notice there is a link labeled "Website" that points to Acana's site.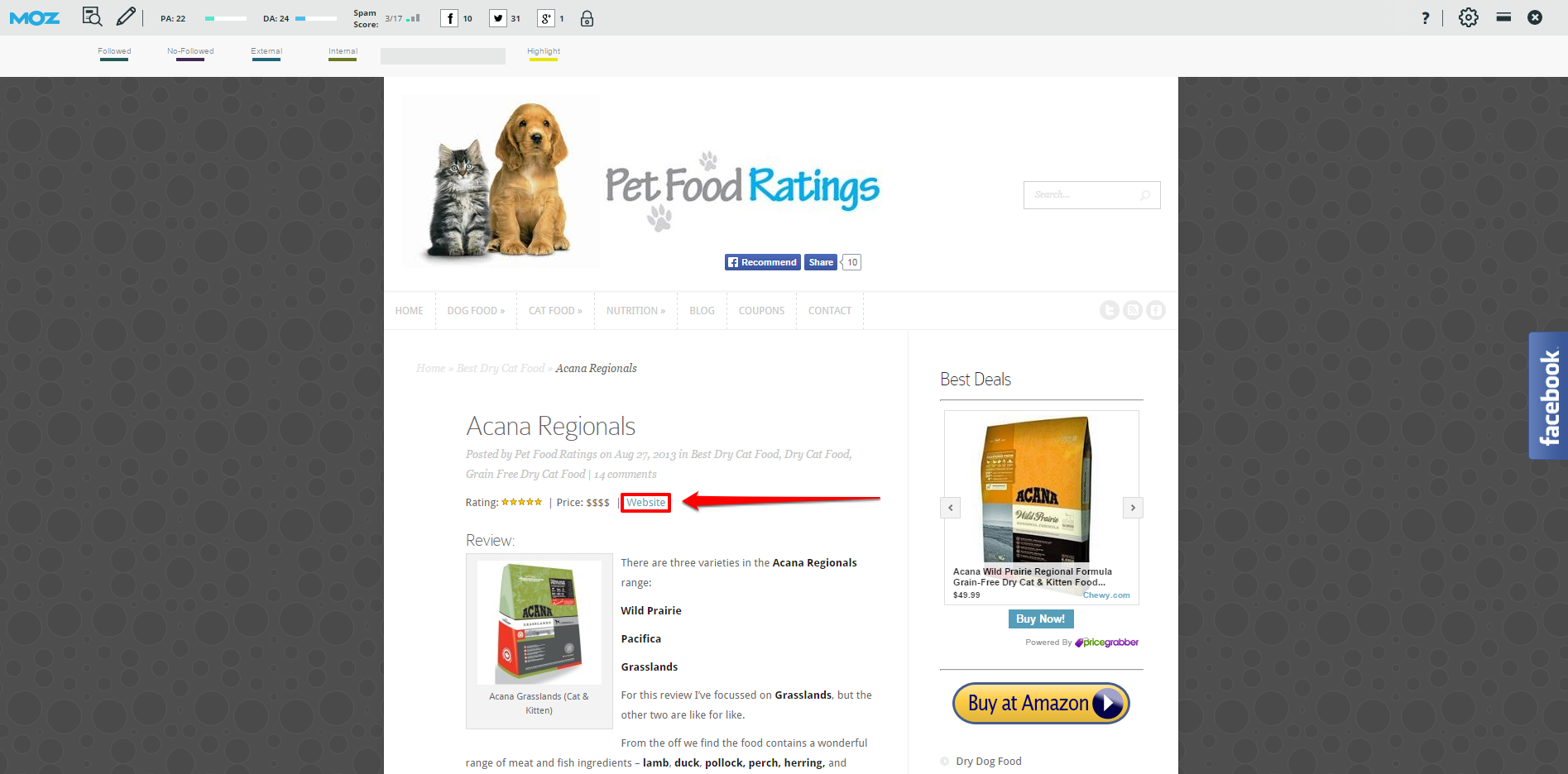 Seeing this link on the page is encouraging, but lastly we want to check if it is a followed or nofollowed link. Again, we can use the "Highlight Links" function, this time for "Followed" links: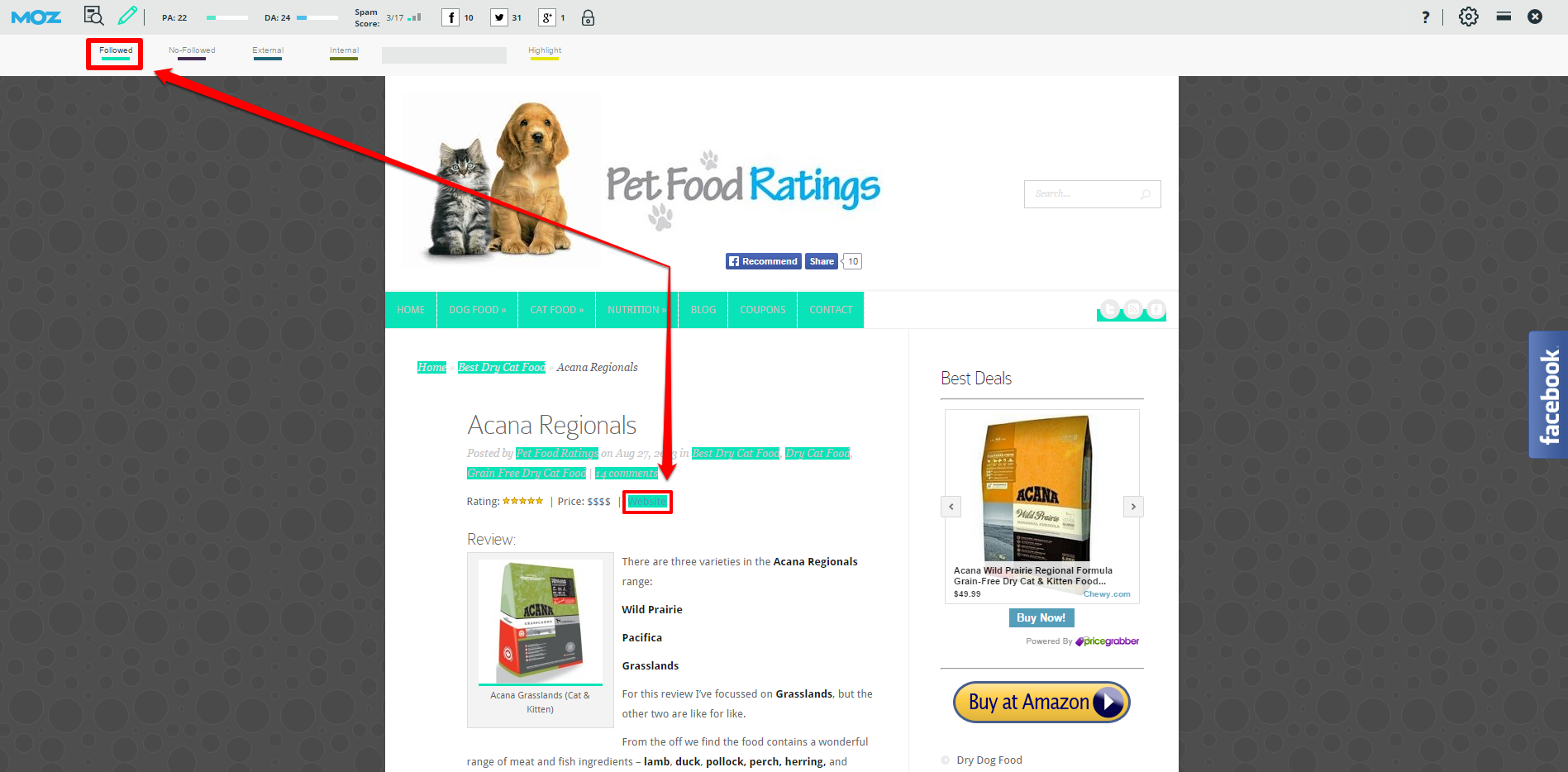 The link is indeed followed, which means this site could be an excellent prospect for our hypothetical cat food site to acquire a followed link.
Of course, it would be necessary to go back and check the other links to get a better idea of the linking habits of the site – this one followed link could be an exception the rule. Also, looking at the site it's likely our imaginary cat food brand would need to be highly rated to be featured.
But at first glance this looks like a reasonable link prospect, and this is how you could use the MozBar to quickly analyze potential target sites for your link acquisition campaign.
Conclusion
Link prospecting can be one of the most time-consuming aspects of a link building campaign. However, the MozBar can help you streamline your prospecting to be more efficient, leaving more time for other aspects of your campaign.
Once you have downloaded the MozBar extension, you can quickly and easily analyze link prospects both from within the search results and on individual web pages. Considering its overall value and usefulness (plus the fact there's a free version), the MozBar is a must-have tool for any SEO.