Hello and welcome to Tutorial Tuesday, where each and every week we break down a process, tool, or link building tactic for you!
This week I'm covering the tool Monitor Backlinks, to which CEO and founder Razvan Girmacea generously granted me free access for one month to test. Thanks Razvan!
Normally the tool costs between $99.90 and $19.90 per month, depending upon package. Check out the full pricing page here.
Previously I covered how to monitor your backlinks using Google Webmaster Tools, which is a free option. GWT will allow you to manually download and review a list of pages linking to you, ordered by date found.
Monitor Backlinks is the automated solution, and greatly exceeds Google Webmaster Tools' simplistic list of pages linking that have to be automatically checked every so often.
Monitor Backlinks is a web-based tool which allows you to monitor a variety of stats, including:
Organic Traffic
New Backlinks
Recently broken/changed links
Competitors' backlinks
Keyword Rankings
In particular Monitor Backlinks excels beyond Google Webmaster Tools by allowing you to:
Discover competitors' link building activities
Overview organic search traffic as reported by Google Analytics
Monitor search rankings fluctuations
Track valuable links in case of removal, change, or breaking
Better understand new links through in-depth data reportage.
Of course, as the name Monitor Backlinks implies the primary functionality of the tool is to automate the process of monitoring incoming backlinks. It does so in a variety of interesting ways, which makes it extremely easy to keep an eye on new links.
Monitor Backlinks will display a variety of data concerning new links:
Date found
Link status (nofollow, not indexed, etc.)
Page linking
Page linked
PR
Moz's DA/PA
Social shares
Country of website
# of external links on page
I have to say I was duly impressed with Monitor Backlinks, and it's definitely worthy of trial and consideration. If you have the money and want to make monitoring backlinks (among other things) a breeze, Monitor Backlinks is a great option.
Let's jump into setup.
Step One: Sign Up and Get Started
Head on over to Monitor Backlinks' signup page to being your free trial. Pretty standard signup requirements.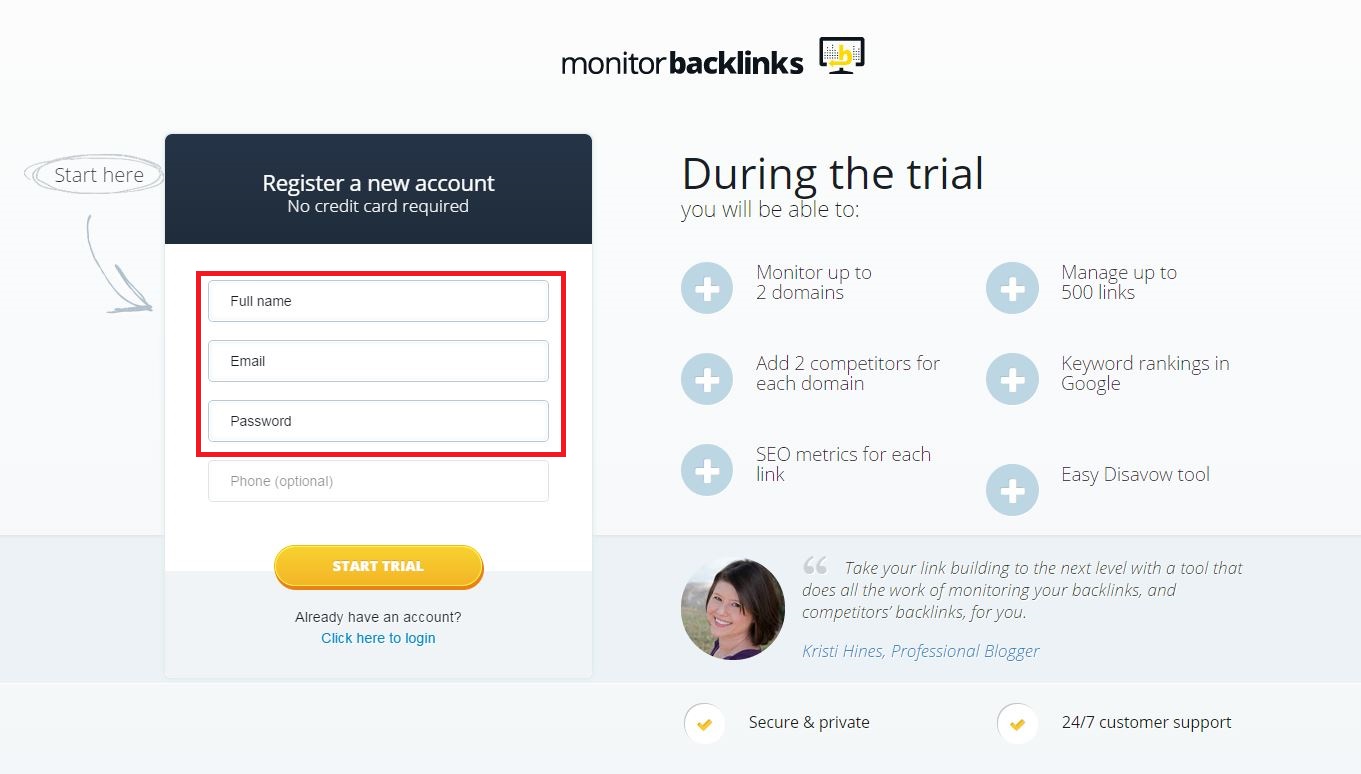 You should receive an email that looks similar to this: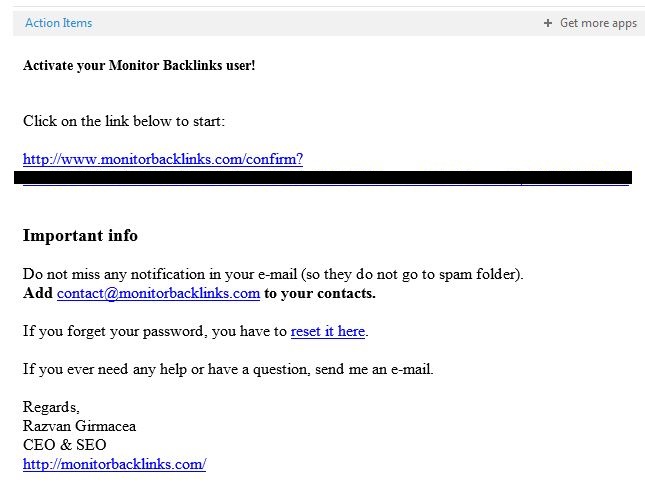 Simply click the activation link and you'll be ready to add a domain. If you're not already there, head over to the Add a Domain page. Here's what you'll see:
Clicking any of the three red boxes I added will take you to the next step, which is selecting your Google Analytics profile for your domain.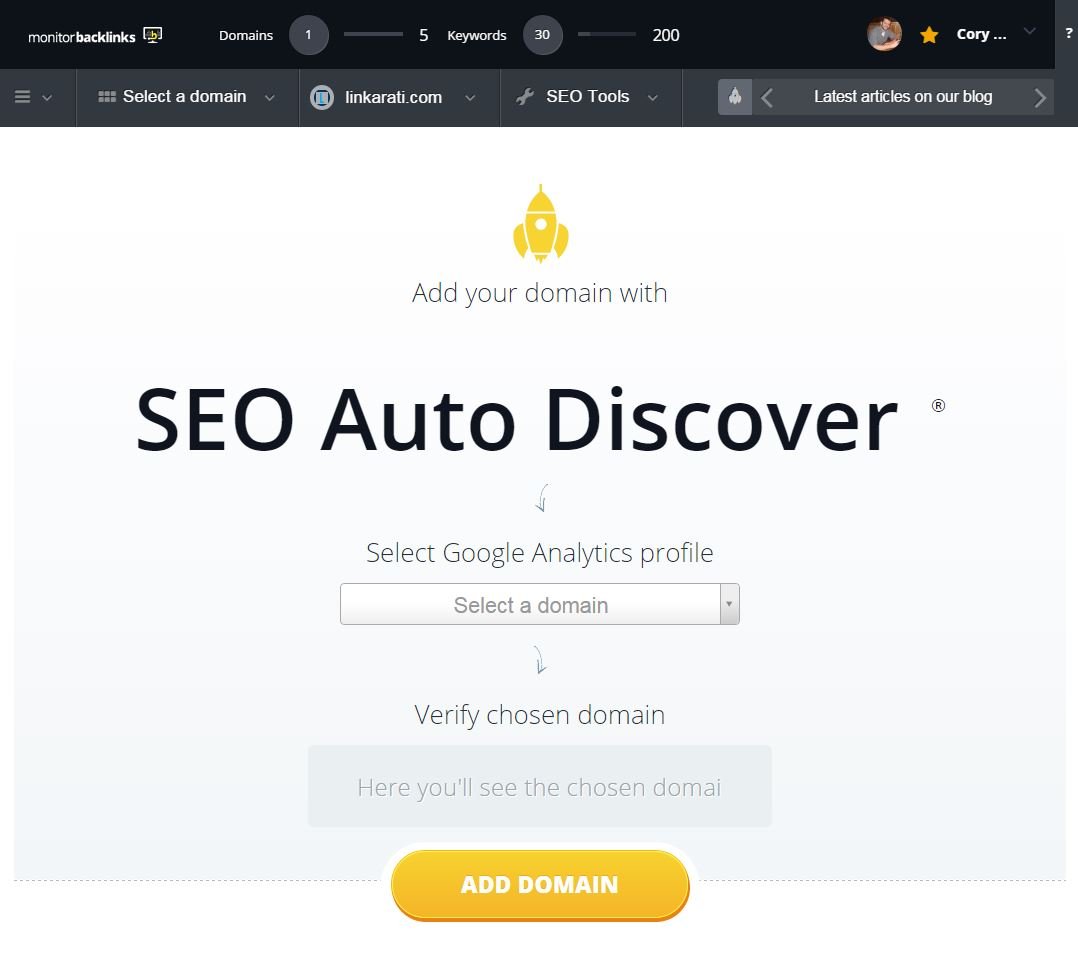 Although there are other options, to really get full use of the tool you need to tie your Google Analytics profile to the tool. And if you're paying for a tool, you should absolutely be sure you're getting full functionality from it.
Simply click the drop down box and you'll see a list of domains you have Google Analytics access to. Selecting one will update the "Verify chosen domain" field, to reflect the domain of the website you've chosen.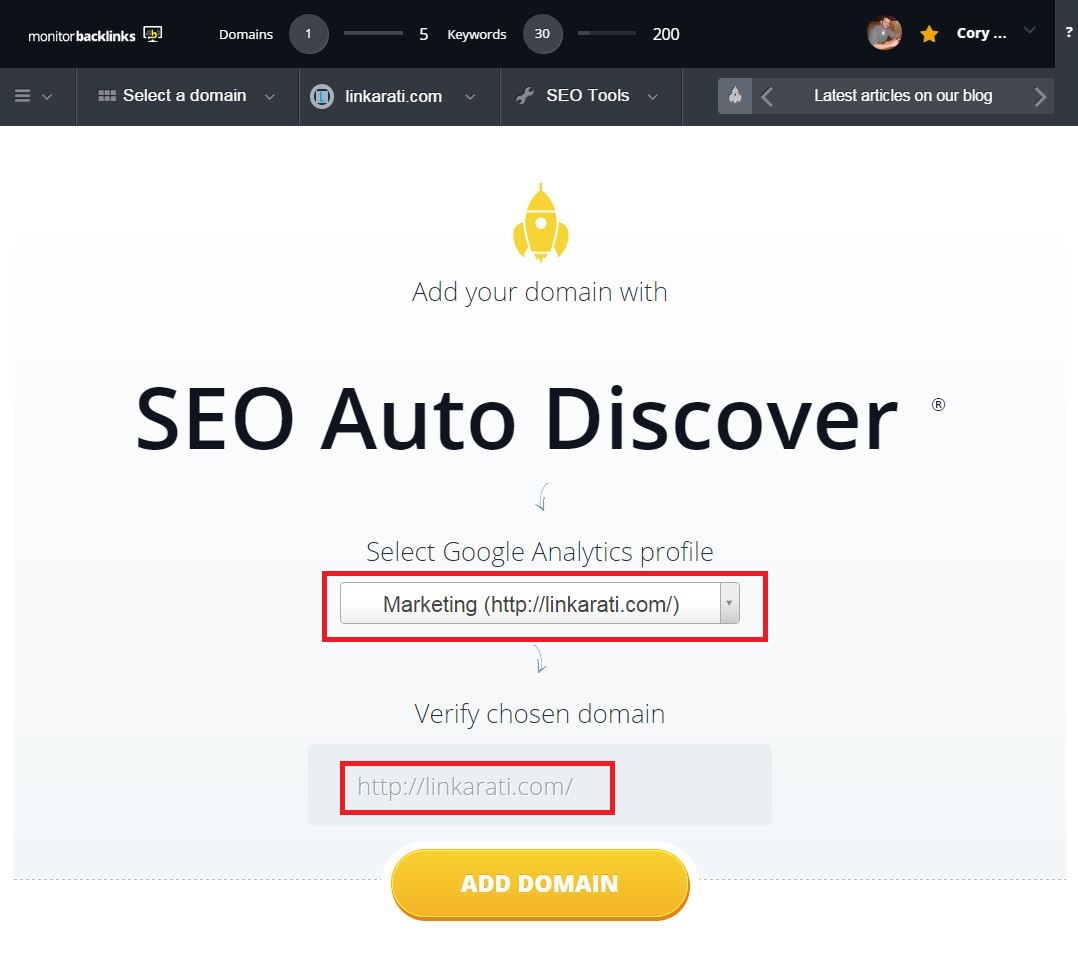 Once you click "Add Domain" you'll be taken to the add competitors page. Check out this Tutorial Tuesday to better understand how to determine search competitors.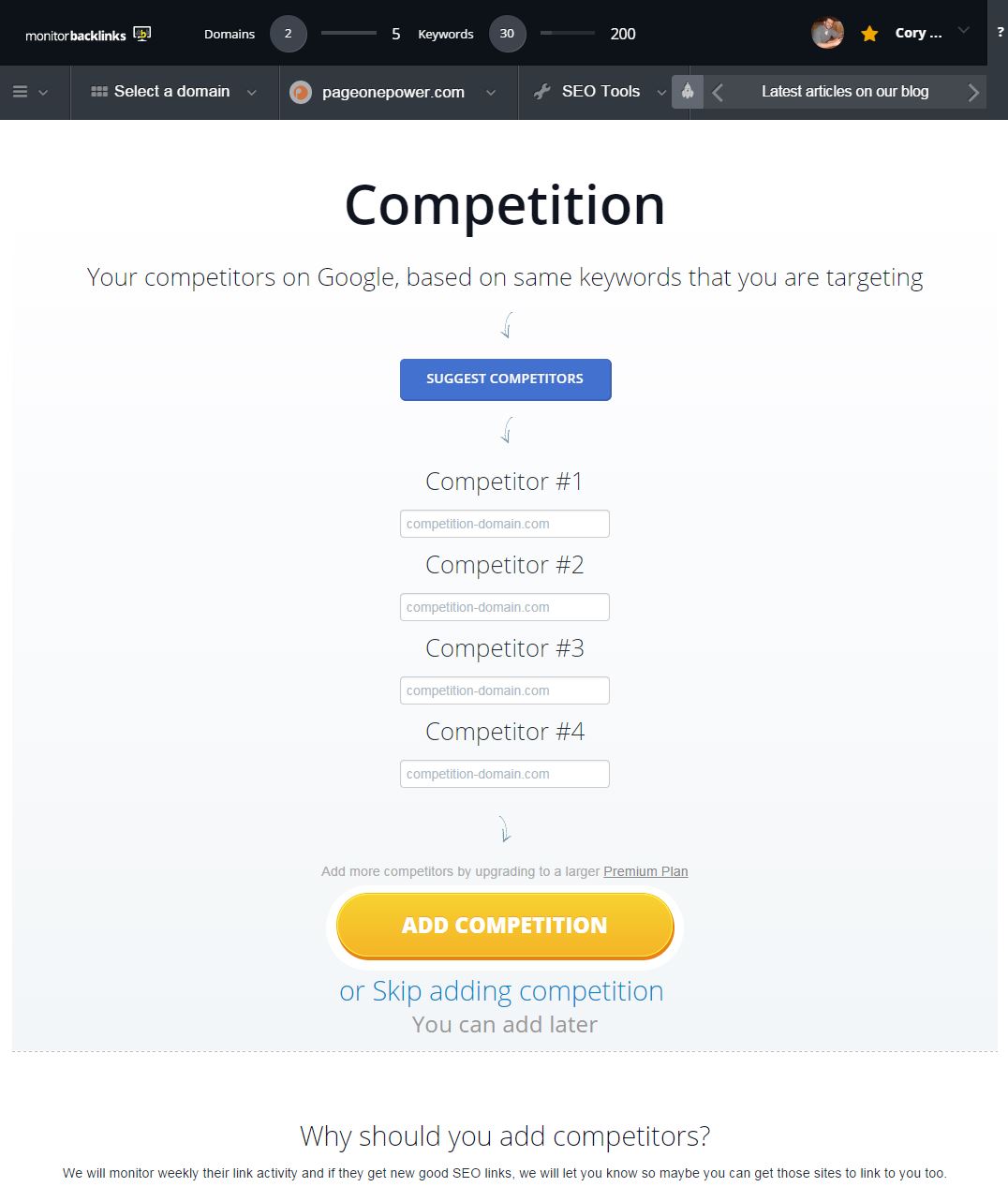 Again, you absolutely should add in active competitors to take full advantage of this tool. Seeing your competitors' new links will show you what tactics, pages, and resources they're using to successfully build links.
Once you've added in the competition's URLs you'll be directed to the keyword page.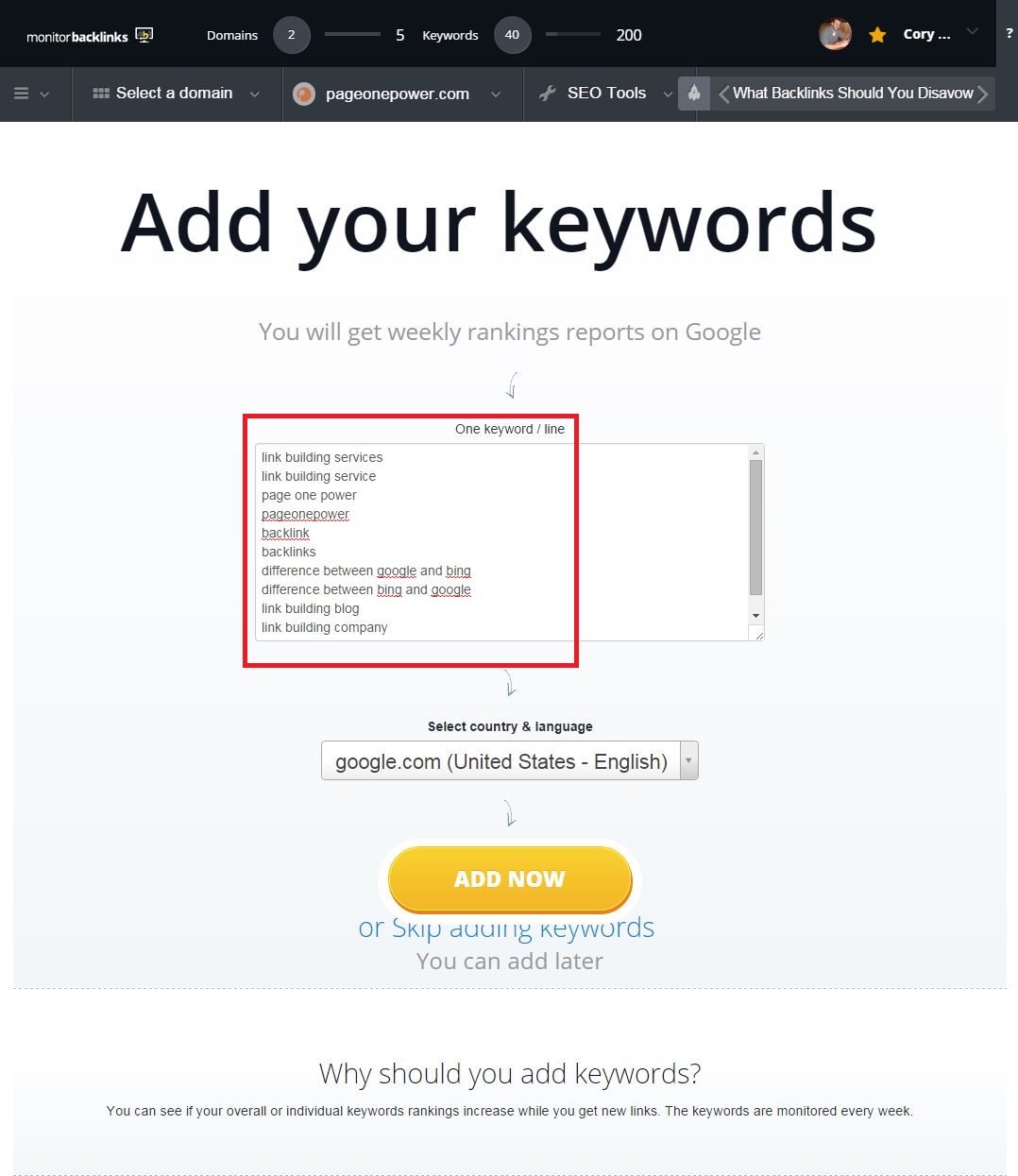 As you can see some keywords will be automatically imported from your Google Analytics. I strongly suggest adding more to build a robust keyword list. For a tutorial on how to create a keyword list, check out this post.
Once you're done adding keywords (one per line), click "Add now" to be done with setup. You'll be directed to the overview page – congrats, setup is done!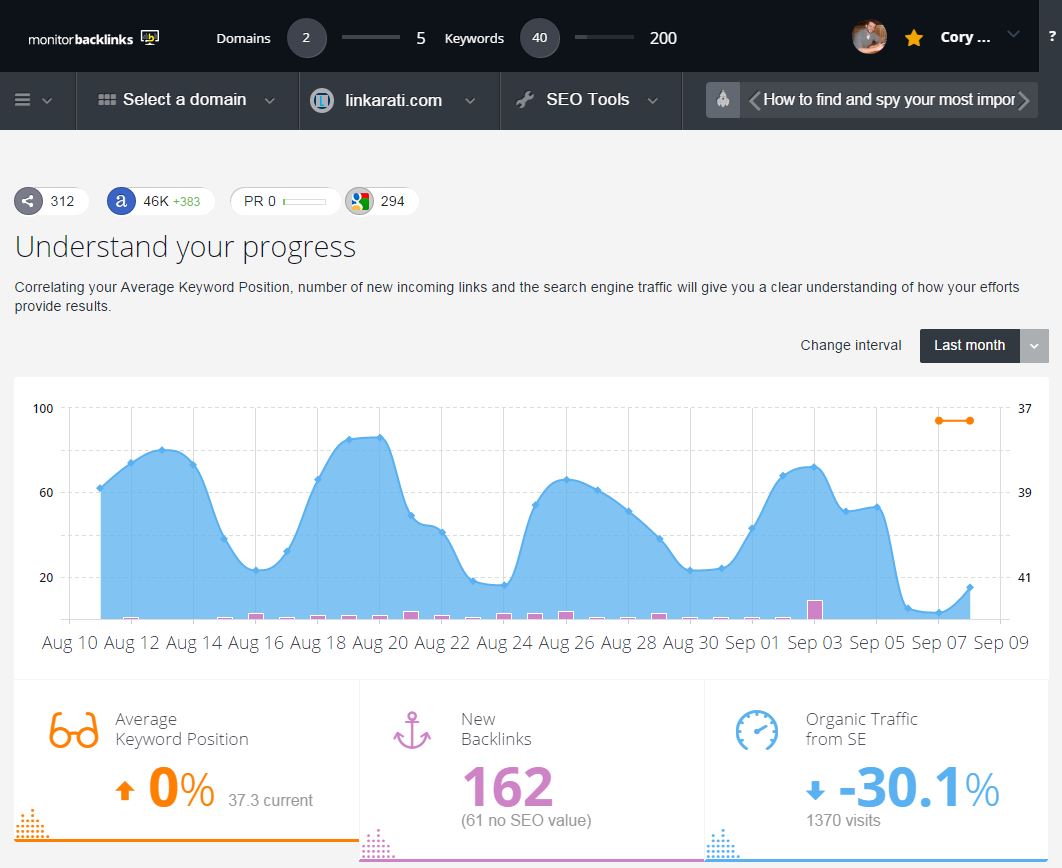 Note: it will take time for the backlinks graph and keyword graph to populate.
Note two: Linkarati unfortunately experienced temporary downtime, resulting in the loss of organic traffic displayed.
Step Two: Reviewing Links
So, you're fully set up and ready to use Monitor Backlinks to, well, monitor your backlinks. You should have at this point let the tool run for a week or so to collect data.
There are several ways to review your backlinks.
Overview chart
Top bar navigation
"View All Backlinks" button
I highly recommend using the overview chart to start with, as it does a fantastic job of visualizing the data. Simply click the "Average Keyword Position" and "Organic Traffic from SE" buttons below your overview chart. This will remove those two pieces of data from the overview chart, leaving behind only "New Backlinks."
And just like that, you'll be able to see incoming links based upon date. Don't miss the date filter in the top right corner.
What you'll be primarily looking for here are any unnatural spikes in links. This will allow you to detect any less than optimal linking patterns, including other sites scraping your content (as long as they leave in your links), new sitewide links, and even potentially negative SEO.
If you do notice any large spikes, simply click on the bar in question and you'll be taken to the link data for those links.
This will take you to the full backlink page with a date filter automatically attached.
The date filter has been highlighted.
As you can see in this screenshot, there is a wide variety of interesting data, filters, and general information to explore.
The filters are:
From (who's linking)
To (where they're linking)
Tags

Autodiscover
Google Analytics (passed referral traffic)
Ahrefs

Status

404 Not Found (page is dead)
Backlink not found
Meta nofollow
Meta noindex
Nofollow
Ok
Server down

Anchor text
PageRank
Moz

MozRank
Domain Authority
Page Authority

TLD

Every type of TLD in your link list

Google Indexed

Indexed
Page not indexed
Domain not indexed
Domain and Page not indexed
Unknown

External links (sorts by number of outbound links on the page)
Disavowed
Whew. That's quite a bit of information to allow highly detailed and organized data sorting.
And of course, all of this data is exportable via CSV or excel file.
Some of the more important filters for quickly analyzing link quality will be:
Status
Anchor text
PageRank
Moz
If the link is on a low PA/PR URL, is using over-optimized anchor text, or is reporting a less than optimal status (404, not found, nofollow, noindex, etc.) that could be a red flag. Especially if it's a repeated pattern throughout a batch of links.
Step Three: Monitoring Valuable Links
Another strong feature of Monitor Backlinks is the ability to monitor existing links, not just new links as they're created.
Websites change, evolve, migrate, and shift over time. Sometimes links break. And as soon as they do, Monitor Backlinks lets you know.
Simply migrate over to the "Link status changes" section and click the "view changelog" button.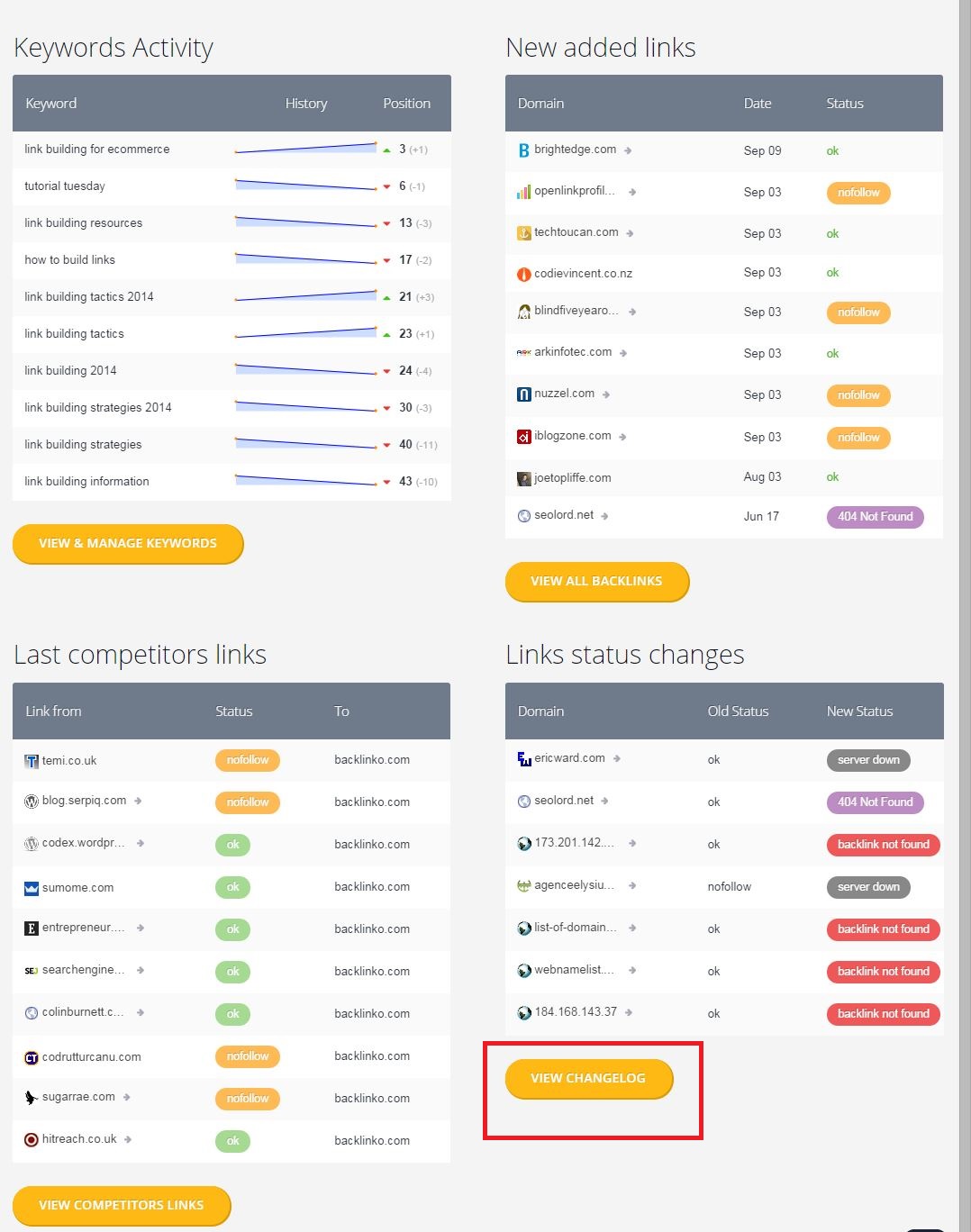 This will take you to the Links Changelog page.
As you can see the Changelog reports:
The date
Linking Page (full path URL)
Linked Page (full path URL)
Old status
New status
It's extremely quick and easy to scan through and see which links broke, how they broke, and manually check (if you so desire).
This will allow you to reclaim link equity with ease, as it's extremely easy to stay on top of links as they break.
Step Four: Competitor Links
Tracking active competitors will often allow you to stay a step ahead.
Monitor Backlinks absolutely shines here, making it easy to see what new links competitors are building, week after week.
Simply navigate to the "Last Competitors Links" page.
Here you'll be given a list of your competitors. Simply choose which one you wish to investigate.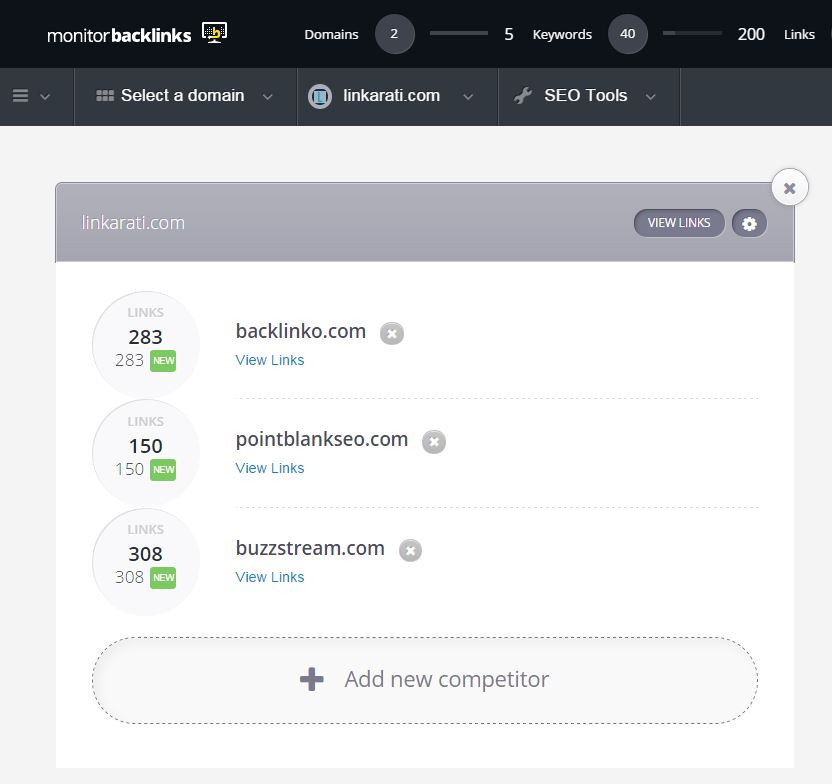 Notice the green "new" tag, showing how many new links each competitor has recently netted. The green rows signify that you have links from those domains already - so likely, you'll want to concentrate on any link listed in white.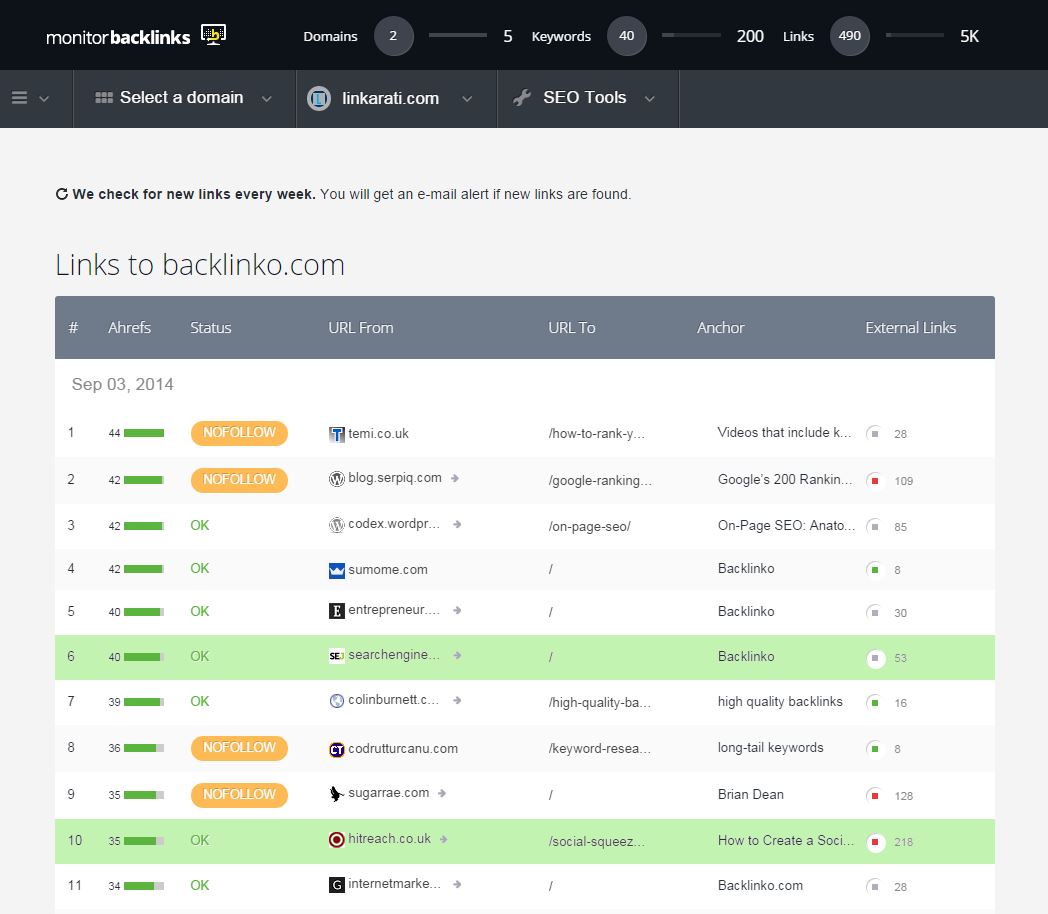 Notice the list is automatically sorted by Ahrefs rank.
And if manually checking competitor's links week after week is too hard for you (it shouldn't be), Monitor Backlinks will actually send you an email letting you know when they find new links pointing at your competitor:
Hard to beat that, eh?
Step Five: Reviewing Search Rankings
Once again, navigate from the overview page to the "Keywords Activity" page.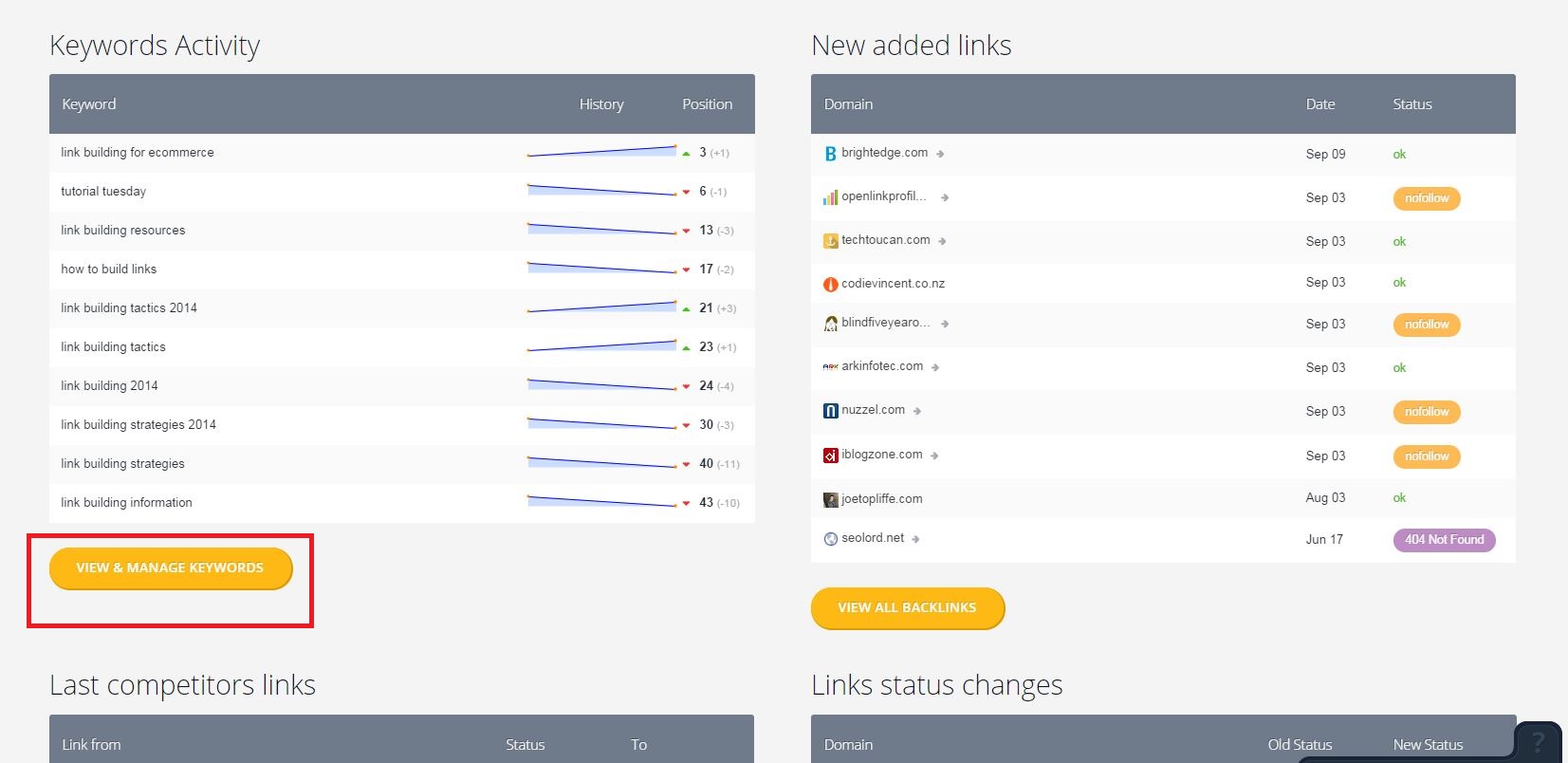 This will take you to a page with the keyword rankings for both your domain and competitors' in a graph and data list.
Extremely handy for monitoring SEO gains and losses, as you can see who's currently winning, who's currently losing, and recent trends.

Information includes:
Keyword
History (trend line)
Position

Yours
Competitor one
Competitor two
etc.

Page (full URL)
And of course once again all of this data is exportable.
Recap
Monitor Backlinks is a robust paid tool for monitoring SEO performance of both your website and close search competitors.
The tool makes it extremely easy to monitor:
Search traffic to your website
New backlinks
Recently broken or changed backlinks
Competitors' backlinks
Keyword rankings (for both you and competitors).
If you're in the market for a paid tool to monitor your website's SEO performance (and your competitors'), I'd strongly recommend Monitor Backlinks. It provides great data, easy overviews, and rolls in competitor performance to boot.