Hello and welcome to a new edition of our weekly series Tutorial Tuesday! Every week, we highlight a different SEO process or tool that will help you to become a better link builder. This week, I'll be discussing how to use Twitter chats for link prospecting.
You ever see one of those job descriptions on Twitter that makes you say: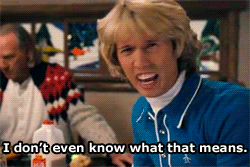 Recently, I came across a name generator courtesy of Vox that parodies these types of Twitter bios. For example:

I'm a "maverick," in that I boldly use blockchain technology without having any idea of what that is
Of course, one of my favorite things to do with generators like this is to test them out with random celebrity names: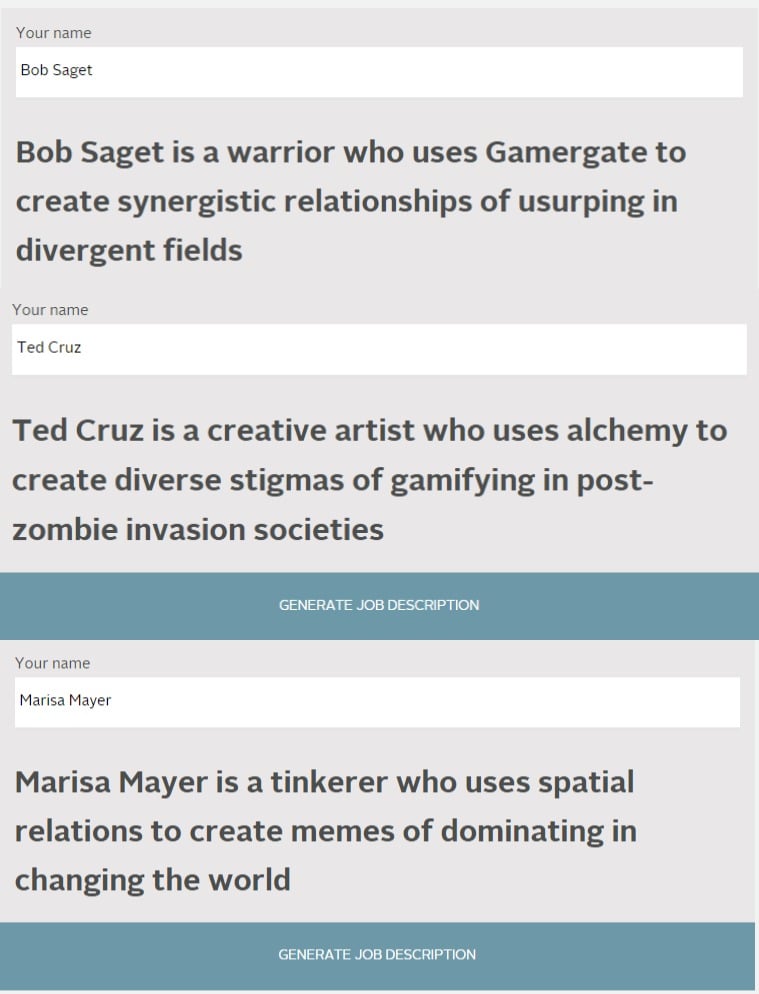 Anything that relates Senator Cruz to a zombie invasion is eerily accurate
So yes, sometimes Twitter bios can be plainly ridiculous. They can also be very useful as well.
Recently, I've been participating in several different Twitter chats.
The concept of a Twitter chat is fairly simple: a whole bunch of people interested in the same topic log on at the same time and discuss something about that niche, allthewhile utilizing a unique hashtag (#) to track the conversation.
So how is a Twitter chat any different than a normal #? The major difference is the time allotment. Take the # we used for our Twitter chat, #LinkaratiChat. Sure, anyone could use the # at any time for any tweet, but its raison d'etre is for our hour-long chat on Thursdays.
The purpose of the chat? Engagement. We want people to talk link building, and we want to be leading the conversation.
People love participating in Twitter chats. I've been doing the #semrushchat since right around the time it started. It's a quick and easy way to engage with others in your industry and discuss a topic you're interested in. They also present a plethora of link prospecting and relationship building opportunities. Let me explain.
Step One: Finding the Right Chat
First, you have to find the right chat.
As you might suspect, there's a lot of noise on Twitter. After Facebook, it's the most popular social platform on the web. You pick the time, and it's almost guaranteed there's a chat going on.
Obviously, that doesn't mean every chat is happy to have you. I'm a link builder/content marketer. My interests outside of work include cinema, alternative music, NBA basketball, and stand-up comedy. I have nothing to contribute to this chat: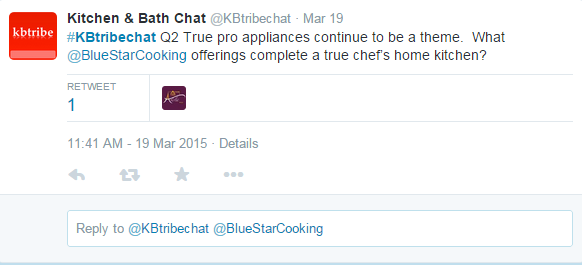 Uhhhhh… you need, like, utensils and stuff, right? As a man that burned his Eggo waffles this morning, I don't feel like I have any wisdom to impart at this juncture.
So how do you find specific chats? Well there are a few ways to find different Twitter chats.
ChatSalad
First, there are sites that have done the work of finding chats for you. Here, for example, is ChatSalad: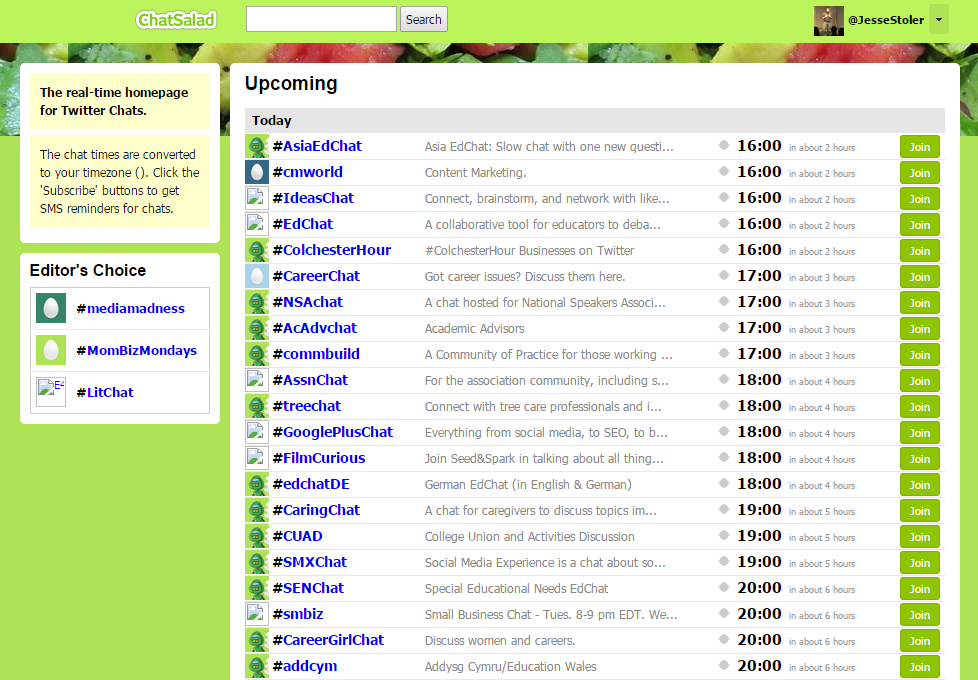 According to just this partial screenshot, there are 21 Twitter chats starting within the next six hours. Remember when I said there was a lot of noise?
I also said earlier that I would count cinema as one of my primary interests, so let's pretend that I operated a site devoted to modern European filmmaking (because I love what's been coming out of that continent over the last decade).
In that screenshot, I can see: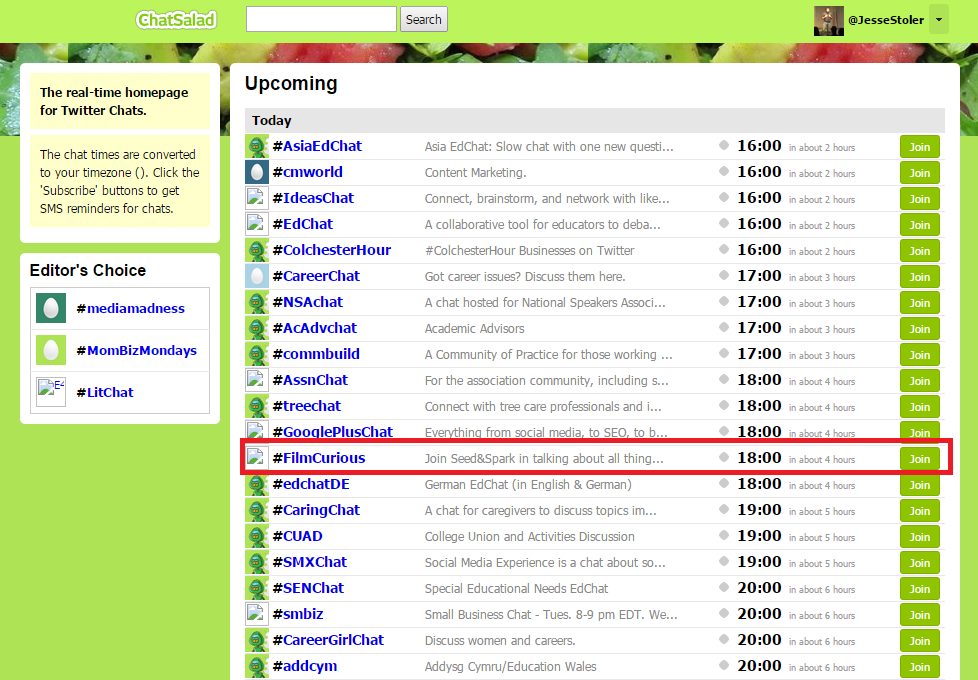 Looks promising. What else you got ChatSalad?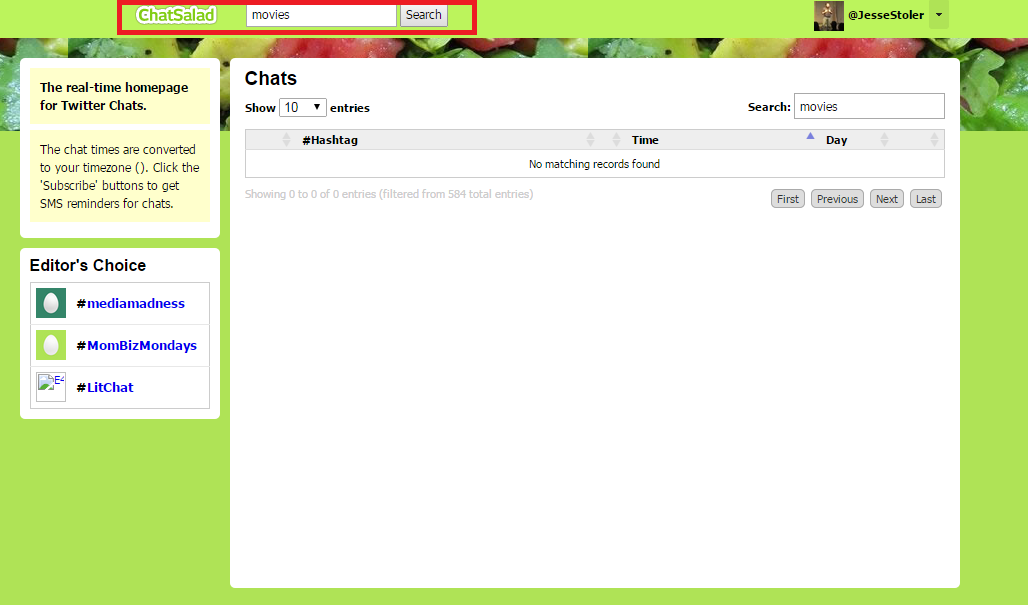 Nothing for movies. I get the same zilch for "cinema," and only the result I already knew about for "film."
That doesn't mean that there aren't more of these chats. For one thing, when you log onto ChatSalad, it only returns results for the next 48 hours. And ChatSalad doesn't catch everything.
Just about every week, I participate in #semrushchat. The chat started in October: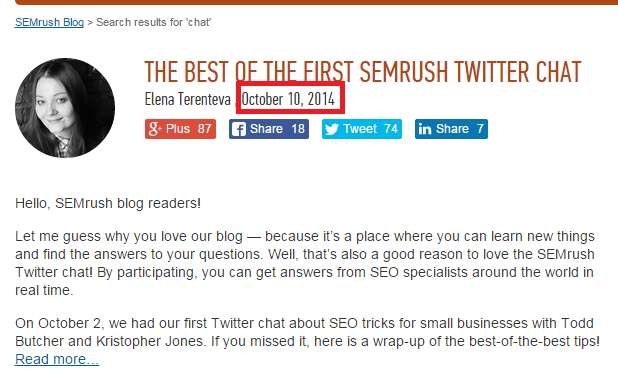 Although the October start date makes it relatively new, it's still been roughly six months. ChatSalad doesn't have the chat listed tomorrow. And there's no clear way to "submit" your chat to be picked up by ChatSalad.
Nurph
Thankfully, there are other tools to use along with ChatSalad. Allow me introduce you to Nurph: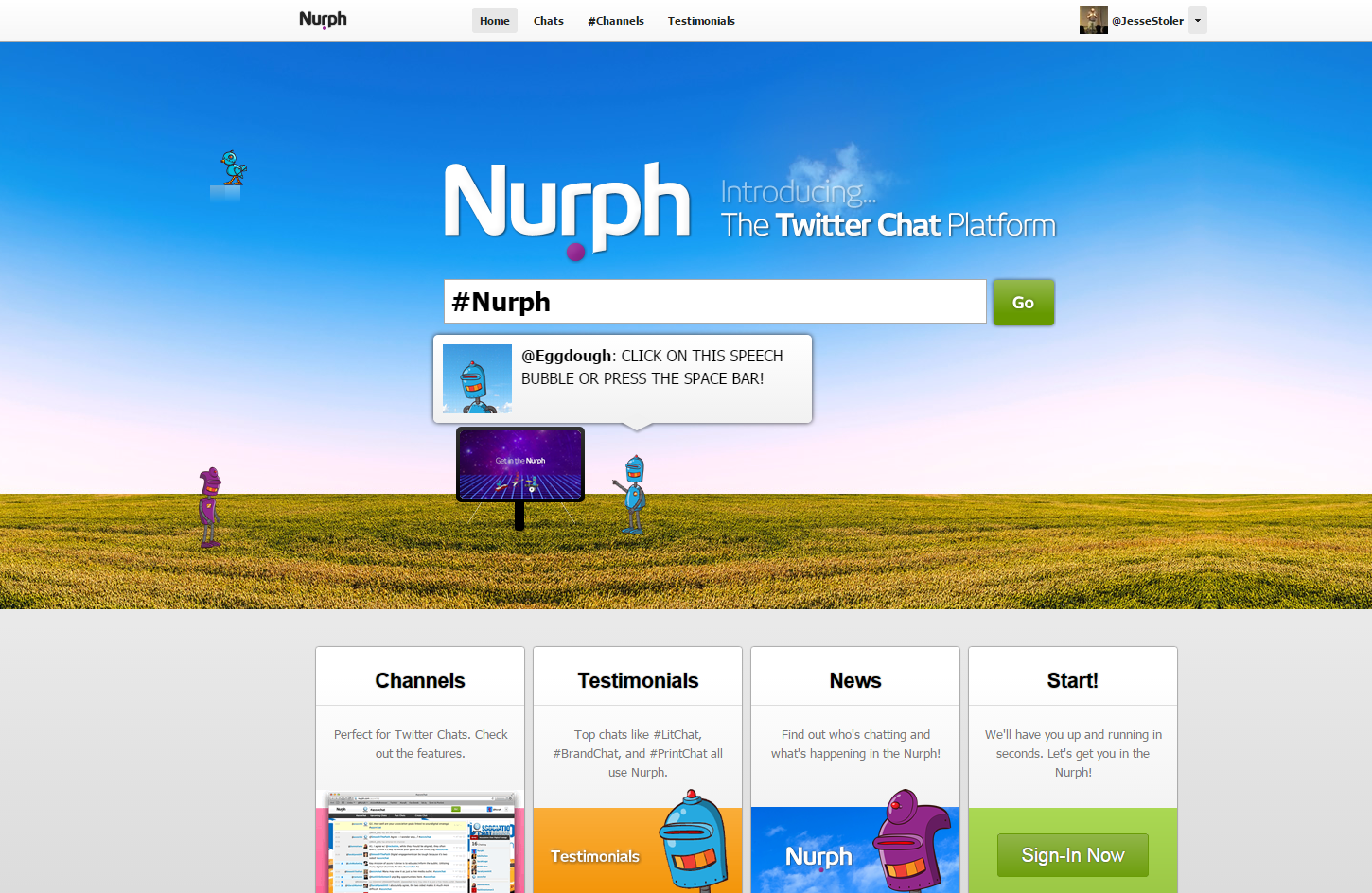 To search for chats on Nurph, click on "chats" at the top, and you'll get this page: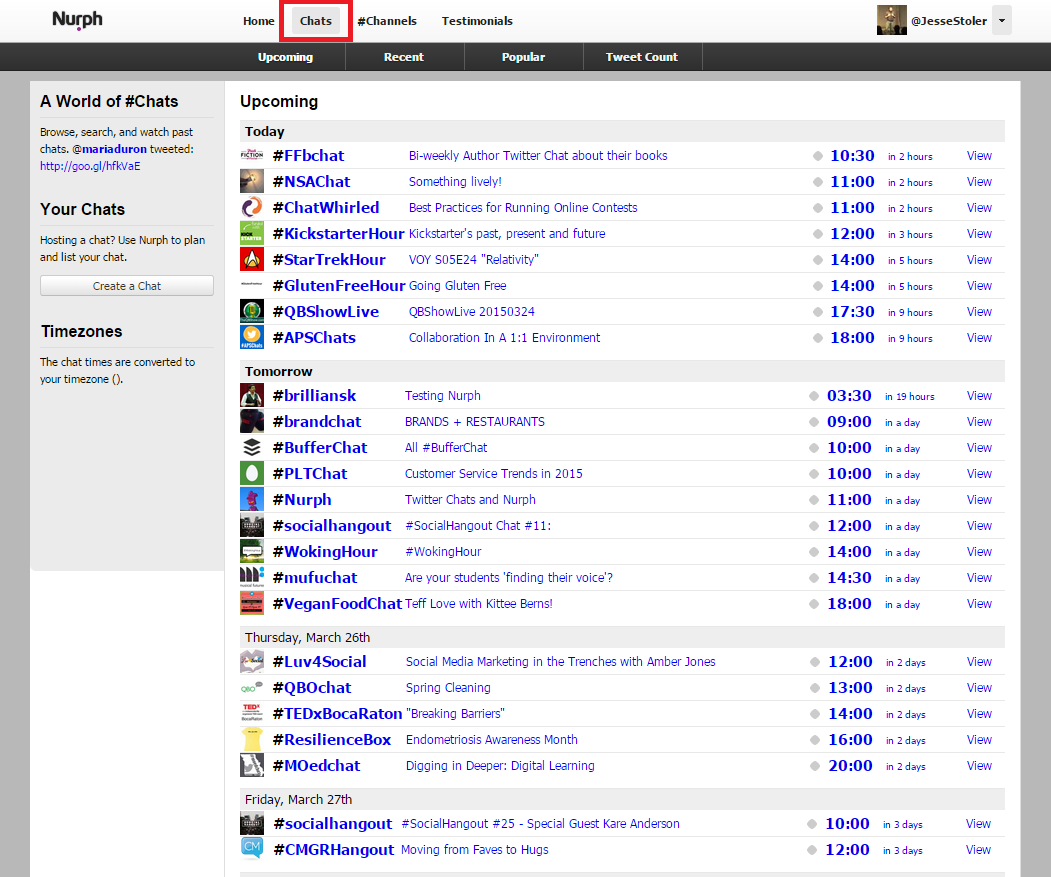 Yes, this page looks less busy than ChatSalad. It is unfortunately. Again, no appearance of #semrushchat. Or #LinkaratiChat for that matter. What I like about Nurph is that there IS an option to submit your own chats for scheduling.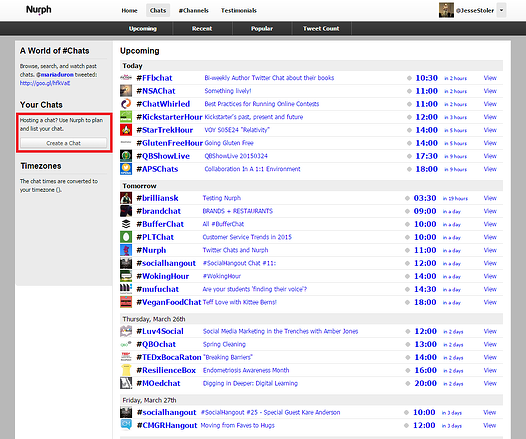 It's not up to the hand of an invisible webmaster with a surreptitious set of rules. Theoretically, this calendar should have newer chats, chats that Salad might have missed.
TweetChat
The last one I want to cover is TweetChat: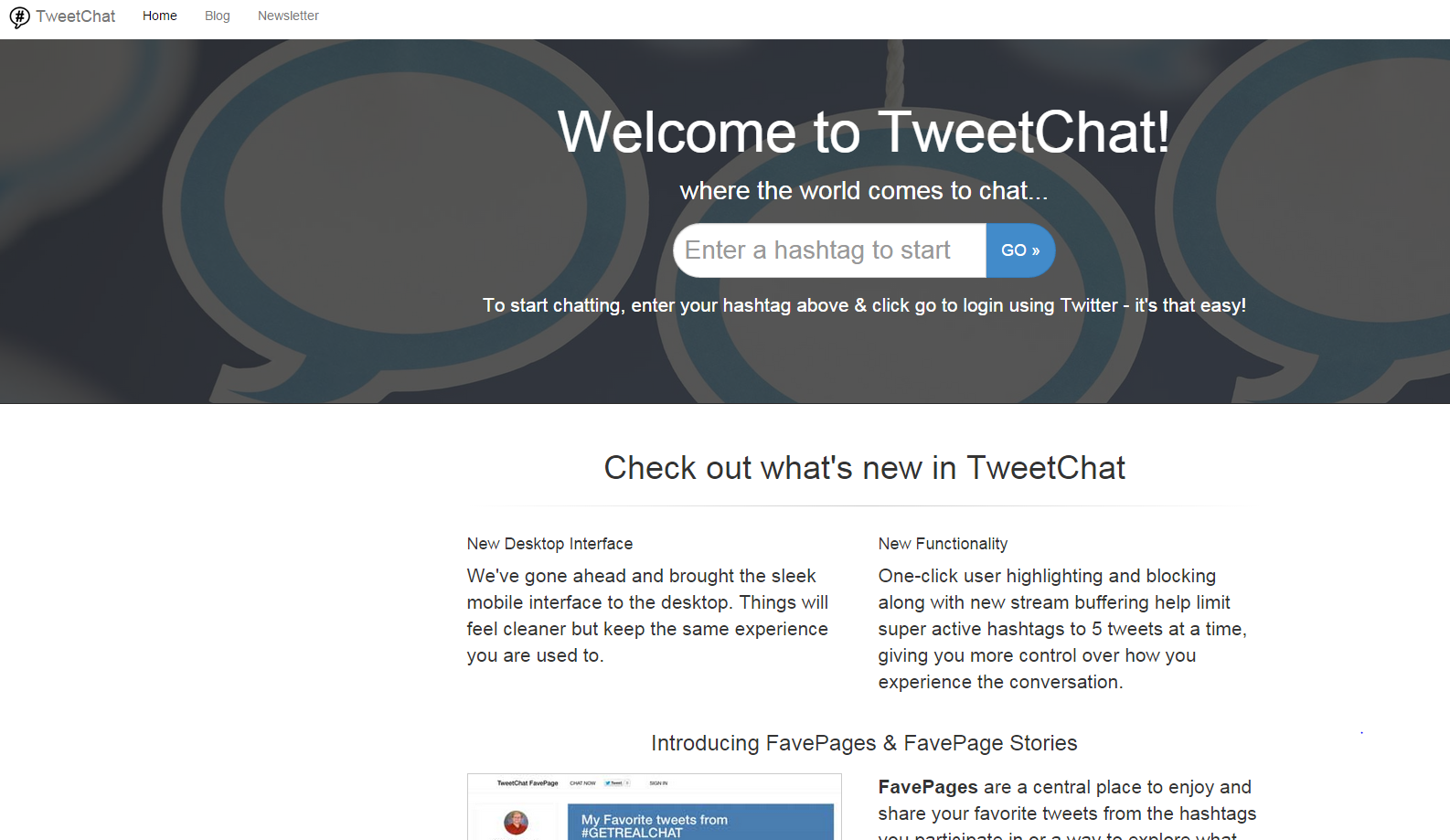 To access the tool, enter any # into that searchbar. Assuming you don't know any chats and don't know where to start, that's okay. Log in to your Twitter and look for what's trending:
We'll use #InternetASong, just because the At Midnight #'s are typically hilarious. Here's the page we get.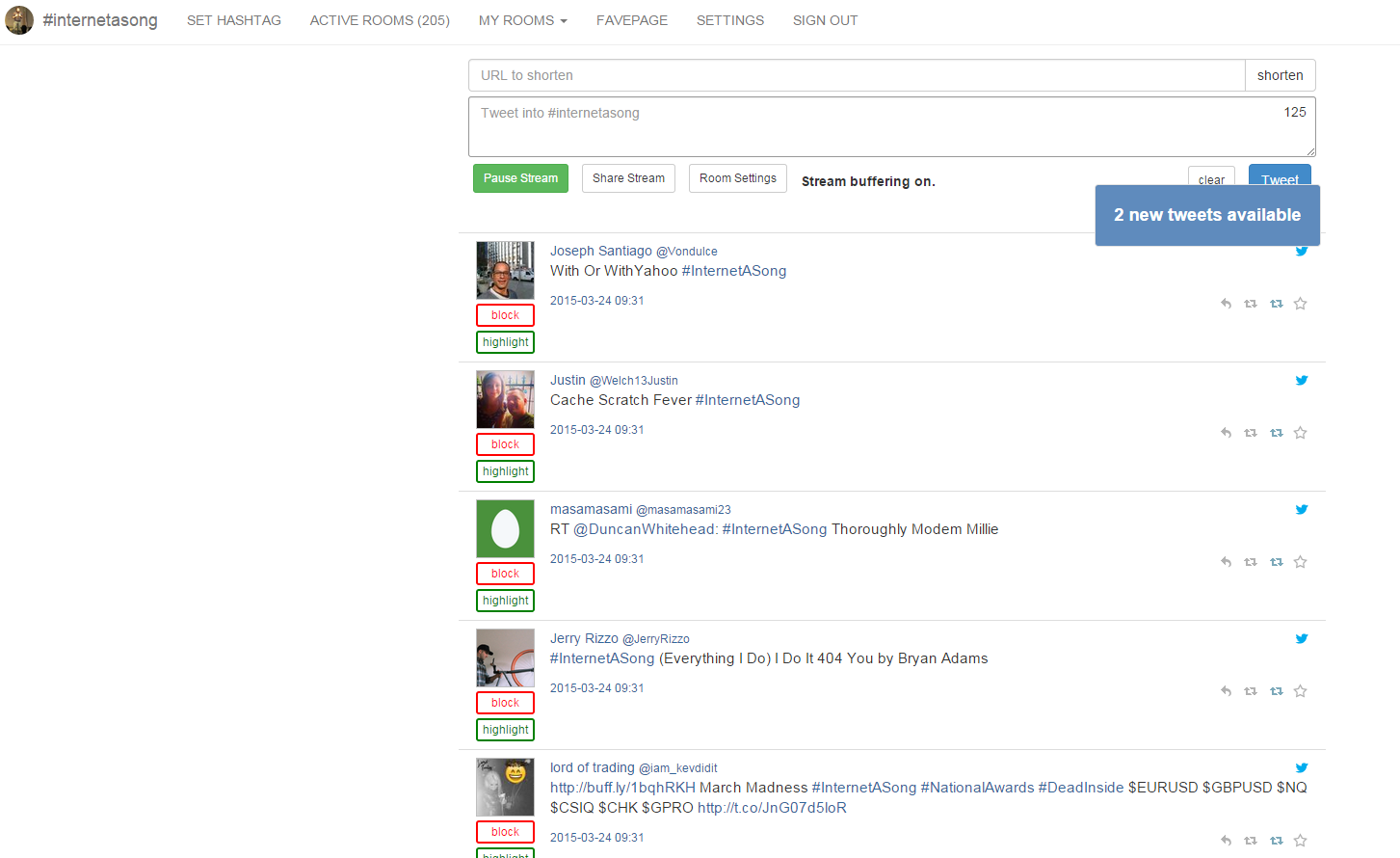 "(Everything I Do) I Do it 404 You," is my favorite of those.
After you've mentally checked out of work to scroll through all the clever responses and come up with one of your own ("What Does the Firefox Say?" "You can open up my Mozilla, illa, illa, a-a-a."), you can look for chats.
TweetChat doesn't really have a schedule of chats. What it DOES offer is a comprehensive list of what people are talking about right now.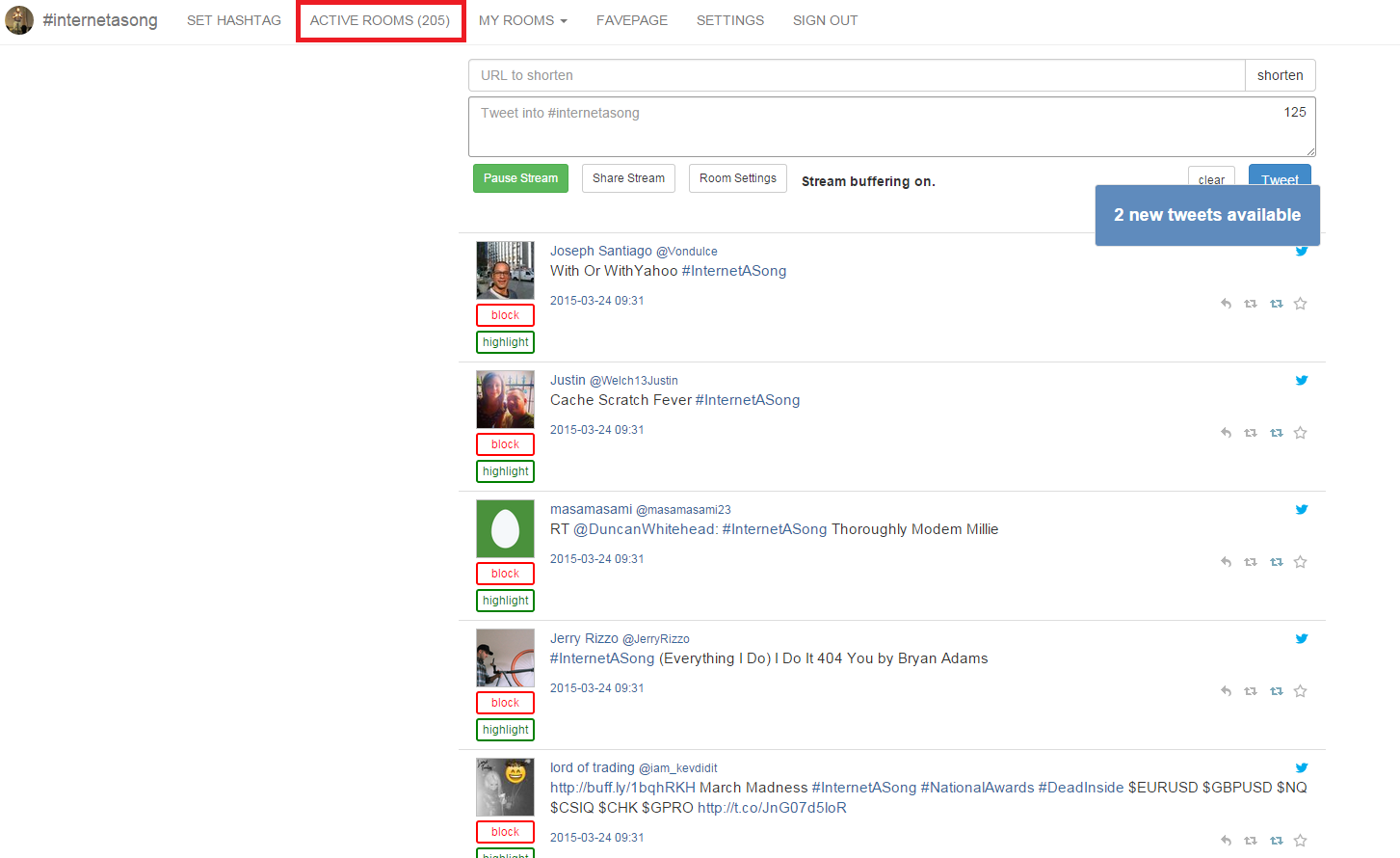 205 active rooms. Yowser.
Click on this, and this will pop-up:
These are the #'s that are sparking the most engagement on Twitter at this particular moment. So if you find yourself with some downtime and are looking for a chat to participate in, TweetChat is for you.
Ultimately, there's no perfect tool for finding Twitter chats. These three are among the best, but they don't measure up to my favorite method: engagement.
Step Two: Engaging
If you spend any significant amount of time on Twitter and follow a high volume of people in your niche, you're going to see chats that apply to you from time to time.
When you see these chats, join! Seriously, it's okay. No invitation necessary. Twitter chats are a town hall meeting, not state dinners. The only reason other participants potentially not engage with you is if you're overly promotional.
I've only ever moderated one chat, but one thing that I noticed was that there was a surprisingly high amount of people who would favorite/retweet answers, but never actually tweet their own answers. The unofficial term for this behavior is lurking.
Twitter chats have become increasingly popular just in the last twelve months, so much so that they've spawned a humorous parody.
Maybe you don't have a good answer for a question, or even a string of questions. That's okay. There's no problem with asking some questions yourself.

So let's use my European cinema site again as an example. The topic in the last #FilmCurious chat revolved around partnerships in filmmaking. I myself am not a filmmaker. I probably won't have great answers here, but I can still participate. When I see someone say something like: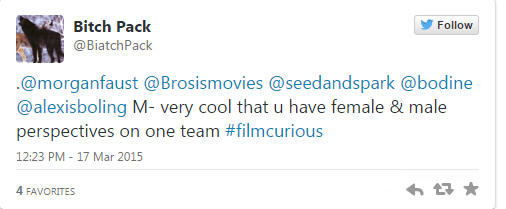 I can respond by asking question along the lines of: "What do you think of married couples partnering up for filmmaking? Is that dangerous to a relationship?"
Boom. My name is out there. I'm engaging. I can potentially even start to talk about something more in my wheelhouse, like how Fellini's wife starred in a few of his films. That's all it takes.
Ultimately, the exposure is the biggest win that comes in a Twitter chat. But these chats also provide link prospecting benefits. The more you engage, the more opportunities you create to find users with sites you might want a link on one day.
Step Three: Picking the Sites
Nearly everybody that participates in a Twitter chat is going to have THIS on their profile page: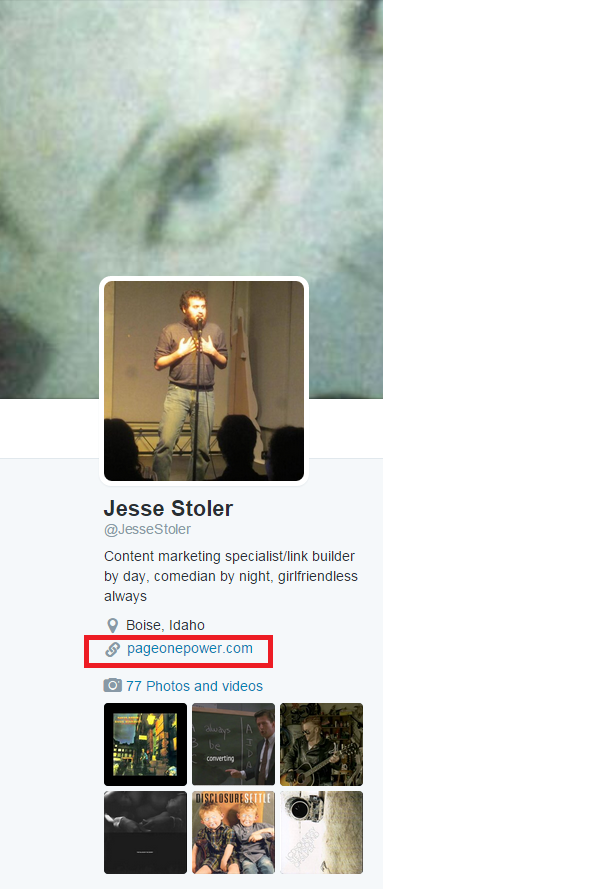 My cover photo isn't as deeply unsettling as it looks in this partial screenshot
Obviously, the links won't always point to my agency's website (I can only dream). But there will almost always be a link to their own website there.
Even though a majority of people are on Twitter just to have fun and keep up to date on news, so many profiles are in it for the click-through traffic.
One of my favorite profiles is @Michael_Haneke. It's a parody account dedicated to the director of such brilliant (and DEPRESSING) films like Cache and The White Ribbon. I've watched interviews with the man, and he comes across as cerebral, mature, and pretentious as you would expect. Which is why I often will literally laugh out loud when I see really, really dumb tweets like this attached to "his" name: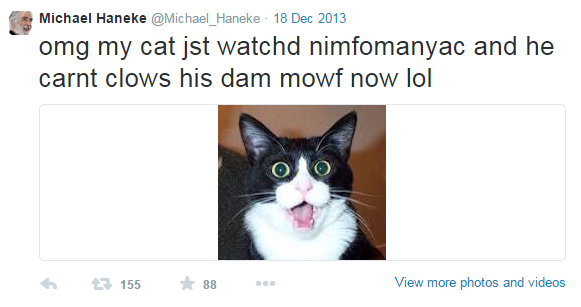 This page is nothing but tweets devoted to cat pictures, derogatory jokes about other highly-acclaimed filmmakers, and barely readable language. And I adore it.
What on earth could be this person's motive for keeping this page alive? It can't be to entertain the only hundred couple of people who will really be into it. Here's the answer: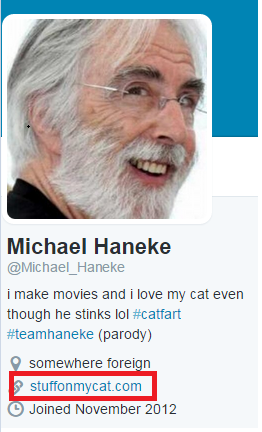 The page leads to another joke site, stuffonmycat.com. Yes, it's as magical as it sounds.
People in Twitter chats want you to click through to your site. I know this because whenever I do a Twitter chat, I want other people to click through to Page One Power or Linkarati.
That's not my sole intention. I DO want to learn from other people in my field. I DO want to build relationships for the future. And I DO want to make memes that get favorites/retweets. Ultimately, guiding traffic to the sites I work for is my primary driver.
Conclusion
I want to make this perfectly clear: if you rely solely on Twitter chats for your link prospecting, you're not going to get very far in the link building game. Not everyone is on the Twitter chat train.
But Twitter chats aren't just for finding the blue text in the bios. In a chat, you're engaging with people that are interested in the same things that you are. You're talking to people who could eventually turn into your audience.
The more you engage in these kind of chats, the more you'll gain followers, who may one day retweet your content or share your site with their followers.
And on the link prospecting front, the people you engage with on Twitter will be likely be sharing content from other sites in your niche, sites that you might have known beforehand.
Overall, Twitter Chats are a win on several fronts. We hope you'll join us this Thursday, as we discuss link building and outreach with Paul May of BuzzStream. Just use the #LinkaratiChat!