Creating content on the web is a sometimes thankless job.
It's even more difficult if you're not strategic in your approach; Moz and BuzzSumo just released a study showing over 50% of content on the web receives zero links and few social shares. That's awful.
Creating content on the web is a sometimes thankless job.
It's even more difficult if you're not strategic in your approach; Moz and BuzzSumo just released a study showing over 50% of content on the web receives zero links and few social shares. That's awful.
I spend much of my time creating content for the web, and I can attest just how devastating it is to invest time, care, energy, and resources into creating a piece of content just to have it fall flat. I can also attest to just how addicting it is to have a piece of content blow up on the web.
Regardless of your goals, if you're creating content and no one is reading it you're wasting your time.
The powerful rush when you create something that actually gets traction, links, and shares is impossible to ignore. It's even more gratifying if your content grows legs and begins to net shares and links you didn't specifically amplify for. These are the moments that will sustain a writer and marketer over the course of a campaign.
For today's tutorial I'm going to cover how to track social shares across various different social platforms, including Twitter, Facebook, and Google Plus.

Social shares have implications across all of online marketing – whenever someone chooses to share your content, it means they've found value in it. It represents a real opportunity—an opportunity to:
Grow your audience
Develop a relationship
Build community
Improve your brand amplification
Gain more social shares
Create link opportunities.
Links are fundamentally important for any online content creator. BrightEdge found in a 2014 study that 51% of all web traffic came from search. If you want your content to have lifetime value and traffic, you need to ensure the right people are linking to it.
Of course BuzzSumo and Moz found the correlation between social shares and links to be extremely low—0.021 (basically non-existent)—but any good SEO will tell you that getting social shares is an opportunity to build links.
Regardless of links, you should be tracking social shares. If you're creating content on the web, you should be concerned with who's taking the time to broadcast your content on social media.
For this post I'm going to use the example of Wait But Why's post on artificial intelligence, for three reasons:
I love it.
It gets social shares like crazy, making it a good example.
More people should read it.
So let's get into it.
Twitter Search to Find Social Shares
First up is Twitter.
Head on into Twitter's social platform.
Up in the right hand corner there will be a search bar with the words "Search Twitter":
Flip over to your piece of content and grab the url: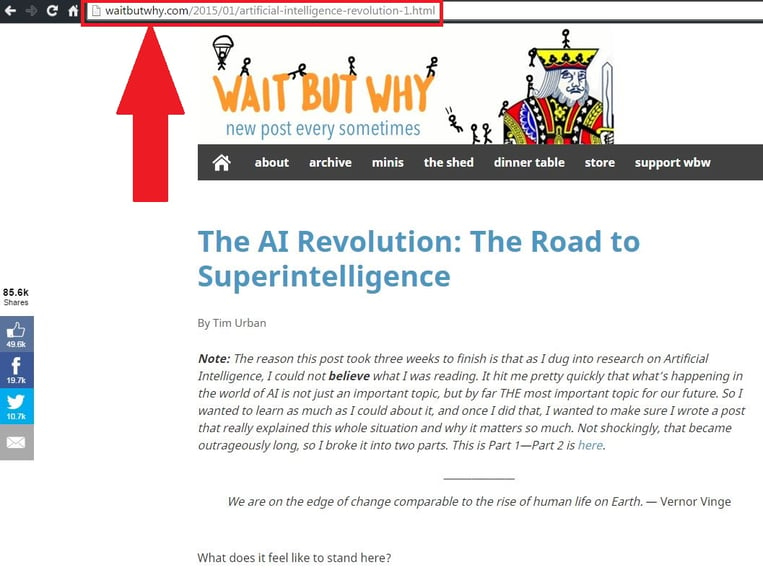 And search Twitter for that URL. That will take you to a search results page which should look like this: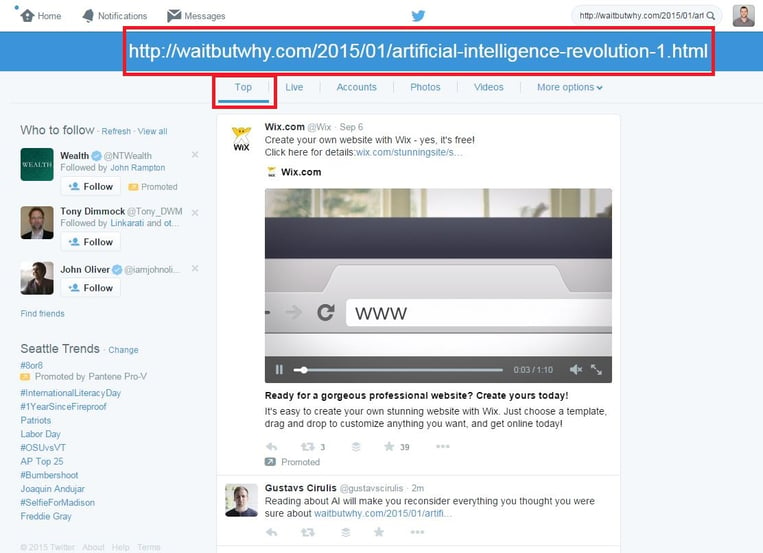 A few things to note here (highlighted in red):
The URL should be in the blue bar above. This will confirm you searched correctly.
You'll automatically be taken to the "Top" page, meaning you're seeing a filtered view.
If you're not seeing the results you expect, you should trim off the "http://" portion of the URL. In this instance, that would leave us with waitbutwhy.com/2015/01/artificial-intelligence-revolution-1.html.
I definitely recommend flipping over to the live tab, as opposed to top. This will allow you to see every single social share of your content.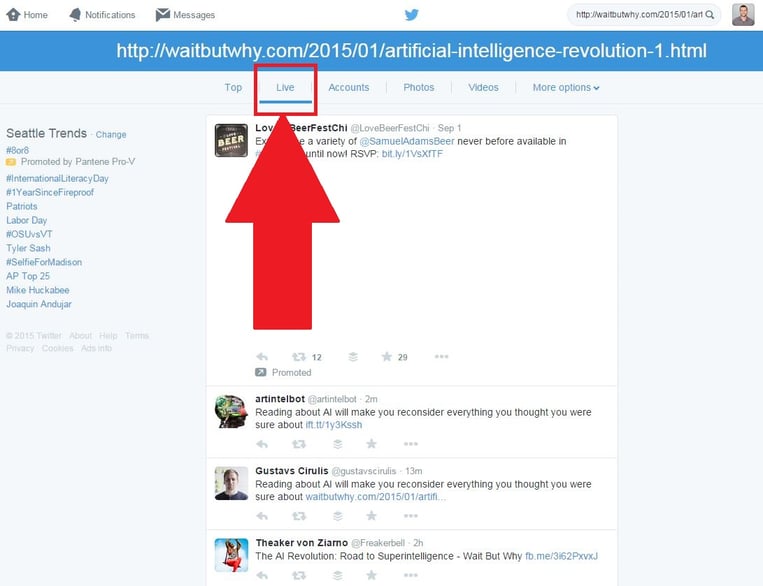 It's worth noting that Twitter uses infinite scroll. So, more and more results will load the more you scroll down, until you hit the end of all results. For a post that has as many shares as this Wait But Why post, that'll be mildly impossible unless you're extremely patient and have plenty of time.
If you really only want to interact with shares from people of influence or high engagement, stick to the top tab.
And that's all there is to finding social shares within Twitter. Super easy, eh?
Facebook Search to Find Social Shares
Once again, head into Facebook.
Once there, you'll once again use the internal search function: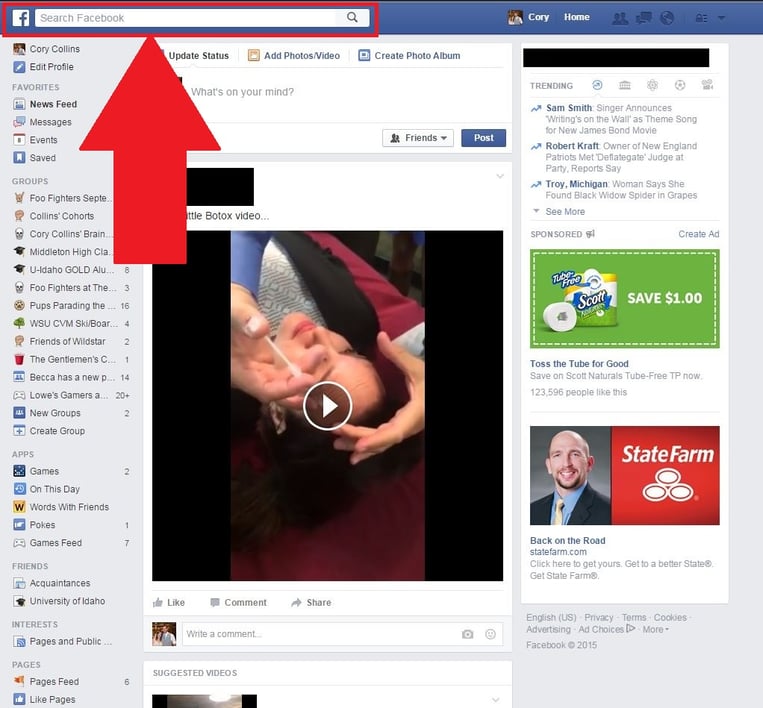 Use the URL of the page to find people sharing it on Facebook.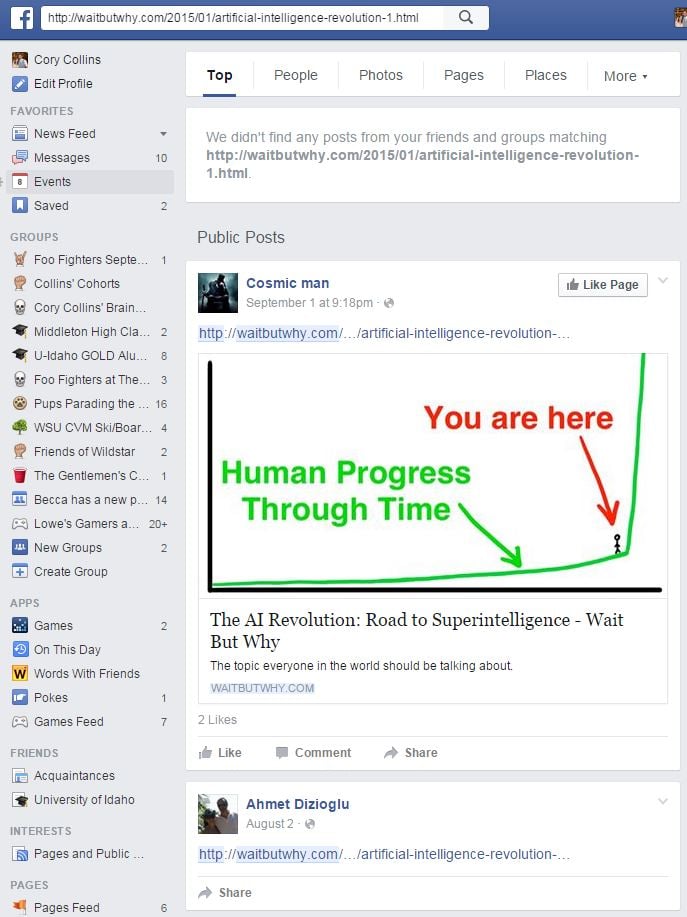 You'll notice that Facebook has different categories than Twitter. The categories are:
Top
People
Photos
Pages
Places
More (Groups, Apps, Events)
I'd recommend leaving it on Top. It's not a perfect way to find every social share, but it will show you people sharing your page and is overall a good way to track the performance of your content across Facebook.
With Facebook's privacy settings, this is more hit and miss than searching on Twitter. If you're using social share buttons those will often have built-in features which help you track who's sharing your content and how.
Google+ Search to Find Social Shares
As with Twitter and Facebook, we'll once again use Google+'s internal search to find social shares.
Simply pull up Google+ in your browser and enter the URL into the internal search: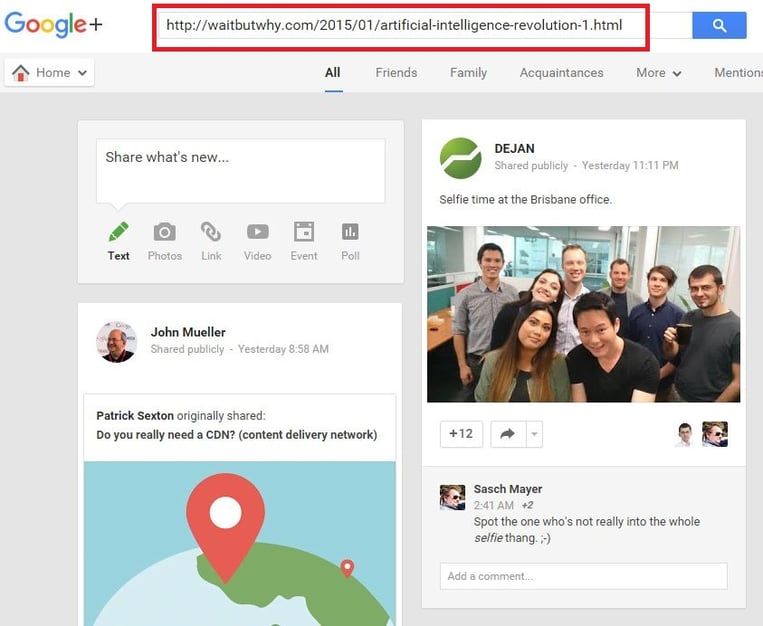 This will take you to social shares with the URL.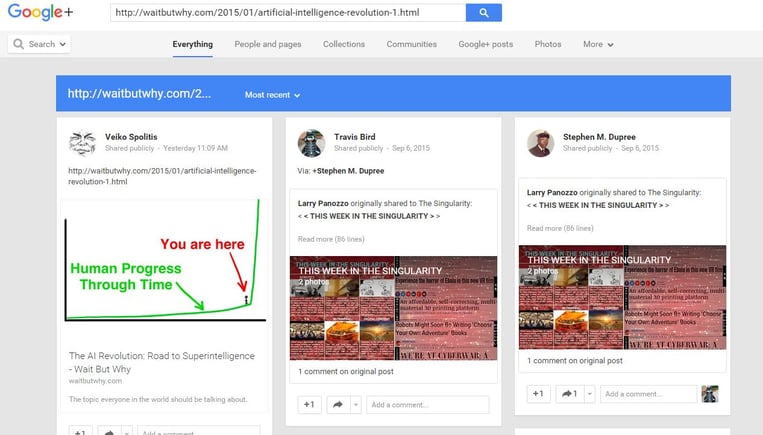 Google+ provides two options for sorting: Most recent, or Best of. I'd recommend most recent to keep an eye on social shares as they happen, particularly if this is your first time digging into social shares.
Wrap Up
There you have it – simple and straightforward. If you want to track social shares of your content all you need to do is hop into whichever social platform your audience uses most and leverage the internal search features.
These are priceless opportunities. Anyone who is sharing your content has already gone out of their way to share your work with their friends, families, and colleagues. A social share is a representation of trust and value. You should seize these priceless opportunities to help grow your audience, build relationships, amplify your messages, and build community.
Don't create content for the sake of content – make sure you have a larger, strategic goal and that you're meeting that goal appropriately.