Hello and welcome! It's Tuesday so you know what that means – time for another installment of Linkarati's Tutorial Tuesday.

In this week's tutorial I will be covering the processes and tools associated with monitoring Google algorithm changes and updates.
The recent Penguin update (or refresh, rewrite, whatever you want to call it) reminded many webmasters that it's always a good idea to be on the lookout for and changes and updates Google might make to their search algorithm. Google remains the dominant force within search, and if your business/website relies on organic search traffic in any way, you need to pay attention to how Google is managing their algorithm.
Of course you don't want to spend all your time chasing the algorithm, but there are some ways to stay up to date efficiently so you can concentrate on the big picture.
So without further ado, let's walk through some steps on how to monitor Google algorithm changes and stay on top of any tweaks or alterations.
Method One: Compare Monitoring Tools
Fortunately, there are a number of free tools available to monitor fluctuations within Google's search rankings and this is a great place to start.
While there is no way of knowing exactly what is going on with Google's algorithm at any given time (without being a Google engineer), these monitoring tools can provide some insight into what is going on with Google's search results. Some great monitoring tools worth familiarizing yourself with include:
Each monitoring tool can be very helpful and when used together they can provide you with a clearer picture of what is happening within Google's search rankings.
MozCast
Let's start with MozCast.
MozCast was created by Moz, and as it states on the MozCast page:
"MozCast is a weather report showing turbulence in the Google algorithm over the previous day"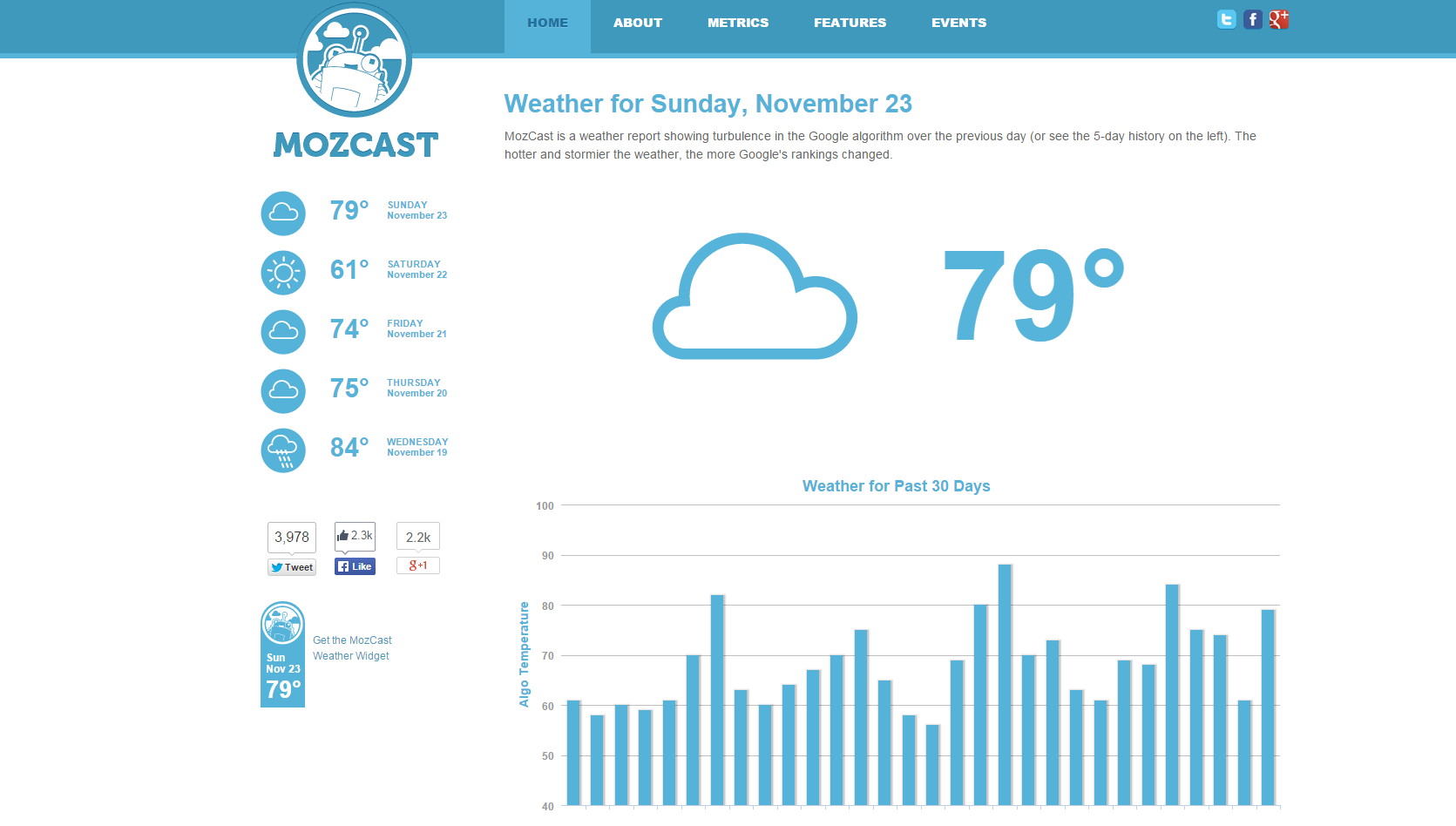 MozCast will give you a quick and easy snapshot of any changes in Google's search rankings – stormier and warmer weather indicates more radical changes.
MozCast will show you the weather for the previous day: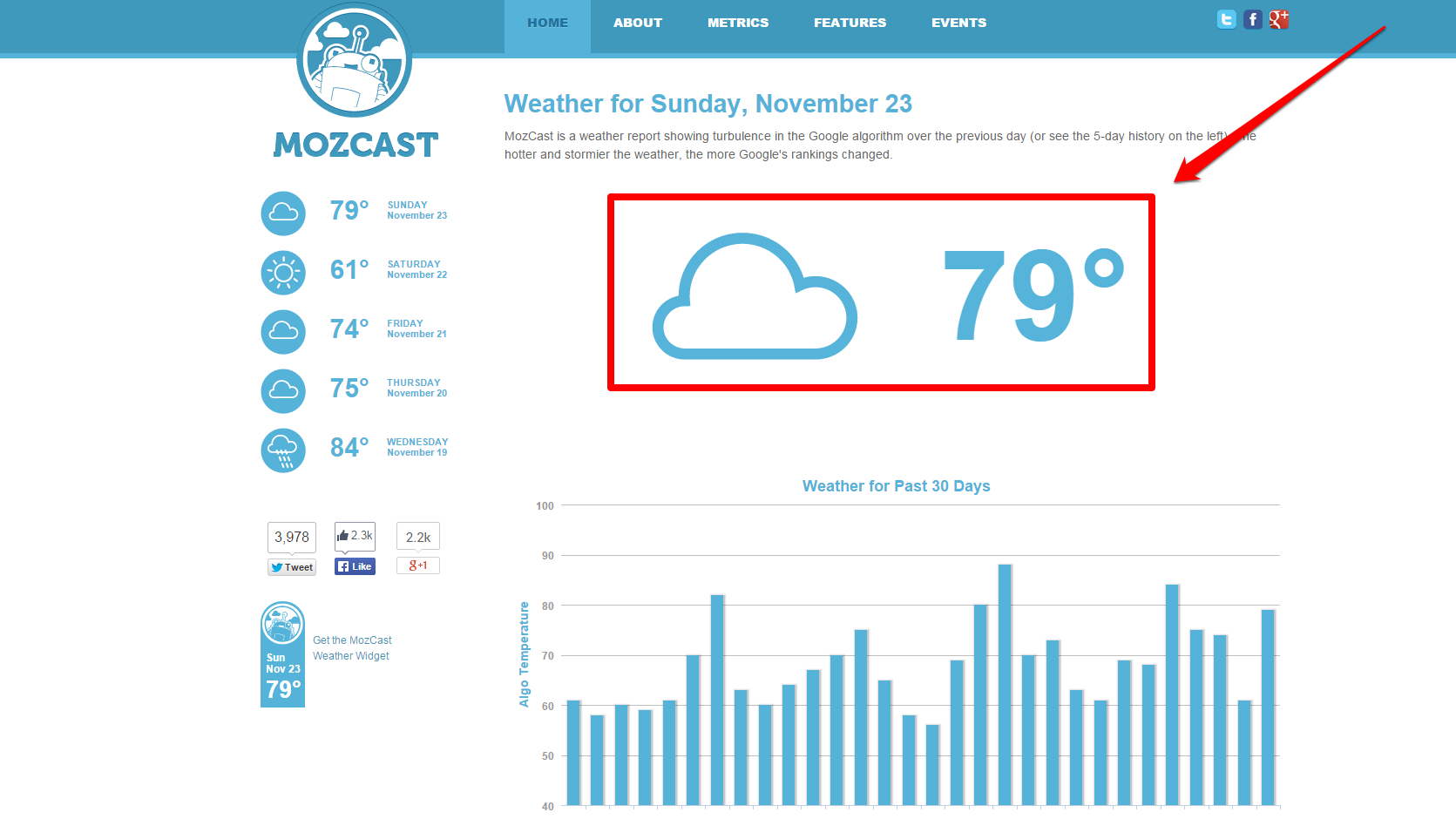 On the left you can see the weather for the past five days: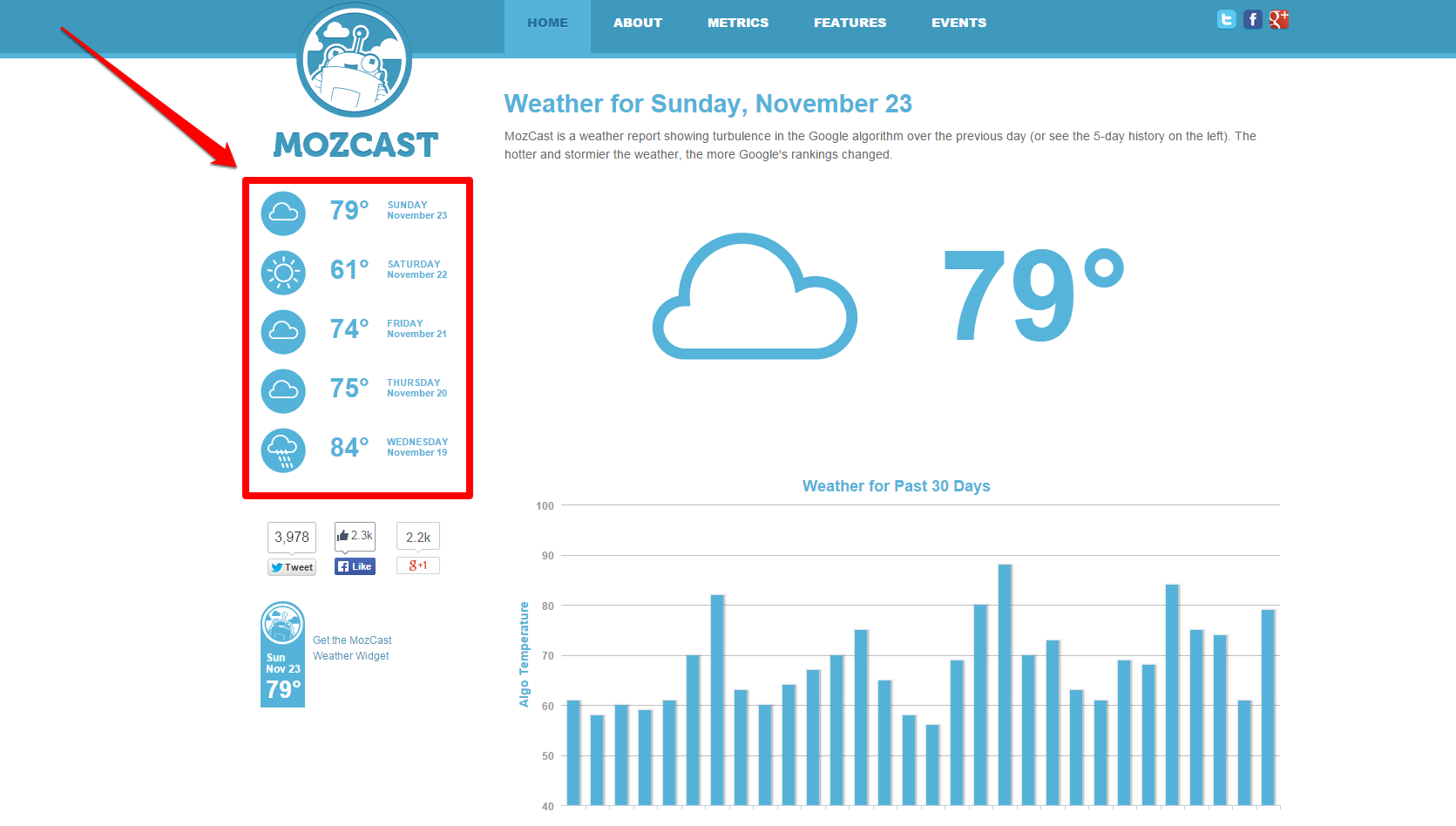 And at the bottom of the page you can see a chart which shows MozCast weather for the past 30 days: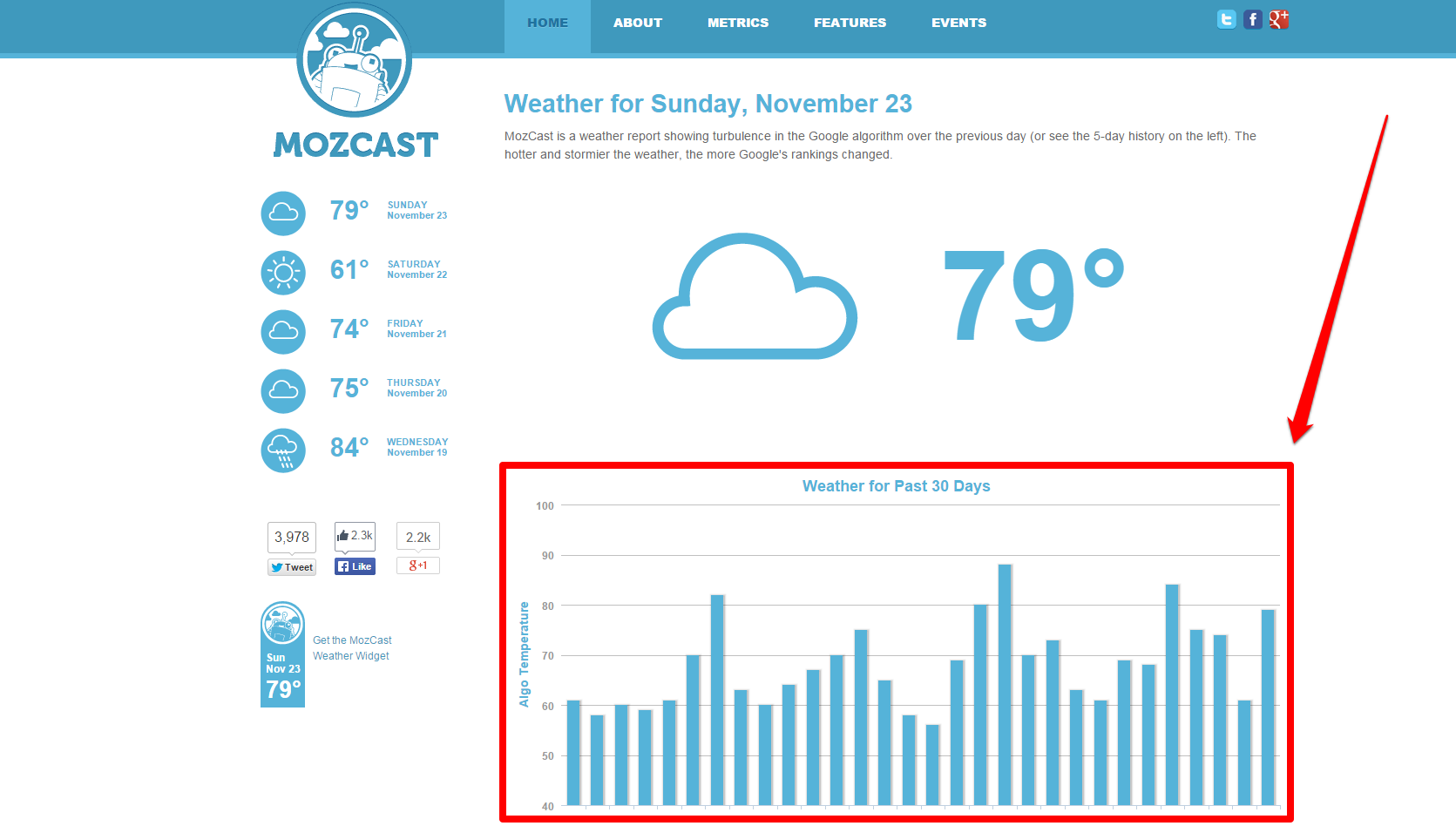 Algoroo
Another great tool worth checking regularly is Algoroo.
Algoroo was developed by Dejan SEO, an agency out of Australia and it monitors search results for roughly 17,000 different keywords, looking for fluctuations. Algoroo tracks both negative and positive movement within the results and uses that data to attribute a "roo" rating to each day. A high "roo" rating designates volatility within Google's rankings and lower "roo" scores reflect a lack of change.
Algoroo is presented as a chart (similar to MozCast) that shows the past few months:

The slider below the chart can be adjusted to view different time periods dating back to December 2012:

Algoroo also displays significant events or updates in regards to Google's algorithm:

On the Algoroo page (below the chart) you can also view a timeline of algorithm updates: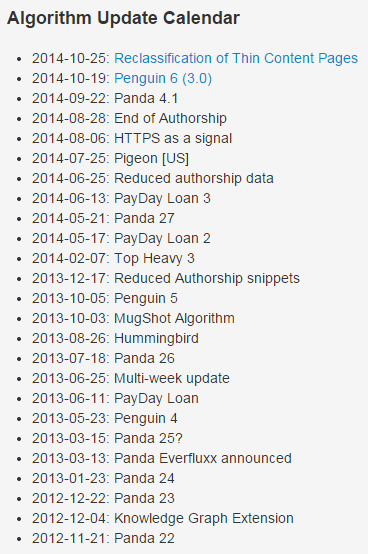 And even add an Algoroo widget to your own site: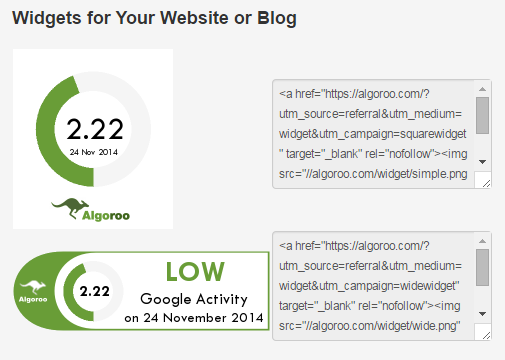 SERPmetrics
Finally, let's take a look at SERPmetrics.
SERPmetrics presents its data in the form of a line graph: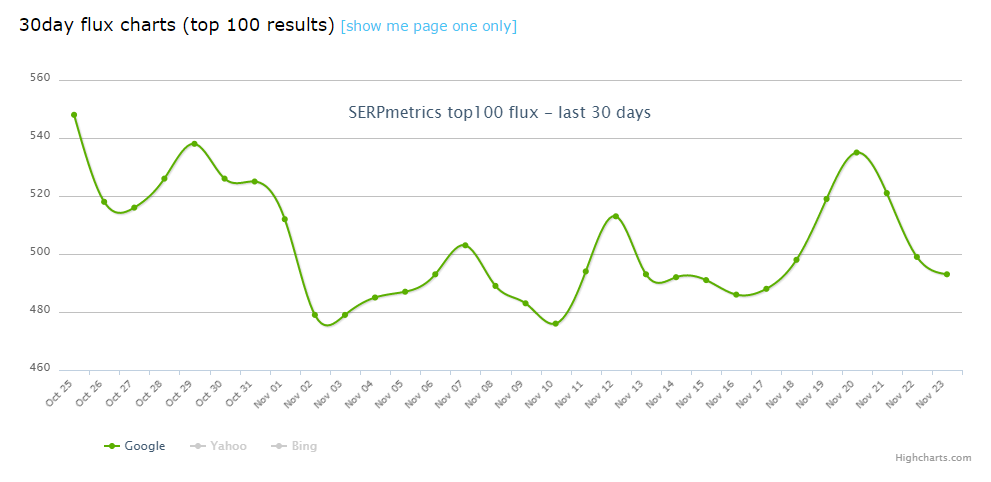 This graph displays the fluctuation within the top 100 results for over 100,000 keywords, and represents that last 30 days.
One of the most interesting aspects of this tool is that it allows you to compare the fluctuation within Google's results to the fluctuation in the results for Yahoo and Bing: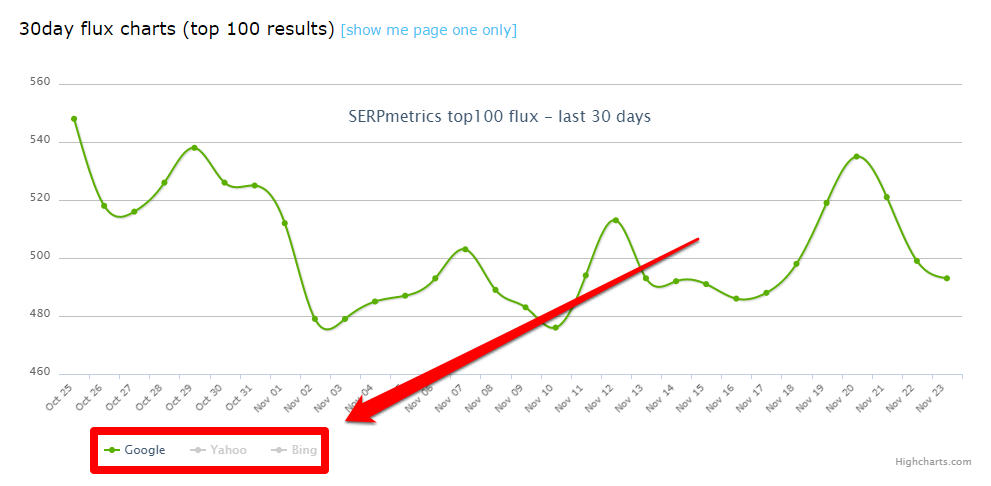 By clicking on "Yahoo" and "Bing" you can view the overlapping graphs of their search fluctuation as well.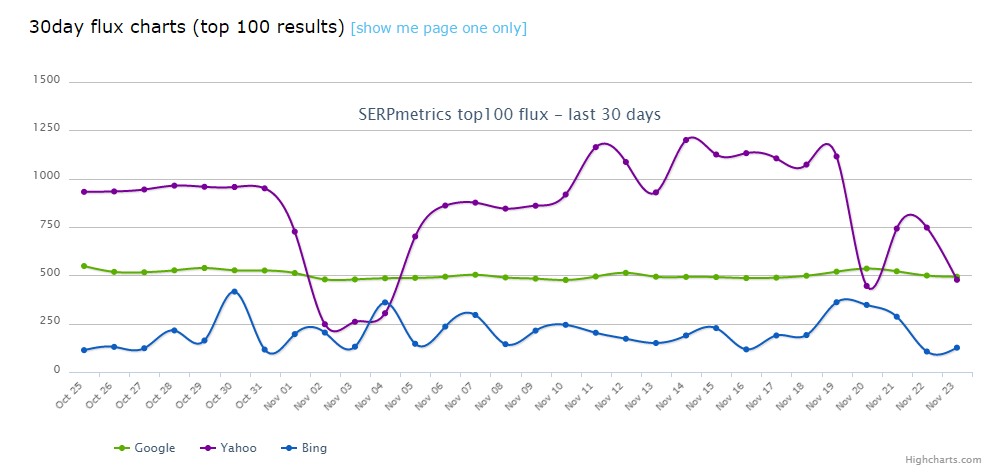 It can be interesting to see how each graph correlates with one another and this tool offers a slightly different visual representation of the algorithm to compare.
For further comparison, Advanced Web Ranking and Rank Ranger both have helpful algorithm monitoring tools as well.
Method Two: Stay Abreast of Search Engine News
Another way to keep tabs on shifts in Google's algorithm is to stay abreast of major news within the search atmosphere.
The world of organic search is vast and has even spawned its own industry – Search Engine Optimization (SEO). Due to the fact that the topic of search is so immense, there is an abundance of information online regarding Google and their algorithm. It can be difficult to sift through all the speculation and conjecture to actually find accurate news, and you may not have the time to dedicate to this.
However, there are a few specific sites that can be trusted (and I trust myself) to regularly deliver useful information regarding any changes in Google's search algorithm. While you may not have time to keep up on everything happening in the realm of search, it is worth at least bookmarking these sites:
Even simply following these sites on social media can be an easy way to get the information you're looking for. Along with following these sites, it could also be helpful to follow some known authorities within the SEO niche as well as some prominent Google employees. Here is quick list of some people worth following:
SEOs
Google Employees
This is by no means a complete list, but it should be a good starting point.
Conclusion
Google is dominant within search, and the fact remains that if organic search traffic is important to your business/site you need to be cognizant of how Google's algorithm operates. As a recap, here are some tools and sites that can help you keep tabs on Google's algorithm:
MozCast
Algoroo
SERPmetrics
Search Engine Journal
Search Engine Watch
Search Engine Land
Search Engine Roundtable
The tools/sites outlined in this post should help you stay on top of any changes or fluctuations within Google's search algorithm.