Jordan Yocum is a Digital Marketing Specialist at the Better Business Bureau, and a former Page One Power employee. Based on his knowledge and experience, Jordan was brought to the BBB to build their SEO program, basically from the ground up. On top of that, Jordan has been overseeing a large website migration at the BBB as well. PAGES Magazine sat down with Jordan (virtually) to discuss his experiences with these unique challenges and share his tips and insight with you!
How would you describe your role and responsibilities at the Better Business Bureau?
My official title is Digital Marketing Specialist; in the world of digital marketing that is one of the most nebulous titles. That being said, I help create and implement strategies to attract new business and maintain communication with current accredited businesses using any and all forms of digital marketing at my disposal.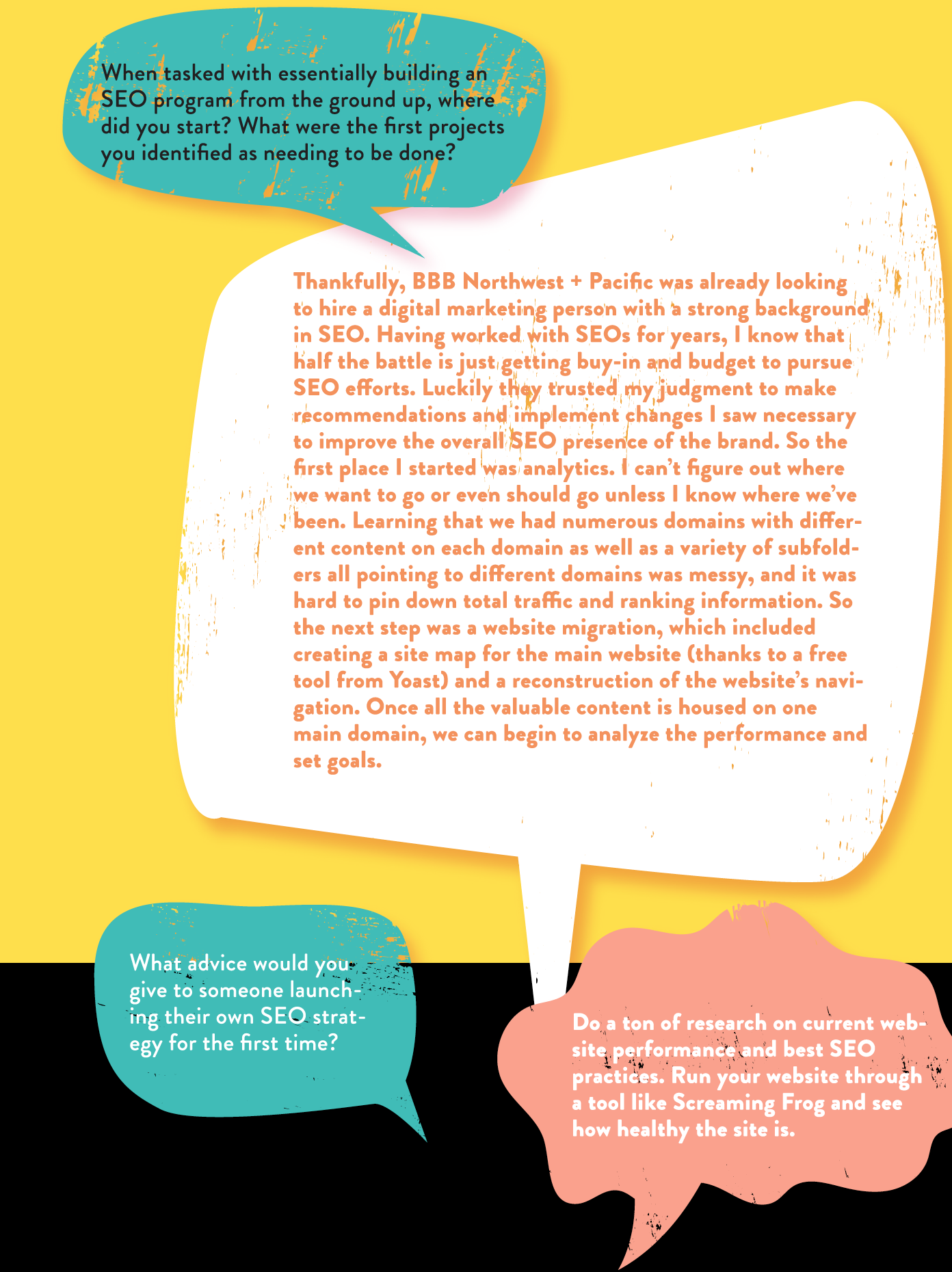 What are the main challenges and hurdles to overcome when launching an entirely new SEO strategy?
Tools and resources. If you come up with a strategy to improve website performance but have to create all the content yourself or have little to no tools to track improvements, then it will be extremely difficult and a long road until you see any improvements.
What are the key metrics and primary KPIs people should track and monitor when launching a new SEO program?
This is mainly dependent on what type of website you have. Ask yourself a couple of questions:
What does valuable traffic look like?
What do I want visitors to do when they are on the site?
Once you answer these questions, you can start looking at different metrics that will help influence your strategy. For example, if you have an information site, you are likely going to focus on time-on-page as a metric as well as ad clicks. If you are aiming for conversions, you are likely looking at new and returning traffic to specific pages as well as which keywords are influencing traffic to your site.
What SEO tools and services would you recommend to anyone launching their SEO program for the first time?
If you can afford it, hire a company like Page One Power. If that's not in the budget, I recommend tools like Screaming Frog, Moz, SEMrush, and Ahrefs.
Can you describe the website migration you're currently executing and explain in a bit more detail what your goals with the migration are?
We had roughly six varying domains and a blog spread over two different WordPress platforms. Many of the domains were either a specific resource or tool for our customers (so they were useful), but navigating to those pages from the main site was difficult. So the main goal is to migrate the websites and content to Hubspot's CMS. This will help get everything in one location, which will help drastically with the analytics side as well as user experience on the site itself. We chose Hubspot because we were already using it for landing page promos and email marketing to our customers.
What items should be on your checklist when preparing to launch a site migration? What are the key prerequisites?
This depends on the type of migration you intend to do. Our migration is fairly simple; we are switching platforms which means no URL structure changes except for pages that existed on sub domains, so making sure you set up all proper redirects is key. Analyze traffic trends on your website to make sure you aren't hemorrhaging traffic after you switch. Take note of all your important keywords and rankings and monitor those after the migration.
What tools are essential to having a successful website migration?
Any tool that will help you analyze site health, traffic, and keywords. The above mentioned tools are best.