A few weekends back, a local performer asked me to help him revamp his website. The reasons he asked me are twofold: I'm a friend of his, and more importantly, I don't think he understands that my occupation of link builder/content marketer is not at all the same thing as a web designer.
My technical shortcomings aside, I've always been keen on the idea of owning and operating my own website: I've just lacked the energy to follow through. Just ask my 7-9 abandoned Blogspot and Tumblr projects.
I have a bad habit of getting really hyped about an idea and then…Dastardly distractions.
The site I've been asked to makeover is devoted to highlighting a troupe of local comedians, myself included. I'm happy to help, as it's in my best interest. Plus, he's paying me in Pabst Blue Ribbon. For those of you who don't live in Boise, PBR is just short of being a valuable enough currency to purchase groceries.
The site won't just be a sandbox for my stream of uproarious content: the primary purpose is lead generation. We want bookers/club owners/anyone who want comedians for a show to find the site and contact information.
So how are they going to find this site? My friend is thinking he wants to drive traffic primarily through social media. I hear that a lot these days.
Every business and every blogger thinks that social media is the most effective traffic generator available. I like to think of it as the Upworthy Syndrome. After all, social is now the top Internet activity according to Business Insider. It's also still the new kid on the block, relatively speaking anyway.
My grasp of web design may only be elementary at best, but I DO have considerable practice in driving traffic and increasing a site's search visibility. When I'm not telling half-baked jokes to couples of people around the Treasure Valley, I spend 40 hours a week in a world of links and link building. I imagine I will be spending more time link building when my friend's site goes live. Why? Because search is the ultimate traffic generator, and links support search.
Numbers Never Lie
Recently, BrightEdge analyzed billions of pieces of content in an effort to determine what really drives traffic on the internet. Here is a breakdown of their results: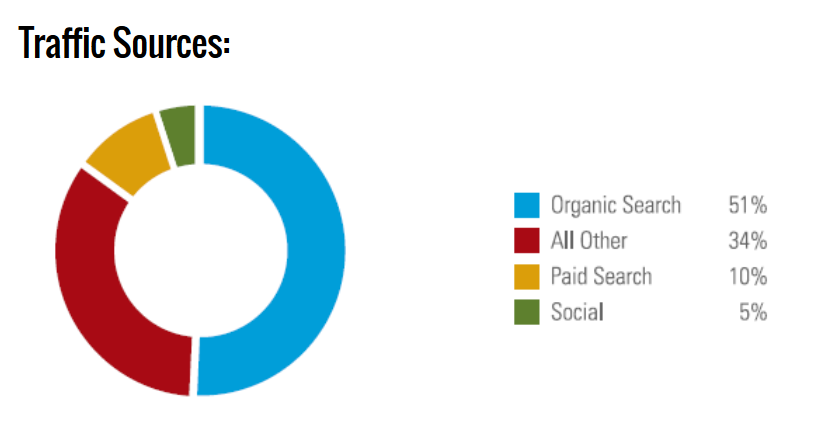 Source: BrightEdge
Organic search results provide 51% of traffic on the internet. That's a majority by itself. Add the 10% that comes from paid search (PPC), and search engines are responsible for 61% of the traffic on the web. 61%! That's enough to break a filibuster in the Senate. A 61% fresh rating is big enough to fool audiences into believing The Reader was worth watching (side note: it's not). 61 was a big enough number to act as the home run record before the summer of steroids.
If you're not visible in search, you're not as visible as you want to be. Would you drive if you could only see through 39% of your windshield and your headlights were only working at 39% of their capacity? If you answered yes, you must drive GM.
Forget the numbers for a second though. There's another crucial reason I would really, really want search traffic, and it's simple: search traffic is a result of users who are, well, searching for me. Or something like me anyway.
Even with the billions (yeah, billions) of Google searches every day, I would propose that there are really only a handful of reasons users search.
They are searching for information
They are searching for a particular website
They are searching for a product they might want to purchase
Even saying a handful was a stretch, unless you have an insanely small hand.
When a user searches on Google, it's because that user anticipates he or she will be pointed in another direction (although the knowledge graph may have something to say about that).
When a user finds you in search, it's because Google is of the opinion that you have what that user needs.
Desperately Seeking Social
I love social media for a plethora of reasons. It's an opportunity to stay in touch with friends that live in different timezones. It offers me a myriad of perspectives on a variety of issues. It's a direct line to bands that I adore.
https://t.co/MBqlbQshmq I predict @CHVRCHES will be one of my favorite bands for many, many years to come

— Jesse Stoler (@JesseStoler) June 4, 2014
CHVRCHES favorited that tweet. Yes, I was super excited about that. Yes, I am that much of a super dork.
Social media, however, is not as reliable a traffic generator as search. Here a few reasons why I feel that way:
Social shares are fleeting and get drowned out easily
Users don't go on social to click on different links that take them away from social
Not everyone uses social, whereas everyone uses a search engine of some kind
I spent five years in college. Most of my studies were in the fields of mass communication, political science, and theater. Just like any other college undergrad, I was compelled to write a slew of essays covering a veritable mixture of subjects. Just like any other college undergrad of my generation, I had a computer and a world wide web to serve me in my research. This year's college freshman was born in 1996, the year Google was founded. Not once have they known a world without Google.
You know what website I never used to "find information?" Facebook. Okay, that's a touch misleading. My events page on Facebook knows the address of my friend of a friend who's throwing a kegger.
But when I was writing about the history of executive branch overreach in Dr. Adler's class, facebook was not my go-to. I don't use Facebook, Twitter, Linkedin as just another street I have to pass to get where I really want to be. When I go to Facebook, I'm crashing at Facebook's house. 90% of my friends are there. I want to talk to and engage with them. I'm there to read about their day and to understand their perspectives. Also, I want to know which of my high school girlfriends are miserable now. Just kidding: as if I was able to get a girlfriend in high school.
Of course, I click on the occasional social media link. Friend x will share a story he or she found that will spike my curiosity. It could be an in-depth analysis about the psychology of trolls who leave nasty and misogynistic comments on YouTube. More likely, it's a YouTube link of cute cats doing some cute.
The point is that I don't use social to find other links or other content, and I hardly think I'm the exception to a rule. Help me out BrightEdge: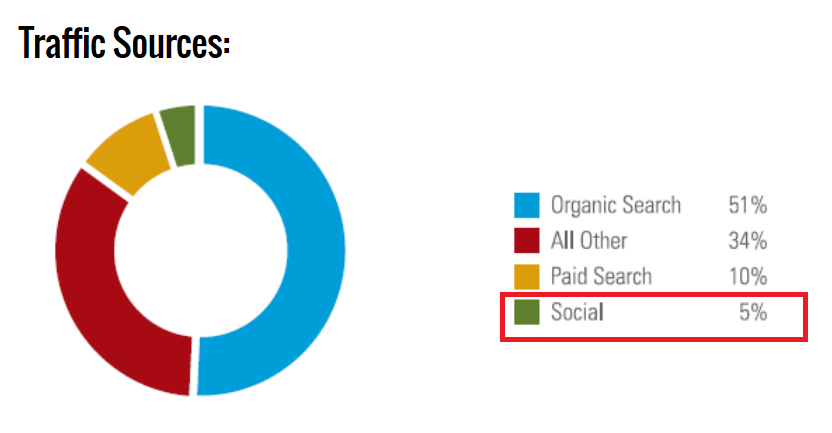 Social only directs 5% of the internet's traffic. Fifteen minutes from now, Geico could save me triple that on my car insurance.
Conclusion
I'm not the only person who loves social. Comedians really love social media. To us, Twitter and Facebook are digital jokepads. Google+ is just more of a joke.
My comedian friend is as active as anyone on social. It turned out he knew nothing about search engine optimization. That's okay: I figure the majority of people don't. Truth be told, I was largely unaware of it before I landed an interview to start working for my current employer. When I explained it to him though, he was on board.
The fact is that search is the transcontinental highway of the internet, Google in particular. Optimizing for these search engines can be especially difficult, but it borders on essential if you want any traffic.