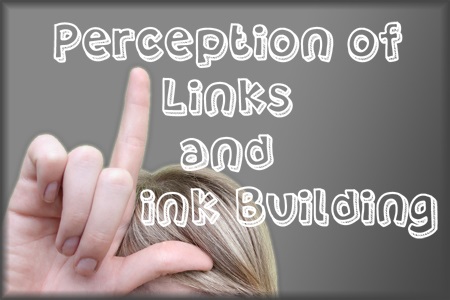 Working within the online marketing industry, I read (and write) a lot about links.
Links, and specifically link building, remain a hotly debated topic within the digital marketing sphere. Much like how links are built and valued online, the perception of link building itself has changed and shifted over time.
In the early days of digital marketing and SEO, link building was touted as a bit of a magic bullet for successful online marketing. However, recently it seems that link building has become the black sheep of the digital marketing world.
Recently, Tadeusz Szewczyk (Tad Chef) wrote a post on Positionly that highlighted this issue. In his post, Tad talks about why writing about content is better for attracting influencer attention than writing about links. While I don't necessarily agree with all of Tad's points, it is a well-written article that sheds light on a real issue within the internet marketing niche.
In this post I want to discuss some of the reasons the perception of link building has changed over the years - and why links and link building are still so important to online marketing.
Changes in the Perception of Link Building
The perception of link building within the online marketing community has certainly changed, and continues to change, over the years.
As I mentioned before, Tad's article definitely raises some valid points. One major point that he makes is that covering content is more popular these days.
Search Engine Land is a major SEO/online marketing publication, which covers key industry topics. Their content is typically a fair reflection of industry trends. In his post, Tad cites that the top three link building posts (at the time he wrote his post) on SEL weren't particularly positive.

While these don't appear to be the most sterling endorsements of link building, I wouldn't necessarily categorize them as negative. These posts do, however, signify the reluctance within our industry to write positively about link building.
However, I definitely believe it is possible to cover links and link building and successfully garner positive attention. For example, when I search "link building" on BuzzSumo: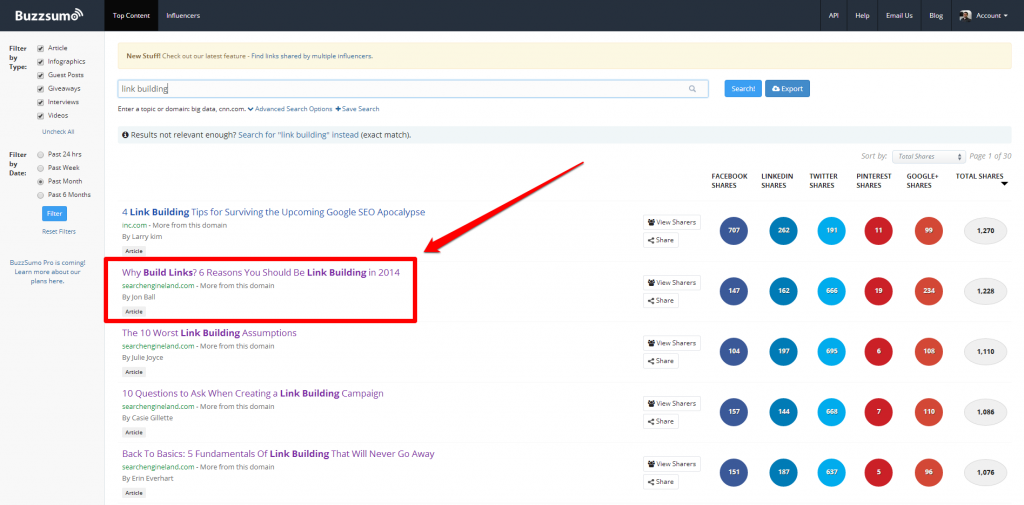 The second most popular article in the past month is by P1P CEO Jon Ball explaining why link building is as important as ever in 2014. (Note: the two articles below Jon's are the articles Tad highlighted in his post)
Another great example of successful link building is this post by Nicole Kohler, which was featured on YouMoz and then promoted to Moz's main blog. Moz isn't necessarily known for its positive coverage of link building, so the fact that Nicole's post was promoted shows that link building can still be covered positively and inspire a large amount of engagement on an influential site like Moz.
Here are the engagement numbers from Nicole's post: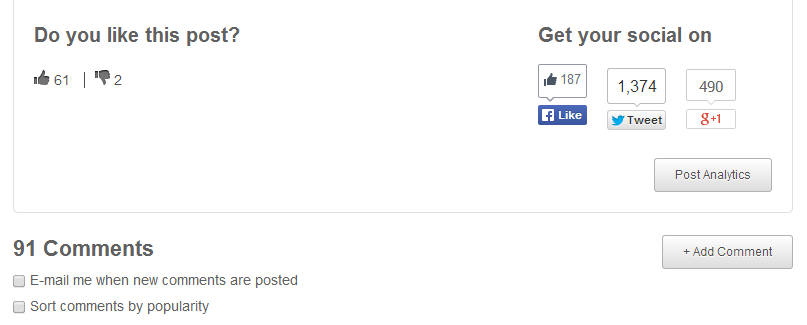 However, when we look at the shares on BuzzSumo for "content marketing", we can see that Tad certainly has a point about the popularity of content: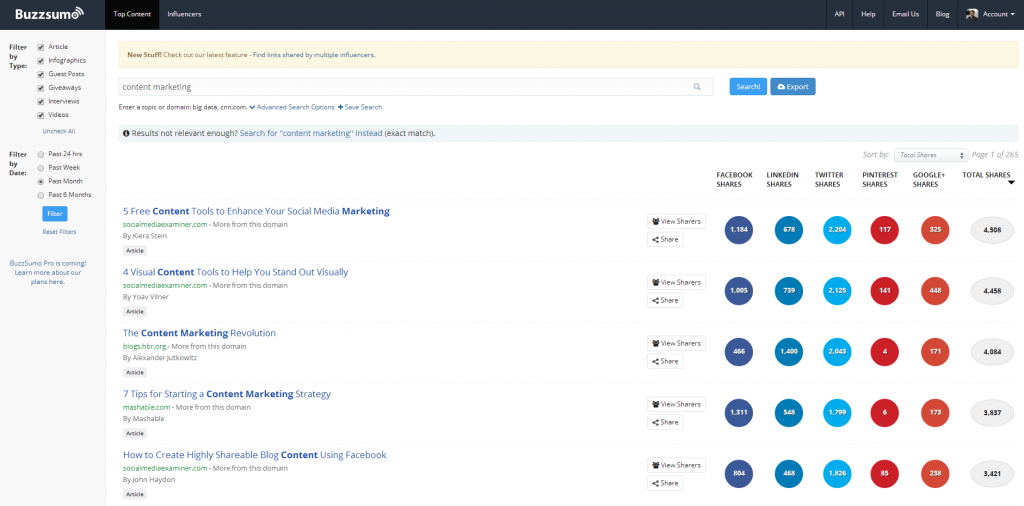 The share numbers on the content marketing articles are much higher than those on the aforementioned link building posts.
While I agree with Tad that it is certainly more popular to cover content right now, I maintain that it is possible to be successful covering links and link building – difficult, but possible.
This positive link building coverage is extremely important because the fact is links still matter. Now is a time when we need voices of clarity.
Links Still Matter
The reason we must continue to cover links and link building is simple – links still matter within digital marketing.
Despite the growing aversion online marketing personalities have to covering link building, the fact is links are still important. Optimizing for search is a big part of internet marketing, and links are at the very core of Google's search algorithm. Links remain the single most important factor in determining visibility within search – and Google confirms this:
"It turns out backlinks, even though there's some noise and certainly a lot of spam, for the most part are still a really, really big win in terms of quality for search results." – Matt Cutts
Matt Cutts also explained how hard it is to determine the authority/quality of content without links in this Webmaster Video.
Not only has Cutts defended links in the past, but he specifically discussed link building as recently as SMX Advanced 2014 (at 55:05) on June 11th (about a month ago):
"It's certainly possible to do white hat link building. Usually, it's called being excellent. Right…take Search Engine Land, you broke off from your old site, you started fresh. And yet, now…Search Engine Land is known as one of the most authoritative places to go on the web. You didn't cheat, you didn't take shortcuts – you went right up the middle and you earned it, with sweat. That's the best way to do white-hat link building in my experience – sweat, plus creativity helps a lot." – Matt Cutts
Cutts clearly states that it's possible to do white-hat link building, but it takes hard work. This is a clear example of the Head of Webspam at Google stating that link building is a viable online marketing strategy.
Link building is still an important part of online marketing and a topic that should be covered within the industry. Currently there is a lot of fear and confusion surrounding links and link building, so in order to be successful you must cover these topics in a clear and actionable way.
Links are going to continue to play a major role in digital marketing for years to come and it would be a mistake to ignore them.
Reasons for the Decline in Perception of Links
Unfortunately, the perception of links has been deteriorating recently. The negative connotation that seems to surround links and link building within the online marketing community today stems from a combination of reasons, including:
Google spreading fear, uncertainty, and doubt surrounding links
Google's constantly changing and tightening guidelines
Short attention span within the online marketing industry
One of the major reasons people are tentative to cover link building is that Google has created an element of fear surrounding links and link building.
Google has conducted multiple FUD campaigns involving links and publicly penalized some prominent figures within the SEO niche, including Doc Sheldon and Portent. These highly-visible penalties have cultivated a genuine fear surrounding links, and consequently link building as a practice and even topic. Along with the FUD they have generated, Google is constantly changing and tightening their guidelines involving links – which only increases the confusion and fear.
An example of how ridiculous the atmosphere Google created is the fact that well-known link builder Jon Cooper recently wrote a blog post about how he is scared to blog about link building.
Another contributing factor to the waning popularity of discussing link building within the internet marketing realm is that the industry itself has an extremely short attention span. The ever-changing industry lends itself to a "latest and greatest" mentality and many in the industry have a tendency to move quickly from one tactic to another.
The Rising Popularity of Content
As Tad Chef points out in his post, right now that latest and greatest topic is content and content marketing.
Content marketing has become a hot topic because, much like link building, it lends itself very well to online marketing. Due to its potential to be successful, content marketing is an easy topic for those in the internet marketing field to latch onto and it has become a popular topic to cover.
However, exclusively covering content is foolish as there are a variety of factors to online visibility, and links remain critical to such visibility. In fact link building can work very well in conjunction with content marketing. Ideally, we should be covering both of these important strategies.
Covering Content Doesn't Mean Forgetting About Links
Both content and links must be covered within the online marketing space.
As mentioned before, content marketing can be useful, but it becomes much more effective when implemented alongside a link building initiative. Both of these strategies are part of a successful holistic online marketing plan, and both of these strategies should be openly discussed within the industry.
Although content marketing is the industry buzzword right now, that doesn't mean we should leave links out of the equation.
Link building is an essential part of a comprehensive online marketing strategy, and as Bill Sebald points out in this excellent article - content alone can't build links. If we as an industry only cover content and not link building, we are selling people short on the digital marketing information we provide.