Editor's Note: Today we have an article from guest author Lesley Vos, a blogger for PlagiarismCheck.org.
Lesley will be discussing one of the oldest debates in SEO: nofollow links. Are they worth your time? Do they have SEO value? In today's post, Lesley answers these questions and more to determine if nofollow links are worth an SEO's time.
Links are a top ranking factor in search engines and acquiring them is a critical part of every SEO's job.
SEOs spend time and money searching for link building opportunities, and want to see results as soon as possible. That's why many SEOs have prejudices about nofollow links and their role in SEO strategy.
Some say nofollow links are a waste of time. Others defend nofollow links, pointing to their marketing benefits beyond link equity.
What are these benefits, if any? And who's right: nofollow detractors or defenders?
It's time for the final answer.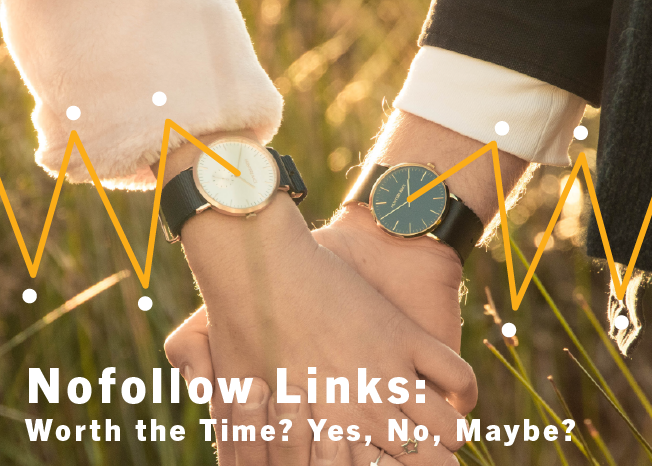 The #1 Fear of SEO Specialists
You've spent time prospecting and reaching out to reputable websites. You wait patiently for the results, but...
Nothing happens!
This is the biggest fear of SEO specialists: backlinks that eat resources, but produce no results in terms of search rankings and visibility.
That's why many SEOs hate rel=nofollow links. Yes, it's fine to use them for social media links or comments, but when it comes to backlinks from outbound resources, we want dofollow links. Is there anything worse than working hard to secure a link on a good site, only to find when the link is published it has the nofollow attribute?
What's so terrible about nofollow links?
The core difference between the two main link types, dofollow and nofollow, is link equity. While the dofollow attribute provides your website with references and, therefore, more domain authority for better rankings, the nofollow attribute tells Google that the link is not pointing to a trusted source and should not be crawled.
No link equity, no SEO results — right?
Not quite.
Identifying Nofollow Links with Prospecting Tools
It's true; most link builders do their best to avoid links with the nofollow attribute, even if they're from sites as reputable as Entrepreneur or Huffington Post.
To avoid building links that end up with the nofollow attribute, SEOs use tools that allow them to easily recognize when a site frequently applies it to links. The most popular of these tools are:
SEOQuake
This extension works for most browsers (Chrome, Firefox, Opera, and Safari) and checks web pages for many SEO parameters, including dofollow and nofollow attributions.
Here's what nofollow links look like using SEOQuake (Source):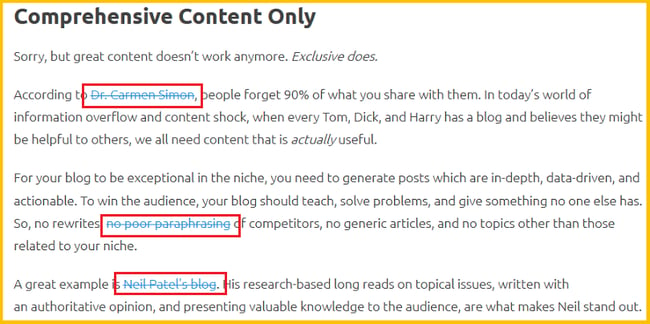 Dofollows look like normal links.
NoFollow
Available for Chrome, Opera, and Safari, this extension helps you identify nofollow links quickly. Here's a screenshot (Source):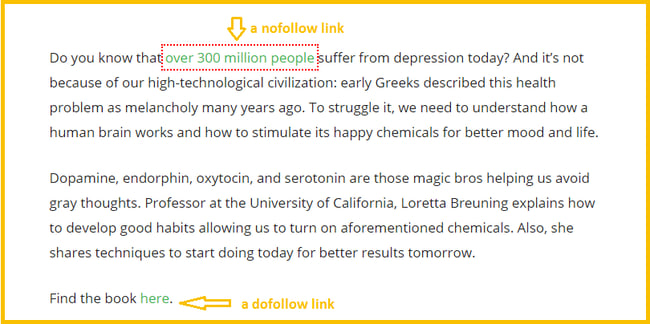 Other tools worth trying include MozBar, The SEO Toolbar, and NoDoFollow.
Once they've identified nofollow attributions on a website, many SEO specialists strike that site from their list of link prospects. No references, no equity, no domain authority, no higher ranks in Google...
Why do some SEOs bother with such links then? Why spend time and money on building them if no SEO results are guaranteed?
Let's dig into this question.
When Nofollow Links Still Matter
Although nofollow links don't pass authority, they can still benefit your website if you know how to choose the right prospects.
What prospects should you consider? These are the types of sites where a nofollow link is still worth pursuing:
Authoritative.
Relevant to your business.
Posts high-quality, comprehensive, and data-driven content.
Offers opportunity for referral traffic.
Has an active audience (Check their social media and pay attention to comments).
When deciding if a potential link partner fits your SEO goals, ask yourself how relevant the site is to your niche and if their audience might find your website interesting.
In other words, make sure your target audience is there — don't choose a target site simply because they have high traffic and offer dofollow links.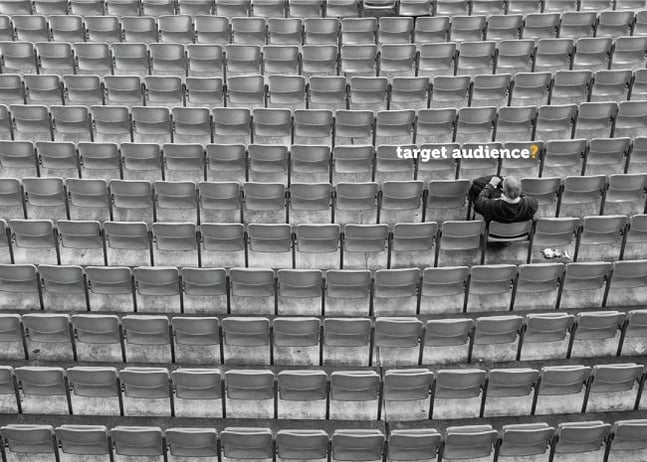 Let's say you offer SEO services like Page One Power, the owners of this blog.
You might analyze a competitor and see they've got backlinks on two websites: SEMrush and YourStory. Both have great metrics, but all the articles on SEMrush have nofollow links, while the posts at YourStory feature dofollow links. Which is the better link opportunity — the less relevant YourStory link with a dofollow attribute, or a link on SEMrush that reaches a relevant and active audience but has a nofollow attribute?
To decide, let's look at some case studies.
In 2015, TekNicks built 99 links for their client, 88 of which were nofollow. The result? A 288% increase in organic traffic and a top position for their main keyword (which received 2,000 monthly searches).

Another study from Fractl showed their nofollow link from Daily Mail brought: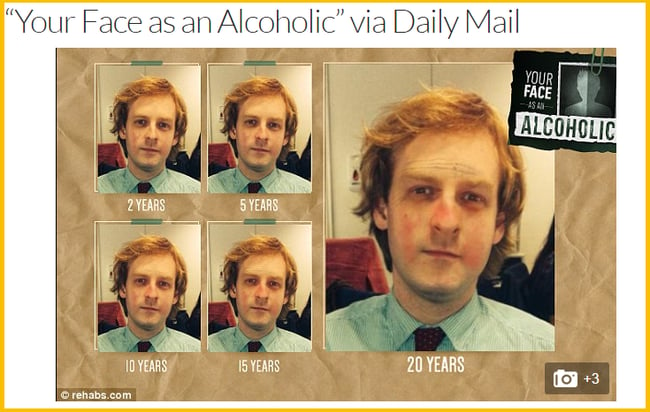 900+ features on websites such as New York Daily News and The Huffington Post.
30% dofollow links.
14,000+ social shares.
In his article for SEMrush, Adam White shared how one nofollow link on a relevant site ranked his project number one: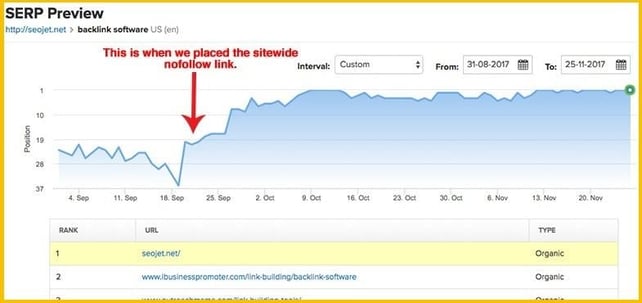 These cases show that despite the fears, it appears nofollow links can benefit SEO.
Nofollow links on relevant, authoritative site can earn referral traffic and brand exposure. They can also earn link equity through the domino effect of other sites picking up your content from the nofollow links on larger sites.
For these reasons, SEOs should not overlook or avoid nofollow links.
Does Anchor Text Matter for Nofollow Links?
By now it's clear that over-optimized anchor text on dofollow links isn't helpful for SEO (and can even be damaging). Aim for a healthy mixture of branded, partial-match keywords, and white noise anchor text for your backlinks.
But what about nofollow links? Does anchor text matter? Short answer: yes.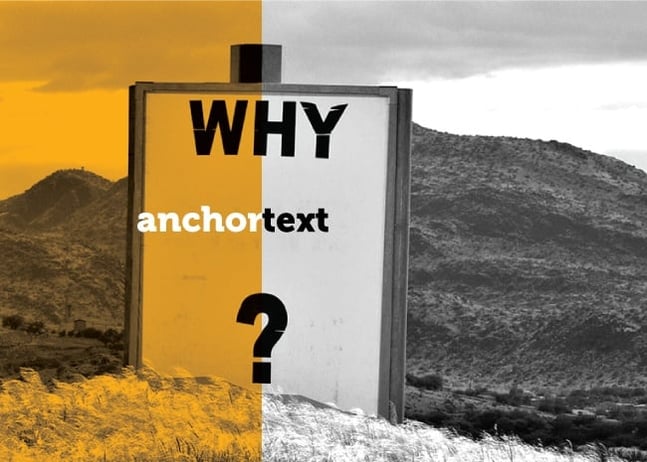 Nofollow links provide brand awareness and exposure. The value of these links comes from their ability to bring visitors to your site.
These links should have anchor text that would make people want to click them. Appeal to their curiosity, but also be clear about what the person clicking will get after clicking.
Consider branded keywords for nofollow links as well, so visitors begin to recognize and remember your brand.
You can also research your audience to find potential anchor text. Search Q&A websites and topical forums in your niche to see what terms people use to describe their problems or ask for solutions, and use those phrases as anchors.
These keywords may differ from those highlighted by SEO tools, but they have enormous clicking potential. Readers will see these familiar terms and be more likely to click your link.
Conclusion
What are your SEO goals?
Traffic, leads, conversion, and revenue are all SEO goals — link equity should not be your only goal.
While nofollow links don't provide link equity, they still drive traffic, increase social signals, encourage influencer marketing, lead to dofollow links (via the domino effect), and help round out a natural backlink profile.
Does this mean the myth about nofollow links being useless is finally dead in 2018? What are your thoughts?