Hello all. A few of us here at Page One Power recently had the pleasure of attending MozCon 2017 in surprisingly-sunny Seattle.
The crew included myself (Cory Collins), Nicholas Chimonas, our Head of Technical SEO, and Colin Eggleston, our Marketing Events Coordinator.
We sat down to record our top takeaways, thoughts, experiences, and of course our favorite sessions.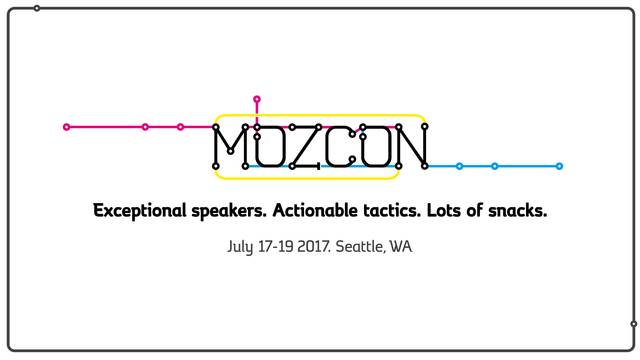 Before we get into the video, huge shout out to the amazing crew over at Moz for hosting such an incredible event. Seriously, I can't imagine the time, energy, and care they invest every year to put together an industry-leading event that brings together thousands across the SEO community to learn, network, and foster community.
Speaking personally it's been invaluable in terms of inspiration, technical growth, and building a professional network.
MozCon accounted for 3% of Moz's entire expenses in 2016, and according to this 2015 annual report operates at a loss (MozCon was a net loss of 225,390 dollars).
It says everything you need to know about Moz that they're willing to invest into a community event that actually costs them 225K dollars to host.
So, let's get into it shall we?
Here's the full video:
Below I'll break the video down into bite-size segments.
Our Favorite Sessions
What would a recap be without a discussion of our favorite sessions? I'd like to stress that all the sessions were fantastic, and the sessions we enjoyed most aligned more with our day-to-day work than the actual value of the presentation.
Your own mileage will vary -- I suggest reviewing the slidedecks from the presentations that most interest you. Moz has a link to every deck on the MozCon page.
Colin's favorite sessions:
Colin discusses his favorite sessions starting at 0:56:
His favorite sessions were Oli Gardner's "Data-driven Design".
Colin also really enjoyed Russ Jones's Sunday session, "Risk Adverse Link Building at Scale."
Side note: Nicholas, Colin, and myself all really loved the Sunday sessions, and Russ's most of all. It was a well executed, more intimate learning style and learning Russ's methods of link building at scale was absolutely fascinating. Moz, please do another classroom-style session day!
Cory's favorite sessions:
I discuss my favorite sessions at 2:35:
I echo Colin's vote for Russ Jones (as does Nicholas).
I also really enjoyed Ian Lurie of Portent's "Size Doesn't Matter: Great Content by Teams of One".
I also really enjoyed Matthew Barby's "Up and to the Right: Growing Traffic, Conversions, & Revenue" and Wil Reynolds "I'd Rather Be Thanked Than Ranked."
Nicholas' favorite sessions:
Nicholas starts discussing his favorite sessions at 7:24:
His favorite were Russ Jones' Sunday presentation, Britney Muller's Sunday session, along with her MozCon presentation, "5 Secrets: How to Execute Lean SEO to Increase Qualified Leads."
He also really loved Jayna Grassel's "A Site Migration: Redirects, Resources & Reflection."
What We Enjoyed Most At MozCon, Aside from Sessions
Colin most appreciated the opportunity to meet and interact with well-known industry professionals, including Mozzers.
Nicholas most enjoyed the "Birds of a Feather" tables, and the ability to directly meet and interact with other SEOs and marketers who care most about shared interests.
We also really enjoyed spending time with our friends over at BuzzStream, who we highly recommend as a link building outreach CRM. Between dinner, mini golf, and a little-known activity called Duffleboard, it's fair to say we had an amazing time with them.
Unexpected Joys of MozCon
Conferences are full of unexpected, serendipitous joys. Colin most appreciated the finely-tuned organization of the event.
The amount of organization it takes to make a conference the size of MozCon run smoothly is mind boggling. To see it run like a Swiss watch was beyond belief.
Nicholas appreciated the Moz staff themselves, and the candid conversations about the updates they're working on for the Moz toolsuite.
I, Cory, most appreciate the birds of a feather tables. I'd seen them done at previous conferences but they'd always been more miss than hit. At MozCon however it was one of my favorite events from the entire conference.
What We'll Do Differently Next Year
A few recommendations from us as a group:
Network beforehand. Broadcast you'll be at MozCon well in advance, and make sure you send emails to your industry friends.
Bring comfortable shoes. You'll be walking around quite a bit.
Bring a powerbank. Your phone will run out of battery pretty much everyday. Be prepared.
Mingle during sessions breaks. Go grab coffee and introduce yourself to everyone you stand next to in line.
Book a hotel near the conference center. It makes a big difference in your conference experience.
Stay caffeinated (and hydrated).
Closing Thoughts
Colin would love to see Q&A panels.
I would love to see more conversation about how SEOs should be involved and interacting with content production. So much of the conference discussed content, with the assumption that as the SEO you get to be dictating content. I think that's a bit of a pain point -- very often as an SEO you get less control over than content than you'd like, especially historical content.
Nicholas would love to see sessions where the presenter actually does the work, or walks the room through the work they've done and explain how and why. We're talking Excel, SEMrush, Majestic--whichever tools you're using--pulled up and laid bare.
And that's a wrap!
Hope you enjoyed our takeaways. I can certainly say we enjoyed the experience of MozCon and can't wait for next year!