A website migration can be a confusing term that is often misunderstood as only applying to a website that is moving its web address. In some migrations, either the whole or part of a website will move its address, whereas in others it can be as simple as some pages being redesigned or content being reorganized.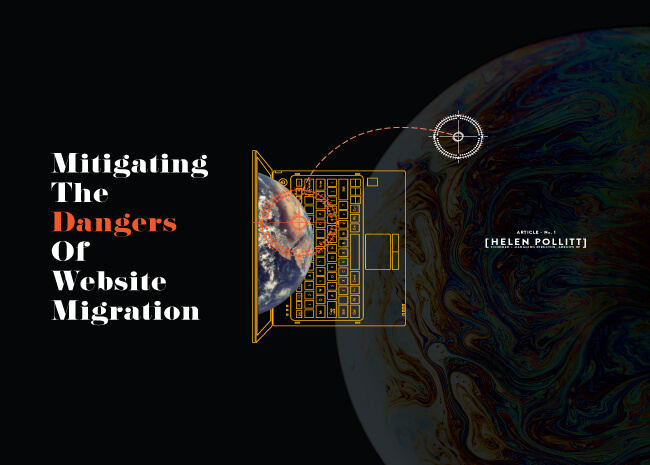 Some common types of website migrations include:
A website's structure changing, resulting in different locations for pages
Redesigning pages on the site causing content and images to move location on a page
A replatforming, such as changing from one content management system to another
Two websites merging into one
A website changing domain
A blog moving from blog.example.com to example.com/blog
The dangers of a website migration
In every website migration, there is the introduction of risk. The search engines get to know a website over time. Through crawling, parsing, and indexing content, a picture of the site's relevance to particular keywords is built up. When the structure of the site changes, or moves location, the picture gets blurred and the search engines have to work to clarify it.
The main risk factors for any website migration include poor planning, stakeholders not working together, sub-par communication, and overlooking critical steps.
If a website migration is not handled well, websites may lose a substantial amount of their organic search traffic. Sometimes this drop can be permanent if the issues are not fixed.
Although a drop in organic traffic and conversions isn't guaranteed, there are steps that need to be taken to mitigate the risk.
Pre-launch precautions
Before a new website is launched, or the significant changes are carried out, there needs to be a substantial pre-launch phase.
During this phase, a project plan needs to be put together that aligns all stakeholders, such as SEO professionals, other marketers, developers, and owners. Without a plan, there is a high chance that shortcuts will be taken or crucial steps missed.
The sorts of factors that need to be considered during the pre-launch phase are: time until launch date, the nature of the changes occurring and the people involved in carrying out those changes, and identifying the one who will be checking their work. Once this is calculated, the plan can start to take shape.
For SEO professionals, the goal of any website migration is to maintain or grow organic search traffic after it takes place. It is very important that a test or development website is created showcasing the changes made to it so they can all be finalized and checked before they are made live. This reduces the chance of the changes having a negative impact on site traffic.
To prevent the test website from entering the search engines' indexes, there needs to be a few steps taken. All bots should be blocked in the development site's robots.txt file, pages should have a no-index tag on them, and if possible, password protection should be added to the site.
Before a website's changes are made live, an SEO should check for technical problems. This includes making sure that any URLs on the development site have the same HTML meta tags applied to them when live as the current live site has. There will need to be tests conducted to make sure the pages load as quickly as on the current live site. It is also crucial that page titles and meta descriptions are carried across from the current live site to the one in development. If possible, it is good to provide a technical SEO specification which details all the ways that code and structure needs to be implemented on the site.
If content is going to be the same on the new site in development as on the current site, then the content needs to be copied across the corresponding page on the development site.
Essentially, as much as possible on each page of the development site needs to be the same as its counterpart on the current site.
In some circumstances, a page will change URLs during the migration or may be deleted or consolidated with another page. This is why an exercise needs to be carried out before launch to assess which pages aren't changing and which pages need to be redirected.
Bench-marking is a key step in a good website migration. Make sure that the rankings of important keywords are noted, traffic levels recorded, and other key site performance metrics documented. This will assist in diagnosing the cause of a traffic drop if one occurs post-migration. Alongside this, it is a good time to make sure any analytics tracking will still work on the new site or pages once launched.
Launch day
On the day that the new website is launched, or significant changes implemented, some actions will need to be carried out:
The redirects that were mapped during the pre-launch stage need to be applied.
Final checks should be carried out on the website by an SEO in case anything has changed at the 11th hour.
Once happy that everything is in good shape for the changes to be implemented, the SEO professional can sign off.
Post-launch
After the website is launched, it is the time to check that all of the SEO factors set out in the specification document are working as expected. Check to see that the right meta tags are there, analytics code is firing as expected, and any goals set up work well following the new page designs or URL changes.
It is prudent to keep an eye on site traffic and indexation levels for a few weeks after launch. This will help catch any issues with the migration that haven't already been rectified.
Google Search Console and Bing Webmaster Tools are good sources of information on issues with crawling and indexing. The SEO may need to notify Google and Bing of site moves using these tools, or at the very least, update a new XML sitemap that demonstrates the changes to indexable page URLs.
Conclusion
A website migration is daunting, whether it be the redesign of a page template or the move of an entire site to a new address. Such changes can be fraught with danger but with planning and process in place, potential pitfalls can be avoided.