In a recent Google Webmaster Central Hangout, Google's John Mueller, Webmaster Trends Analyst, stated new quality links will help a website gradually recover from the Penguin algorithm.
Mueller's statement came in response to a hypothetical question, asking whether it was possible to recover from Penguin without using the disavow tool and instead focusing on building good-quality links. Mueller confirmed the Penguin algorithm would take these new links into account, and a gradual recovery would be possible. However, he still recommends using the disavow tool and cleaning up past issues.
Mueller's statements (which were highlighted by Barry Schwartz over at Search Engine Roundtable) have come in the midst of an already lively debate over strategies for recovering from a Penguin penalty (check the comments section of each):
Before we get into the debate over Penguin recovery, let's first take a deeper look into exactly what Mr. Mueller had to say.
Mueller's statements regarding Penguin recovery came during a Google Webmaster Central Hangout in response to specific questions.
The first question:
"Let's take a hypothetical situation where a webmaster doesn't know about the Webmaster Tools disavow tool, and the majority of his links are directories or websites selling links, and is obviously affected by the Penguin penalty.

Meanwhile, he goes ahead and gets some good-quality links, and the percentage of low-quality links changes-- gets smaller. But again, he doesn't use a disavow file or anything else.

Would this help him-- so if the majority of the links become the quality links, would this help him remove or would Google robot remove the Penguin penalty?" - Question in Google Webmaster Central Hangout
Mueller's response:
"That would definitely help. Yeah.

So, I mean, we look at it on an aggregated level across everything that we have from your website. And if we see that things are picking up and things are going in the right direction, then that's something our algorithms will be able to take into account. So in the hypothetical situation of someone who doesn't know about any of this and they realized they did something wrong in the past and they're working to improve that in the future, then that's something that our algorithms will pick up on and will be able to use as well.

Still, if you're in that situation, it wouldn't be that I'd say you should ignore the disavow tool and just focus on moving forward in a good way, but instead really trying to clean up those old issues as well. And it's not something where we'd say that using the disavow tool is a sign that you're a knowledgeable SEO and that you should know better about these links. It's essentially a technical thing on our side, where we don't take those links into account anymore. It doesn't count negatively for your website if you use a disavow tool. It's not something you should be ashamed of using. If you know about this tool, if you know about problematic links to your site, then I just recommend cleaning that up." - John Mueller
There are a few different points to consider here.
Securing Quality Links Can Aid Recovery
First and foremost, John Mueller is clearly stating that building real and quality links will help your site recover from Penguin.
As Mueller states, Google looks at your website "on an aggregated level across everything they know about your site" and if they see your website "going in the right direction" (in terms of link quality) the algorithms would take this change into account, potentially helping your site recover.
Real and worthwhile links have always signaled trust and authority to Google's search algorithm, and according to Mueller these types of links can also provide positive signals to the Penguin algorithm.
However, as typical of a statement from a Google employee, Mueller also threw in a fair share of caveats. While he does say good links are going to indicate to Google that your site is moving in a positive direction, he also clearly states that this does not mean you should ignore the disavow tool.
Mueller recommends using the disavow tool, and comments that building real and worthwhile links can help. My boss, Jon Ball, has suggested conducting this type of backlink cleanup in the past, because if you're disavowing or removing toxic links you need to also be replacing them with a batch of fresh, relevant links.
Gradual Recovery from Penguin is Possible
There was also a second question which provided further insight into Penguin recovery.
The second question Mueller was asked:
"OK. I'm not really in that situation. Again, it was just a hypothetical. I was mainly curious from a technical point of view. I mean, would the penalty actually get removed if the majority of the percentage of low-quality links diminishes? The actual Penguin penalty-- would it be removed?" - Question in Google Webmaster Central Hangout
And here is his response:
"Yeah. That's something that our algorithms would take into account-- where if they look at the site overall and they see that this is essentially improving, if it looks like things are headed in the right way and the important links are really good links that are recommendations by other people, then they'll be able to take that into account and modify whatever adjustment there was made with that change there on that website.

So they would take that into account. I wouldn't say that you have to have more than 50% and then the algorithm will disappear for your website. Let's say there are lots of shades of gray involved there, where the algorithm could say, well, this looked really bad in the beginning. They worked a lot to kind of improve things overall. Things were improving significantly across the web with lots of good recommendations for this site. So it's kind of headed in the right direction. So it wouldn't be that it disappears completely, but maybe it'll kind of step-by-step improve." - John Mueller
Here Mueller is reiterating that Google's Penguin algorithm will take into account new links, particularly if they're quality (he describes them as "really good links that are recommendations by other people").
What's really interesting is Mueller's statement that improving your site with fresh, good links will cause your Penguin penalty to "step-by-step improve", rather than immediately recover. This is interesting because it's the first time I've seen any mention of Penguin being able to recognize progressive improvement, rather than simply black and white penalization. Previously, if your site was hit by Penguin it would be affected until Google ran a refresh or updated the algorithm - there was not much in-between.
Of course, there are again some caveats here. Mueller says "there are a lot of shades of gray involved there", and the gradual recognition of improvement could be tied to the fact that Penguin is shifting to a continuous update format. However, it is still worth noting that Mueller stated step-by-step improvement is possible, which suggests there has been some development in the sophistication of the Penguin algorithm.
Not only are Mueller's comments intriguing for the insight they provide, they also come at a time of disagreement within the SEO community over the most appropriate way to recover from a Penguin penalty.
To Disavow or Not to Disavow – The Debate
Recently there has been significant debate over the best way to recover from Penguin. Specifically, whether you should be removing links, using Google's disavow tool, or both.
The "disavow debate" has heated up recently, but it has been an ongoing discussion for a while now. For example, Don Rhoades referenced the issue in his contribution to our 2013 Link Building Success post almost a full year ago. In his contribution, Don expressed having tremendous success building worthwhile and valuable links, rather than worrying about disavowing/removing low-quality links.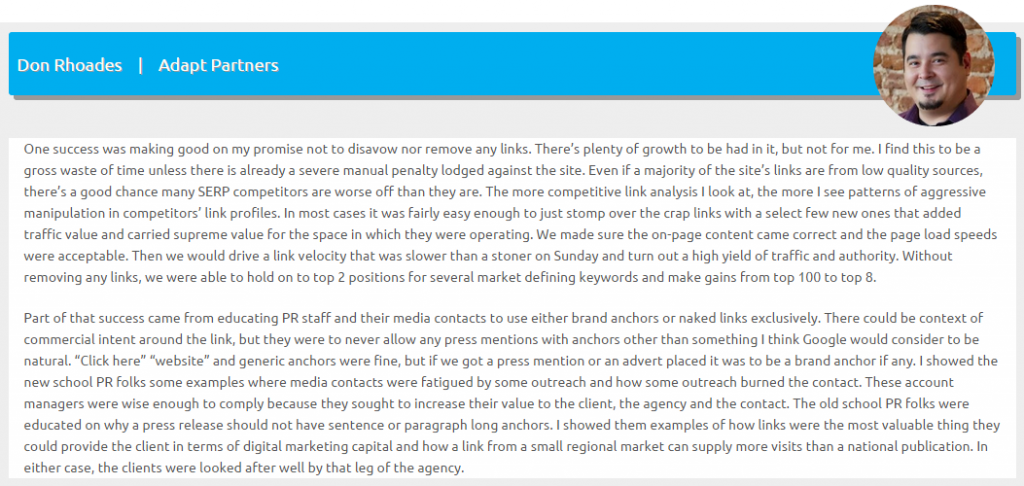 Whiteboard Friday Sparks Debate Over Disavow
The recent uptick in the disavow debate came after Josh Bachynski published a Whiteboard Friday on the Moz Blog. Many within the industry saw this as Moz giving credibility to his stance within the debate.
In short, Josh's WBF discusses a test he ran that examined 12 different domains which claimed to have recovered from Penguin using only the disavow tool. Josh's conclusion is that all of the domains experienced link loss and therefore recovery through purely disavowing toxic links is impossible to prove.
The fact of the matter is any site impacted by Penguin will have more link attrition than standard - low quality links have a higher attrition rate than normal links. All websites experience link attrition to some degree; it's simply going to be impossible to find a Penguin recovery that doesn't experience a loss of links. Josh attempts to use this fact to invalidate the use of the disavow tool.
Josh not only believes that you can't recover from strictly disavowing, but he also doesn't believe in using the disavow tool whatsoever (which is in direct conflict with what John Mueller advises). Perhaps part of the reason Josh has taken such a firm stance against the disavow tool stems from his apparent distrust of Google, and their ethics.
To say this WBF sparked a bit of debate would be an understatement (163 comments), as numerous SEOs weighed in on the discussion in the comments section.
Marie Haynes took issue with the idea that in order to be a "pure disavow", the site couldn't exhibit any link loss: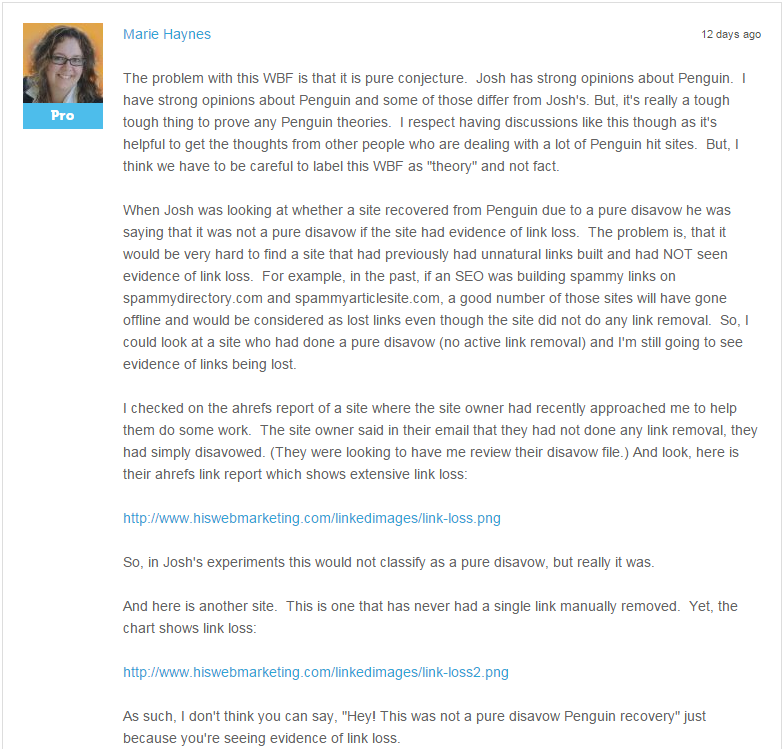 Chuck Price also offered disagreement with how the test was ran, citing that there was no control group: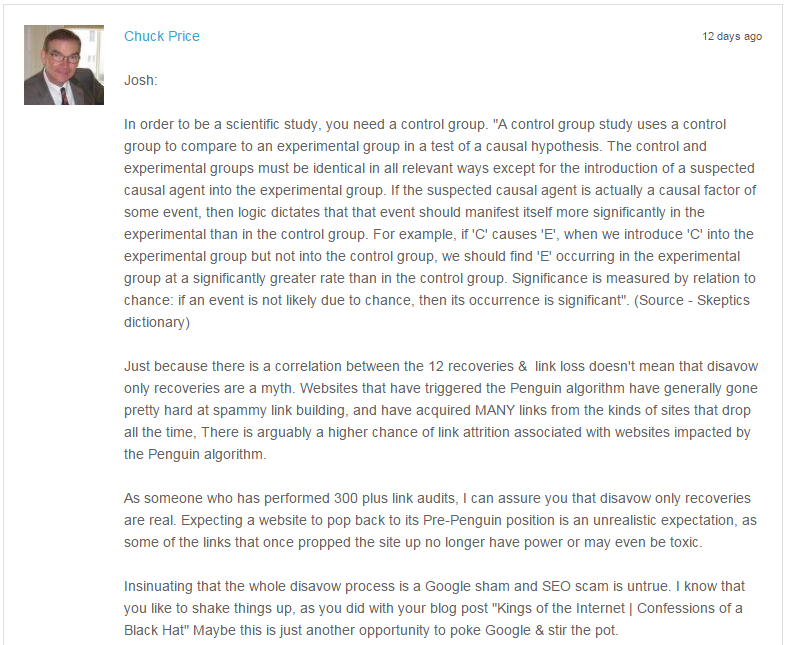 Key Points in Favor of Pure Disavow
Along with these two points, Marie and Chuck offered some other distinct reasons for why they believe using disavow is a viable option for recovery:
Both Marie and Chuck stated that they have indeed had success with only using the disavow tool (something I am inclined to believe)
Both state that link removal campaigns are inefficient, since the average success rate is between 5%-20%
Both explained that due to the inefficiency of link removal campaigns, they are very costly when dealing with an algorithmic penalty like Penguin
While there was much debate throughout the comments section of Josh's WBF (and I urge you to go to the post and read the comments), the main discrepancy is over whether or not simply disavowing links can be enough to recover from Penguin (again, Marie and Chuck say they've had success with this), or is the disavow tool a complete waste of time and the only way to recover is through link removal (a conclusion Josh came to).
A Common Sense Approach
By no means do I consider myself an expert when it comes to Penguin removals, in fact I have had very little personal experience with Penguin recovery. However, a common sense approach would suggest using a three-pronged method:
Remove what's reasonable/plausible – links that you can remove yourself, are likely to be successfully removed through outreach, or anything else you have time for
Disavow everything else that's toxic – disavow what you couldn't or don't have time to remove
Replace lost link equity – build fresh and relevant links to show positive movement to Google and fill void of lost links
Again, I don't pretend to be a recovery expert, but for me this is the most sensible way forward after being hit by Penguin. Of course, this would require an ideal situation in terms of time and resources. In situations where there's no time to devote to removal, I would defer to the expertise and experience of people like Marie and Chuck, and focus on disavowing.
Further Reading