Link building can be a real headache when you are just starting out, but it's actually very simple.
That's not to say link building is easy, because it isn't. It requires patience and constant hard work. Because building links is difficult, most people lose sight of their original goal — promoting their content and building a popular blog.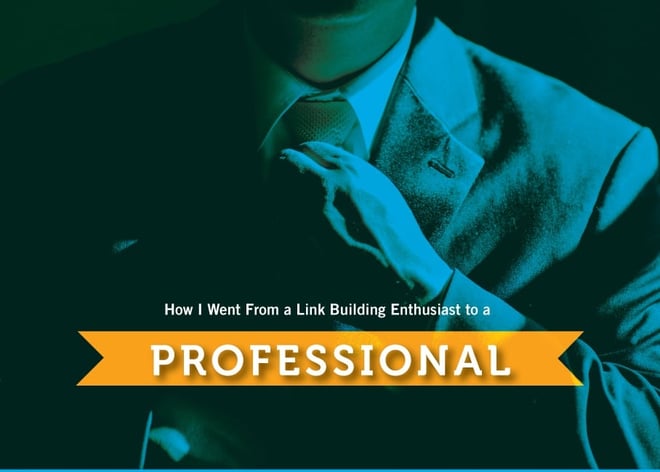 Today, I'm here to tell you how I managed to go from listening to expert advice, to actually testing and figuring out what works (or at least, what has worked for me).
Without further ado, let's get started.
The Importance of Relationships in Link Building
Back in early 2014, I remember reading popular blogs like Moz and Backlinko. I would read about the world of SEO and how you could get tons of traffic to your website with the help of search engines.
Little did I know that effective SEO is easier said than done. SEO requires a lot of work, and it's constantly changing.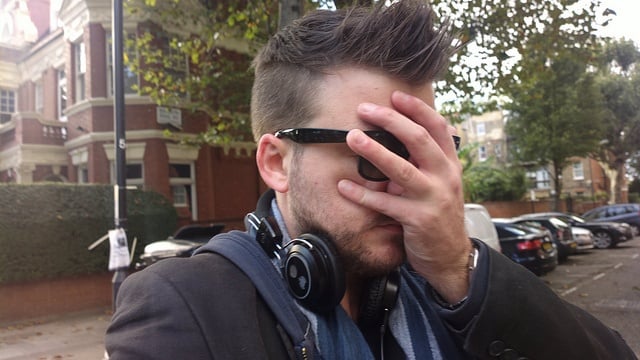 Yet, it's very simple. Link building all comes down to relationships.
Wait! If it all comes down to relationships, why isn't everyone talking about it?
Beats me. Personally, I've never read a guide to link building where they go into much detail about relationship building. Some guides mention how to start things off, but never really explain how to actually make meaningful connections.
Actually, I believe that they just don't know how to do it. Think about it, we are all different and interactions all happen differently; giving specific advice that assumes every relationship is the same would be irresponsible.
About a year ago, I came across a quote by Simon Sinek that really changed the way I thought about business and human interaction.
"If you don't understand people, you don't understand business."

—Simon Sinek
This quote blew my mind. SEOs often talk about our content, products, services, etc., but we rarely talk about the people we serve.
When most people send an outreach email, it looks like this: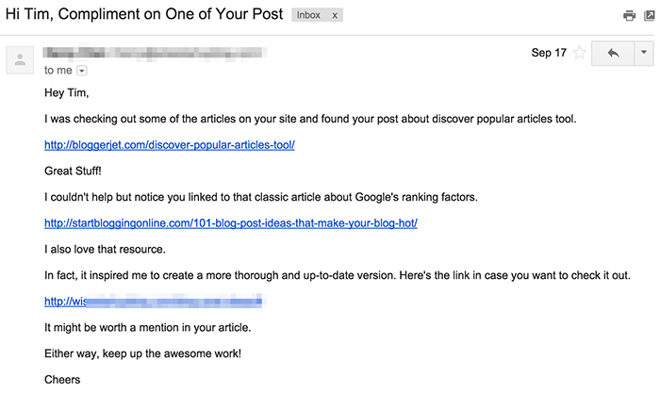 That's an email sent to Tim Soulo of Ahrefs . I've personally received many emails like that and believe me, I just delete them.
Outreach is not supposed to be a broadcast, outreach is supposed to provide value and engage.
If you get people to engage, then you can ask for something. But make your ask small the first time you contact.
Asking people to link right off the bat is like asking a stranger to marry you. It doesn't make any sense.
Yet, we do it every day.
I won't go as far as to say that it doesn't work because it does (in some cases), but if you are looking to build a brand I'd recommend doing things differently.
Engage with people before you ask them to do something for you. Provide value first. The bigger the favor, the more engagement and better relationship you'll need.
It could be as easy as taking the time to thank someone for their content and explaining how it helped you, or as extensive as sharing the real-world results you got from following someone's advice.
With the second option, you will have to take action and get results for them—which is hard and takes time—but the relationship you build is valuable and can lead to further marketing opportunities.
When talking to people, some things are universal. I created this guide to be two parts:
How to build your network.
How to create the perfect outreach.
Let's start with how to build a connection.
Part One: How to Build Connections In Your Industry
Relationships are the absolute best way to build backlinks. Most people focus on getting a few backlinks from a few specific places, but the right relationships can earn you hundreds or even thousands of links.
This part of my guide is meant to help you win tomorrow and make sure that you continue to win. It all comes down to building your network.
When I first started working online, I remember focusing all my time and energy on figuring out how to rank on page one of Google's search results. If you are going through the same and haven't been working online for long, stop thinking about your rankings.
Obsessing over rankings is a waste of time and mental energy. If you want to rank on the first page, that's actually the last thing you should worry about. First, focus on increasing your website's authority, and then increasing a page's rankings.
The best method for increasing your site's authority is by building your network.
The most effective way (I've found) is to simply run a Google search for the topic you are interested in.
For example, I was recently looking for information about link building and I came across a blog post on RankWatch by Andrew Dennis. I really enjoyed reading the post; it was very detailed, had personality, and offered unique insight.
I went to the author byline and saw that Andrew is a Content Marketing Specialist here at Page One Power.
I quickly became interested and decided to check Andrew's Twitter profile. I saw that he usually tweets about digital marketing, SEO, and Google, and I saw that people I frequently interact with are following him as well.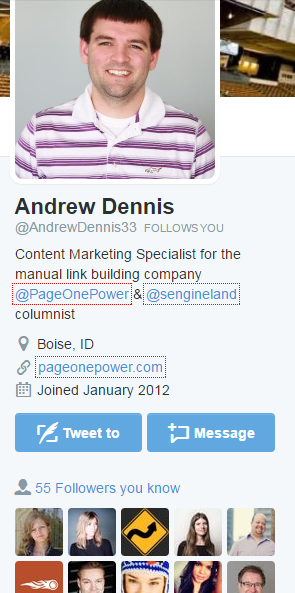 He immediately earned my Twitter follow with his content and personality. I wanted to thank him for the great blog post so I used BuzzStream to figure out his email address and sent my outreach, thanking him for the content. To provide further value I asked if he wanted to read my latest blog post.
Once he accepted, I sent it and asked for a shameless share. ;)
That email got me a link on their resource page and an invitation to write this guest post! Not in my wildest dreams did I imagine that was going to happen. But here's the thing, I believe in providing 10 times more value than what I'm getting!
And right now, I'm losing. I hate that.
You can bet on me sharing this post and story all over the internet :D
Here's the bottom line
There are a million ways to engage with people and provide value. Every single one of them will be directly dependent on your ability to communicate and be honest.
Here are some methods I've used, and you can too.
1. Read their articles, implement their advice, and share your results.
One question I always ask myself when I write a blog post is, "Will this help anyone?"
I want to write a blog post capable of answering my reader's questions--that's why I started my blog. My main goal is to provide useful, actionable stuff capable of making you take action.
2. Be their case study.
We all like knowing that our content is actually helping people. By answering that question you put yourself on someone's radar, and they will most likely share your story everywhere they go.
But why does this happen?
Case studies demonstrate that the process in question works, and that results aren't limited to one person. After you share your results, offer to contribute a piece of content for them and share how their advice helped you achieve the desired results. You will earn a link to your site, and they will get a boost of authority. Win-win! :D
3. Write about how awesome they are (testimonial).
On this guest post, for example, I've shared the story behind me contacting Andrew and landing the opportunity to write for this blog. I didn't do it because I had an ulterior motive, I did it because I honestly liked him and he gave me the opportunity to write here.
There is a great quote I love and live by:
"If you are offered a seat on a rocket ship, don't ask what seat! JUST GET ON."

—Sheryl Sandberg
Take every opportunity that comes your way and worry about the rest later.
When dealing with people, understand it's not about you. It's about them and the people they serve.
There are so many ways to interact with people, but if you do what I've shared with you today, you are off to a good start. :)
Part Two: How to craft perfect outreach
Crafting perfect outreach doesn't have to be difficult, just keep things simple and don't take too much of their time.
Before I get into the bread and butter of this part of the guide, let me share a little experience I had and why you should never use templates.
A little over a year ago, I came across an outreach template created by Brian Dean. In fact, it's the very same template used to create the email sent to Tim Soulo in the previous example.
I had no idea how to craft my own outreach so I decided to use the one he provided (just like the person on that email did), and start promoting my content.
After around 100 emails sent, I realized that the success rate of the template wasn't very good. In fact, it was terrible.
I only had one reply.
My one reply went something like:
"haha what? I suppose you want me to link to you?"
It made me feel horrible. He was mocking me.
But you know what? I suppose you could call that a blessing in disguise. It was thanks to that email that I realized if I wanted to succeed in link building, I had to step up my game and stop using templates.
I learned about psychology and human behavior, as well as human communication. It turns out it's a lot easier than I thought. Similar to developing any other skill it requires practice, but it's fairly easy when you grasp the concept.
I highly recommend you read "How to win friends and influence people" by Dale Carnegie. It's a great book that will help you learn about human relationships and how to communicate your message effectively.
In that book, there is a chapter called "If you want to gather honey, don't kick over the beehive", where Carnegie shares the following example:
"George N. Johnston of Enid, Oklahoma, is the safety coordinator for an engineering company. One of his responsibilities is to see that employees wear their hard hats whenever they are on the job on the field. He reported that whenever he came across workers who were not wearing hard hats, he would tell them with a lot of authority of the regulation and they must comply. As a result, he would get sullen acceptance, and often after he left, the workers would remove the hats.

He decided to try a different approach. The next time he found some of the workers not wearing their hard hat, he asked if the hats were uncomfortable or did not fit properly. Then he reminded the men in a pleasant tone of voice that the hat was designed to protect them from injury and suggested that it always be worn on the job. The result was increased compliance with the regulations with no resentment or emotional upset."

—Dale Carnegie
Why did this happen?
Well, criticism doesn't work because it puts a person on the defensive and usually makes them strive to justify themselves. Criticism is dangerous, because it wounds a person's precious pride, hurts their sense of importance, and arouses resentment.
In the previous outreach example, they mentioned that the blog owner linked to a competitor and that their post would be a better fit. In essence, they are criticizing the blog owner for choosing the competition over them.
Not a good method of communication when you are asking them to consider linking to you.
Wouldn't it be better to first establish some sort of relationship with them and say something like:
Hey [name],

I'm emailing because I was reading some articles on your website and came across "[blog post name]". It was very helpful, thank you.

[say how it helped you if possible; e.g. I've been struggling with -topic- and your post helped me —how it helped—]

While I was reading the post, I couldn't help but notice that you mentioned "competitor's blog post name". I loved that post as well!

In fact, it inspired me to write a more thorough and up to date version of it. Let me know if you'd like to check it out :)

Have a great day and keep up the great work.

Cheers,

[your name]
Wouldn't you be glad to read an email like that?
After they reply with confirmation to send it over, all you have to do is ask them to consider giving it a mention on their page.
Here's how to communicate:
Here you go [name],

[link to the post]

It might be worth a mention on your page. I know that you can't possibly link to every single person asking for a link, but if you ever happen to mention something about [your post's topic], please think of my post next time :)

Thanks,

[your name]
That email has nothing to do with a taker mentality and everything to do with that of a giver, and it opens avenues for future engagement and link opportunities.
Whenever you send an email, make sure to state why you are sending the email and do it as fast as you can. Research by Dr. Scott Key of Northern Illinois University found that when we clearly legitimize a request, the message gets better responses.
The word "because" helps legitimize the request.
Also, don't ask them to do anything for you yet. It's their call, not yours.
I've shared before how engaging with people got me to increase my link placements. I sent 100 emails and practically doubled my acceptance rate with that approach.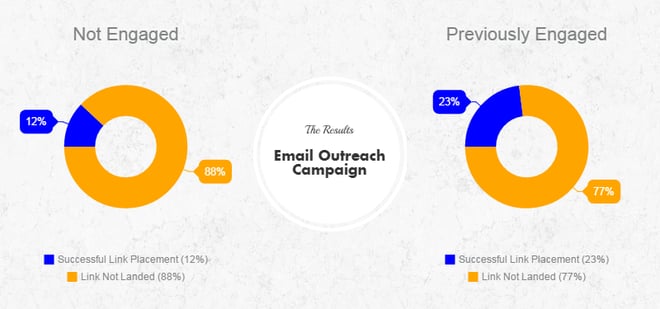 It's very simple, yet most people don't do it.
I know that the sample isn't big enough to be very significant, but it shows how being "nice" is far better than being egotistic. ;)
Here's an example of a reply I got from Daniel Lofaso from Digital Elevator when I was promoting my latest blog post.

I've consistently been getting kind responses like this one since I changed the way I communicate, and stopped trying to take from people and actually started providing value.
If you are using templates, you might want to stop. Outreach is supposed to be personal and engaging, not to take from others.
I'm not trying to insult anyone with this, heck I've done it myself. All I'm trying to do is raise awareness that doing things like this (taking rather than giving), might not be the best way to go if you want to play for the long run.
In conclusion
Link building is more than just sending an email and forgetting—it's about creating meaningful relationships with people in your industry and helping each other reach higher views.
Use what you've learned here today and test for yourself. After that, please let me know your results.
I'd love to ask you something now:
What is your biggest struggle with link building? Please, let me know in the comment section below. :)