Welcome to another entry in our weekly series Tutorial Tuesday! This week, I will be covering how to find influencers on LinkedIn.
Despite the fact that LinkedIn launched all the way back in 2002--that's before Facebook even!--it still feels like a burgeoning social network. Maybe that's not fair, because LinkedIn markets itself as more of a professional network. You're not supposed to post pictures of your lunch on LinkedIn, nor is anyone particularly interested in your relationship status.
LinkedIn is a platform often misconstrued as solely for job seekers; Facebook meets Monster. That's not necessarily incorrect. LinkedIn provides a bevy of opportunities to connect with potential employers. It doesn't have to be in a job seeking capacity however.
Slowly but surely, LinkedIn is becoming the place to find professionals. I once would have said that about Google+.
As a link builder, it's important to identify the influencers and authorities in your niche. Even if you never succeed in building a link on a specific influencer's site, you're likely to find a hefty amount of other opportunities by engaging with her/his following.
So now you know the why. But more importantly--and Tutorial Tuesdayly--how?
For the purposes of this article, I will be pretending that I'm looking for photographers within the photography niche.
---
Knowing the right people can get you the right links. Learn more charming link building tactics in our downloadable ebook:
---
Step One: Search by Author
One way to find influencers on LinkedIn is through the content produced on LinkedIn. Yes, in addition to everything else, LinkedIn is a publishing platform now. Technically, it has been for a while, but it only opened up to all users back in February 2014.
It used to be that publishing original content on LinkedIn was available only to a select group of people, the likes of Bill Gates and Barack Obama. Now everyone can publish, and judging by the numbers, many have seized upon the opportunity.
Despite the overwhelming amount of content that's been produced, it's still fairly easy to sift through the noise and figure out who the most influential people are within a niche.
Click on the hamburger dropdown to the left of the search bar at the top. "Posts" will the second-to-last option.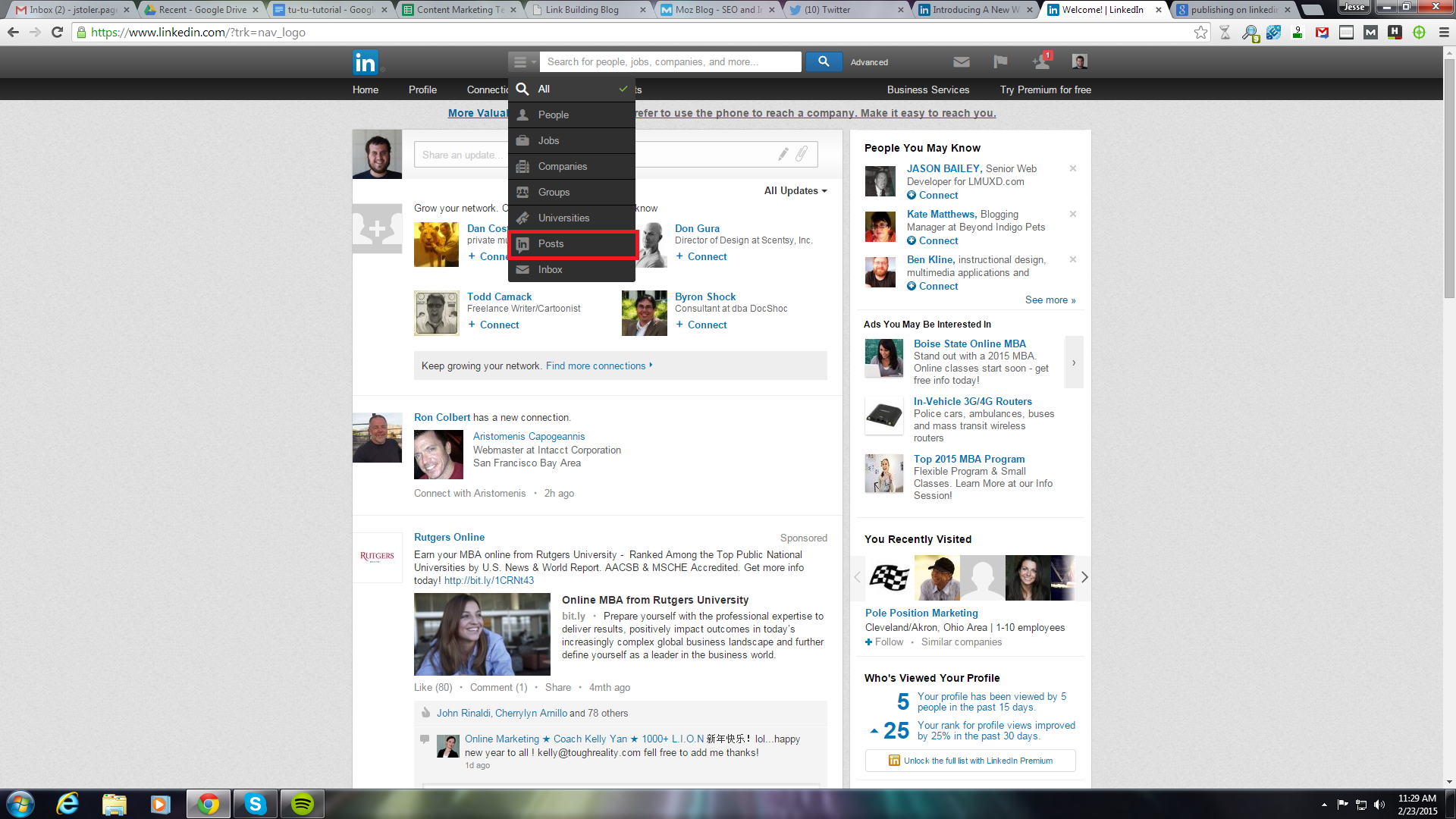 Once you've clicked on posts, enter in the keyword you're searching for. In our case, let's use "photography." You'll be taken to a page that looks like this: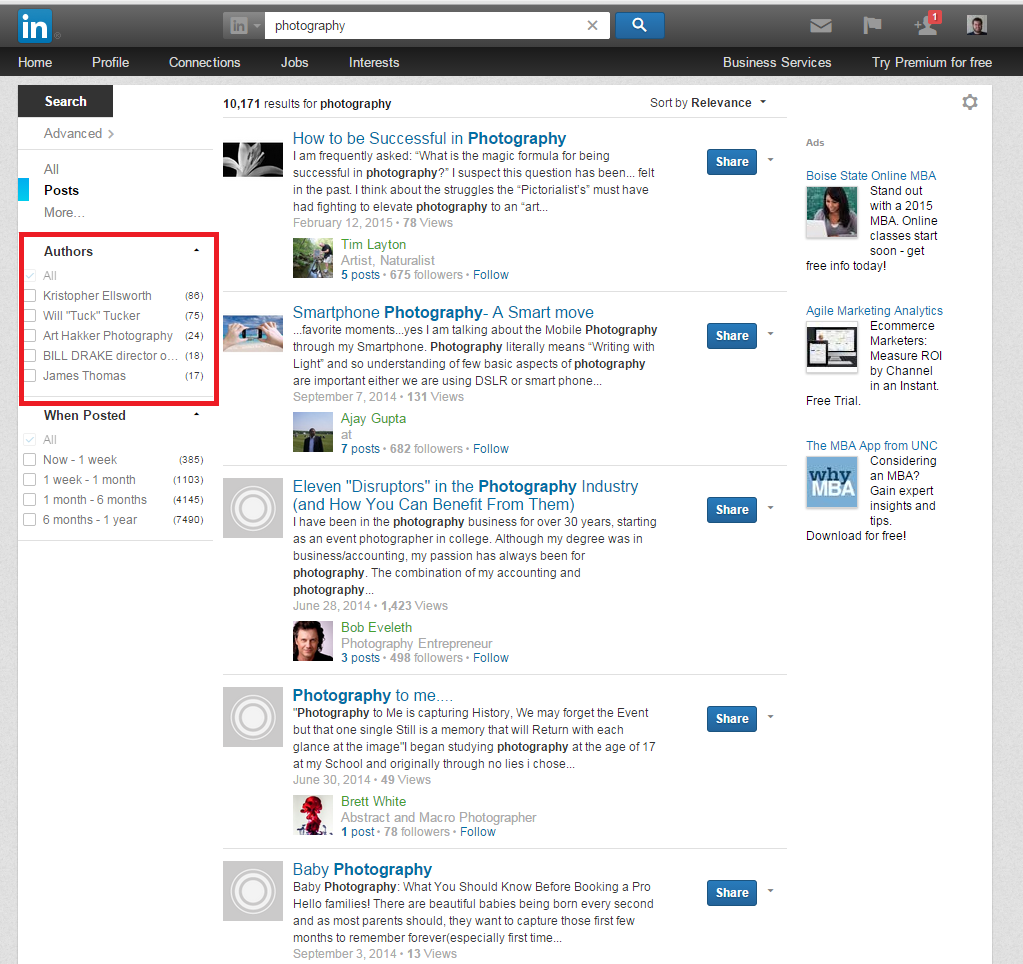 You'll notice within the left-hand column, there's a list of authors. According to LinkedIn, these are the five authors responsible for producing the most content centered around photography.
Step Two: Determining Influence
So let's click on the first name, Kristopher Ellsworth.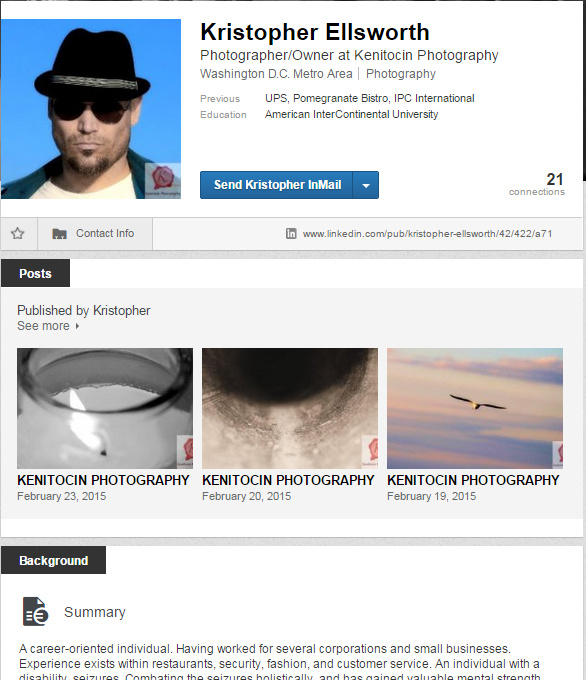 Right underneath the section that contains all of his basic information, you can click a link that will take you to all of his 88 posts on LinkedIn.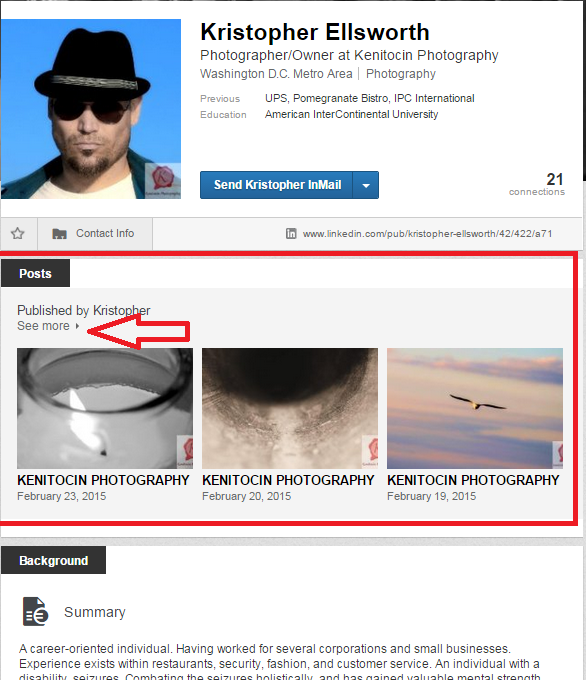 After clicking that link, you'll see: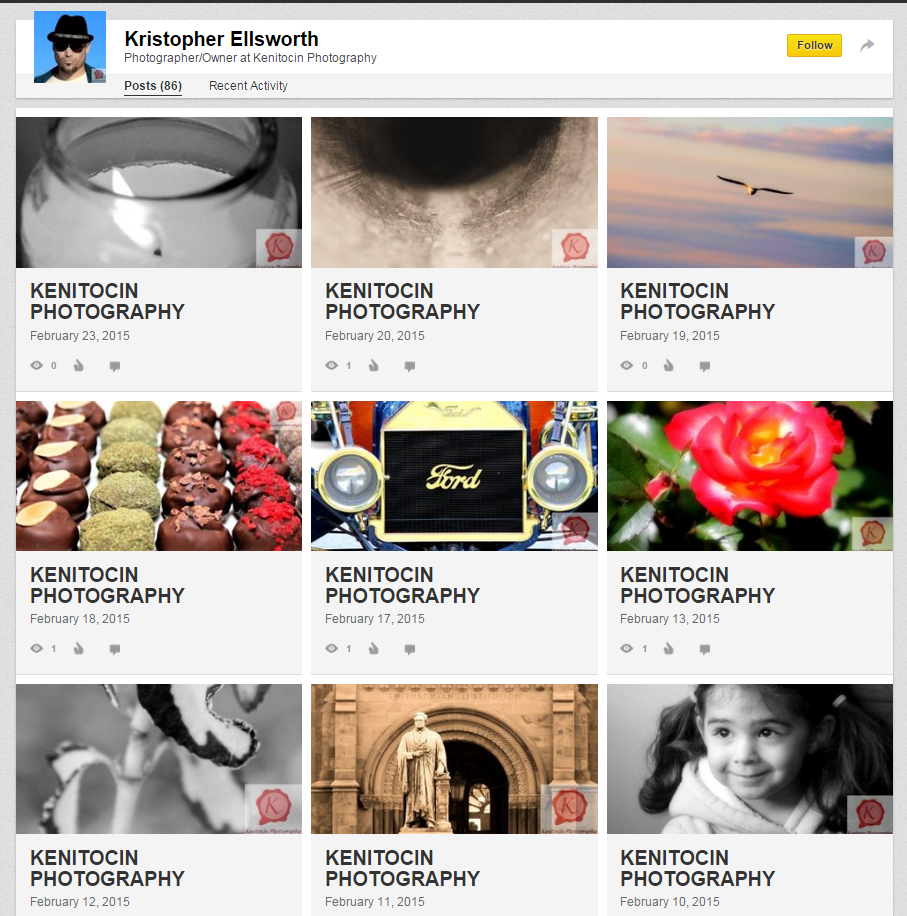 These are his nine most recent posts. Look at the dates, and you'll realize that all of them have been published within the last two weeks. That can't be right? He's written nine posts since February 10? Take a look at one of the icons underneath the timestamp.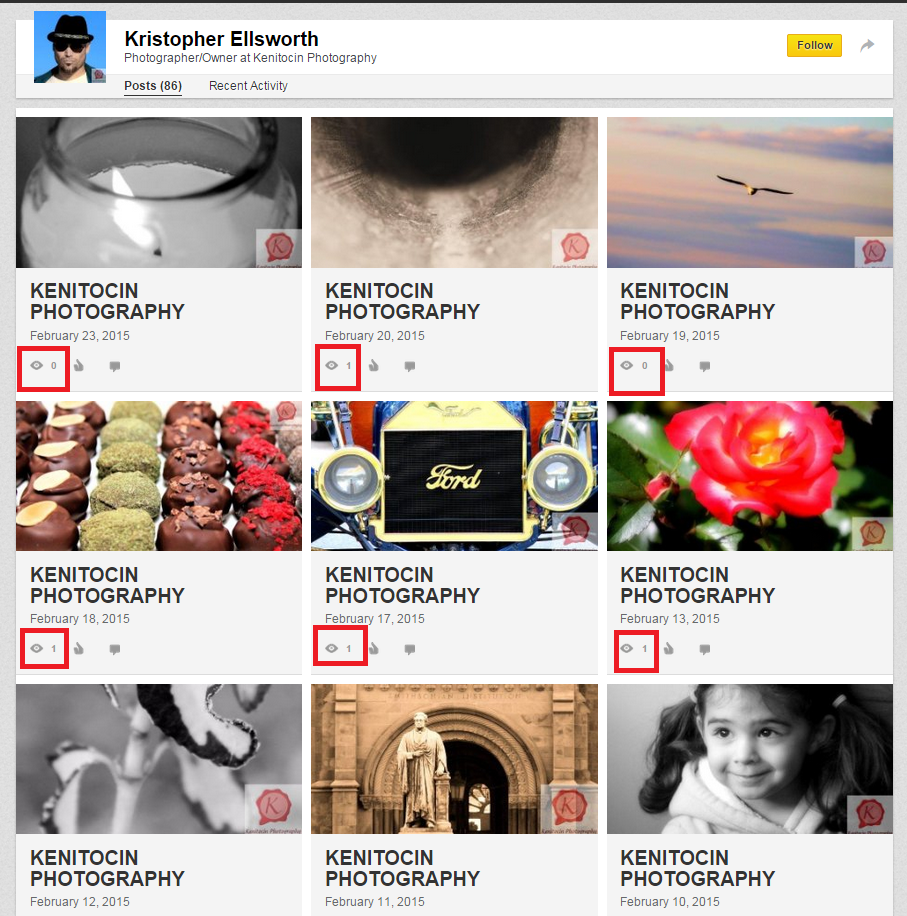 That icon--which I believe is supposed to represent an eye--indicates view count. How many other people have actually looked at Ellsworth's content? Not too many people it appears.
Just because someone is producing content at an extremely high level, it doesn't mean that they're an influencer. There's an old adage that states, "A leader without a following is just a guy taking a walk." An influencer with no one to influence is just talking to her/himself.
It's imperative to look for engagement. Onto the next person from the list, Will "Tuck" Tucker: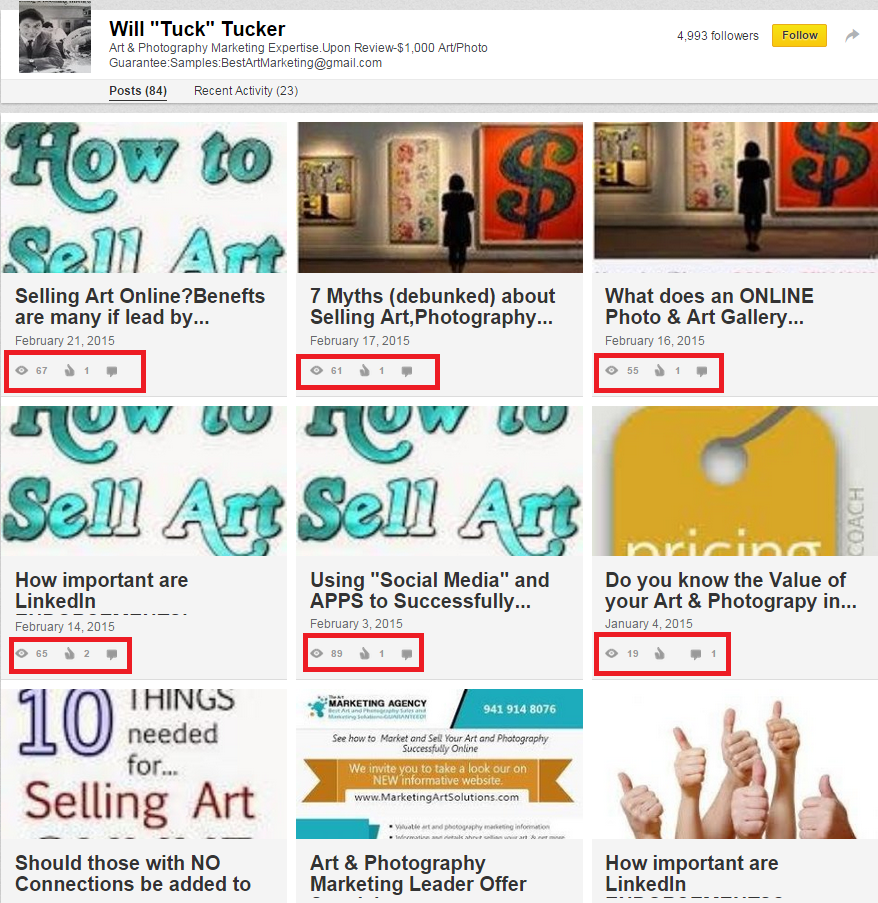 Not only are LinkedIn users looking at Tucker's content, they're raising their digital thumbs and commenting. Clearly, this man has an amplified voice in the field.
So how did he earn such a presence? Well, you can look at his contact info: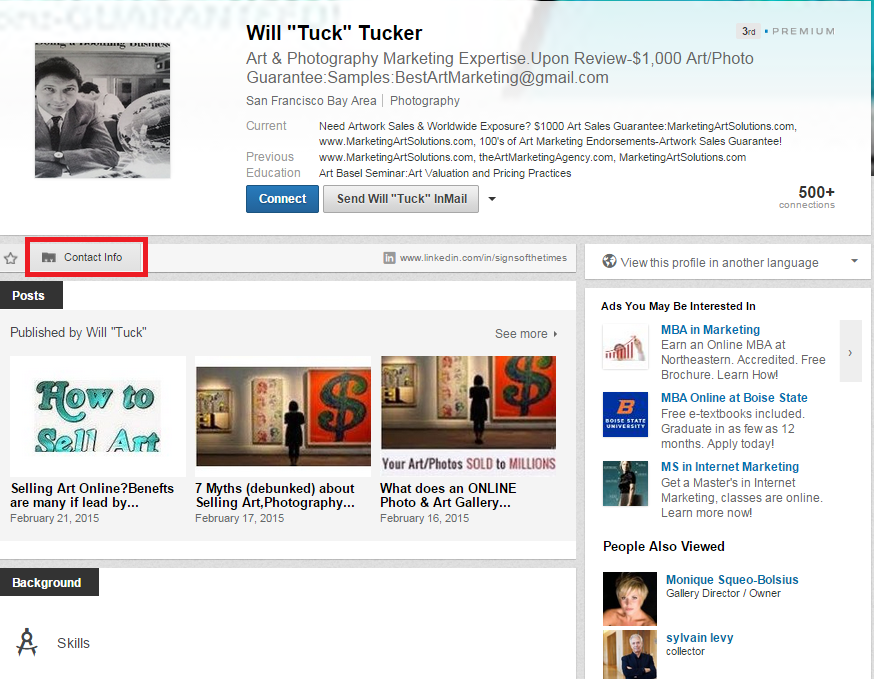 Clicking on "contact info" will enable a dropdown tab to appear: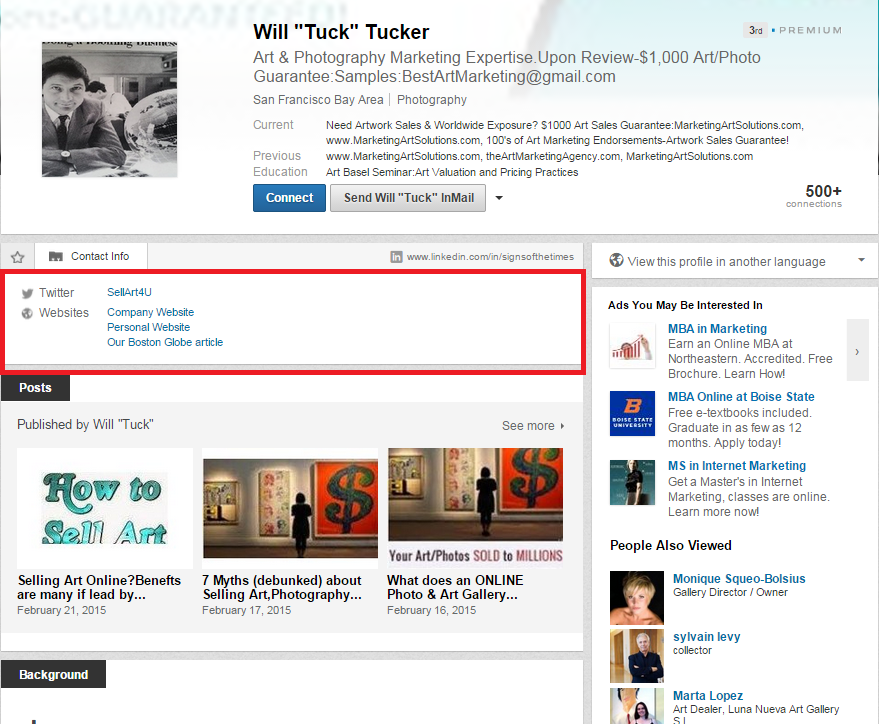 If you click on company website, you're taken to marketingartsolutions.com, presumably where he works.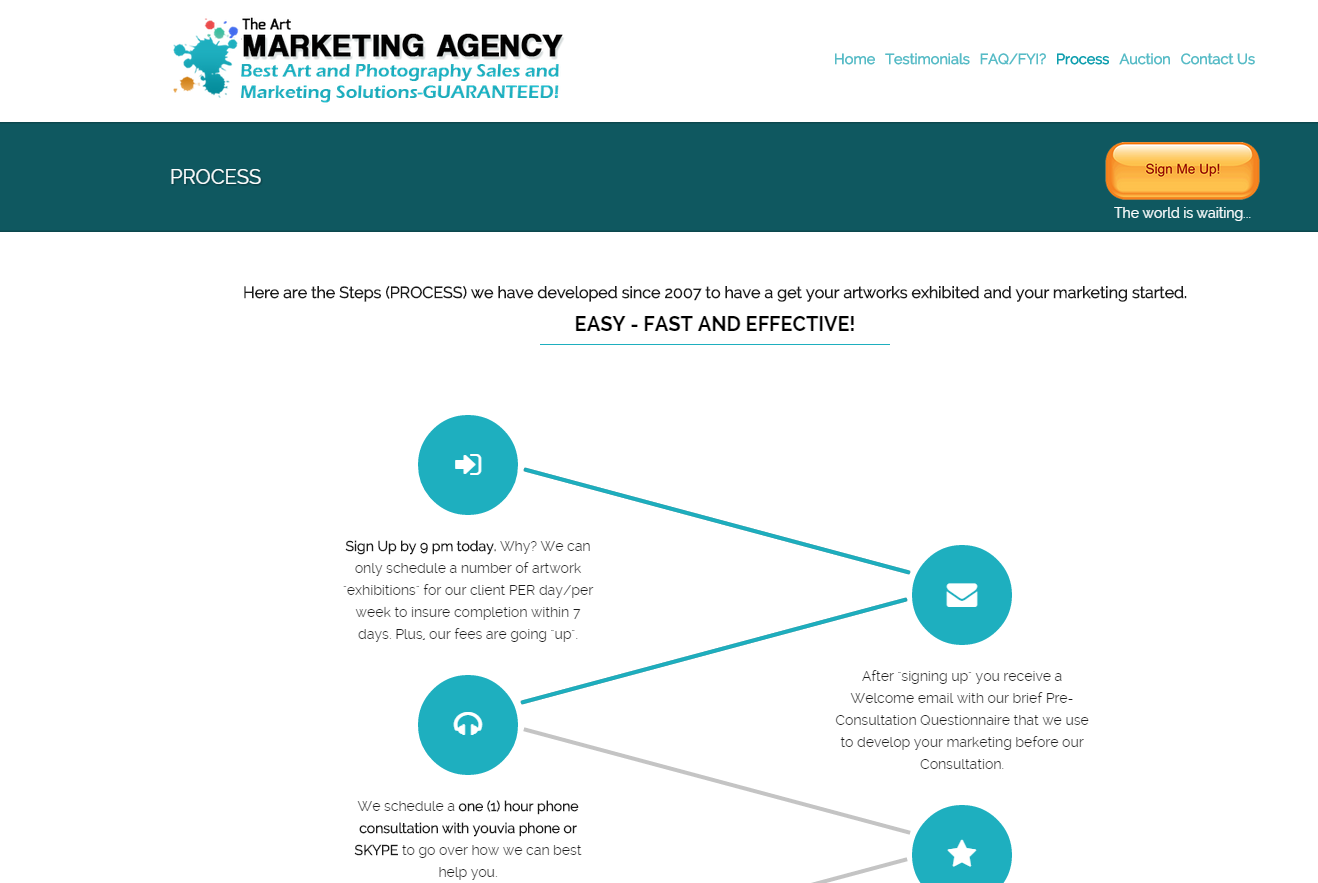 There aren't a lot of pages, and they don't even link out on their testimonial page.

Not only that, but the domain authority isn't terribly impressive.

Guess what though? None of this matters.
Not for the purposes of engagement anyway. No, this might not be the ideal link prospect, but you're not looking for link prospects right now - you're looking for influencers with a following.

A key component of any kind of marketing is simply getting your name out there. The more name/brand exposure you have, the more opportunities you create for yourself to build links. No one is going to link to you if they don't know who you are.
Step Three: Finding Influencers Through Groups
So content is one convenient method to find influencers. My other favorite way is by searching through groups.
Click on the same hamburger dropdown from before, and find "groups."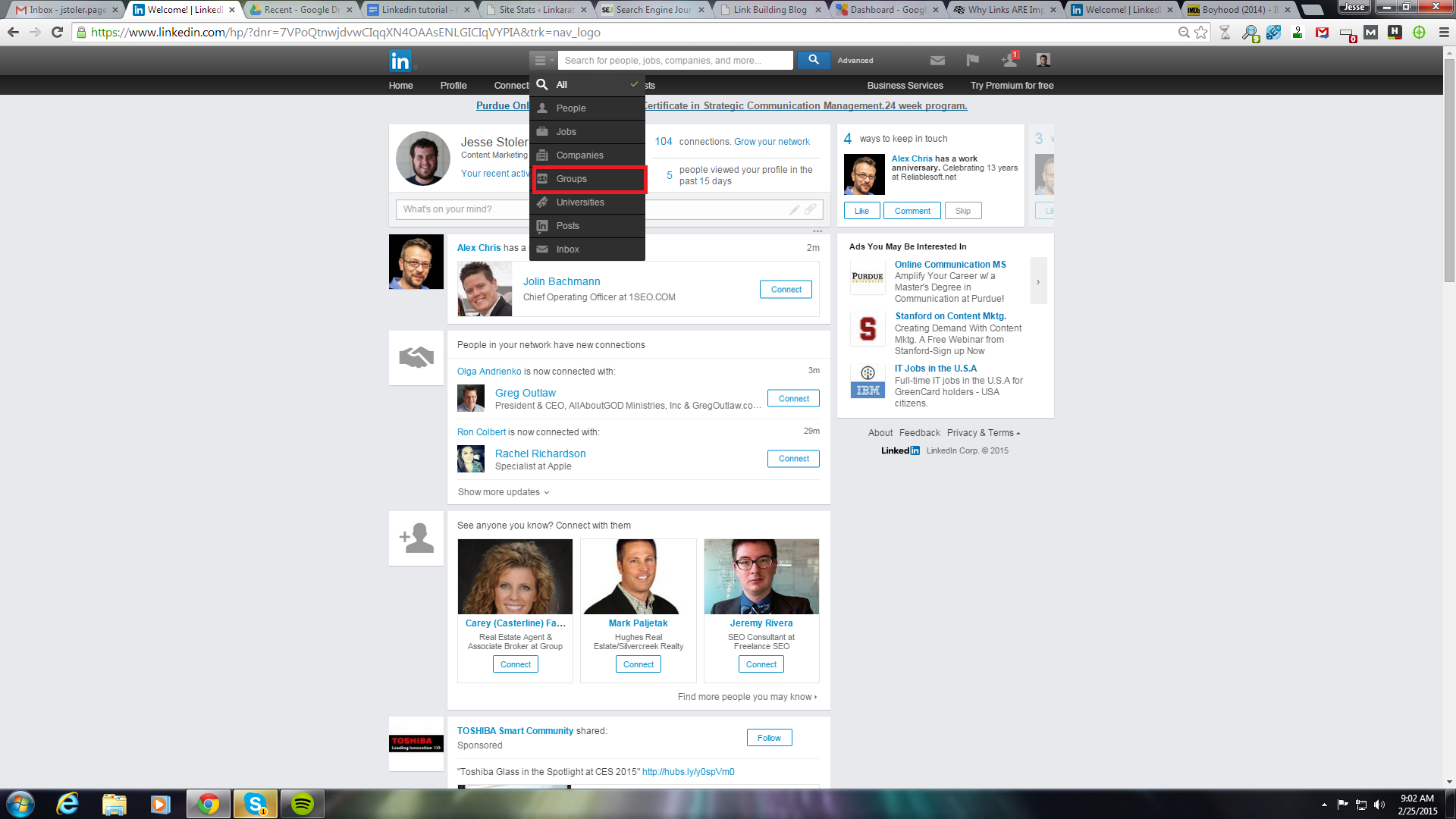 Type "photography" into the search bar, and you'll find a page that looks like this: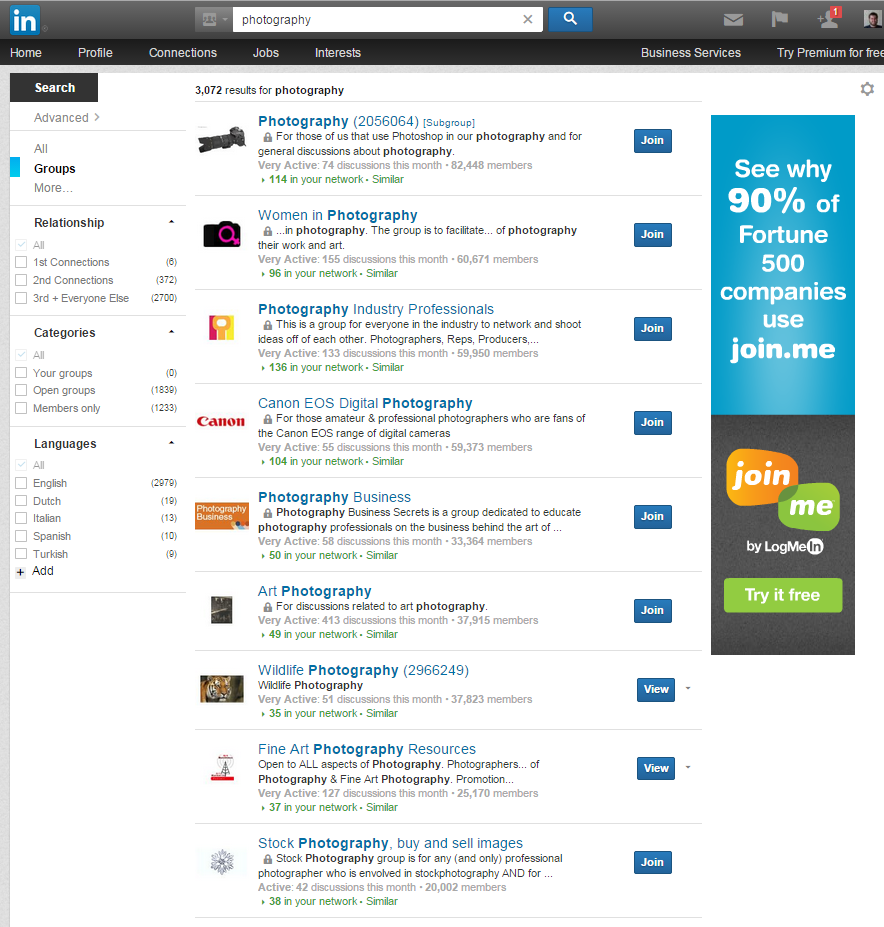 The majority of these groups are private, as indicated by the indented locks under the group titles.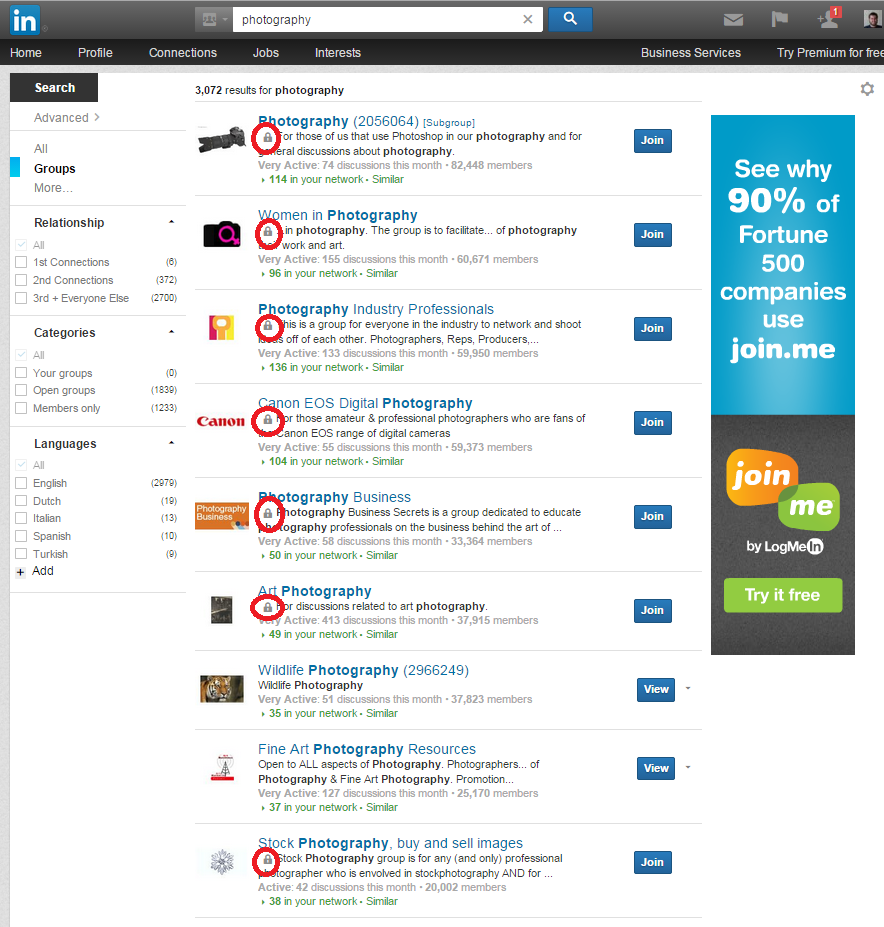 It's not until the seventh result that you find a group that will display all of its information to the general LinkedIn audience. The private groups are groups that require approval from a moderator to join.
So normally, I wouldn't recommend skipping all the way down to the seventh result as your first choice, especially since the groups are seemingly ranked by a combination of activity and membership size. Instead, request the join the top groups. The numbers game principle would suggest you're more likely to find influencers in the top groups.
Since I'm not a photographer, I'm not going to. So I'll use the top "open group" option, the wildlife photography page.
When you're a member of a group, you'll see a page that looks like this.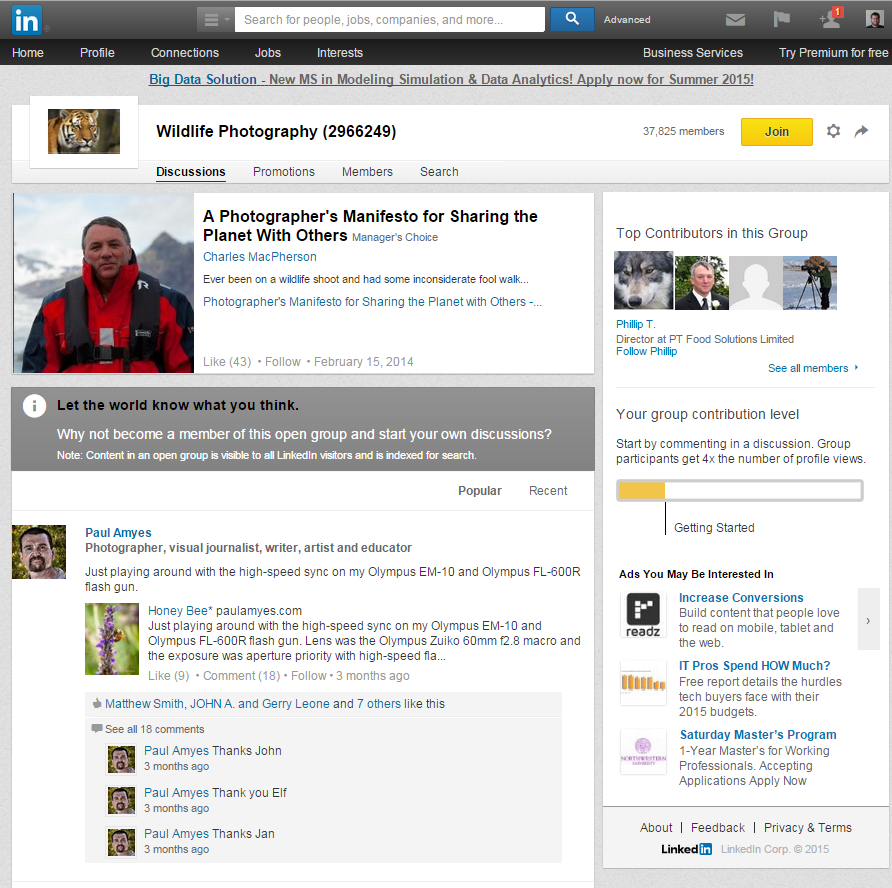 The feature you should pay attention to first-and-foremost is on the right side.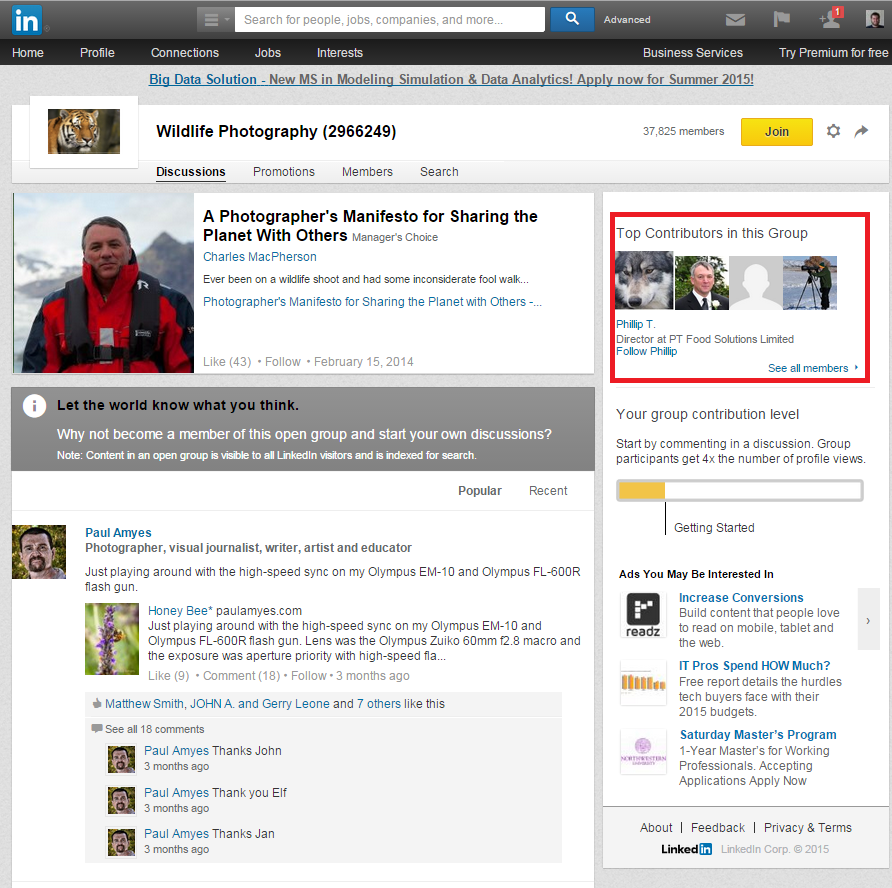 Every LinkedIn group page has this. It's a menu of the group's top contributors. These are the people that post the most content to the group's discussion feed.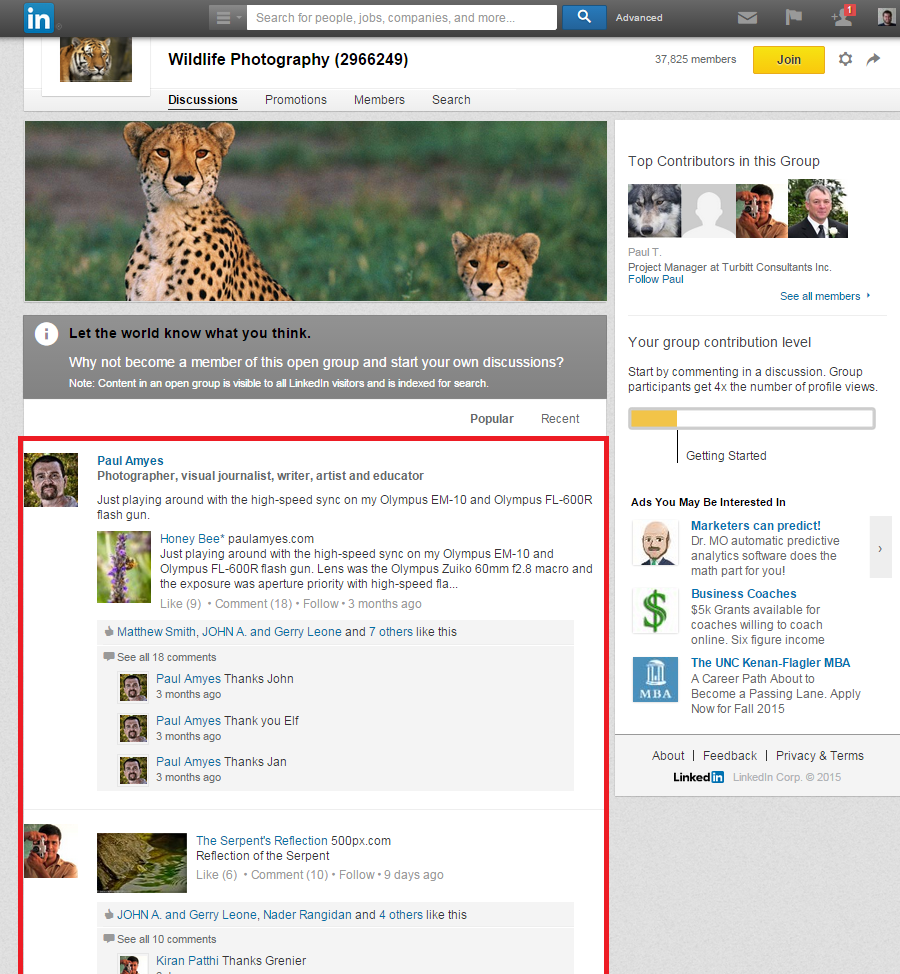 The top contributors feature is very useful on this page. Without having to sift through every single post in this feed, I already know who some of the most trusted members of this group are. They are not only contributing at a high level, but their contributions must be valuable as well. If they were posting at a high volume but NOT providing any value, any moderator worth her/his salt would kick that member out.
But just because someone isn't featured within the top contributors menu doesn't mean they're without influence. That's why I like to look at the discussion feed itself. You'll notice at the top there are two options, popular and recent.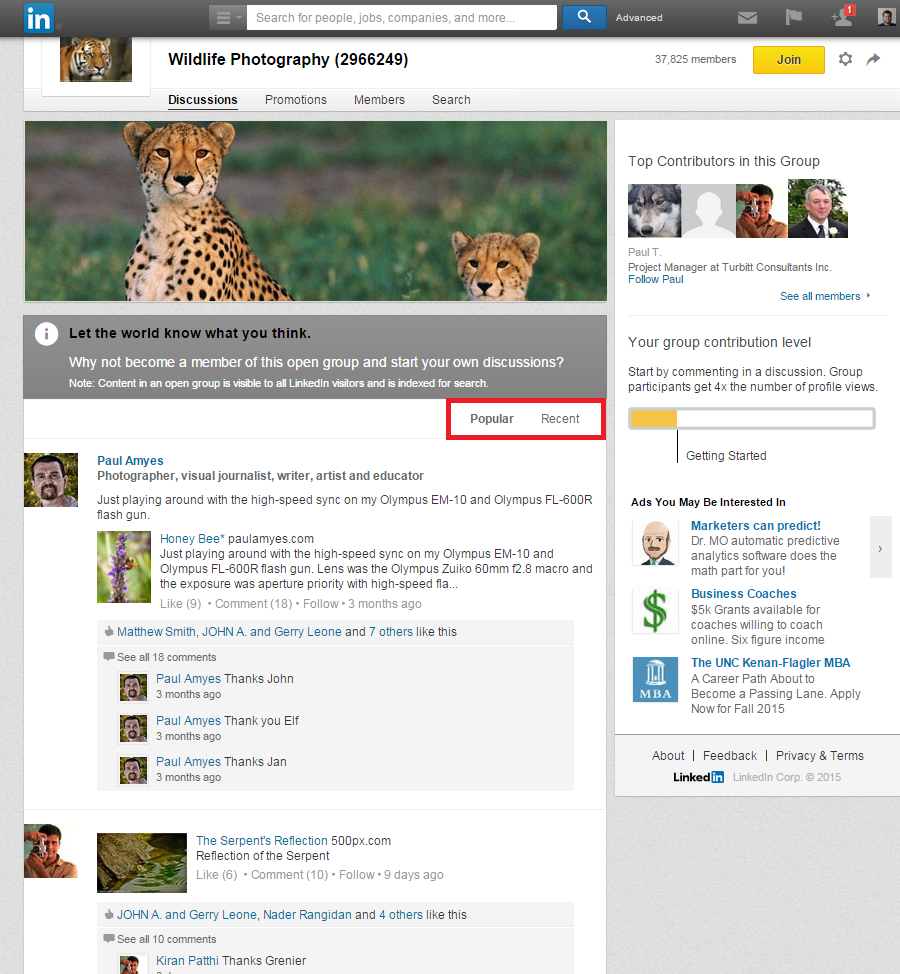 As it happens, LinkedIn defaults to the popular option, which is good, because that's what you want anyway.
This feature will allow you to see the most popular content within a certain timeframe (that timeframe will be dependent on the amount of group activity).
If someone is sharing/producing content that receives a lot of engagement, this is someone you might want to engage with yourself. Just because someone is not incredibly active in one LinkedIn group doesn't mean that person doesn't have reach. It might just mean that person doesn't portion out a large amount of time for LinkedIn.
Conclusion
That may change in the future though.
That's because it's becoming more clear that LinkedIn has become an important platform. As a business leader, you'd be foolish not to have an active LinkedIn page right now. LinkedIn is responsible for a whopping 64% of the social flow to corporate pages.
LinkedIn's unique value is that it is the only b2b social network around. Google+ is kind of a younger sibling in that respect, but that's by accident more than design.
If business to business is important to your company, or you simply want to grow your professional contacts, you need to be where the rest of your industry's influencers are. And then you can become one of those influencers by engaging with the community at large.