One thing I like about Matt Cutts is that he will actually take questions from SEOs about ethical vs. unethical tactics. He is an active participant on several social media platforms, and he regularly converses with SEOs. I often say Matt Cutts is Google's version of an Attorney General, yet despite the Obama Administration's migration into social media, @AGEricHolder is NOT on Twitter answering questions from @Gottifamily about how best to grease federal judges.
On March 18, Constable Cutts tweeted the following:
Today we took action on a large guest blog network. A reminder about the spam risks of guest blogging: http://t.co/rc9O82fjfn

— Matt Cutts (@mattcutts) March 19, 2014
The famed guest blogging community My Blog Guest received a manual penalty from Google's spam team. As of the publish date of this article, My Blog Guest does not show up for branded or keyword searches. A few months ago, Cutts unleashed a rant against low quality guest blogging.
It's in my opinion that link builders shouldn't be alarmed just yet. Jon Ball laid out an incredibly good argument in the immediate aftermath of Cutts' rant, stating that it's hard to imagine how Google's spam team could simply put an end to all guest blogging.
I concur with Jon on this matter: completely wiping out guest blogging would be completely unreasonable on the part of Google. I also believe it was unfair for the spam team to hit My Blog Guest the way they did, and I'm not alone: there was a trending twitter hashtag on the day of the penalty, #isupportmyblogguest.
Guest blogging has been a popular tactic for link builders for a few years now, and I feel safe in saying the majority of it is done properly. But it would be disingenuous of me to say there isn't low-quality guest posting contaminating the web. Indeed the abuse has become rampant enough to prompt Google to start cracking down on what they feel is low quality.
The point of all this is to say that what works today has the potential to penalize you tomorrow. Even if you are exclusively reaching out to quality sites and adhering to the rule of relevancy, someone else isn't, and is abusing the tactic. That's why the best link building strategy you can probably have is having more than one strategy. Diversity in everything from type of content to follow/nofollow is the best way to avoid the same risk of penalty black hat tactics have.
Guest blogging joins a tradition of horribly spammed tactics, including:
Exact Match Keyword Anchor Text
From the time SEO was birthed until the infamous Penguin update of April 2012, many seos included the same text for every hyperlink acquired. That text would also typically be a keyword an SEO would want her/his site to rank for.
Let's say there was a site in the pre-Penguin era called strangeshirts.com. Before the march of the Penguin, that site would have built links using the same anchor text over and over again, probably something like buy strange shirts.
The idea was that using the same anchor text repeatedly would alert Google's algorithm that you wanted to rank for specific search phrase… and it worked.
If you are still using keyword rich exact match anchor text in 2014 however, you're begging for a penalty. Now to clarify, this isn't to say that you will be penalized if you have two links with the exact same anchor text: Google isn't THAT severe of an enforcer. But if you are using the same anchor text for every link, you're in trouble. To be safe, you should mix up your anchor text to the best of your ability.
Infographic Anchor Text
Being a journalism major, I get a teensy bit depressed when I have to sincerely ask this question: remember newspapers? Specifically, remember USA Today? On the bottom left of the first page for every section, USA Today includes a "snapshot." For example:
This is an infographic. It's not particularly complicated, at least not in the way this next one is: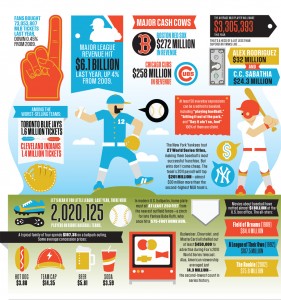 USA Today is a daily publication; no way would they have the time/resources to put together something like this everyday.
I love infographics on the web. Matt Cutts has his reservations though.
It's my opinion that a good infographic contributes to the positive user experience that Google so often preaches their eagerness to preserve. However, Cutts is right in that not all infographics are good.
For a period of time, infographics were THE link building trend. Every agency/client wanted a piece of the action. As with all tactics, the spammers hijacked the trend. Low quality, irrelevant infographics started to churn out at a rapid fire pace.
When i say the infographics were irrelevant, it wasn't that the infographic itself was irrelevant. The link hidden within it, however, would be. Many sites in the three p industries (poker, pills, porn) were embedding the links in hidden text. So for example: a user perusing a clothing site might come across a pie chart infographic about the most popular shirt colors, yet for whatever reason would be linked to a site that featured zero people wearing shirts when clicking on that infographic.

Matt Cutts? More like Matt's Cut!
The value of the infographic was being soiled in the name of irrelevant links. Because of that, Cutts was prompted to release the following video:
http://www.youtube.com/watch?v=PvR_8aGEc98
This video is Cutts' warning shot across the bow to those using infographics, or at least doing so in an unethical manner. A handful of editorial infographics won't hurt you, but a slew of pointless infographics may be devalued, especially if there are hidden links inside of them.
Cutts also says that you shouldn't rely on infographics as your primary way of getting links. He doesn't say, "DON'T USE INFOGRAPHICS." This is even more evidence that Google stresses and expects a diverse link portfolio.
The infographic gravy train was (for the most part) derailed. Infographics still get produced to be sure, but not nearly at the frequency as they once were.
Blog Comments
If you have ever been a webmaster, you've probably seen something like this
This is a comment someone tried to post on the Linkarati blog. It provides no value to the discourse we mean to foster here (but coincidentally, I was thinking about attempting a French braided pigtail).
These kind of comments plague every single website, no matter the visibility/authority. Why? Because they're easy links to build; most blogs will hyperlink the website you provided to the name you provided
When leaving a blog comment, a majority of blogs will ask you to fill out fields such as
If the comments aren't moderated, this is an easy peasy lemon squeezy way to get links, and that's precisely why Google cracks down on this form of linking..
Link building SHOULD be difficult difficult lemon difficult. If it's not, than the integrity of the internet that Google works so valiantly and fastidiously to preserve is compromised. This is why the masterminds behind Google's algorithm implemented the nofollow tag that made blog comment link building not as worth your while.
Blog comment links were very popular, not even that long ago. And as I pointed out earlier, they are a vestigial tactic from the pre-Panda/Penguin era.
Conclusion
As I said before, Matt Cutts answers frequently answers questions from SEOs, even when the questions are, well, softball questions. For instance, Matt Cutts posted this video:
Upon the posting of this video, the SEO industry let out a collective, "No. Duh." I know I said something to that effect when I saw this video shared on Google+. In fact, I didn't even bother watching it; wasn't worth the one minute, forty-six seconds of my time.
Well it turns out there IS something noteworthy about this video. It's not the answer (he gives the exact answer we would expect), it's the shirt. Note that the above image is a screencap from seventeen seconds into the video. Let's take a look at the same video, but now a minute and a half in:
Notice anything different? How on earth did his shirt morph colors from salmon to purple in just 73 seconds? If you actually watch the video, there's no costume change. The shirt just slowly changes color as time progresses.
Is this a new Google product that the public at large is unaware of? Is this what Google was making at their secretive barges? I can see the advantage; no one likes going to a party and seeing someone wearing the exact same shirt. Rather than drive home to change, now you can just instruct the shirt to change to a different color, letting you not miss a thing at the party you were at. Thanks Google Garb!
What fascinates me about the changing color of Matt Cutts' shirt is that it ties in with the practice that he is talking about in the video. If you're in SEO, you know that there are three hats an SEO might wear:
| | | |
| --- | --- | --- |
| White Hat: SEO tactics that increase visibility and preserve the user experience | Grey Hat: SEO practices that operate outside of Google's rules, yet still provide value to the average user | Black hat: SEO tactics intended to manipulate search engines for nefarious reasons |
Note: Picture not intended to suggest that there is a correlation between facial hair and ethical SEO.
If you are a link builder in 2014 and you are still using article directories to build your links, you my friend are wearing the wizard hat. Depending on the quality of the content you are providing to said directories, you might even be wearing the bowler hat. In the pre-Penguin world, article directories were cesspools of link juice. Tons of sites frequently posted low-quality articles to these directories and squeezed out higher rankings in return.
Why did so many link builders do this back in the day? Because submitting to article directories used to be considered, by some, a white hat tactic.
Alex Cleanthous is the Chief Strategist at Webprofits, an SEO firm based out of Australia. He has been published on Search Engine Journal, a respected trade publication for SEOs. He is a noted personality in the industry. He considered article directories a white hat practice back in 2010 (the year the article I linked to in the previous paragraph was published according to The Way Back Machine).
Google is always applying hat dye to tactics, and it always will as long as spammers continue to spam. Most of what I have mentioned up to this point CAN be white hat. There is such a thing as a white hat blog comment link. There is such a thing as a white hat infographic link. Certainly there is such a thing as a white hat guest blogging link. Matt Cutts uses blog comment links himself.
Don't attempt to scale a currently powerful link building tactic for SEO power today. History shows that Google can and will adjust their guidelines, turning a white hat into a black one. Focus on building a diverse, natural backlink profile in order to continue to thrive in the future. You don't want to suffer the fate of a droog.