Competitive analysis can help you rank above your competitors and identify what's working within your industry.
Competitor backlink analysis is extremely useful; by simply conducting an analysis on your competitors regularly (those ranking above and below you), you can get a glimpse into their links profile and on-page SEO factors, like what keyword they are targeting and even their social media strategy.
In today's search world you don't really need to reinvent the wheel. Your competitors have done a lot of work to get where they are. We can cover the same ground in a short period of time just be studying their footprint.
When conducting a competitive research, the overall goal usually is to:
Identify why our competitors are successful in their space and why they are ranking for a particular keyword.
Identify their areas of weakness and strength.
Use it to gain a competitive advantage.
Procedure:
Here is an overview of the procedure used in this post:
Pick the competitor/s we want to copy/understand/spy on
Get a list of all the links pointing back to their site
Put these links into categories for our own link building strategy
Try to understand the why and how they get those links.
Caution:
When conducting a competitive analysis, we are not seeking to do exactly what our competitors are doing. We are simply trying to understand how they have been successful and how we can leverage that knowledge to rank above them. So we are not going to copy their strategy blindly. You need to remember every vertical is different and the way any link is acquired can also be different.
First Things First:
Before we go any further you should already a list of your competitors' website that you want to analyse. The easiest way you can do this is to type the keyword you want to rank for into Google and write down the url of the webpage already ranking on the first page for this keyword. You can use this post to learn how to determine your search competitors: http://linkarati.com/how-to-find-search-competitors
Note: You should do this using the private browsing setting.
Assumption:
It is assumed that you have already chosen the right keyword to rank for and that you understand the importance of each type of keyword and how they fit into your overall ranking strategy.
Also, I am assuming that you have done your on-page optimization and have good content on your website.
One page I don't have on my website is a page for cost implication of signing up with for our SEO services. Unfortunately the word "affordable seo packages" has 40 searches per month, according to Google analysis for that particular word; therefore it makes sense for me to rank for that keyword.
The first thing I would do is to take a look at pages that are ranking for that keyword and create a similar page on my website.
Once that is done, it is now time to find out why those pages and ranking and how I can get the same type or better links to be able to rank above them.
Analyzing Your Competitor's Backlinks
There are a number of tools you can use. Some of these tools have both paid and free version. You should use any tool that you are familiar with, but the top of the list tool for backlink analysis include ahrefs, Majestic SEO, Open Site Explorer and Webmeup.
For the purpose of this post, we will be using the free OpenSiteExplorer tool to conduct a backlink analysis on any of our competitors.
Step 1:
I go to www.opensiteexplorer.org and enter my competitor's url then hit the search button as shown.

Here is a screenshot of results you will get after hitting the search bar.
After hitting the search buttons, Open Site Explorer gives me all the information about the links pointing to the webpage and some other important metrics that I might be interested in.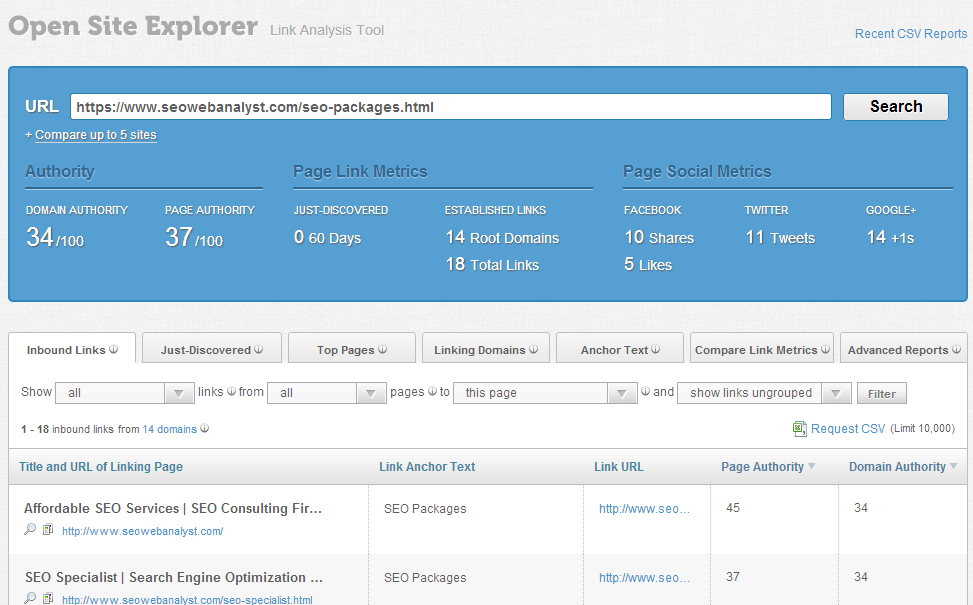 What do these results mean?
From the initial analysis, I can quickly see a summary of the important metrics about the competitor I want to outrank:
Domain Authority: This tells us the domain authority. This depends on a number of factors like the age of the domain. If you are running a competitive analysis, you should compare a domain with a minimum of 30 as the domain authority
Page Authority: The page authority depends on the number of backlinks pointing to the webpage. The greater the number of links, the higher the page authority.
Page Link Metrics: The page link metrics summaries how many links are pointing to the domain and the distinct number of domains that reference this website.
Page Social Metrics: Social media is important to SEO. This metrics shows the number of shares from social media platforms.
Below these metrics are some tabs that are crucial to our analysis. They include:
Inbound links: This tab shows information about each page like the title of the page, anchor text used in linking to it, what url is being linked to and the domain authority for the page.
Just discovered: This tab tells us if a new link is been discovered. This is extremely useful if you have downloaded your files the first time you ran an analysis and you don't want to do so again.
Top pages: This tab shows the pages that have performed well on your competitor's website. These pages usually have the highest number of backlinks. This is also an important competitive analysis hack when you want to produce content for your website and you need something that has performed extremely well.
Linking domains: The number of distinct domain linking to the website.
Anchor text: This tabs shows the anchor text used when linking to the individual pages on the website.
Step 2:
Change the filter to show only results from "external link"

Note: You may also download all the information without filtering it for external links only.
Step 3:
Now, download your result using the export button.

Open your excel file. You will see loads of information that can help you determine where your competitor's inbound links are coming from and what kind of links they are.
To make it easy to use the excel report, you can remove all the columns you do not want. You may decided to sort based on a number of factors e.g number of links, do-follow or no-follow links, anchor text, etc.
Step 4:
Now I am going to take away most of the columns leaving only the URL, Title, Anchor Text, and Number of links and Target URL.
Step 5:
This is where the real link building starts and this is why link building has always been said to be hard. You will have to manually check out the links and check their placement. You also want to check if that link placement is worth pursuing. As the team here at Linkarati would say, this is where the smell test begins.
How can we use this result in our own link building strategy?
Link Building Strategy
There are many link building tactics that can be used based on the result in our first analysis. You will want to consider some of the following to help you in your own link seeking:
Are there links from press release website? If yes, where and what was the press release all about?
Are there links from directories? What kind of directories? Are they paid directories or free directories?
Is the link attached to a guest post? If yes, can we get a post on the same website or similar website in the same vertical?
Do they have links from an educational website? If yes, is it through sponsorship or by funding a research?
Once you are able to analyze and categorize where those links are coming from, you need to go and try to get links from those places.
In places where you can get your own links, go ahead. If you think the place where they got their own links from is a little unreachable, you might want to also explore other sites in the same vertical to get your own links from them.
PS: This technique should be applied to the entire website ranking on page 1 for your target keyword. Once you do this you'll have enough links to pursue.
Conclusion
Competitive analysis can help you understand how and why a website is ranking for a particular keyword in the SERP. Sometimes the webpages you find don't have enough links to rank for that particular keyword. Other factors might be responsible for their place on that page as well. When you're looking for places to get links, conducting a competitive analysis on website already ranking for that keyword is one way to go. Whenever possible, go after better links than what your competitors have. That is the only way you can actually outrank them.