Welcome to another installment of Tutorial Tuesday, our weekly educational series! This week, I will be discussing how to find link opportunities in blog comments.

Despite what you may have heard, it's still perfectly okay to build links in blog comments. Plenty of influential users do it all the time, including:
As Matt Cutts says, it's all about relevance and natural placement. This philosophy can be applied to any link building tactic really, including ones that are considered "spam."
It's possible for users to leave comments with links on this blog. For example: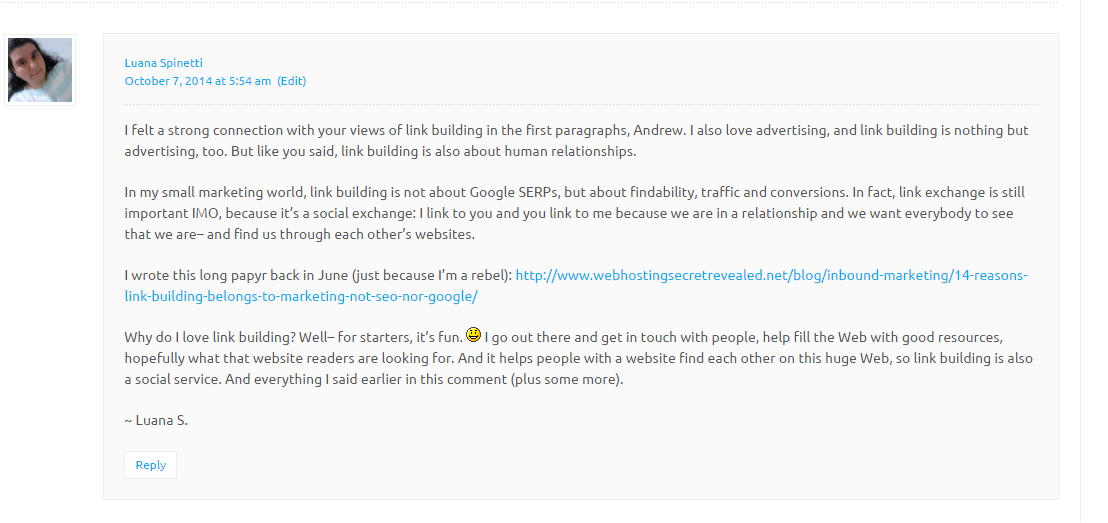 This is a comment on Why I Love Link Building. As you can see, the commenter links out to an article she has written in the past, an article that is relevant to the discussion at hand. We editorially approve relevant comments of any kind on this site. I suppose it would be hypocritical of us not to. However, this is a nofollow link, as blog comments so often are.
Because they are so often nofollowed, blog comment links don't provide much--if any--link equity. That's okay though: blog comments have several other benefits. They can drive qualified referral traffic. They provide an opportunity to engage with key niche influencers. Most importantly for the purposes of this article, that engagement can potentially lead to tomorrow's links.
If I've said it once, I've said it a thousand times: one of the best ways to build links is to build relationships. Relationships are vital to all marketing, link building included. A few common examples of links that require an established relationship include:
Interviews
Mentions
Reviews
Contributed content/colums
Testimonials
Etc.
For the purposes of this article, I'm going to discuss how commenting on other blogs will allow you to build relationships that can lead to further contribution opportunities. And since it's Halloween week, my example will be for a site that sells horror movie memorabilia.
Step One: Create a List of Blogs Worth Following
As advanced as technology and tools are, it's impossible to follow every single blog in your niche. Even if it were possible, it would be incredibly inefficient. We only have so many hours available in a day: why waste time following blogs that lack significant engagement?
It's far more efficient to follow blogs that users engage with. So what are these sites? Well, there are several ways to compile such a list. One way: use a search engine!
Sounds pretty obvious, right? But hey, sometimes the obvious needs to be acknowledged.
In this instance, I would do a search along these lines:

This search will (ostensibly) narrow your results to blogs about movies. For more about advanced search modifiers, click here.
I would suggest going a little broad at first. Don't pigeonhole yourself right from the get go. If the site revolves around movies in general, they may be open to linking to your horror movie site, provided you successfully display your unique value. Remember to keep authority in mind however. You're not going to create your own authority if you're regularly seen only on junk sites.
I would also suggest venturing outside of search engines. Remember, you're looking for blogs with engagement. Key work: engagement. Where do people engage? Social media!
Most authority blogs have social media profiles. I'd recommend entering terms like "movie," "horror," or "geek" into the Facebook and Twitter search bars to discover what comes up.
Inspect the blog of these sites: look for the average number of comments. Remember, you're not necessarily looking to build a link on this site, you're looking for other people to interact with. If the site passes your smell test, throw it in a Google doc like so:

It's up to you what data you want to track. The two most important things I would want to list are the url (obviously), and the last time you checked it. This is for personal accountability (more on that later).
Step Two: Registering a Disqus Profile
As your sniffing around the comment sections of various authority blogs, I guarantee you that you'll see one word over and over: Disqus.
Disqus is a free comment application. If you want to set up a way for people to comment on your blog, Disqus is the go-to service for an increasing number of sites. It's beneficial to both webmasters and users. If you frequently leave blog comments, I would strongly recommend signing up with Disqus, especially since Disqus is frequently found on authoritative sites. As I will explain later, it will prove to be of great assistance while link prospecting. Signing up is fairly simple too.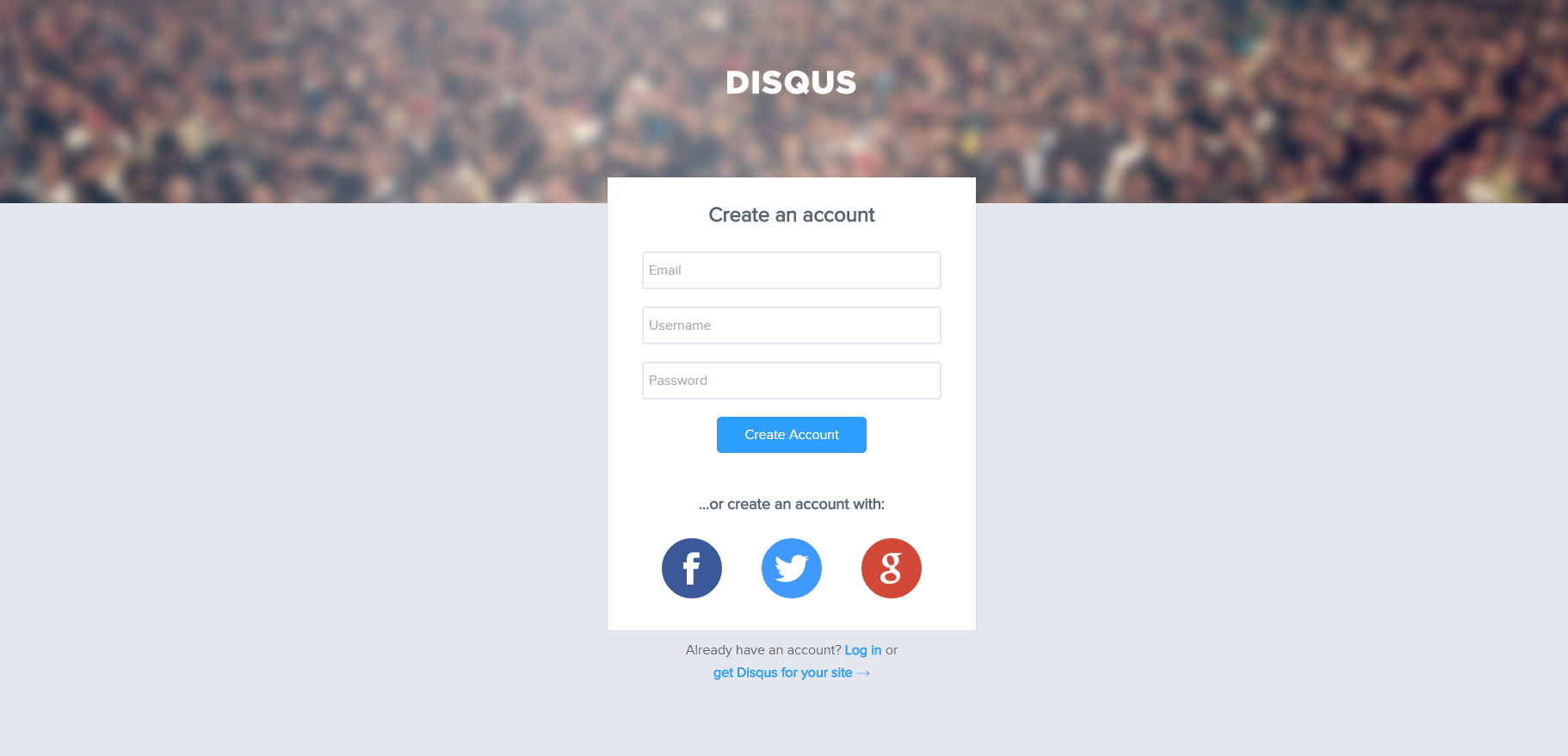 Simply insert your email address, the username you would like to use in your comments (it will be used for every site that uses Disqus), and your password. Or, if you're already logged into one of your social media profiles, click on the appropriate icon and Disqus will create your account using your information from that page.
Note: of course not all comment sections uses Disqus. Most comment feeds will ask for the same information before you leave a comment however.
Step Three: Engage
Now that you have a Disqus, get commenting!
Don't just follow blogs and email anyone that frequently posts without ever commenting yourself. That's not being a link builder: that's being a spammer.
I wouldn't encourage you to leave comments just for the sake of leaving comments. The time investment isn't quite worth it in my opinion. Leaving a blog comment takes you away from your current task, and a meaningless, "Well done!" comment isn't likely to garner any attention. If you're going to engage, ENGAGE.
Add value to the discussion. You can do this by:
Extending upon an idea that the author only briefly mentioned.
Leaving (polite) criticism if applicable.
Asking a question.
So let's say you saw an article like this: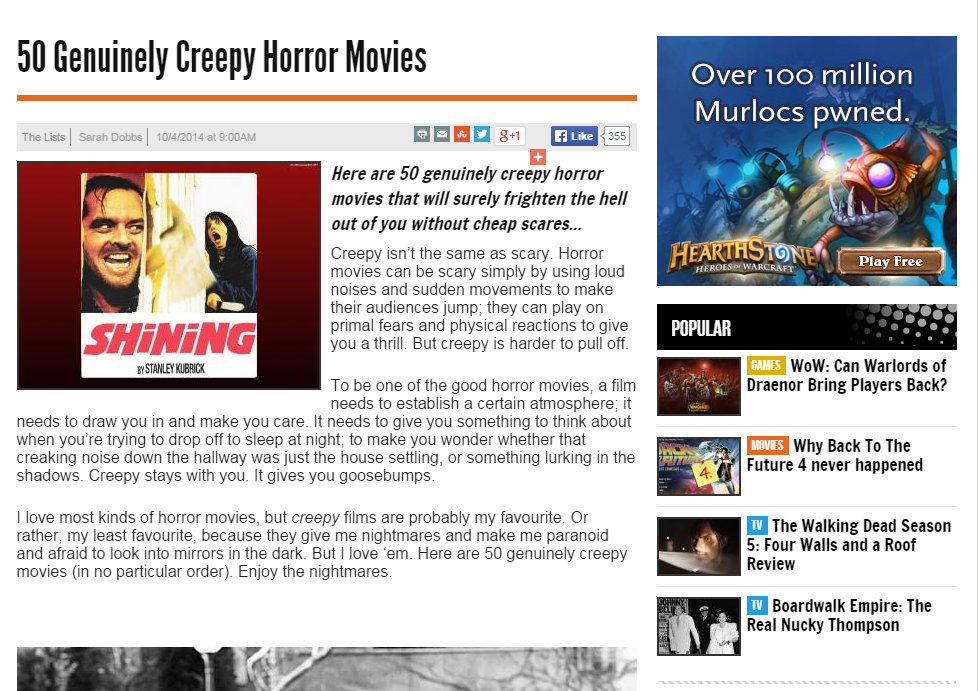 Lists are pretty much unavoidable on movie sites. And of course, lists are always targets for open targets for criticism. For example:

Criticism? But at least it's polite. And it merited a response.

Hey, he's entitled to his opinion too. And if I speak emoticon properly, he's at least kind of joking. Even if this commenter isn't totally on board, he just opened up a link opportunity. By clicking on his name, Disqus pops up the following: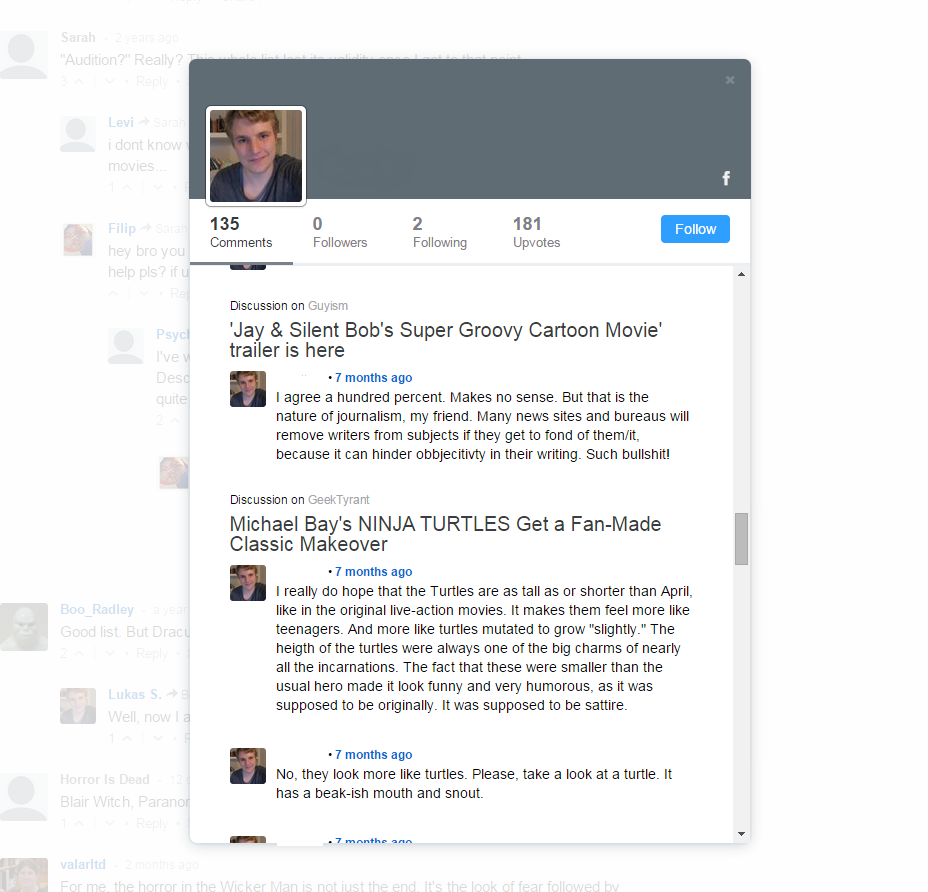 Note: names have been intentionally blanked out
It's an overview of his recent comment history. This guy is clearly into horror movies. Is it possible that he's commenting on other blogs you would be interested in? I don't know about you, but one site name caught my attention.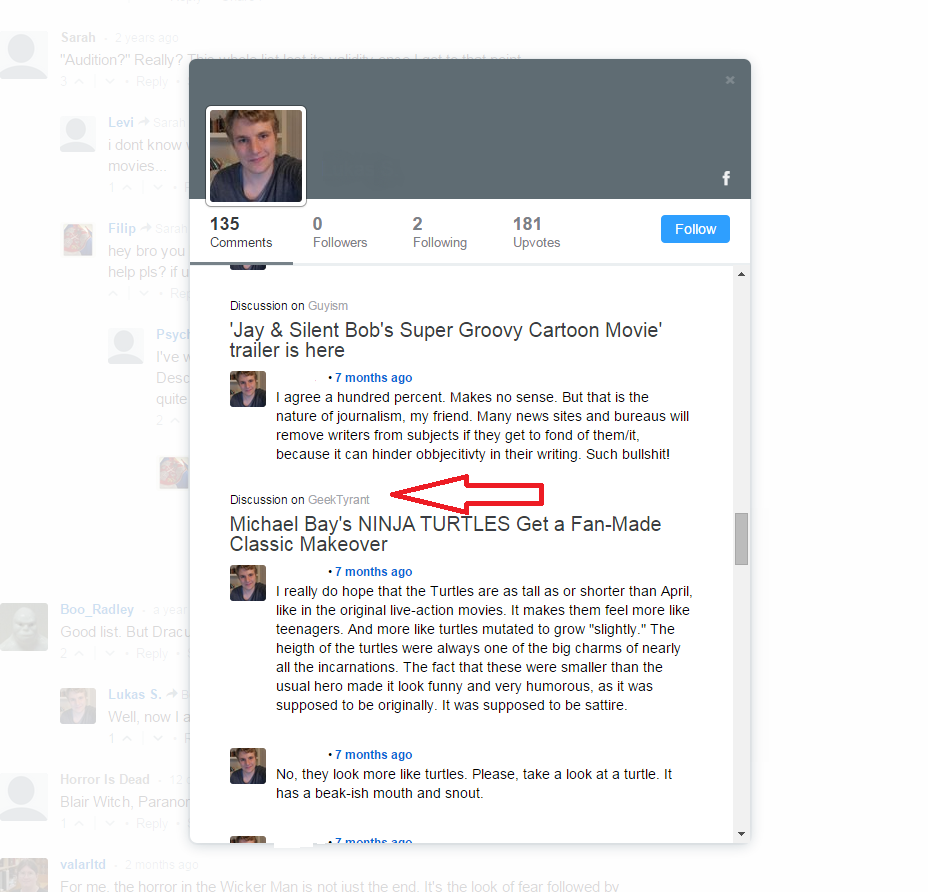 Click on that link, and you'll find this site.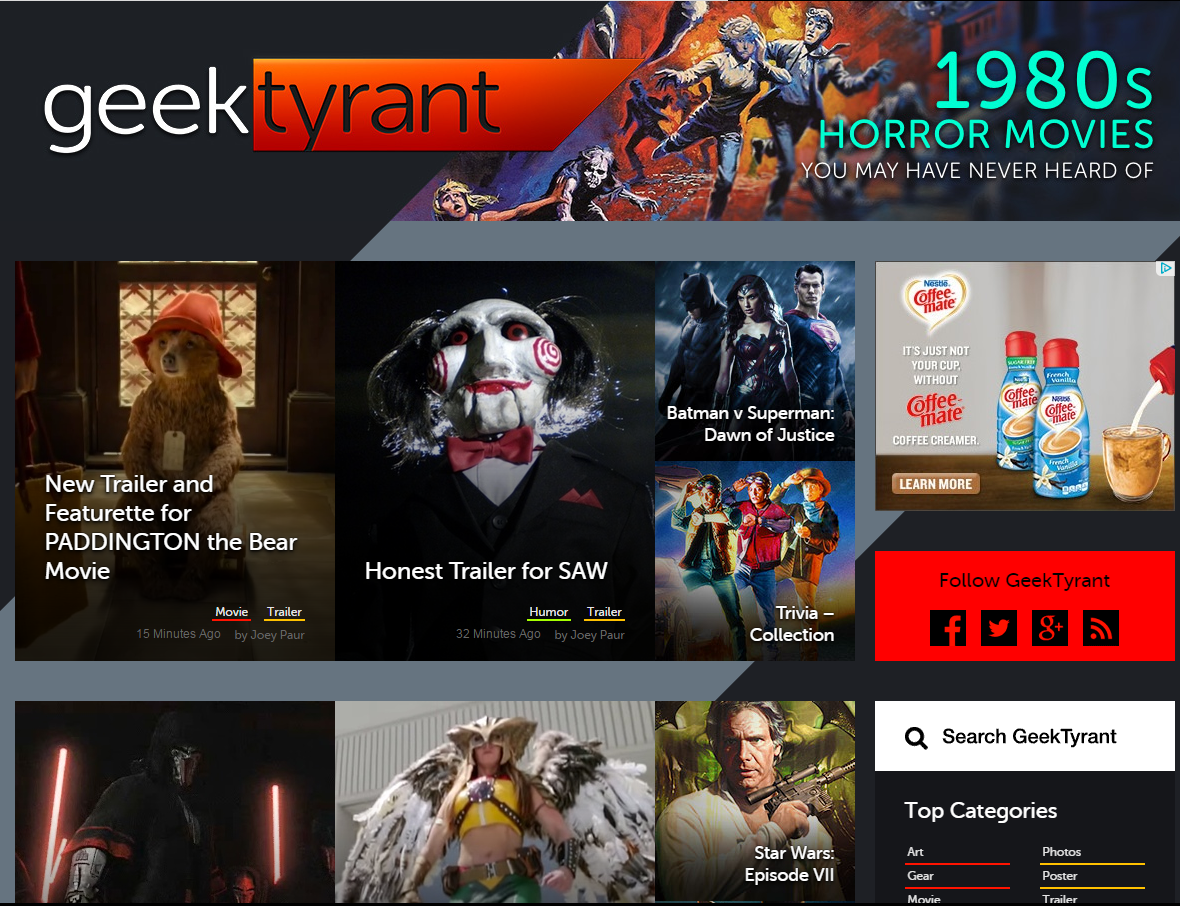 I can already spot multiple horror movie references above-the-fold on the main page. Don't stop there though: conduct a proper smell test. You'll find that this site is frequently updated, has a sizable social following, and yes, they will accept submissions.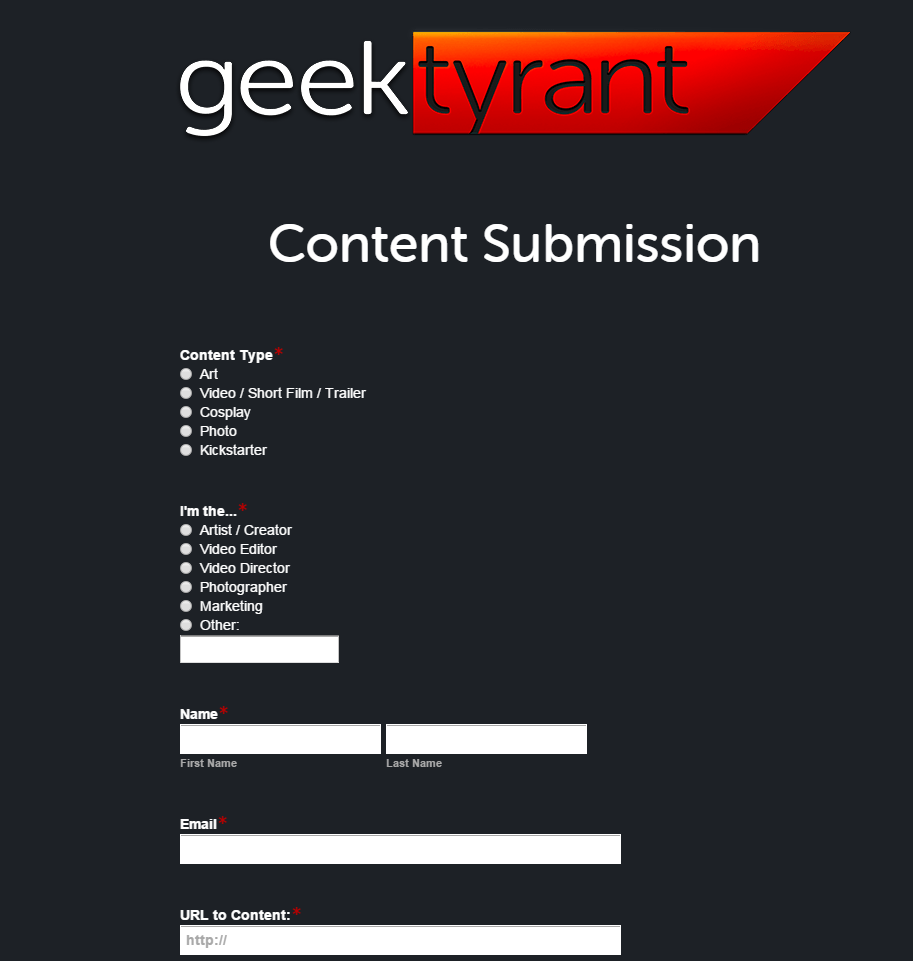 If you're selling horror movie memorabilia, this is about as ideal a link opportunity as you could possibly find. And all from engaging in your niche.
Step Four: Schedule Calendar (But Seriously Folks, Engage)!
So yes, engaging in comment sections has its benefits, and I highly recommend it. Of course, it's easy to get distracted with the rest of your work during a normal work week, and it's easy to skip over this whole blog commenting thing. This is why I recommend implementing a "comment calendar" if you will.
Add an event to your Google calendar once or twice a week.
Click on the create button that's also in the top left, underneath the Google logo.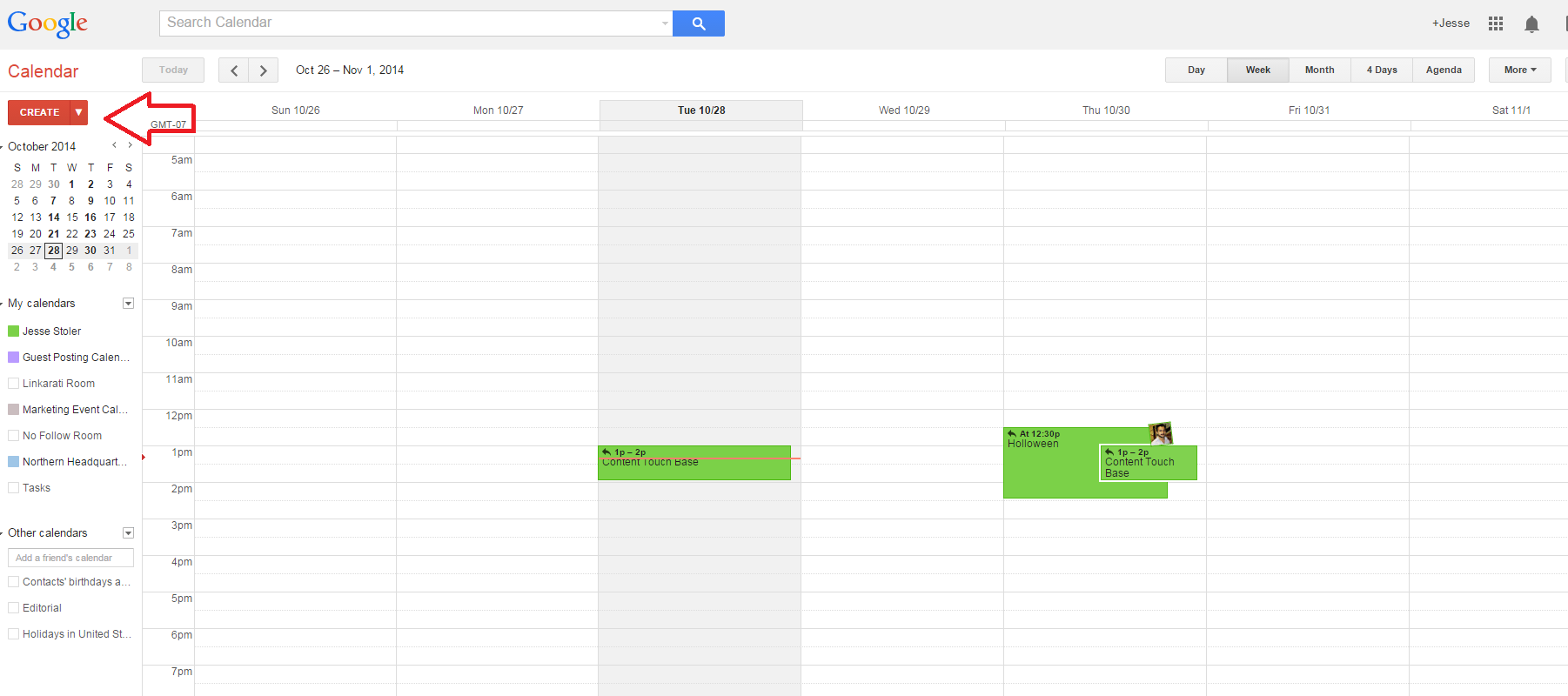 You'll be brought to this page:
The rest of these steps are merely suggestions: you can do whatever you choose. In my case, I would fill out the sheet to ultimately look like this: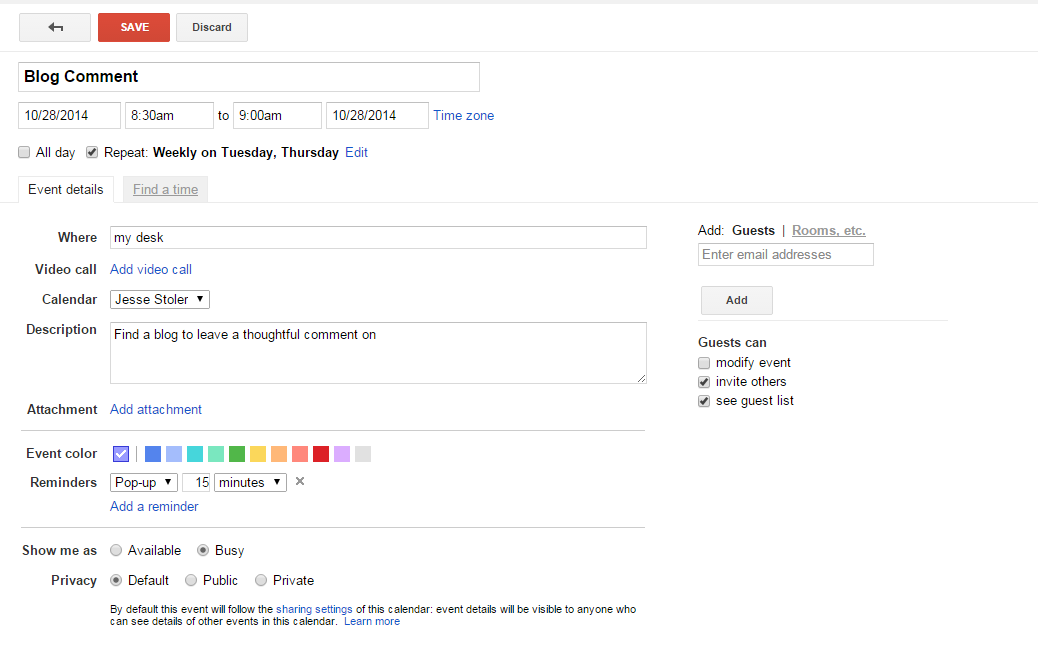 I've set this up so that every Tuesday and Thursday, my calendar will alert me that I should, "Find a blog to leave a thoughtful comment on." I'll get this alert at 8:15, 15 minutes before 8:30.
Again, please work at your rhythm. I suggest getting this task out of the way in the morning because I know that I spend my mornings catching up on industry news and blogs anyway: why not schedule out a portion of my day in which I leave one comment on a piece I found particularly interesting?
Conclusion
Is blog commenting going to be your link prospecting savior? By no means, and I would never mean to suggest it as such. It's simply solid supplemental work that you should be doing.
Commenting on blogs keeps you in touch with the community in your niche. If you want to build links on authority sites, you have to cultivate a little authority of your own. You're never going to do that if you're out of the know and you don't regularly communicate with other niche influencers.
There are few better ways to build relationships than through the comment section of a well-attended blog, and there are few better ways to build links than by building relationships.