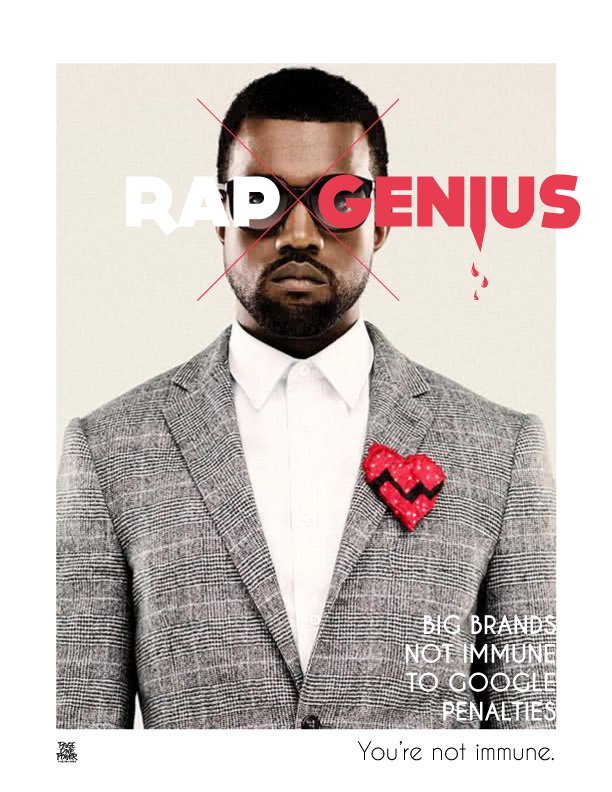 On Christmas day, the owners of the site rapgenius.com got a big heap of Google coal in their stockings. The burgeoning site, which the webmasters describe as a "hip hop Wikipedia," fell victim to a manual penalty from the Google spam team.
The penalty occurred after the webmasters behind Rap Genius employed a tactic which has swiftly been labeled as TieFating. The team would offer to tweet out the site of any webmaster who would embed a link using the anchor text "Justin Bieber lyrics." It has yet to be determined which is worse: the fact that Rap Genius would employ such an obviously foul tactic, or that Justin Bieber is a "rap genius."
"We didn't see our penalty in webmaster tools. We can't see when we wear our sunglasses inside lulz."
According to Josh Constine of TechCrunch, the Rap Genius webmasters are working on a resolution with the all powerful spam detectors at the behemoth search engine. Of course in hip hop terms, a resolution can mean a drive by on the Vegas strip.
Rap Genius was launched in 2009. Despite the steep competition of online lyric databases, the site gained a lot of traction rather quickly. It's not your average lyric database though. Instead, it's a community in which hip hop aficionados can submit their interpretations to lyrics of their favorite songs. But thanks to Google, their traffic took a hit bigger than the one on Ice Cube's street cred.
On the first day of the penalty, Google gave to Rap Genius a 60% decline in traffic. On the second day, 52%. I'm sure the webmasters would have preferred a partridge in a pear tree and two turtle doves. Even a carrier pigeon could do more to increase their traffic.
A penalty from Google, whether it be manual or algorithmic, can and will have a detrimental impact on your site. Even the big boys aren't immune to that. Here are some other well known sites that haven't always been on Google's good side (and what they would do if they were on Rap Genius).
Overstock.com
Remember about seven years ago when there wasn't such a thing as a commercial break without seeing this woman?
She was the pitchwoman for Overstock.com, an online retailer based out of Salt Lake City. For a period of time, Overstock was as ubiquitous at the top of the SERPs as this woman was on primetime television. Google's spam team found the reason for that.
The link builders at Overstock had a practice of encouraging websites of colleges and universities to post links to Overstock pages so that students and faculty could receive discounts on the shopping site.
The reason Overstock would do such a thing is that .edu links are considered to be prime links in the eyes of Googlebots. There's really no problem with an ecommerce site reaching out to place links on a .edu either… unless you do it the Overstock way.
Offering discounts is fun and all, but Google frowns upon the "Thrift Shop" version of link building.
If Overstock had an account on Rap Genius, they would offer up their own interpretation of this Macklemore smash hit:
In the eyes of Google, what Overstock did was the equivalent of bribing webmasters for links, a no no in the webmaster guidelines. The floral company Interflora was guilty of this as well.
Forbes
Forbes.com, the website for a magazine that caters primarily to Adam Smith enthusiasts everywhere, has been Googleslapped twice. The publication, a firm believer in the capitalist mantra of "sell sell sell," was hit twice precisely because of that: selling links.
On its ebusiness page, Forbes had a section for "resources." For a site such as Forbes, you would expect resources to include think tanks and financial journals, right? Well here's what the page looked like back in 2010, right before the second penalty:
First, hats off again to TechCrunch for finding this. Second, look at those resources. Ordinarily on Forbes, the word "exchange" would be in the context of "New York Stock Exchange," not "exchange hosting." It's a link to AppRiver, and hardly a natural link.
If Forbes had an account on Rap Genius, they would offer up their own interpretation of this Wu Tang Clan masterpiece:
Selling links is a violation of Google's webmaster guidelines. Matt Cutts and his crew aren't too keen on webmasters who use a resource section as nothing more than a roadside billboard.
BMW
The famed automobile brand was penalized back in 2006. In SEO, 2006 typically might as well be 2006 B.C., but the practice that got BMW into trouble is still in play today.
The webmasters behind BMW built doorway pages. A doorway page is a page built specifically to be optimized for a specific search query and will ultimately direct a user to a different page thanks to the use of Javascript.
When it happened, Matt Cutts showed evidence of BMW's wrongdoing.
The image on the left is how a Googlebot would see a certain page. The image on the right is how the user would see the exact same page. In SEO, this is known as cloaking.
If BMW had an account on Rap Genius, they would offer up their own interpretation of this Academy Award winning anthem courtesy of Eminem:
It may seem like a genius idea, but cloaking is a (slim) shady tactic, and will get you penalized quickly.
JCPenney
The story of Overstock.com's penalty back in 2011 wouldn't have been picked up by so many news outlets had there not been a penalty precedent from an even bigger brand shortly beforehand.
Of course, the penalty precedent I'm talking about might not have occurred without investigative reporting from the newspaper of record. The New York Times actually broke the story of JCPenney's link scheme before even Google knew what was up.
JCPenney was guilty of doing what a lot of domains did back in the SEOld frontier: they bought a large amount of irrelevant and low quality backlinks. Indeed, this is still in practice, albeit at a lower frequency.
If JCPenney had an account on Rap Genius, they would offer up their own interpretation of this epic Kanye West jam:
Just like selling links, paying for links is a no go in the eyes of Google. Not only will it get you penalized, but a slew of garbage irrelevant links won't really do much for your rankings in the first place.
A Google penalty is no laughing matter. The adverse effects can cripple a site for years; many domains just cease to exist in the face of a penalty. These big names brands were able to recover thanks to their reputation; domains without the brand recognition might not be so lucky. Avoiding tactics such as bribing webmasters, buying or selling irrelevant links and cloaking will keep you in Google's good graces. Make sure that with your Rap Genius account, you're able to offer your interpretation of this Dre & Snoop classic when you climb high atop the Google SERPs: