Editor's Note: In today's guest post, Tamara Manning of YQuest Marketing tells us the tale of her experience at SMX East, a large industry tradeshow that takes place in New York City. I've never been to a tradeshow personally, but Jon and Zach are frequent attendees and speakers. I also know that many members of our audience haven't made it out to a tradeshow yet (other than Mozcon, perhaps), so Tamara's perspective and experiences are pretty insightful to me. I hope you'll feel the same way.
If you want to share your own tradeshow tales, head over to our 'write for us' page and drop me a line. Let's make this a "thing," as the kids say.
SMX East, October 2013
I decided it was time to attend and network at one of the most highly rated conferences in the search marketing industry called the SMX (Search Marketing Expo) East in New York City. I wanted to get a chance to talk with some of the heavyweights in this ever so changing industry and after hearing so many rave reviews from previous attendees, I decided to take the trip to see for myself.
I figured it was also a great way to stay abreast on what's going on in the digital marketing field and it was also a good excuse to escape to the Big Apple for a few days.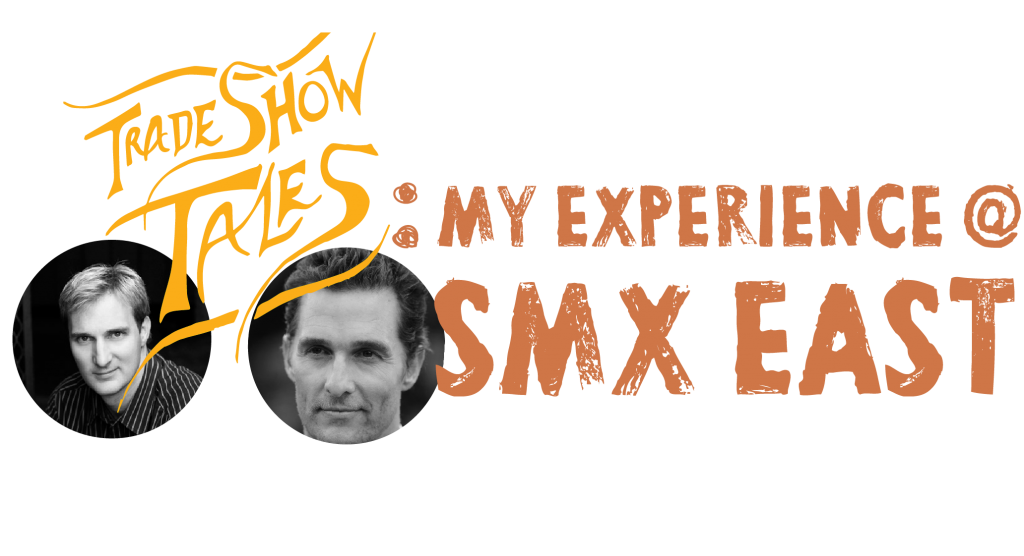 As I first entered into the Exhibit Hall and read the list of companies that were in attendance, I was surprised that I was familiar with about 70% of the names. Either I have used their products or services, are currently using them, or thinking about using them to assist with our customers' sites. I was excited to get to hear about what kind of plans they were working on with their products in the future and what direction they were taking.
As I spoke to a gentleman from Majestic SEO, an online tool that I use extensively to measure competitors' backlinks, I proceeded to ask him about other similar tools like Ahrefs and the benefits and disadvantages with continuing to use their tool. Some of the reasons and differences he pointed out to me reassured me that I chose one of the best marketing tools in the industry.
One of the speakers I thoroughly enjoyed listening to was an entertaining Matthew McConaughey look-alike from Idaho. I actually told him he looked like Matthew as well and he seemed both surprised and maybe slightly ecstatic at the comparison. Nevertheless, his name was Jon Ball and he the CEO of a company called Page One Power. He is a master of backlinking and gaining high quality links to websites.
He went over some of the strategies that he uses when gaining backlinks and they were the same things that my team and I implement on our customers' sites as well. One is making an editorial calendar to schedule blog posts and other content for social media campaigns. Another point he made was to also take advantage of guest blogging. Guest blogging is writing and publishing an article on other popular websites and blogs to build credibility and attract the right customers for your company. We use this strategy as well and it has worked great with our clients' websites in gaining notoriety in their market.
On the last night, there was town hall forum which featured the editor –in-chief of Search Engine Land, Danny Sullivan. Search Engine Land is one of the most popular and informative blogs in the SEO industry and is actually the company that created this conference. Danny answered questions from the audience covering different topics such as the latest Google algorithm change called the Hummingbird which you can read more about it here. He also gave us some insight as to where he thinks the SEO industry is heading. Other companies that were in attendance were engineers from both Google and Bing. It was great to get a chance to talk to some of these representatives and get some insight on how they measure the quality of a website.
All in all, I thought it was a great conference. It was good to be able to have great, in-depth conversatons with some of the most highly knowledgeable people in the SEO industry. I know I will be working with a lot of these companies and am confident YQuest Marketing is heading in the right direction to ensure success for our customers!