Editor's Note: Today's post comes to us from Simon Trainer of Business Mapper. We featured one of Simon's pieces in our fifteenth link building roundup a couple of weeks ago, and shortly thereafter he offered to write a post for us. In this piece, Simon offers some good ideas for actually doing something productive on Twitter in between watching Amanda Bynes meltdowns. Take it away, Simon!
Many people think Twitter is good for brand and content promotion as well as driving traffic, but few people use the popular micro blogging platform for actual link building opportunities. Here are some ways to leverage Twitter's functionality and to build powerful links to your website.
Let's get started!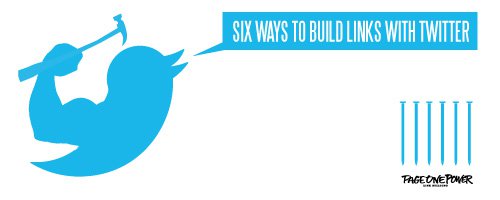 #1 Twitter Search
This is one of Twitter's most powerful features, and in some ways it's more effective than Google search inquiries. That's because Twitter search brings up the freshest opportunities to select "ALL" under the search bar.
Hopefully you know the best way to improve your site's ranking is to build quality links with sites that are close to your website's subject matter. Three of the best ways to do this are:
Guest Posting
Link Round-ups
Resource pages
Guest Posting
Entering simple search inquiries like keyword + "Guest Post" or "write for us" –RT excludes retweets.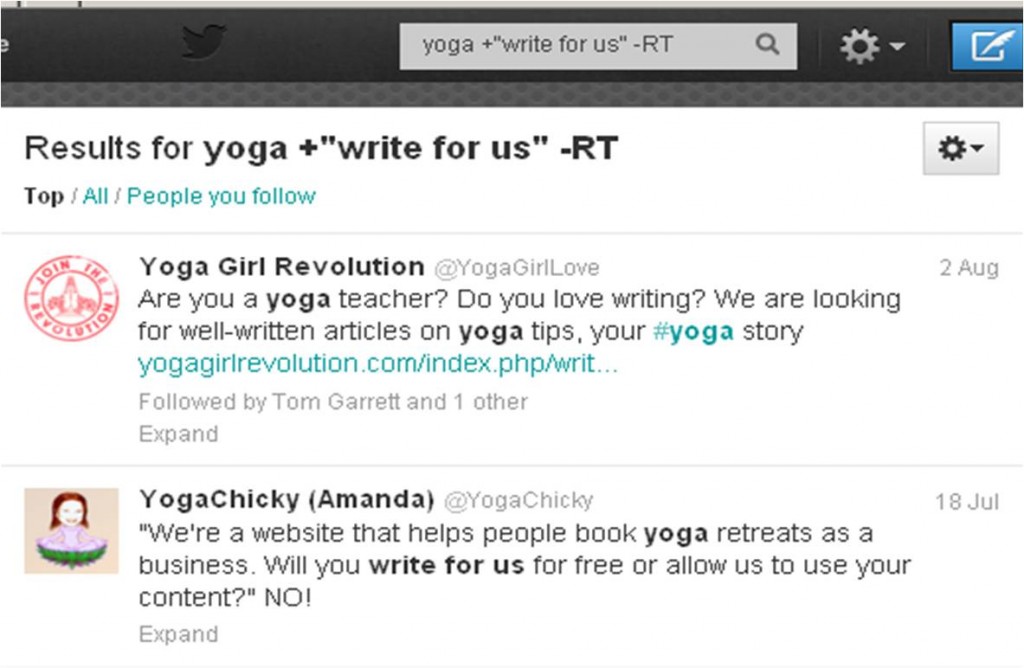 Link Round-ups
Link round-ups are a very popular type of article used by bloggers in every niche to round up the latest news. It presents a great opportunity for you to suggest an article you have written!
Just search for your keyword + "link round up" or "Friday round up" and start suggesting a top post on your website for them to include in their next round up.
Resource Pages
Remember some websites are looking to add a link to your website, usually from their resource page. The search operator for this is Your keyword + resources –RT
Once you've found some targets like these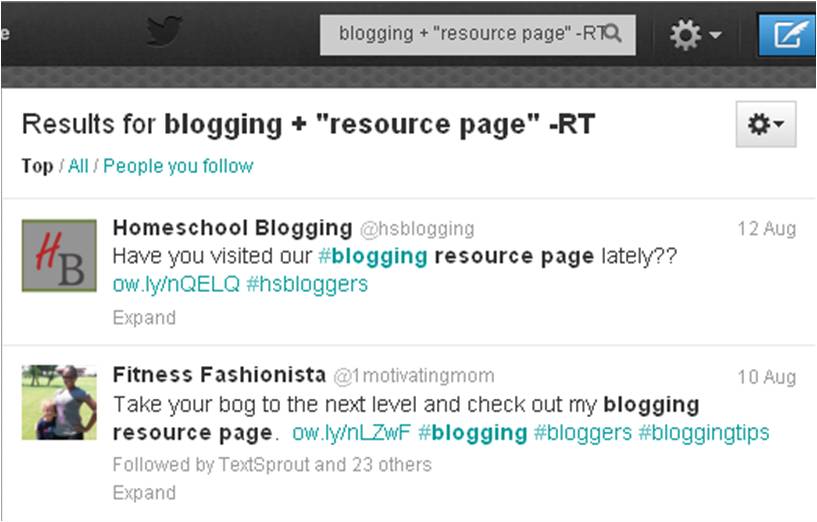 Check the Page Rank of the website your content is targeting. Here's a free PR checker
If the Page rank is 3 or higher, then DM (direct message) the twitter user and offer your resource or a few links to some posts you've had published
#2 Relationship building – Twitter is great place to meet people and help other people out. I recently re-tweeted this person and got a 'thank you'. It's really easy to start leveraging this kind of casual 'thank you' into a link building opportunity.
Suppose it wasn't an accident that I just liked her tweet and promoted it, that this person actually was the owner of a high PR website in the same niche as my site. I know that because I did a bit of link profile research by pinging her URL into ahrefs. After a few more interactions like that with this person and I send a DM saying,
"Hey, great to meet to you! maybe we could like each other's Facebook pages or since we have similar sites link to each other as a resource for readers!"
POW! So, with a little effort to build an authentic relationship you can actually get bag a quality link.
#2 Links + (Take the relationship further)
Say you have been doing this for a while, you come across a really awesome site in your niche and you decide you'd really like to work with that person more closely. After re-tweeting them, thanking them and just chatting with them a little bit on twitter, why not DM them and ask:
· To become an affiliate of your product
· Swap ads
· Swap email lists
All of these things will get you a link + a lot more! Twitter works as an introduction to a lot people. The trick is to hone on the really useful people. Then make the effort to create a relationship, put even more energy into those relationships that matter, find synergy that's going to benefit both parties and help develop each other's business with cross promotional opportunities like traffic sharing, ad swaps, affiliate deals, etc.
#3 Curate content
This one is dependent on your niche, and is really about gathering together a collection of top content, asking people to contribute ideas and then rewarding them for their efforts.
Here's how it breaks down:
You're in e-commerce and would like to bag a load of links from business sites of some description or another.
You put the word out on Twitter that you're putting together a "best of" list with top online resources for start ups- can anyone recommend any sites?
You may already have started a Twitter list or used a service like follower wonk to figure out who the influencers are in your niche. Basically, you want to build a buzz about the content you're creating and get some suggestions.
Next Steps-
A: Create your list
Build a page / blog post / slide share / YouTube video on your site "Top 25 best websites for start up businesses"
B: Make a 'badge'
Design a 'badge' and give it away to everyone that made your list. If you can't design it yourself, you could get someone on Fiverr to do it quickly and cheaply.
C: Contact the site owner
I. People love to win awards and get recognition for their work. Most site owners will be really happy to display their new badge (which of course contains a link to your site) or at least link to your "best of" page on their latest blog post. Trust me, when people see their name in print or get a public thank you, they love it!
II. Tweet the results and personally thank the people that gave their suggestions. You will probably get more links from these people as well, since they showed an interest in what you were doing.
#4 Start an event
Kristi Hines published this article a while ago that got a lot attention. I found most of the links she mentioned were no-follow and therefore did little to help my link profile.
Here's one that does give do follow links though that I found by accident because I was actually promoting a digital marketing surgery that my wife and I run each month.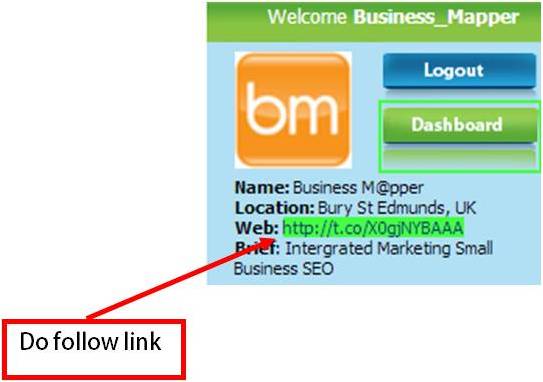 Need ideas for events? It could be simple like tweeting about a Google+ hang out about link building!
#5 Twitter Follow Ladders
Why not start a Twitter follow Ladder? I belong to a closed Facebook business group. One day of the week everyone in the group agrees to 'Like' each other on Facebook and on another day 'Follow' each other on Twitter. The group is about 2,000 strong and each week we add about 40-60 new followers. It's super simple to start a Follow ladder on twitter, but the trick is limit it to people just in your niche. Here's how you do it-
1. Make a twitter list of #Groups in your niche
2. Tweet out your SEO Fresh Follow Friday or whatever you want to call it
3. Follow all new members
4. Cast you eye over the members and check out which sites could provide a good link for you
5. As the moderator of the group welcome them, start chatting and a suggest a link exchange
Again, a little effort is needed to get the thing going, but once you build it into your work schedule and start building relationships the initial work will pay off big time!
Summary
In essence, Twitter is the perfect tool for meeting people, establishing relationships and then levering those relationships with people that matter the most (have high Page Ranked websites). Most people who use Twitter just want a follow, but a link builder should see a follow as a possible opportunity. Next time you think you're just wasting your time on Twitter look at this list and try to grab some links!
You can probably think of your own spin some of the strategies I outline above. I'd love to hear them!