[caption id="0" align="center" width="500"]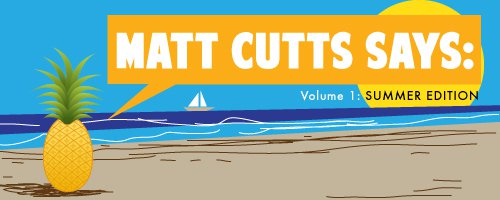 Matt Cutts is about as close as we come to a celebrity within the SEO world. His name is both reviled and lauded, his praises sang and his name equally cursed.
As the Head of Webspam team at Google, he's directly involved in search quality and serves as the face, voice, and sometimes whipping boy of Google for the SEO community.
Often people disparage Matt Cutts for his ambiguous statements and political correctness. But, as one of the few news sources and avenues of transparency from Google, it's important to keep a close eye on what he's saying. Beyond that, having met Cutts in person and listened to him speak, he comes across as extremely genuine, intelligent, and charismatic. Simply said, he's worth listening to.
Today I'm putting together a string of his recent interactions with the SEO community, including videos, posts, and comments to assemble a best guess of what we can likely expect to see in the near future from Google.
Welcome to Matt Cutts Says, Volume 1 – Summer Edition
First off, obligatory head nod to The Short Cutts – an entire site from Click Consult dedicated to posting videos from Cutts' Google Webmaster Help series with both the question and quick summation of the answer. If you're interested in seeing the quick and dirty answers from Cutts' videos this is by far the best place to do so.
This summer there are a few important changes from Google on the horizon. Cutts specifically addressed this in a recent video:
http://youtu.be/xQmQeKU25zg
Let's take an in depth look here at each section in the video and everything Matt Cutts says might be on the horizon (subject to change, normal disclaimers from Google/Cutts).
Cutts describes Penguin 2.0 as a little more comprehensive, and having a bit more of an impact than the original Penguin.
We've seen many reports concerning Penguin 2.0, but overall the effect seems fairly minimal compared to Penguin 1.0, and the pre-2.0 hype.
Cutts has stated however that the strength of Penguin can be adjusted:
"We can adjust the impact but we wanted to start at one level and then we can modify things appropriately."
    - Matt Cutts
Doubtless, many webmasters are currently in the process of link removal due to Penguin 2.0. Cutts had an important statement recently concerning link removal:
"One common issue we see with disavow requests is people going through with a fine-toothed comb when they really need to do something more like a machete on the bad backlinks."
    - Matt Cutts
Cutts further expounded upon this topic, releasing an additional Google Webmaster Help video:
http://youtu.be/CX5K741AlWg
The main takeaways:
Use a plain text file

Using excel files, .docs, etc., likely cause processing errors

Follow instructions – comments on their own line with a # symbol in front, and correct syntax with domain disavows

Again, loading in extra comments or a jumbled .txt file can cause processing issues

Use a machete, rather than a scalpel

If you have a bad backlink portfolio, you should be disavowing entire domains rather than cherry-picking

When disavowing whole domains it's domain:domainname, not domain:www.domainname.com or domain:http://www.domainname.com
Include the majority of comments in the reconsideration file – the disavow isn't the place to tell your story
The disavow tool isn't a cure all.
Data is still being collected and analyzed concerning Penguin 2.0, and it's early yet to be sure of anything. Reports continue to flow in, so continue to look for more information concerning Penguin 2.0.
   Advertorials flowing Page Rank
Cutts released a follow up Google Webmaster Help video specifically addressing advertorials passing page rank:
http://youtu.be/1SmlsfSqmOw
The two main takeaways here are that paid advertorials shouldn't pass page rank (so if they link, they need to use the nofollow tag), and that there should be clear and conspicuous disclosure that it's an advertisement.
In my opinion, we can and should expect to see something fairly major here, and soon. Google isn't generally known for their subtlety. In fact, their common tactic is to make a large and public example, hoping that will pull everyone else in line:
And even more recently, Text Links Ads: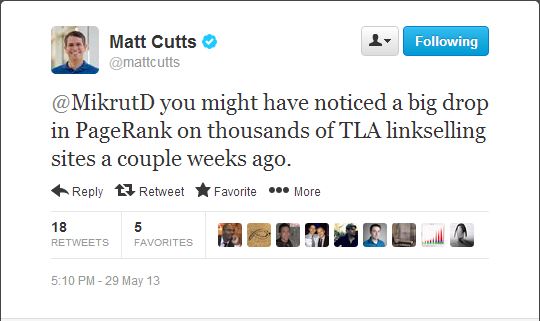 Certainly it's a trend. Does that mean there's definitely going to be a large scale operation by Google to make a large example this summer? Not necessarily. But I certainly wouldn't discount it.
Targeting spammy niches, denying link value upstream, and more sophisticated link analysis
Shortly after announcing Penguin 2.0 Cutts mentions three fairly large changes we might be seeing this summer: cleaning up spammy niches; denying link value 'upstream'; and more sophisticated link analysis.
Unfortunately, this is the vaguest section of the video. However, these three changes are logically tied together.
Google would need more sophisticated link analysis if they're looking to move 'upstream' and deny link value, which would likely help clean up spammy niches since those churn and burn websites rely heavily on quickly spamming links in order to rank for head money terms for short periods of time.
Much of this is speculation at this point, but according to Cutts we can expect to see more changes in Google this summer that directly tackle links, beyond Penguin 2.0 – important news in and of itself.
I would expect more information regarding these changes as Google gets closer to launch.
       Hacked Sites
Google is on the verge of rolling out a new generation of hacked site detection, according to the Google Webmaster Help video.
Furthermore, Cutts says Google will be attempting to communicate more with webmasters that are victims of hacked sites, making Webmaster Tools a 'one stop shop' of information for webmasters looking to clean their site of malware.
     Authorities to Rank More
Cutts states within the 'what's to come video' to expect to see Google become better at detecting authorities within their fields, and ranking them higher.
Cutts also released a subsequent Google Webmaster Help video addressing further implementation of rel="author", which allows Google to track authorship of various content:
http://youtu.be/3QlY8ba0jYI
Could this be Agent (Author) Rank finally coming into play? Cutts specifically mentions authorities ranking better.
Personally, I would be surprised. But nevertheless, the timing has implications. Especially since most of subsequent Google Webmaster Help videos have dealt with topics specific to the 'what's to come' video.
And while we're on the topic of authorship, there was a recent post claiming authorship dropped traffic by 90% from Jitbit.
Cutts was quick to come in and refute these claims on HackerNetwork, stating:
"Authorship had nothing to do with this site's drop. The site has been affected by our Penguin webspam algorithm and that accounts for the drop."
    - Matt Cutts
With potential changes on the horizon, not to mention the already existent benefits, I would ensure you're using Google authorship when and where possible.
       Panda Refinement
A Panda refinement is on the horizon as well, according to Cutts. Specifically, they're looking to add more signals into the Panda algorithm to further detect quality within sites that might be on the outskirts of Panda.
This is potentially great news for anyone currently struggling with Panda, as this might soften the effect.
       Domain Diversity
Domain diversity is another issue Cutts said we can expect to see tackled by Google this summer.
Once again, Cutts addressed this issue in a subsequent Google Webmaster Help video solely dedicated to this topic:
http://youtu.be/sxv-AvNPoh8
Cutts explains this issue by walking through the history of domain diversity (or SERP crowding), within Google:
There were no restrictions regarding domain repetition within the SERPs
Google introduces host clustering, meaning per subdomain you only get two results.
Spammers create a bunch of different subdomains to crowd the SERPs
Google introduces a change making it progressively harder to rank pages from the same domain
Google lessens this progressive difficulty, especially beyond page one in the SERPs.
Cutts ends the videos stating Google will be addressing domain diversity within the SERPs with an upcoming change. Specifically, you'll be less likely to see a domain deeper in the results after a few initial displays from that domain, which will increase the overall diversity of domains within the SERPs.
This change is well under way; in fact, it's been approved by the Quality Launch Committee Meetings.
So, expect to see more domain diversity coming this summer.
More Information and Increased Communication with Webmasters
Cutts ended the video recapping that Google is looking into providing more information to webmasters. He once again mentions the example of hacked sites, and expounds, saying Google would like to provide more 'concrete details', such as example URLs that will help webmasters diagnose and repair any issues they might be having with their site.
Cutts realeased a subsequent Webmaster Help video on the topic:
http://youtu.be/VWaZvYIWEXg
Google will be providing example URLs to webmasters with site problems, in order to give more detailed information. Furthermore, Cutts says Google will be looking to provide more and more information moving into the future.
Of course, Google can't detail every problem a website is facing, but Cutts says he hopes the example URLs will help webmasters better understand the issues their facing.
More communication and transparency is always laudable, especially from Google, and I hope they will keep moving in this direction. We'll see as summer rolls on just what form these changes might take.
         Recap
Summer will be an exciting time for SEOs and Google; already we've seen the launch of Penguin 2.0 with more Google changes on the way.
SEO is anything but a static industry, and this summer will hold that status quo in the form of many changes.
A few things we can expect to see likely this summer:
Google punishment of those passing PR with ads/paid links
Further changes affecting links outside of Penguin, including:

Specific targeting of spammy niches (payday loan, porn, etc.)
More sophisticated link analysis on Google's end
Denying link value 'upstream'
New generation of hacked site detection
Authorities to rank more, likely involving rel=author
A Panda refinement which should help sites in the gray zone
Domain diversity, specifically in page two and beyond
More detailed and concrete information to webmasters.
Comments, questions, thoughts or opinions? Leave a comment below, we'd love to hear from you!