Editor's Note: The opinions in this piece don't necessarily reflect those of Page One Power as a company.
This isn't a news piece. You can read about the Moz rebrand and get the news right from the source.
We've been talking about the change from SEOmoz to Moz all day at the office, so we figured we'd share our thoughts with you. This conversation between Cory Collins, my friend and colleague, and I was conducted via Google Docs. He sits in the cubicle right next to mine, so the hilarity is not lost on us. It's just easier to put it down into words this way.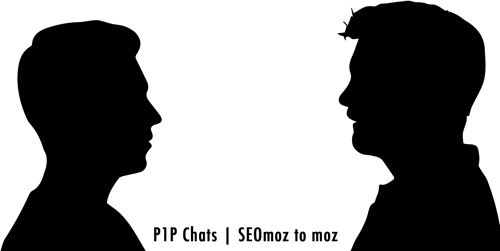 DUSTIN - Okay, I'll start off by saying that P1P has used SEOmoz's services since I started here a year ago. We still use the Mozbar and a variety of other Moz services. So they were the first 'name' in SEO I ever became aware of (other than P1P). They stuck with me and they feel like an old friend. And now they've dropped the 'SEO' part.
CORY - Absolutely. SEOmoz has always been sort of a beacon of light in the SEO world. To see them go through with the rebranding and drop the SEO is, well, sort of a big deal. Especially since they're such a huge conversation leader within the industry.
DUSTIN - Right. And the conversation seems to be that "SEOmoz dropped the SEO, so SEO is dead and it's all 'inbound marketing' now." Some people are saying it in a tongue-in-cheek way, but there are some folks who are serious, too. When a thought leader drops the 'SEO' you know some of the more... malleable people in the marketing sphere will be eager to say "SEO is dead, told you so!"
CORY - "SEO is dead"; how many times have we heard that? The funny thing is, in my mind this is probably one of the bigger blows I've seen yet. There's always been a sky-is-falling mentality throughout the SEO world. I think a large part of that is due to the dynamic nature of the industry. Just think about how much has changed in the last few years... It really is amazing. But calling SEO dead? I'd probably say that's a result of a bitter mindset. Different, adapted, evolved, sure. Dead? Nah, SEO as an industry is just fine. Better than fine, really.
DUSTIN - Right. And I was struck by something Rand said in the post itself,
"What we are not doing, and I am most certainly not doing, is giving up on the fight for the legitimacy, value, and importance of SEO. Organic search remains my personal passion, and one of the most powerful marketing channels in history. For as long as I'm active in the field, I will be shouting the value of SEO from the stages on which I present, the publications where I write, and the social channels where I share."
So he says right there that SEO isn't dead, but so many people have been itching to rebrand themselves and this Moz rebrand has them even itchier. I like that Rand still values SEO and made it a point to say how much he values it.
CORY - I definitely noticed the same thing. But to me, I wasn't sure how I felt about that. Obviously, Moz is a business, and a rebrand such as this is no small thing. And I don't doubt that Rand will continue to push the importance of SEO.
But we've all seen SEO's abandoning the title. From an inside perspective we've seen the internal struggle, and it makes a certain amount of sense. The title 'Search Engine Optimization' is a little limiting. However, from an outside perspective, people who only see SEO as a title probably don't take it quite as literally as those actually within the industry seem to.
For me, that's the real conversation behind the rebrand. SEO isn't dead, nor is Moz dropping 'SEO' a terrible blow to the entire SEO industry. The real question is, is the title SEO itself restricting, and worth an overhaul, or is it better to stick with the title SEO and work to build further credibility and authority for the title and industry as a whole.
DUSTIN - I think it's much better to stick with it and build further credibility. That comes with my past though, I guess. I always root for the underdog and usually am the underdog. I've played in punk bands for 14 years and loved comic books for longer than that. You don't get much more 'underdog' than a punk rocker or a nerd, really. SEO is the underdog right now, so that alone makes me happy to stick with it.
I just wrote a satirical post at the Saloon of Literature called 'The Last Letter of a Self-Loathing SEO' about that exact thing. So many people are jumping ship and rebranding because it's easy. I think we should stick with it because it's what we do. I remember we had a conversation about it on the production floor at P1P several months ago-- what would happen if we rebranded ourselves from a link building firm to an inbound marketing firm? We decided that would just be jumping on a trend. We build links. We're an SEO firm. No need to change the name. We exist in the SEO sphere, it's our industry and it's where we belong.
CORY - I agree with that. I think that's what makes this whole 'inbound marketing' versus 'SEO' so contentious - 'inbound marketing' has the feel of a fad, of a marketing ploy for SEOs to rebrand themselves as more than they are.
But it's a serious issue, and I think Moz dropping SEO from their name brings light to that. I'm interested to see where it goes, and how the whole thing evolves with time.
Regardless of everything else, there can be no doubt that SEO as an industry has grown a lot in the last few years. No one is going out simply to spam links and manipulate the search engines any more. Personally, I think it's better to stick with the title SEO and build credibility, but I don't necessarily blame others for switching over.
DUSTIN - I kind of do blame them. It shows a lack of commitment and integrity to some degree. If you're willing to abandon ship that quickly then your head isn't in the right place. This Moz rebrand is a big deal, but that's another reason why I was heartened by that quote from Rand I posted above... I think he still gets it. I share Moz's values almost to the letter, and even though he's a champion of the 'inbound' thing, the nature of what he does is different from what we do.
Jon Ball (our CEO) and I have talked about this a lot-- SEO and link building are just integrated parts of a larger marketing strategy. Moz is rebranding because they feel they contribute more to a marketing strategy than just SEO. I get that. But it seems like a lot of people are reading it wrong and then being all smug about it.
CORY - I agree that perhaps this was a natural evolution for Moz. Since they've switched to software they've been moving more and more in a marketing direction.
And there's no doubt that SEO and link building is a piece of the overall marketing puzzle.
I would have to agree that if you're changing your job title from SEO to Inbound Marketing, without increasing your duties, strategies, or performance in any way then that may in fact be questionable. After all, it's hardly coincidence that Moz rebranded and dropped the SEO just as they release their newest software - an entire inbound marketing suite, Moz Analytics.
DUSTIN - I'm interested to see how that works and what's going to happen with it. They've consistently provided pretty great services, and I couldn't imagine my time in the link building trenches without the Mozbar. I like the Inbound vs. Interruption graphic they did, but I kind of feel like it's a way of turning a nose up at anything that's not 'inbound.' And that's the whole problem here, if there is one. 'Inbound' has a loose definition, but it's also a pretty glamorous word right now. It's nebulous and trendy at the same time. I think Moz and Rand have earned it, but I guess I just don't like the bandwagon that follows.
CORY - For sure. I was a little turned off by Rand's tone about the inbound versus 'Interruption'. What happened to the term outbound? I mean, I definitely understand and agree that currently inbound is underutilized compared to traditional marketing, and the budget split should change.
But I think Rand was a little overzealous on that part of his rebranding. In fact, Carson Ward did a pretty great job covering that in his comment below the post where he pointed out that Rand unfairly categorized interruption marketing as powered only by "budget and repetition" while inbound is powered by "creativity, talent, and effort".
There's no doubt that inbound tactics have a place in the marketing sphere, and that currently they're under-budgeted and underutilized, but I think to increase the value of inbound we don't need to pull down the value of outbound marketing.
DUSTIN - Exactly. We don't need to push other people down to increase our own value. I don't think that's what Moz is trying to do-- they are doing something big and are on the cusp of doing something even bigger, but you can't turn your nose up at your peers. I don't think they're trying to do that, but the level of snobbery in the community is pretty high right now. Rand has always been a generous and approachable guy (he even emails me back!) so I know that's not his intent.
I think that's the bottom line-- we need to prove there's real, ethical value in SEO. We're doing our best right now, but we can't keep hacking away at it if we abandon the term entirely. I'm in it for the long haul. Moz is doing what's right for them, and we have to continue doing what's right for us-- but for us, it's link building.
CORY - Absolutely. And that's the biggest takeaway for me; leaving SEO behind for inbound shouldn't equate to a derision of those of us who continue to work hard in the SEO sphere.