Press Release
Thursday, Oct. 25--An all-volunteer crew had the opportunity to get their hands dirty today during a "P1P Gives Back" event at the Ada County Boys & Girls Club Moseley Center Clubhouse in Garden City.
A volunteer team from local link building firm Page One Power teamed up with Chris Keilty, of Keilty Remodeling and the National Association of The Remodeling Industry (NARI) of Idaho, to volunteer their time sweeping, scrubbing, cleaning and washing up in preparation for painting the following morning.
[slideshow id=2]
"We think the Boys & Girls Club is such a great organization for our community, and once we learned about the renovation by Keilty Remodeling and NARI of Idaho, we were so excited to be able to be part of that larger community effort," Zach Ball, Page One Power co-owner said. "We are very thankful to Matt Sorensen [the director of the Boys & Girls Club] for allowing us to come to the club for the project and we're very thankful to Chris Keilty for her work, effort in coordinating with us, and letting us take a small part in that renovation."
The complete renovation is an ongoing project to the Boys & Girls Club by Keilty Remodeling and NARI of Idaho. A grand reopening celebration is planned for early December.
The Boys & Girls Club Moseley Center Clubhouse is an organization that gives kids "fun and engaging after-school and summer programs to thousands of the community's most vulnerable youth...the Boys & Girls Clubs offer a unique array of services not available elsewhere in our community... [for] kids who need a safe, positive place to go during non-school hours."
In addition, they help over 4,000 local kids ages 6-18-years-old, where they are given a free snack, dinner, homework assistance, sports, crafts, mentoring, and with activities that focus on leadership, personal responsibility, character and others. The center cares for kids from 3-8 p.m., each weekday, and for longer periods on weekends, year-round at a staggeringly low cost of $10 per kid per year to the parents.
If you are interested in helping out at the club, they do accept volunteers, or if you have the means, the Center is always accepting donations. Visit their website for more information.
The current club wishlist includes items like area rugs, bean bag chairs, footballs, tempera paint, watercolors, picture frames, sturdy couches/chairs, toys and prizes for the club store, four square balls, bookshelves, computers (two-years-old or newer, please), and/or a projector.
"We're very pleased to have been able to come together with Chris and Matt and the Club for this project, they are an incredible group, but I also think it is crucial to recognize the employees who volunteered to show up and help out," said Kaisja Clark, event coordinator.
"When we say volunteers, we mean it...these guys are paid hourly, and they took an unpaid leave from work to drive to Garden City, they showed up early, worked hard without complaint, and their efforts made a difference to the project. Personally, I think that says a lot about their character and a lot about them as individuals. "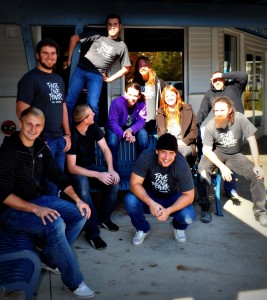 Members of the volunteer crew from Page One Power include Andrew Heikkila, Tanner Aden, Daniel Mobley, Jeriann Watkins, Jordan Kinsley, Zach Ball, James Hinton, Jesse Stoler, Thomas McMahon, and Dustin Verburg.