As part of its ongoing "P1P Gives Back" initiative, the volunteer staff of Page One Power opted to participate in another city clean-up project. This time the group of so-called "link building geeks" tackled picking up litter and refuse around the Boise River Greenbelt.
As the link building firm continues to expand its operations at its Idaho location, company founders Jon and Zach Ball say they are committed to directing their resources for ongoing community service projects.
P1P staff members, lured by the company social media manager with promises of free sunshine and good karma, eagerly tackled the debris and trash strewn along the banks of the river. More seasoned employees who were already onto the strategy reluctantly trudged outdoors without protective sunscreen.
"This isn't in my job description,"Kyle Smith, a team lead at P1P, said.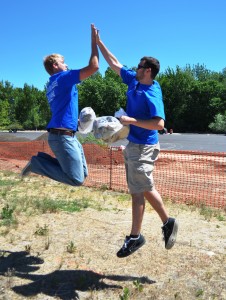 Despite the less-than-enthusiastic response from the staff, company members agreed that the event was For the Betterment of Mankind, a core operating principle at P1P. You can learn more about that concept here.
"We just love to get out there in the fresh air and to do things like this in our city," Zach said. "Being an involved and positive presence here locally is just as important to us as it is when delivering for our national clients."
You can learn more about the P1P Gives Back initiative here and you can also check back each month for updates as the company continues to add new projects to its repertoire of giving back functions.
Service project crew members were: Jon Ball, Zach Ball, Skye Cranney, Alex Gibson, Jesse Stoler, Paul Basinger, Joe Oliver, Amanda Morris, Will Von Tragen, Karen Kohtz, Cory Collins, Kaisja Clark, Brad Murphey, Dustin Verburg, and Kyle Smith. (Justin Gilmore was out of town, but was missed.)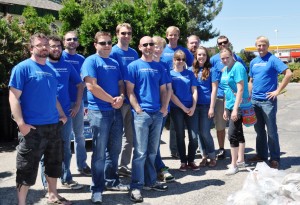 …Because even the really good link building geeks can lend a helping hand.