Niche edits are a link building tactic used commonly by SEOs as part of a backlink strategy, to build out a backlink profile. The SEO has to convince a site owner of a 3rd party website to update their existing content with a link back to the SEO's page.
Since the page has been live for some time, crawled and indexed, it's possible to review the organic search authority metrics for the page, including Domain Ranking (DR) from Ahrefs, Domain Authority (DA) from Moz, ranking keywords, and organic traffic estimates via tools like SEMrush and Ahrefs.
And of course, you'll be able to review the existing page for contextual relevance, as well as gauge what other websites the page links out to.
For all of these reasons, securing a link into an already existing piece of content on a relevant page and domain is extremely valuable.
How Niche Edits Work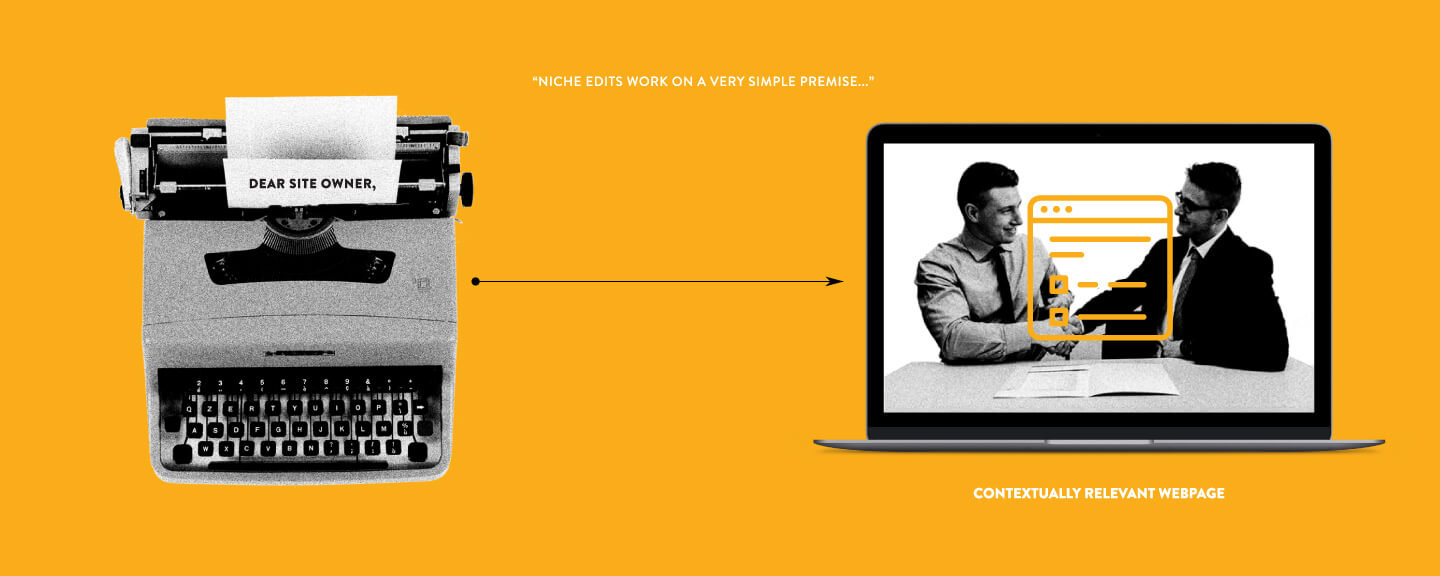 Niche edits operate on a very simple premise: find a webpage that has contextual relevance to your target page, reach out to the owner or manager of the website, and ask them to update the page with your link.
Why would a 3rd party site owner go to the effort of updating their page with a link back to your website? Especially given the known value of a link.
There are a few common reasons. Unfortunately, in most instances niche edits are part of blackhat link building, and commonly a paid tactic. The simple answer is money: most niche edit services are based around having existing relationships with site owners with a transactional deal where the agency pays a flat rate in order to secure a link on an existing page.

PBNs are also a risk when paying for niche edits – often a single person will own many websites, and will offer niche edits in return for payment.
Paying for a link is directly against Google's guidelines, and can result in algorithmic action or even a manual penalty.
For these reasons, you should be very cautious when looking for link building services. In most cases, anyone selling niche edits – particularly at an unbelievable price point – is offering a service that carries large risk. You should ask directly about their use of PBNs as well as whether they pay for the links.
There are white hat methods of securing a link on an existing page, although these commonly aren't called niche edits. These methods include:
Broken link building
Mention link building
Resource page link building
Let's cover the black hat version of niche edits first.
Black Hat Niche Edits
Niche edits are difficult to secure, because there's little incentive for a site owner or manager to update an existing page with your link.
The most common method to incentivize a site owner to perform a niche edit and update an existing page on their site with a link to your site is through payment. Any form of payment is against Google's guidelines, and makes the link a black hat SEO practice.
The other way niche edits commonly fall into blackhat territory is through the use of PBNs. It's very common for webmasters who are willing to accept minimal payment to place a link – especially in an existing piece of content – to own and operate multiple sites. While having a few sites doesn't equate to a private blog network, it is the first step down that path and it's easy to accidentally end up on a PBN when looking for cheap options to secure easy links.
For this reason, it's best to avoid niche edits in most instances – aside from the few white hat SEO versions, which are often not technically associated with niche edits.
White Hat Niche Edits
The white hat version of niche edits take dedicated time and effort. There is no link guarantee, and securing the link will likely take several rounds of communication.
At Page One Power, we've commonly found our conversion rate on link outreach to update existing content to be somewhere between 3 - 5%. Meaning that for 100 sites we find with a logical reason to link, with a compelling outreach, with multiple rounds of follow up, we end up with 3 to 5 links. That translates into many, many hours of work for a few links.
The most common reasons a site owner may add a link to an existing page are:
Broken link building: you find a page similar to yours, but no longer exists. You then identify all the pages linking to the no longer existing page and email them asking to update the broken links to your page.
Mention link building: you find pages across the web that mention your business, brand, product, or a prominent figure in your company. You ask that they provide a citation link with the mention.
Resource page link building: you find a page offering resources to a specific audience online. You reach out asking them to share a resource that exists on your website on their page.
White hat links are added based on editorial or informational merit, not based on a payment of any kind. That means success is far from guaranteed, and requires much more work than paying directly for the links.
The site owner then may never respond, may say no, may ask for money, or may ask for a link exchange in return. The effort required to find the existing, relevant content, and then to pursue a backlink is high, and conversions are low.
The end result of this lengthy process are links that will add value and stand the test of time. But real links aren't cheap.
Guest Posting vs. Niche Edits
Guest posting and niche edits can achieve roughly the same goal when it comes to building backlinks. The main difference between the two are their approaches to backlinks. A niche edit is an addition to an existing page, and a guest post is an entire article developed to place links on another website. Typically, the latter will allow for the inclusion of a greater number of links with context that is highly relevant.
Niche edits don't require webmasters to evaluate the suitability of entire pieces of content for their website. The benefits of niche edits also mean that typically fewer resources need to be used to achieve niche edits compared to guest posting.
However, the incentive to publish a guest post is in the value of the content itself. Niche edits therefore have less incentive, and a correspondingly lower conversion rate.
Niche Edits vs. Other Link Building Strategies
Guest posting is not the only alternative to niche edits in building backlinks. Some link building tactics are relatively complex efforts focused on creating content so uniquely valuable that they organically earn backlinks. Some useful strategies include:
Unique data: the creation of a novel research report or useful tool, especially if outdated reports or data received a bevy of links in the past.
Centralized audience resources: lengthy guides catered to underserved audiences online create link opportunities, especially if they're best in class.
Broken link building: the identification and replacement of broken links. Broken links are created through the phenomenon called "link rot" — the tendency for pages to disappear off the web over time.
Fresh mentions: natural, unlinked references to your brand, blogs, or services. When you identify such references, you can gain a link by asking the webmaster to add a link to the mention.
Cold Outreach: the process of contacting another party that you have not already developed a relationship with. In the context of SEO, this may involve asking a webmaster to include your links on their website.
Optimization: this is typically when a backlink on another site links to a page that no longer exists on your site, and instead passes through multiple redirects. Updating the link to point directly to the correct page preserves some of the SEO value of the link that is otherwise lost.
Directories: much less prevalent today than years past, online directories were once a popular tactic to build links. Directories catalog various websites, businesses, and services.
Developing relationships with various webmasters and other people in your industry can make these efforts simpler and more successful.
Risk vs. Reward of Niche Edit Services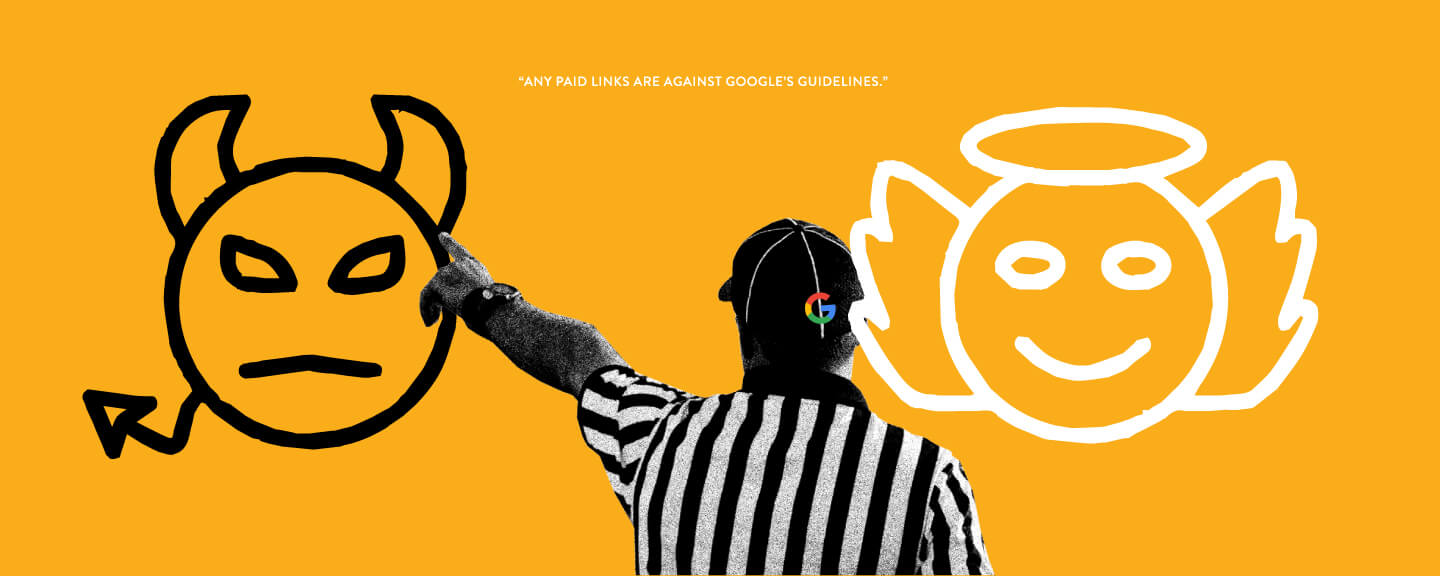 Black hat SEOs often pay to have their links inserted into an article, making niche edits a risky proposition.
As previously mentioned, there are methods to build contextual links on existing pages. But they're difficult, time-intensive, generally with poor conversion rates. That doesn't mean they're not worth the effort – but
if you're looking into niche edit services and the price is low, the guarantees are high, then you should ask direct questions about how the niche edits are accomplished.
If you're paying a site owner for a link, it's black hat. Any paid links are against Google's guidelines. It's best to avoid such tactics unless you're willing to risk losing all organic search presence and traffic.
SEO Best Practices for Niche Edits
There are many best practices related to approaching niche edits. These include the following:
Choose reputable, high-quality web pages from which to build links. Assess the quality of websites and consider factors such as the existing reputation of the organization, and the security of the website.
Create content that is worthy of earning links. Novel, high-quality content that touches on an existing audience interest will often qualify.
Look for sites relevant or related to your niche. It is important to find organic context to place your links. Websites dedicated to a niche similar to your own are a good place to start.
Develop and nurture site relationships within your niche. Site relationships can both assist you in identifying opportunities for niche edits, and facilitate the process of including them.
You should approach niche edits cautiously to avoid any potential risks or penalties. It is vital to research any company that is offering niche editing services before purchasing services.
Be sure to question potential companies about their practices, and to remain skeptical of any absolute guarantees. Penalties incurred due to black hat niche editing services can cause your content to be deprioritized in search results.
While it is possible to fix penalized content and apply for the penalty to be removed, this is a tedious process that may be difficult to complete.