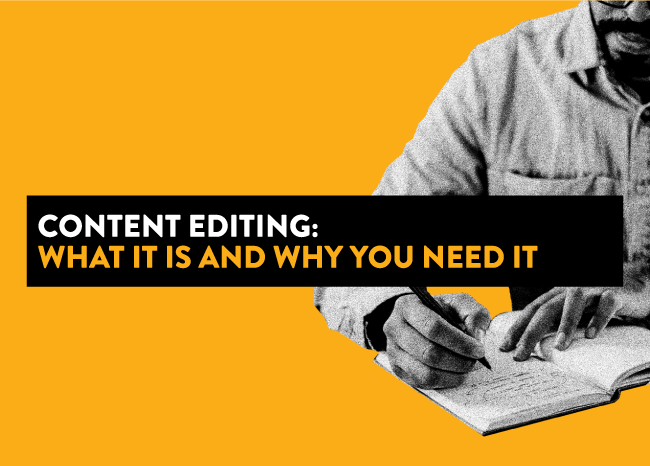 Content editing is the first process of editing, reviewing content for overall format, tone, style, and substantive value. Professional editors check for much more than spelling and grammar errors – they're in tune with the needs of the organization and make sure each piece of content aligns with the brand's voice, vision, and goals.
Whether you seek out content marketing services or develop a strategy on your own, the content you produce should go through the content editing process. Before diving into the detail-oriented world of words and copy edits, you should first learn what substantive editing entails.
What Is the Difference Between Content Editing and Copyediting?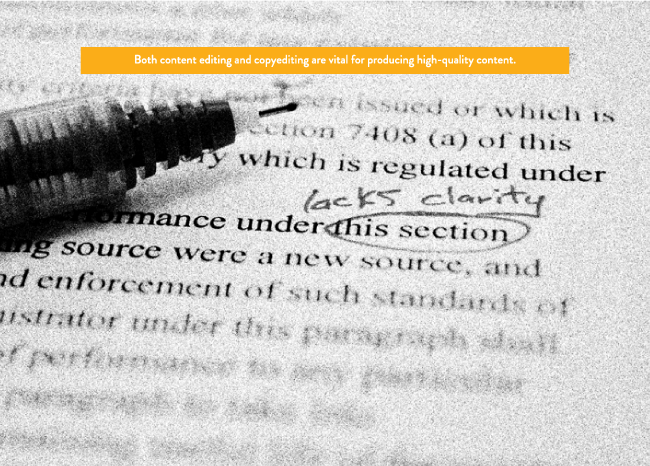 Copyediting and content editing, while similar, have key differences. Content editing looks at the overall piece for flow and readability. This process can involve adding valuable sections of information or cutting content that is not necessary.
On the other hand, copyediting looks at the technical aspects of the article, including spelling, grammar, and tone. The process can also include correcting inconsistencies and formatting issues. Copyediting can also include fact-checking the content to make sure it is accurate and up-to-date.
Both processes are vital for producing high-quality, engaging content that resonates with readers, ensuring accuracy, readability, and consistency throughout the document.
Why Is Effective Content Editing Important?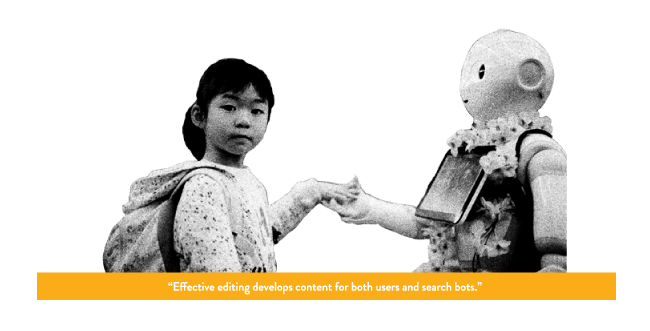 Effective content editing is invaluable to most companies. Here are a few short- and long-term benefits to consider:
Protect your brand's professionalism. Editing prevents careless mistakes from damaging your reputation.
Help writers develop high-quality content. The editing process can help ensure articles provide value to the readers while staying relevant to business goals, which helps drive traffic long-term.
Keep poor links off your site. Editing removes competitors, low-quality links, outdated links, and broken links from content before publication. This protects SEO and reputation.
From an SEO standpoint, effective editing develops content for both users and search bots. It follows an SEO checklist for optimization while also considering the big picture to ensure the information is relevant for human readers.
Types of Editing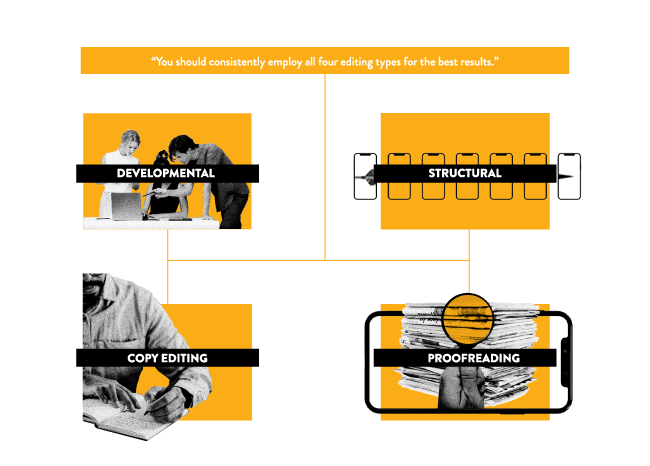 People often think editing is a singular act; however, it is a process involving multiple stages and different types of editing. There are four key types of editing:
Developmental: Provides an overview of the subheads and ideas that will be discussed throughout the piece.
Structural: Reviews how information is presented, including tone, positioning, and audience engagement.
Copyediting: Reviews the readability, spelling, grammar, sentence structure, and tone.
Proofreading: Reviews spelling, punctuation, and consistency — getting into the nitty-gritty to perfect a piece.
You should consistently employ all four editing types for the best results.
Best Practices for Content Editing
Here are a few best practices to maximize editing efforts and improve content as much as possible:
Develop a style guide: Whether you follow the Oxford comma or adopt a certain tone in your writing, all the pieces you develop should follow a certain style. Outline these choices at the beginning, and adhere to them throughout the publication.
Provide feedback: If you have a team of writers or outsource your content creation, be communicative of your expectations. Not only will this help coach the writers, but you can streamline the process in the future if writers know what is and isn't acceptable quality.
Focus on the big picture, then the small details: You'll often waste more time in the long run if you focus on minor problems and then realize there may be a bigger issue at hand.
Edit with SEO in mind: SEO best practices (like subhead usage, keyword optimization, and linking) are intrinsically tied to content editing best practices.
Whether you're self-editing or working with copywriters, you can follow these practices to create effective content.
Further Tips for Content Editing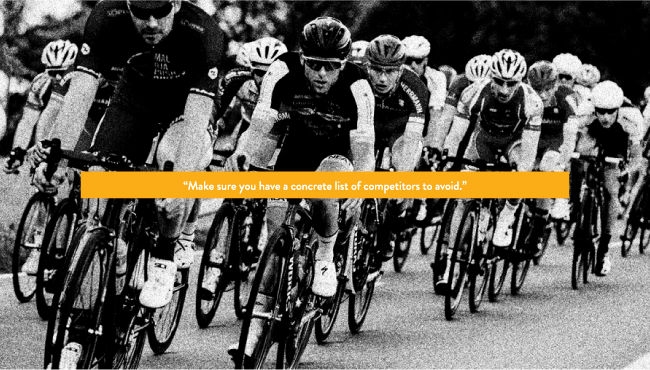 As you grow more comfortable with content editing, you can move on to more advanced tasks to improve each piece.
Identify the goals for each piece: Every piece of content should have a primary goal. For example, in creating SEO content you may want some pieces to be linkable content while others to be keyword-focused content. Be mindful of the purpose of each piece, their KPIs, and the lens through which you will edit them.
Document common errors by writers: It's worth writing out common mistakes to look out for in your style guide. Writers can catch these issues during their self-editing time and cut down on the content editor's work.
Write down a list of your competitors: Even if you have an in-house team of writers and editors, make sure you have a concrete list of competitors to avoid. Update this list quarterly.
Important Content Editor Skills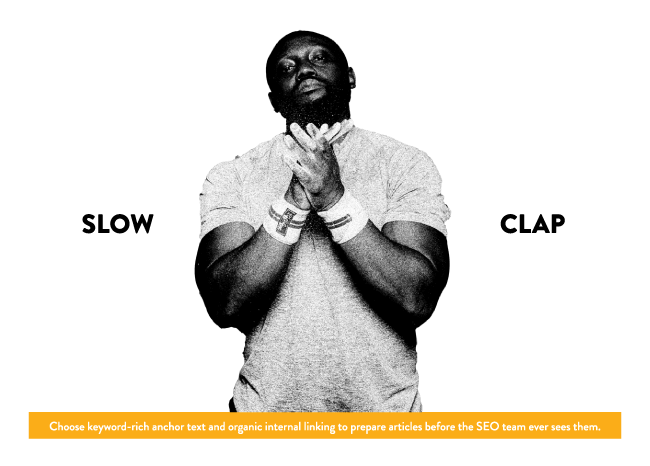 Whether you're looking to hire a content editor or hope to become one yourself, there are key skills to look out for or hone to be successful in this role. A few include:
Attention to detail: Editors need to catch everything from minor typos to major errors.
Fact-checking: Editors need to question statements, research their accuracy, and determine whether they are true before publishing content.
Clear communication: Writers benefit from knowing what they did well and how they can improve.
Emotional intelligence: Some writers can be sensitive to feedback, and editors need to understand this and learn to communicate effectively.
Editors also benefit from SEO know-how. If they know how to choose keyword-rich anchor text and organic internal linking, they can prepare articles for publishing before the SEO team ever sees them.
How To Gain Experience With Content Editing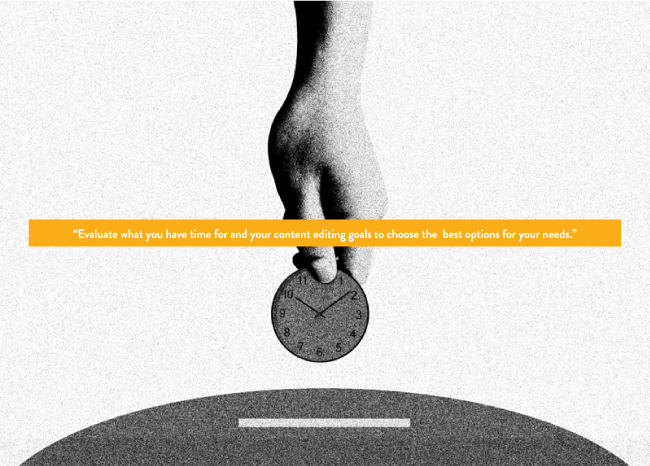 There are plenty of ways to grow your content editing skills. Here are just a few opportunities to take advantage of:
Shadow a content editor.
Sit in on editing meetings.
Ask to copy-edit a piece before an editor does.
Seek out additional feedback from copy editors who review your work.
Volunteer with a nonprofit to manage their blog.
Sign up for writing and editing workshops at your local college or university.
Start a personal blog and copyedit guest posts.
Some of these steps are easier than others. Evaluate what you have time for and your content editing goals to choose the best options for your needs.
Helpful Prioritization Frameworks for Editors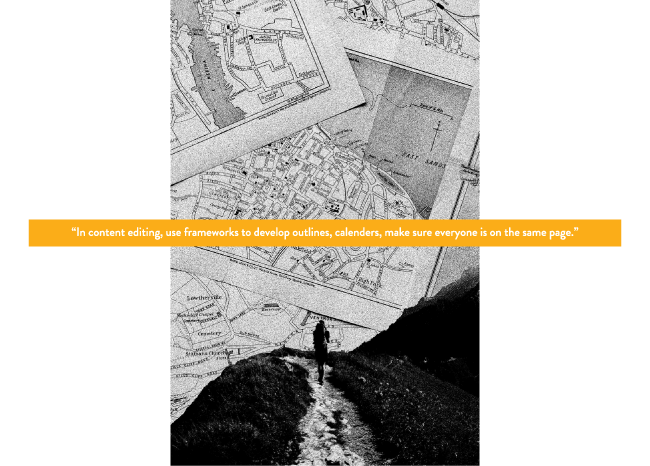 Prioritization frameworks identify what you're going to build and how it'll be laid out. In content editing, you use frameworks to develop outlines, create content calendars, and make sure everyone is on the same page. Here are a few prioritization frameworks to try.
RICE: Identify the reach, impact, confidence, and effort to make sure your content aligns with the marketing team's goals.
Story mapping: Start with the main topic, then write out the headings and subheadings that should be covered underneath it. This can help you guide a writer to cover all necessary relevant information.
The MoSCoW Method: This addresses the must-have, should-have, could-have, and won't-have parts of a story. Use this workflow to highlight essential and optional information.
You can use these frameworks when you first start working with writers or apply them to your editing process as you approach various pieces.
Content Editing Tools and Resources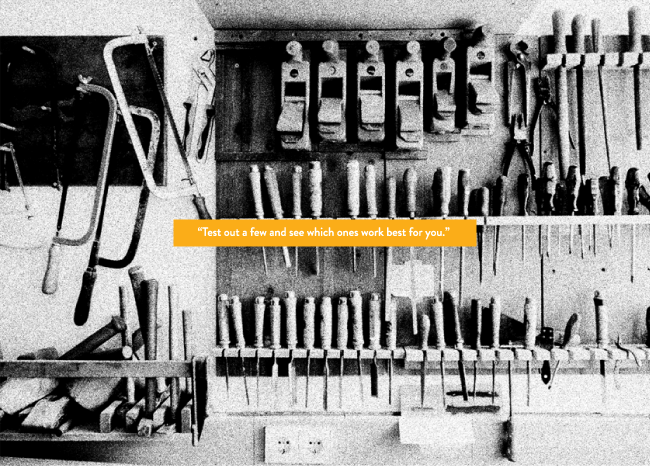 If you're honing in on your editorial craft, don't get discouraged if your first pieces aren't perfect. It's a practice that comes with time and plenty of learning opportunities. In the meantime, you can use plenty of tools and resources that may help you out throughout the process, including:
Many of these tools have Chrome and Firefox extensions for easier editing and optimization within a Google Doc or other piece. Test out a few and see which ones work best for you.