I've been working within the SEO industry for three years now. The majority of that time has been spent with clients building links. The entirety of that time working for a company that specializes in link building specifically.
I had the pleasure of being hired before Google released the Penguin algorithm. Or rather, I should say I had the pleasure of being with the right company when Google released the Penguin algorithm – our defined USP as a service provider was (and is) in building real links, with a strong focus on relevance.
This placed our company in a unique position to be ahead of the curve. We were already doing much of what Google wanted in terms of links. Everything Penguin targeted were practices we'd already been actively avoiding, as much as possible.
I am well-steeped in link building. I live, breathe, and think links.
And on Friday, a Google employee recommended avoiding link building.
But let's not take this out of context. Here's the full video (it starts at 55:10):
http://youtu.be/9h1t5fs5VcI?t=55m10s
For those of you disinclined to watch the full video, here's a loose transcription:
Carlos asked:
"John, Moz.com gives advice about some good and bad linking techniques, and my understanding is this blog posting and link building would be to get a high rank. But given the fact that ranking is not a metric, should I completely avoid the link building, or not use it at all? Is link building in anyway good, for webmasters?" -- Carlos, Google Webmaster Hangout
John Mueller responded:
"That's a good question. In general, I'd try to avoid that, so that you're really sure that your content kind of stands on its own. And make it possible for other people to of course link to your content, make it easy, maybe put a little widget on your page "if you like this, this is how you can link to it," make sure that the URLs on your website are easy to copy and paste. All those things make it a little bit easier.

We do use links as part of our algorithms but we do use lots and lots of other factors as well. So only focusing on links is probably going to cause more problems for your website than it actually helps." -- John Mueller
So am I worried? No – hell no. Can't say I'm happy, but this is hardly a death knell for link building within SEO. This is true for a variety of reasons:
John Mueller isn't the same voice of Google that Matt Cutts is/was. This isn't Google's official stance.
Link building and SEO have been undergoing an evolution since Penguin, and I believe Mueller's statement was against manipulative linking practices, not specifically all of link building.
The SEO industry took a strong stance against John Mueller's statement.
Marketing and promotion will continue to be a differentiating factor in website (and company) success.
Let's look at each one.
1. John Mueller Isn't Matt Cutts, Or Even His Replacement
As we all know, Matt Cutts went on leave from Google back in July of 2014. Prior to that, Cutts was the voice of Google to SEOs.
Love him or hate him, he was a much needed voice. Some transparency from Google was better than none. In that regard, I greatly respect and appreciate John Mueller stepping up and providing more information to SEOs.
There was a very real possibility that with the departure of Cutts (which looks permanent more and more) Google would go silent. Considering all the technical details involved in SEO and running a website, that could have been a very serious blow to the online community.
Having said all of that, John Mueller is no Matt Cutts. Cutts had been in his role for over a decade, and had the savvy of a hardened PR official. He knew well the consequences of his words, statements, and implications. Cutts was by all standards the word of Google to SEOs.
John Mueller is a former webmaster who was part of the webmaster and SEO community prior to joining Google in 2007. His function has always been fundamentally different from Cutts'. Although he's been in the fray, he's never been the lone voice of Google to SEOs.
He's already made a few statements he's had to go back and clarify – including misinformation regarding Penguin, twice. Once when Mueller said Penguin 3.0 was done rolling out here, which was contradicted by another Google employee, and again when Mueller stated getting good links will help you recover from Penguin, which he then had to clarify later.
This isn't to say don't listen to John Mueller—far from it, Mueller serves an important role at Google—but instead, be cautious about taking Mueller's statements as an iron clad declaration from Google.
In fact, if you navigate to Google's "Do you need an SEO?" page, you'll see at the very top "Check out our Search Engine Optimization Starter Guide". Within this starter guide, Google's created a section on page 28 titled "Promote your website in the right ways." They in fact specifically say: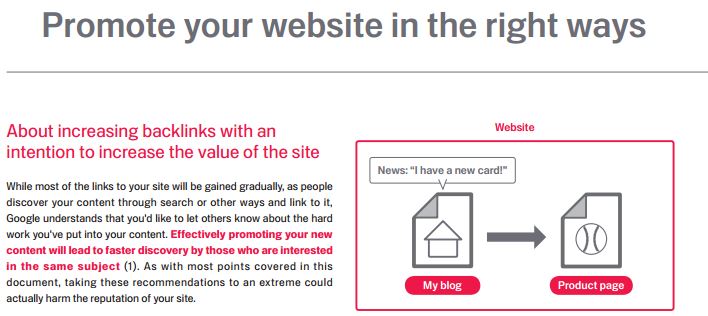 That's a pretty clear (albeit cautious) statement from Google that effective promotion can and will aid the amount of links to your site. To be fair, it's hard to ignore - effective promotion and marketing have a slew of benefits, and links are certainly part of that.
I wouldn't be surprised to see Mueller reference this statement again in another Google Webmaster Hangout, and perhaps even clarify his advice.
2. I Believe Mueller's Statements Were Directed At Manipulative Links
The term "link building" is still suffering a Penguin hangover.
Many webmasters hear the words "building links" or "link building" and immediately think of pre-Penguin tactics used to build spammy links. Tactics such as article directories, blog commenting, forums spam, or profile links. Any such method used to create a link that's not meant for a real human, but only search crawlers.
The reality is links still matter to search. Anyone with a website can see this for themselves – link acquisition is directly related to organic traffic. SEOs know this as well – no SEO will (should) say with a straight face that links do not matter. Even Google (and its employees) will continue to confirm that links play a role in their algorithm.
Link building is still a vital portion of SEO. Although many refer to it now as "link earning", or "link acquisition", or "link development", the simple truth is that ensuring the link count grows is a vital aspect of search engine optimization.
Link building can be done "the right way." Link building can absolutely conform to Google standards. As Matt Cutts said, white hat link building can be done, and it usually involves sweat plus creativity.
It makes sense for John Mueller to advise the webmaster audience he's addressing in the Google Webmaster hangouts to avoid link building – too many of them get it wrong.
Link building is about getting the links you deserve. It's about going out and seizing every opportunity. It's about optimizing your chances for success across the web. Link building is about finding the right audience, using the right language, and promoting the hell out of yourself, your business, your services, your USP, your individuality, your resources.
Link building isn't about manipulating Google. It isn't about money keywords, link juice, high PR pages, or hiding your footprint. It isn't about scalability, it isn't a shortcut to ranking, and it isn't about how many, how fast, and how easy. Link building is not the secret to your overnight success.
Links are back to being editorial votes. Anything less than a real link, with relevance, will be caught and punished by Google. And the detection and subsequent punishment is becoming more and more algorithmic, which means it happens faster, is harder to avoid, and harder to recover from.
I could write about this all day. The end result however is that John Mueller's statement doesn't apply across the board. To link manipulation, absolutely. There I agree with Mueller – if you're not acutely familiar with SEO best practices, link building is best avoided.
3. The SEO Industry Still Knows Links Matter
The SEO community isn't always the tightest knit community. There are plenty of factions, beliefs, and differing philosophies floating around. Not everyone gets along all the time.
Despite this, we're often great at supporting each other. We share knowledge freely. We're all working toward the same goals – a better understanding of Google and how to better serve clients.
The SEO industry was less than thrilled to hear John Mueller caution webmasters to avoid link building. We know that ignoring a key factor of organic rankings and subsequent traffic is foolish. And many, many SEOs stood up and made sure everyone knew links and link building isn't dead.
Joshua Steimle wrote a fantastic article on Forbes.
Julie Joyce, Barry Adams, Joel Klettke, and Barrie Moran had a hilarious Twitter conversation:
@JoelKlettke @JulieJoyce @sengineland pic.twitter.com/vS2WfeIx8p
— Barry Adams (@badams) February 16, 2015
Cyrus Shepard of Moz declared disbelief:
Google telling marketers not to build links is like casinos telling blackjack players not to double down on 11 — Cyrus Shepard (@CyrusShepard) February 16, 2015
Eric Ward left two fantastic comments, on SERoundtable and SEL, respectively: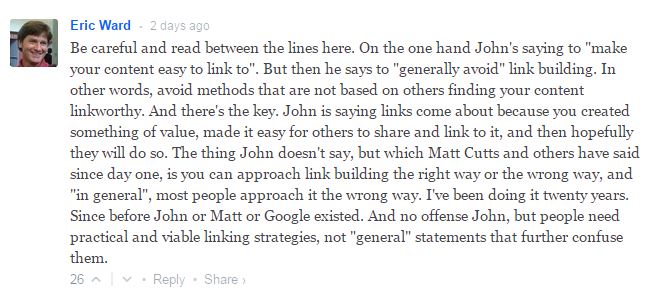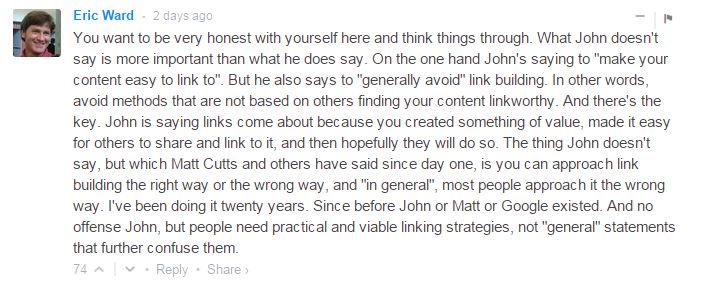 Jon Cooper joked:
Seriously everyone just stop building links http://t.co/qqsKPTzn8D it's ancient voodoo. Instead, throw your content up, and pray to Google.

— Jon Cooper (@PointBlankSEO) February 17, 2015
Joe Youngblood also shared humor:
<style="text-align: center;">Google's John Mueller is probably having a good chuckle at this one: http://t.co/OF7v70RQb7 #seo #linkbuilding pic.twitter.com/10sPD6uaob <style="text-align: center;">— (not provided) (@YoungbloodJoe) February 16, 2015
Overall, the community realized that this was nothing worth worrying over – Google still clearly relies on links, and link building isn't dead.
Which leads me to why link building will never really die.
4. Marketing and Promotion Will Continue to Remain Necessary for Online Success
The digital age is here. Internet is practically a utility. Businesses are expected to be online, easy to find, with user-friendly applications, forms, payments, and processes.
If you can't find a business online? They may as well not exist.
There is so, so much noise online. So many channels to consider:
Search (organic)
Search (paid)
Partnerships
Email marketing
Social media
Display ad networks
Content marketing
Affiliate marketing
etc.
It's very nearly overwhelming. John-Henry Scherck of WP Engine released an infographic earlier this week on the data behind the amount of pages, posts, files, comments, etc. created on WordPress every second, day, and month. Keep in mind that WordPress accounts for only 23% of the internet. The results are staggering:
Via wpengine.com - Having trouble viewing this? Click here.
Without intelligent promotion and marketing your website has pretty much zero chance of standing out from the competition. You need to determine goals, identify the channel best suited to meet those goals, and market appropriately.
For me, this is where John Mueller's statement really falls apart.
Link building is the intelligent promotion of your company, USP, website, and pages with the primary goal of links.
If you don't promote yourself, you're not going to get any traction. You're certainly not going to be competitive.
Let's look at Mueller's statement again:
"That's a good question. In general, I'd try to avoid that, so that you're really sure that your content kind of stands on its own. And make it possible for other people to of course link to your content, make it easy, maybe put a little widget on your page "if you like this, this is how you can link to it," make sure that the URLs on your website are easy to copy and paste. All those things make it a little bit easier.

We do use links as part of our algorithms but we do use lots and lots of other factors as well. So only focusing on links is probably going to cause more problems for your website than it actually helps." -- John Mueller
Bolded emphasis mine.
Your content shouldn't have to stand on its own. You should be promoting your content, 100%. If you're investing into the content, but not marketing it, you're working with two hands and a leg tied behind your back.
Mueller is essentially telling webmasters to make it easier for someone else to promote them. It's been my experience that building an audience willing to promote your work, company, or products doesn't just occur naturally. It's the result of intelligent, consistent, sustained marketing to the right audience. It's certainly not a matter of only making it easier to share.
But what about the other factors Google uses other than links to determine your website's relevance and authority? Well just watch this video (beginning at 30:52):
http://youtu.be/ThA4_XtlPMI?t=30m52s
Does Google use factors other than links? Absolutely! But every SEO would agree with me that Google's still a ways off from being free of their link dependency. Even a certain on-leave Google employee:
http://youtu.be/Rr1J31jTyFg
At the end of the day, SEOs and webmasters know that links are an important consideration for organic search visibility. If you're not seizing every opportunity for links possible, marketing yourself with links in mind, and monitoring your search performance you're likely not operating optimally.
To say it's enough to make it easier for others to link to you simply isn't genuine.
In Summary
Link building isn't dead; far from it.
Although John Mueller, who does often represent Google to webmasters and SEO, advised against link building, I think there is very real reason to take his advice with a grain of salt. In fact, I think it's very possible his statement isn't what it appears at face-value at all.
It's likely this isn't Google's official stance, but instead Mueller's advice.
Mueller's statement seemed geared toward black hat link building, or link building activities common pre-Penguin.
There is clearly still value of links.
Marketing and promotion are absolutely necessary in today's busy online world – and links are very much a consideration in marketing and promotion.
SEOs often have a case of the-sky-is-falling's. It's not hard to see why. Hope you're with me on this one and see it as just another Friday.