Welcome to another round of Tutorial Tuesday, folks! For my first foray into TT, I'll be confronting something quite familar:
The blank stare. If you're a writer or blogger, you know the feeling. The showdown between an empty white page and hesitant fingers harkens back to typewriters and quill pens. Journalists, novelists and content marketers alike have all found themselves in a battle against their own imaginations.
When you're in need of a new angle, a fresh perspective, one spark can trigger a bonfire of ideas. Every word-wrangler has their own methods for conjuring up new content ideas and, of course, a zillion online gadgets exist for prompting inspiration in the case of creative blockage. Productive brainstorming can be a tough beast to saddle.
I'm going to detail a few basic, but helpful, tips and tools that I actually use in my daily writing process. But we're going to need an example: let's say you're in an incredibly specific niche industry.
You...run an e-commerce site selling bespoke Transylvanian capes, for instance. You're on your 50th blog post about capes, cloaks, and overcoats and you can't think of a single fresh idea.
Step One: Organizing Chaos
At the risk of sounding like your 'Obvious 101' instructor: take notes. At work, curled up in bed, at the bar, in line at the grocery store -- any time is a good time. Jotting down any idea that piques your interest, at the moment inspiration strikes, will pay off when your creative well is running dry.
For instance, I was just idly staring in the direction a Star Wars poster and realized both Darth Vader and Lando Calrissian wear capes. Whoa. I better write that down.
Step Two: Straight to the Source
Few things are as helpful as internal perspectives. Sources and data already available within your organization can definitely point you in a fresh direction.
Sales or customer service departments
No matter what industry you're in, going straight to those who field questions from customers and clients should give you an idea of what type of content you actually need. From there, feel free to get inventive with how you actually broach the subject.
Particularly if you're the lone wolf in your business, hitting up one of the many 'answer' sites like Quora, Yahoo!Answers, or any forum dedicated to questions for specific industries/trades, can be a goldmine. There's a lot of cluttered junk and obnoxious trolls on sites like these, but remember: you're not looking for helpful answers, you're looking for relevant questions.


Hmm, inquiring minds want to know, amirite?! This issue is begging to be addressed.
Your website's internal search history
If your website has an on-site search function, utilizing your most popular queries and search strings is also a great place to start. Picking fellow employees' brains can be hit-or-miss, but frequently, just bouncing ideas off another person can lead you in new directions.
Step Three: The Brainstorming Tool Belt
First, I want to stress which tools I don't mean: the multitude of blog title or link-bait generators. "16 Cape Hacks You Won't Believe!" I say, 'pass' on the spam-spawning devices.
Keywords and semantic phrasing
Is your number one keyword a synonym disaster? "I sell tailor-made capes; not jutting landmasses..." Cape Cod, Cape Town, the Cape of Good Hope -- get out of my SERPs, geographical features! When syntax is messing with my results, do I call upon one of the many keyword research synonym generator tools? Nah, man. Not when a good ol' thesaurus will do the trick.
A keyword suggestion tool like UberSuggest offers alphabetically-listed suggestions based on actual human-searched queries.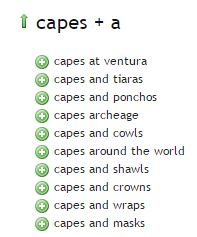 Okay, so the list is really long and filled with video game references I don't understand, but just this small sampling gave me more ideas:
- Capes as royal garb.
- Capes vs. ponchos vs. shawls.
- Capes across the globe.
Obviously, every social media outlet is a constant buzz with chatter, much of likely related to what you're trying to brainstorm about. My esteemed colleague and cohort, Nicholas Chimonas, wrote a slam-dunk post on using BuzzSumo's popular content and social media influencers, so I'll defer to his piece on detailing that particularly useful tool.
A site like Topsy can help you analyze the bustling Twitter-universe:
This screen-cap might not show it, but the three most tweeted 'cape' discussions are fall fashion, Solange Knowles' daring wedding garb, and a campaign called "Not All Heroes Wear Capes". Scrolling down further leads to other specific topics:
- Capes and current fall fashion.
- Capes and superheroes. (Duh.)
- Superheroes that <i>don't</i> wear capes -- evidently, this pertains to veterans and pizza delivery guys?
Step Four: Extra, Extra -- Read All About It!
So, what are other people writing about? Staying up-to-date on the blogs and news site is par for course if you like staying on top of your industry. However, "newsjacking" should be used to generate ideas, not as an excuse to write a spun article in the name of 'fresh content'.
As I've already iterated, sometimes the easiest tools are the best tools.
Obvious? Probably. Helpful? Definitely.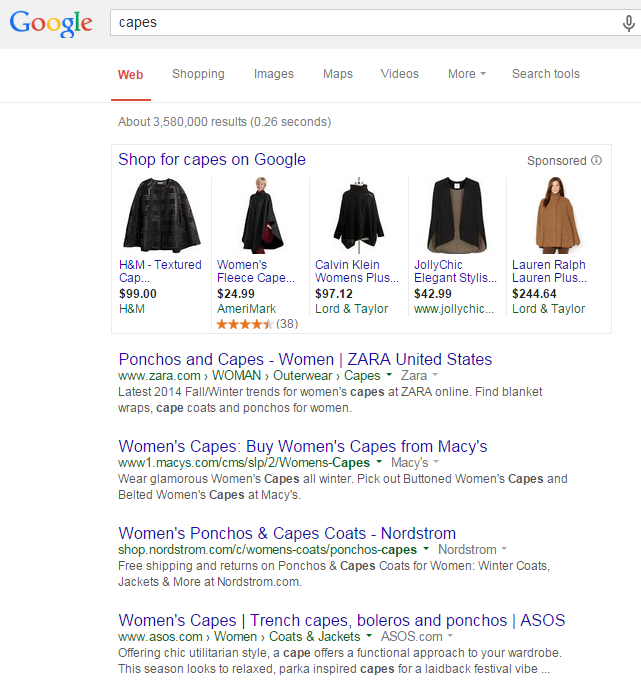 A simple search for "capes" brings up a bevy of retailers and costume outlet stores. But I don't want to buy a cape, I want to see what people have been saying about them lately.
Hey-o, "News Search". Look at all these angles on the first page:
- Capes used in various philanthropies [sub-list time].
- Vintage capes and the hipster gals who love them.
- Capes as wedding fashion.
- Capes throughout apparel history.
The 'fresh mention' tool is a great place to cull ideas. Again, the term 'cape' can be a bit broad, so let's look specifically for "Transylvanian capes".
Big spike on Halloween? Shocking. That season has come and gone, though. What else do we have?

Ooo, this Smithsonian article mentions that Bela Lugosi was buried with his notorious Dracula wardrobe piece! Top 11 Villains? Why not? To our list of possible angles to take, we've just added:
<strong><strong>- </strong></strong>Capes in Hollywood costuming and film trivia.
- Cape-wearing notorious bad guys.
The comments section of popular posts
If I had a dollar for every time I read an online article, but gained more insight from reading the varied perspectives in a quality comment thread...I could probably buy us all a round of capes. Seriously though, this can be a treasure trove.
Step Five: Building a Better Mousetrap
There's no need to build an entirely new trap when you can zero in on one aspect of the current offering and improve on that alone. It's not a matter of, "Hmm, someone made a run-down of capes in 2014 haute couture runway shows...I'm going to make a longer one. Ha! Take that!"
Perhaps you do a round-up of plaid capes, or the history of Edwardian vs. Victorian capes, or make a list of literary characters who wore capes, designer houses who have made capes for decades, a list of the warmest types of capes… Whatever. You see where this is headed.
Popular content can generate ideas. It can also steer you away from oversaturated topics. Knowing what works can stimulate new angles without feeling like you have to re-hash the most popular post on the block.
Conclusion:
Fear not, digital writers! We work amidst the most creatively fertile swamp ever invented: the internet. When creative ailments get you down, you needn't resort to making a collage of kitten .gifs -- we have infinite gobs of brainstorming tools available at our fingertips.
Alright, quick recap:
Always be keeping a running list of ideas, images, nuggets and snippets. You never know what'll spark the fire.
Pump your sales and customer service departments for topics that need to be addressed.
Inquiries on Q & A websites, or on-site search function data, can point you in vital directions.
When you hit a wall, try a new way of phrasing your topic and see what happens.
Surprise, surprise -- Google can be helpful. What are people actually looking up?
The jungle of social media can provide endless inspiration and reveal popular perspectives and topics.
The latest news and other writers/bloggers are quite possibly the most crucial and meaningful place for creative motivation.
However, now I find myself dying to write an article about capes...