When I formally accepted a position at Page One Power, I gained ten pounds overnight.
Joking aside, the reality is that as SEOs we're more or less permanently sitting at a desk, deep diving the web.
We have the pleasure of spending 40+ hours a week thinking about non-physical things that most people don't know exist. We're constantly combing the web, examining websites, and thinking about robots, Google, page metrics, and site visitors.
The sheer number of websites SEOs look at per day must be inconceivable to the rest of the general population.
Whether it's for competitor research, link prospecting, SERP discovery, content ideation, backlink exploration, or simply following the Twitter trail deep into the net, we're constantly examining new websites.
It's the curse of being an SEO – never again will you simply look at a website and appreciate the aesthetics. Never do you notice an interesting page without having to at least cursorily examine the domain.
In that regard, I'd like to present a list of free Chrome Extensions which will help optimize, improve, and perhaps even transform your ability to quickly and efficiently analyze websites.
They are:
Ghostery
PageSpeed Insights
Hover Zoom
If you're commonly exploring the web analyzing websites, I guarantee that you'll be happier for having each and every one of these extensions.
Let's take a deeper look at each one.
1. The MozBar
The MozBar comes in at #1 for a reason. Even if you don't like Open Site Explorer, Followerwonk, or Moz Analytics, the MozBar is a must have.
The MozBar is robust and immediately reports a wide-variety of metrics, including their Page Authority and Domain Authority metrics, which are nearly the universal standard within SEO.

For more on-page metrics, just click the magnifying glass: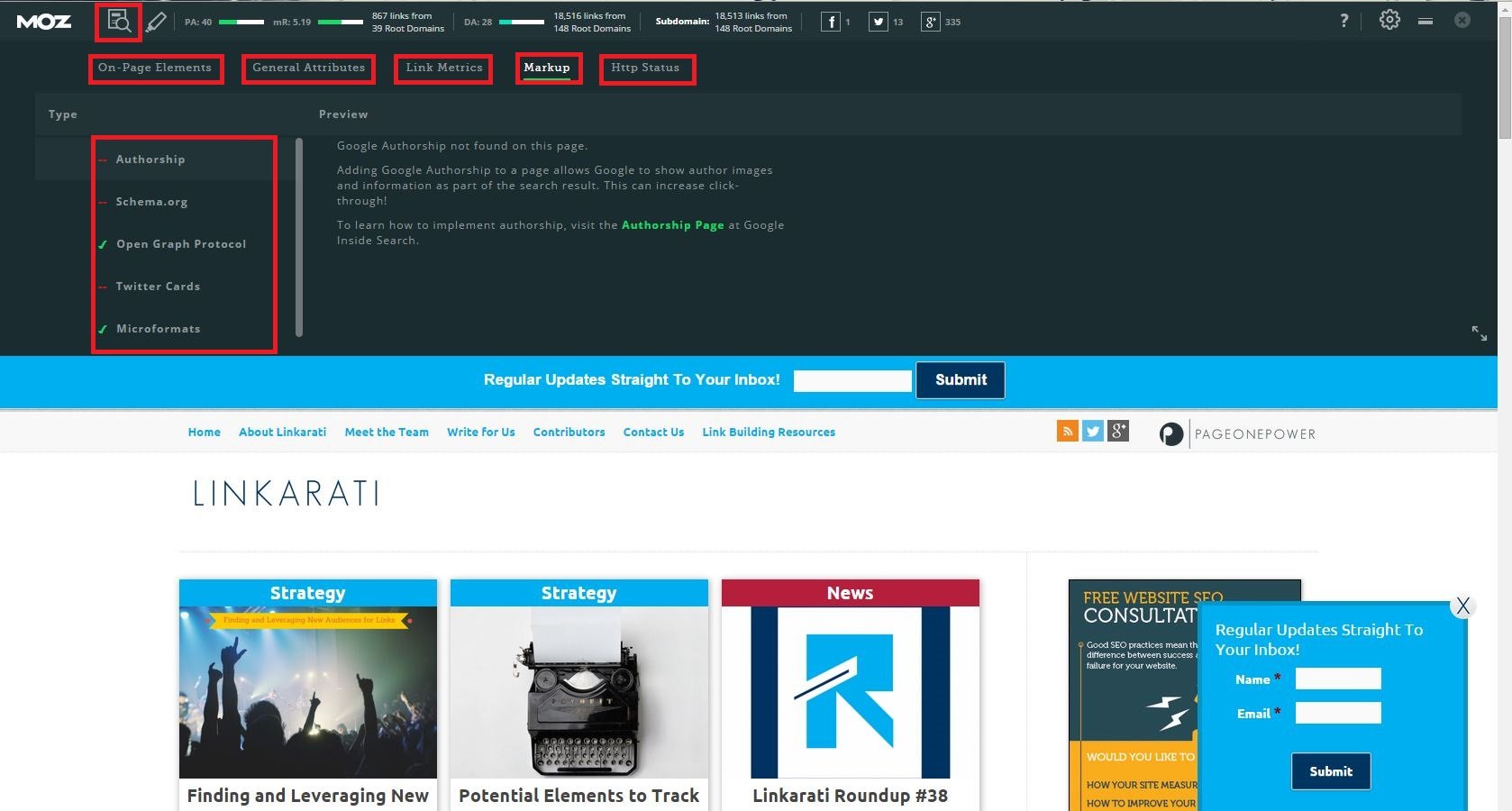 As you can see, this will bring up a variety of website elements, including on-page, general attributes, link metrics, markups, and http statuses.
Your can click the double arrow in the bottom right to further expand this popup: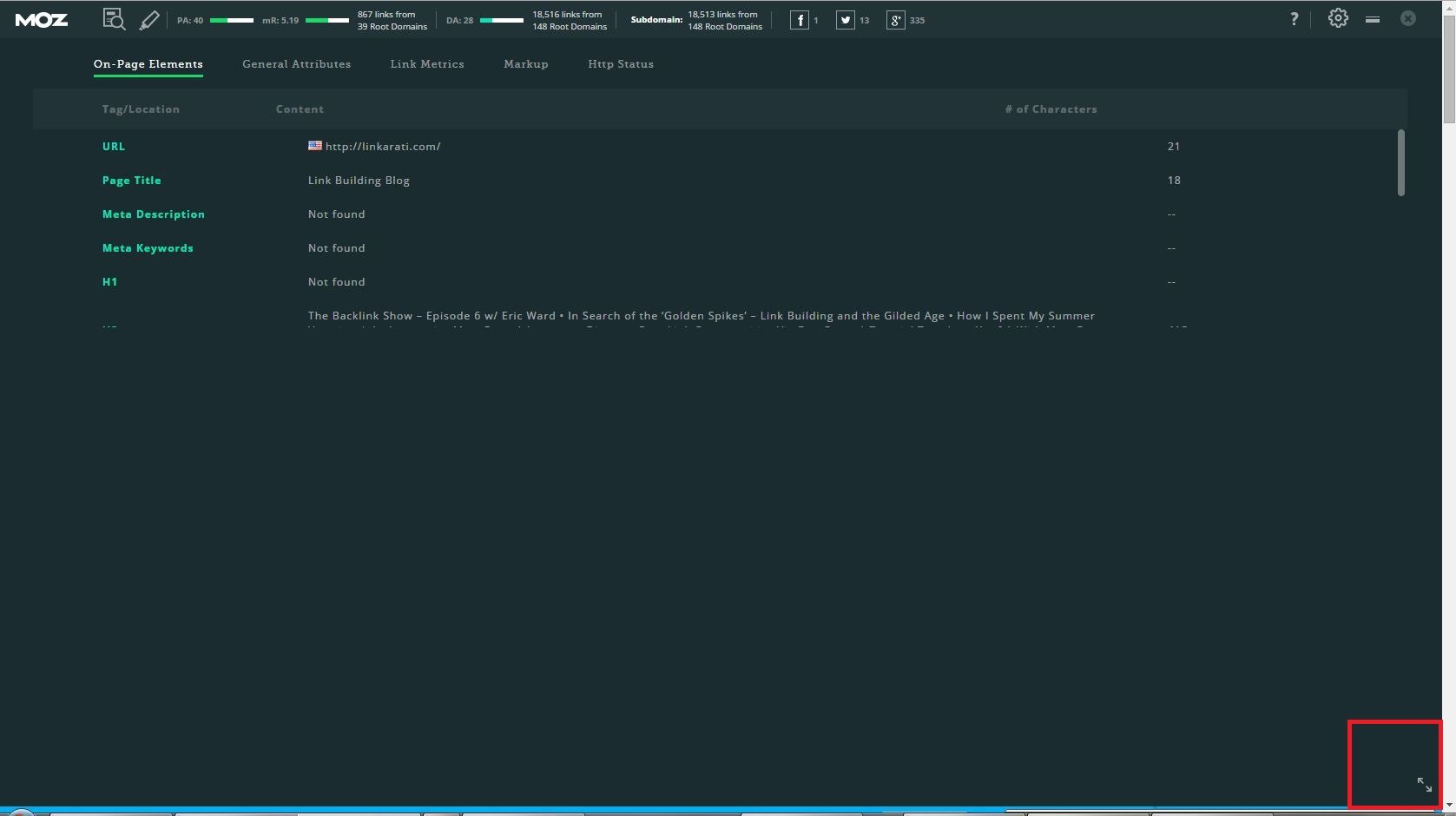 Furthermore, you can use the MozBar to highlight specific link types on the page, including followed, no-followed, external, and internal:

Another cool feature of the MozBar is that it will report website metrics within the SERPS, as well: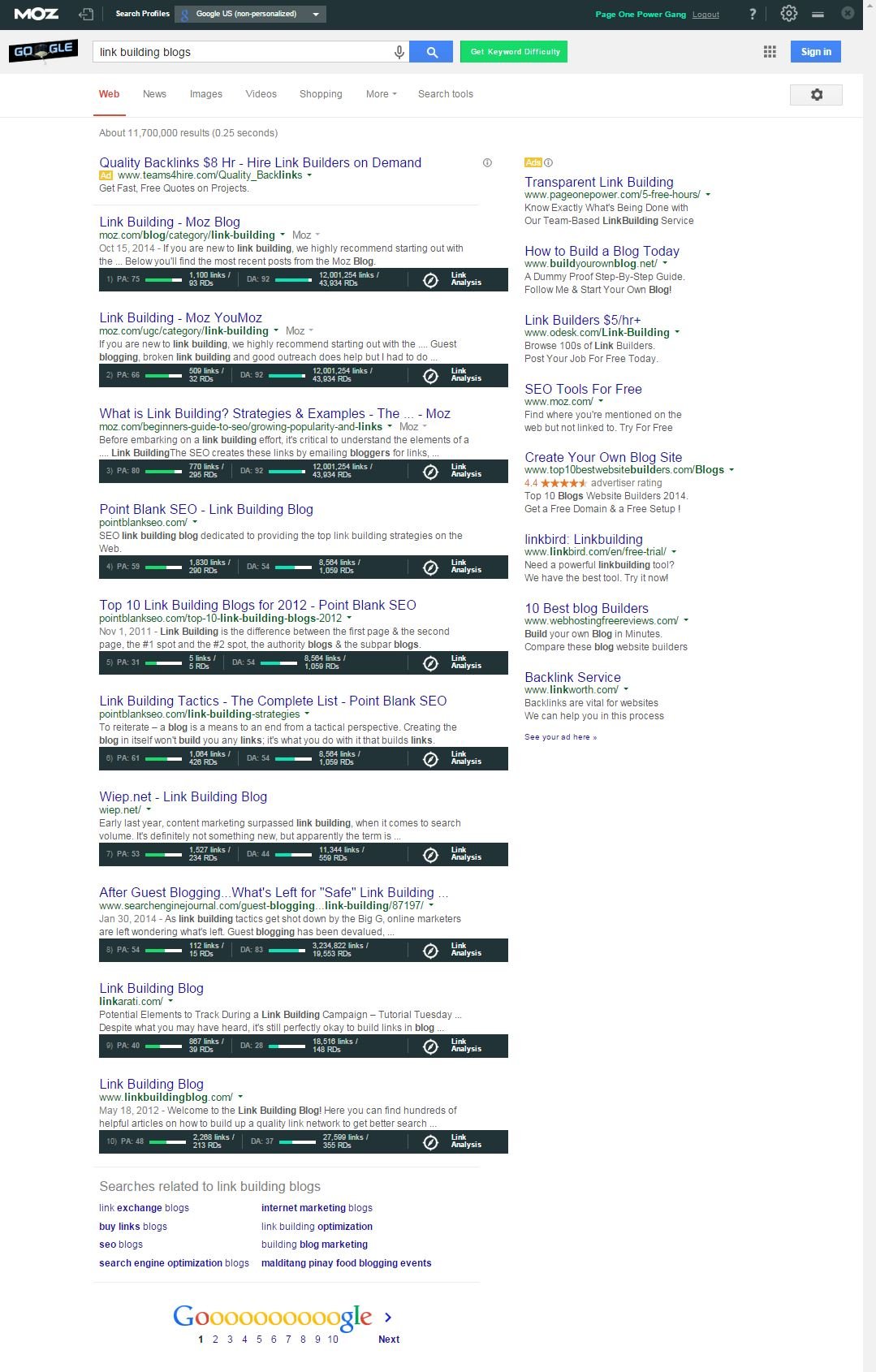 That includes Page Authority and Domain Authority, along with other link metrics.
To recap, the MozBar will report a website's:
Domain Authority
Page Authority
Page links & unique linking root domain
Domain links & unique linking root domain
Subdomain links & root domains
Social shares
On-page elements

URL
Page Title
Meta Description
Meta Keywords
H1s
H2s
Bold/Strong
Italic/em
Alt text

General page attributes

Tag/location
Meta Robots
Rel="canonical"
Page Load Time
Google Cache URL
IP Address
Country

Link Metrics (see above)
Markup

Authorship
org
Open Graph Protocol
Twitter Cards
Microformats

Http Status
Highlight all links on the page

Followed
No-Followed
External
Internal

Report DA/PA and linking metrics within SERPs.
Extremely, extremely powerful. You can see why the MozBar is nearly universally used among SEOs.
---
Need to integrate SEO into your overall marketing plan but still struggling to get buy-in? Download our free checklist to get your team on the same page!
---
Some link metrics will disappear if you do not have a paid account, but the tool still is extremely functional as a free, unpaid tool.
2. Ghostery
Ghostery is one of the premier privacy tools on the web.
As SEOs we know we're being tracked across the web at all times. The average person? Not so many knew, or at least not until recently.
I still commonly have to explain to my fiancé what AdSense is. Which is then immediately followed by an explanation that no, AdSense is not illegal – just creepy.
Ghostery is designed to defeat online tracking software. It will automatically report which software is tracking you and allow you to block it.
What does this mean for SEOs? I can spy on my competitor's websites and quickly and easily see which software they're using on their website.
Let's demonstrate with a quick peek at Hubspot's website with Ghostery: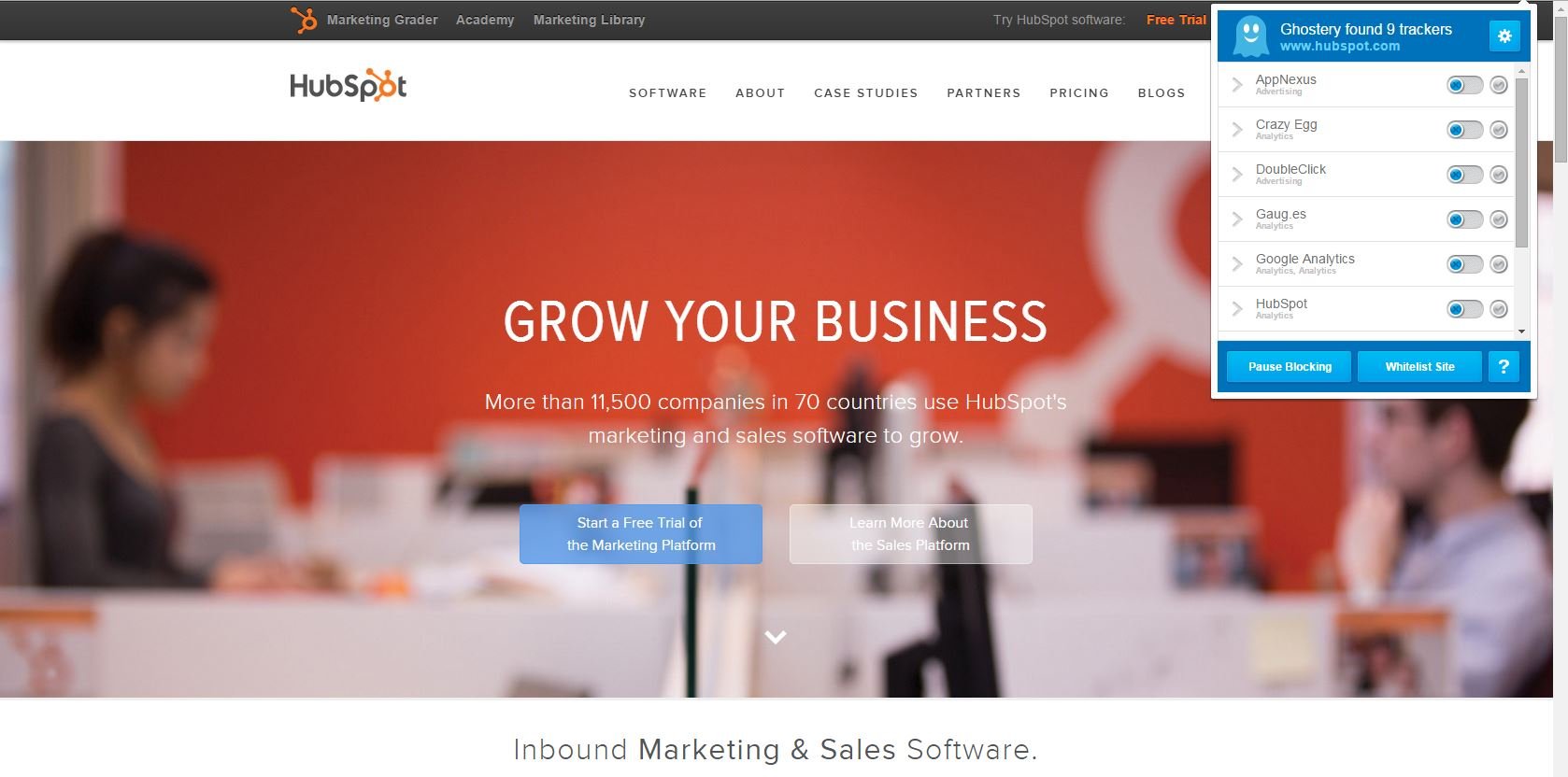 As you can see Ghostery reports that Hubspot is using 9 different tracking tools, including:
AppNexus
Crazy Egg
DoubleClick
Gaug.es
Google Analytics
HubSpot
Perfect Audience
Pingdom
Typekit by Adobe
Think of the SEO implication here. I can now discover what my competitor – or other industry leaders – are tracking. This will allow me to make suppositions about why they're tracking those metrics.
If I can better understand my competitor's goals, I can better compete. As long as the industry or niche you're operating in is advanced enough in terms of online marketing software, Ghostery provides heaps of potential insight.
3. BuiltWith Technology Profiler
This is similar to Ghostery in terms of functionality, but built more with SEOs, webmasters, webdevs, and the technology-oriented in mind.
BuiltWith Technology Profiler will allow you to see all the technical information you could ever want to know about a competitor's website.
BuiltWith will display:
Web Servers
SSL Certificates
Web Hosting Providers
Content Management System
Name Server
Email Hosting Providers
Frameworks
Advertising
Analytics and Tracking
JavaScript Libraries and Functions
Audio/Video Media
Content Delivery Networks
Syndication Techniques
Widgets
Document Standards
Document Encoding
Web Master Registration
Operating Systems and Servers
CSS Media Queries
Verified CDN
Seriously, it's robust. Anything you want to know concerning the tech behind another's website is a click away.
To get started all you have to do is navigate to whichever website you'd like to examine and click BuiltWith's extension button: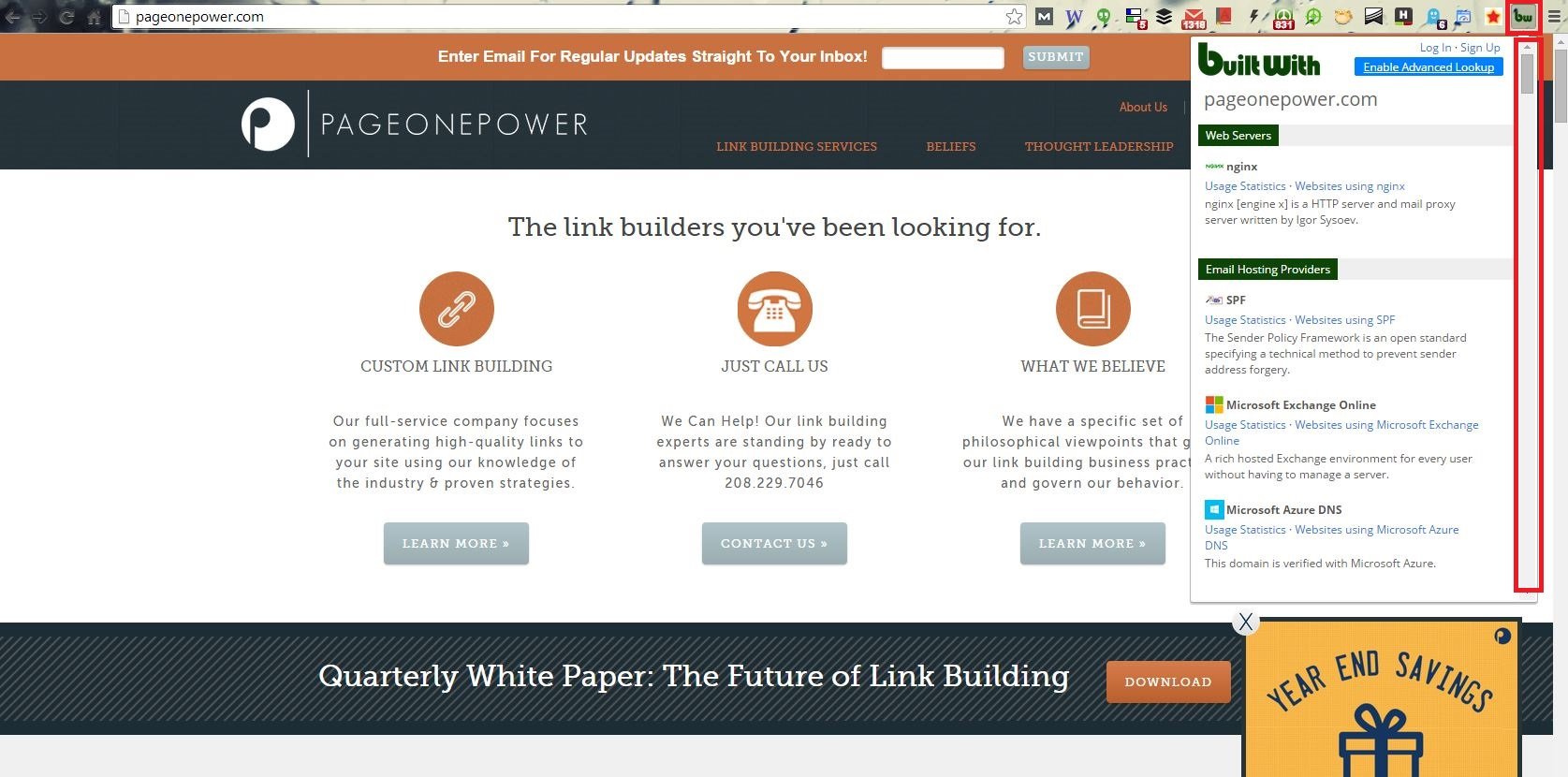 Don't miss the scroll bar – if you want to check everything out, you'll have scrolling aplenty to do.
4. Check My Links
Check My Links is exactly what it sounds like – a Chrome extension which will scan a page for broken links.
This extension is a must-have for anyone managing a website or building links. It makes it quick and easy to scan pages with a plethora of links and find any broken or outdated links.
For webmasters this means easier maintenance of your pages and content. Nothing's worse than a third party website going down, making your previously powerful content now lackluster.
For link builders this allows you to see how well maintained a website/page is, and also gives you added value if/when you outreach to the webmaster. Few things are simpler than including a mention of a broken link. As you're not using it as a gimmick or manipulation, webmasters are usually quite thankful.
Simply pop open Check My Links on any page you want to scan. This will automatically start the process of scanning for links. Depending upon the number of links on the page, it will take but a few moments.
Check My Links will highlight all links. Green means good, red is broken. Furthermore, red links will have the corresponding URL code (404, 403, etc.) next to them.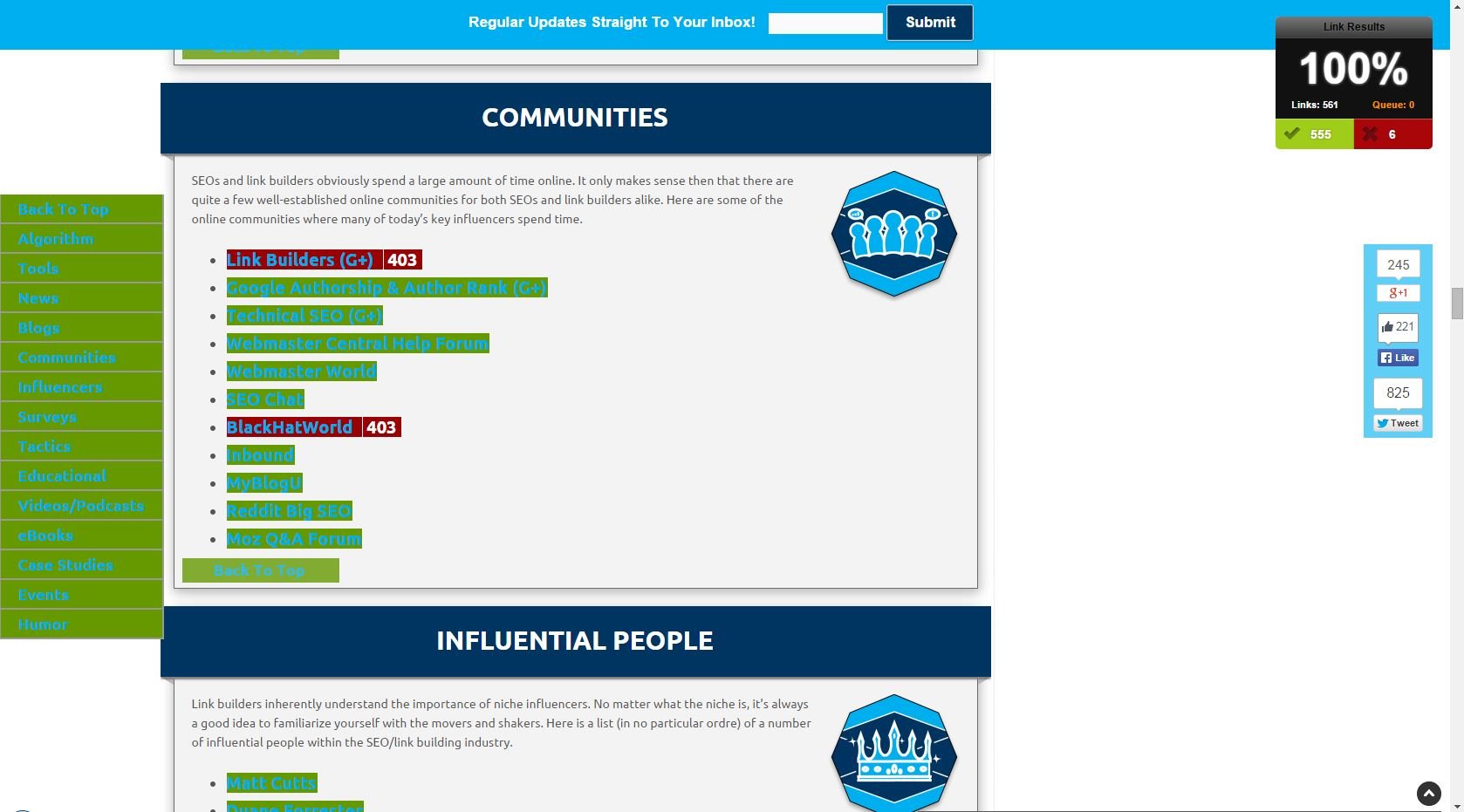 Simple as 1,2,3.
Check My Links features:
Scan an entire page's links in moments
Working links are highlighted green
Broken links are highlighted red with the html code.
Just make sure to double check the results – Check My Links isn't always 100% accurate.
5. PageSpeed Insights
This handy little extension, courtesy of Google itself, helps you better understand what's slowing down your page load times.
Better yet, PageSpeed Insights will specifically recommend improvements to speed up your page's delivery.
If you don't think site speed is an issue, just go check out this fantastic post by Ian Laurie of Portent. He says it better – and more in depth – than I ever could.
This tool is a bit trickier to enable. Here's how it works:
Click the options "hamburger" and navigate to more tools > Developer tools: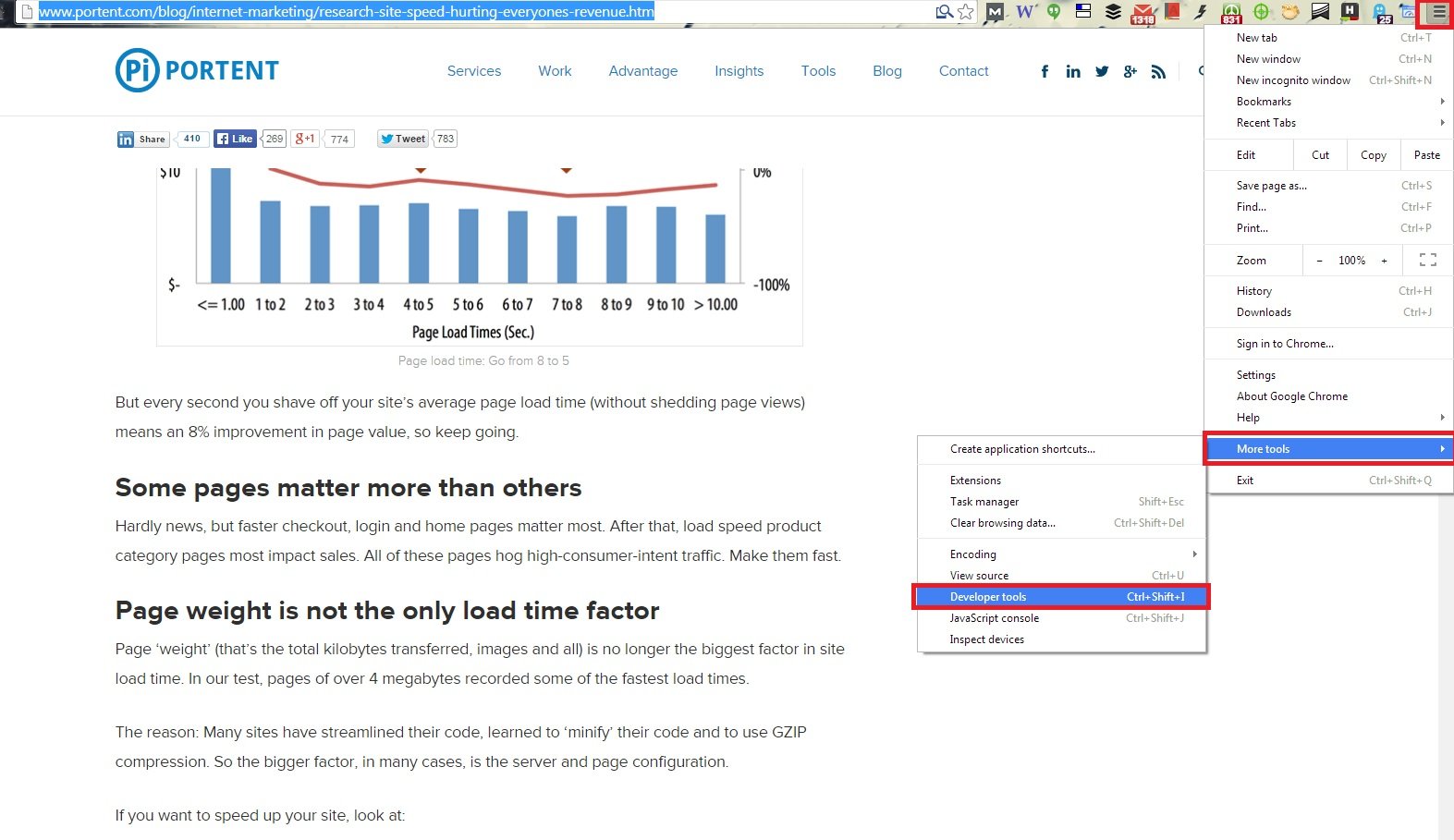 Alternatively, you can simply right click > Inspect element.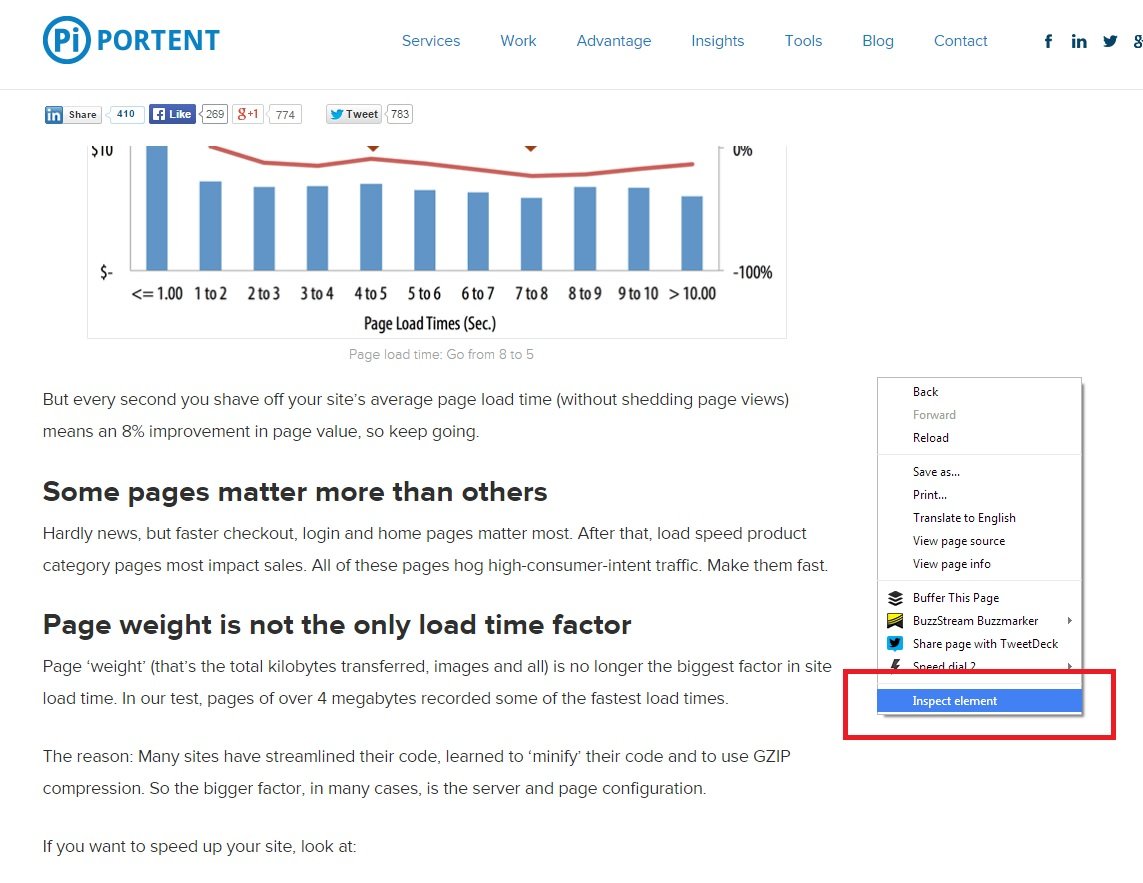 Either way, you'll open up developer tools which will allow you to see underneath the hood of the page into the raw html.
You'll want to flip over to the Page Speed tab, then click the top left red button "analyze":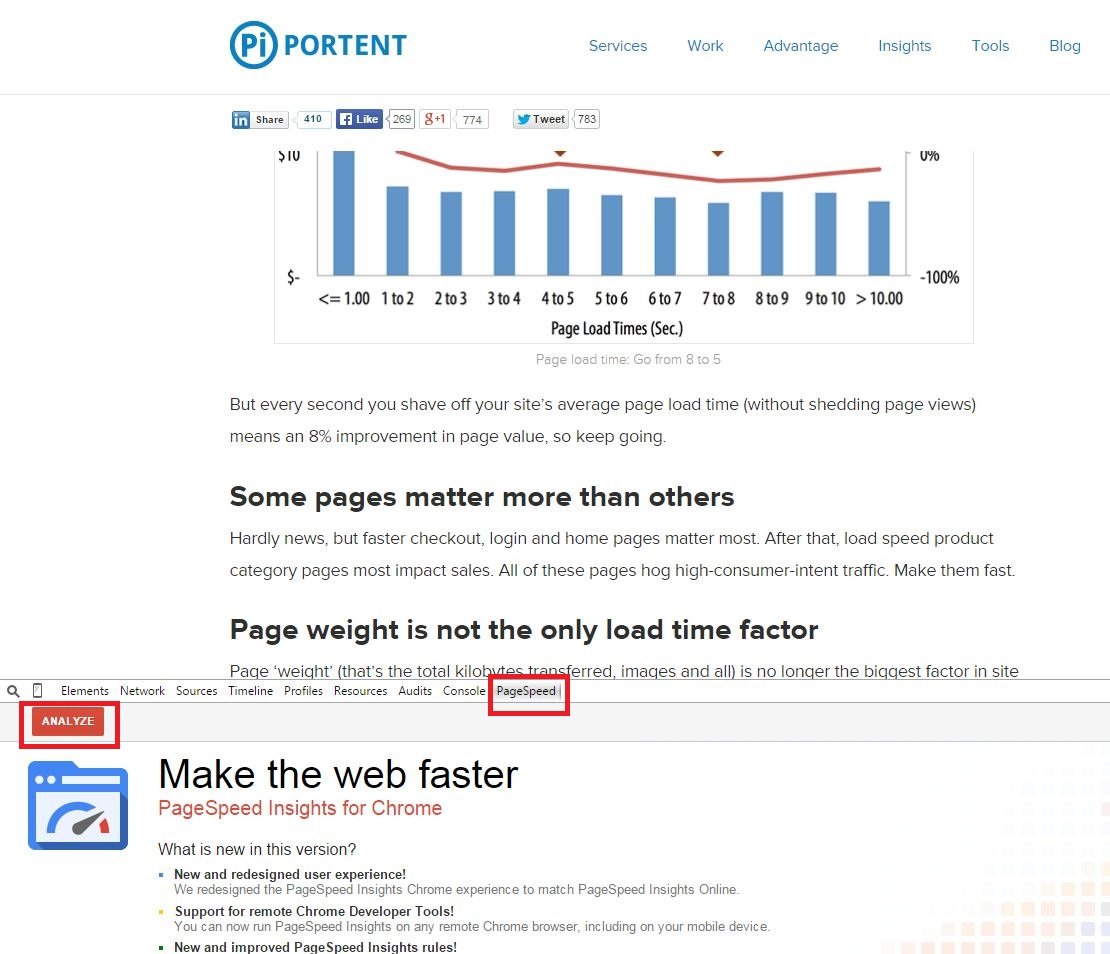 This will take a moment to run, then return results and suggestions on how to improve performance: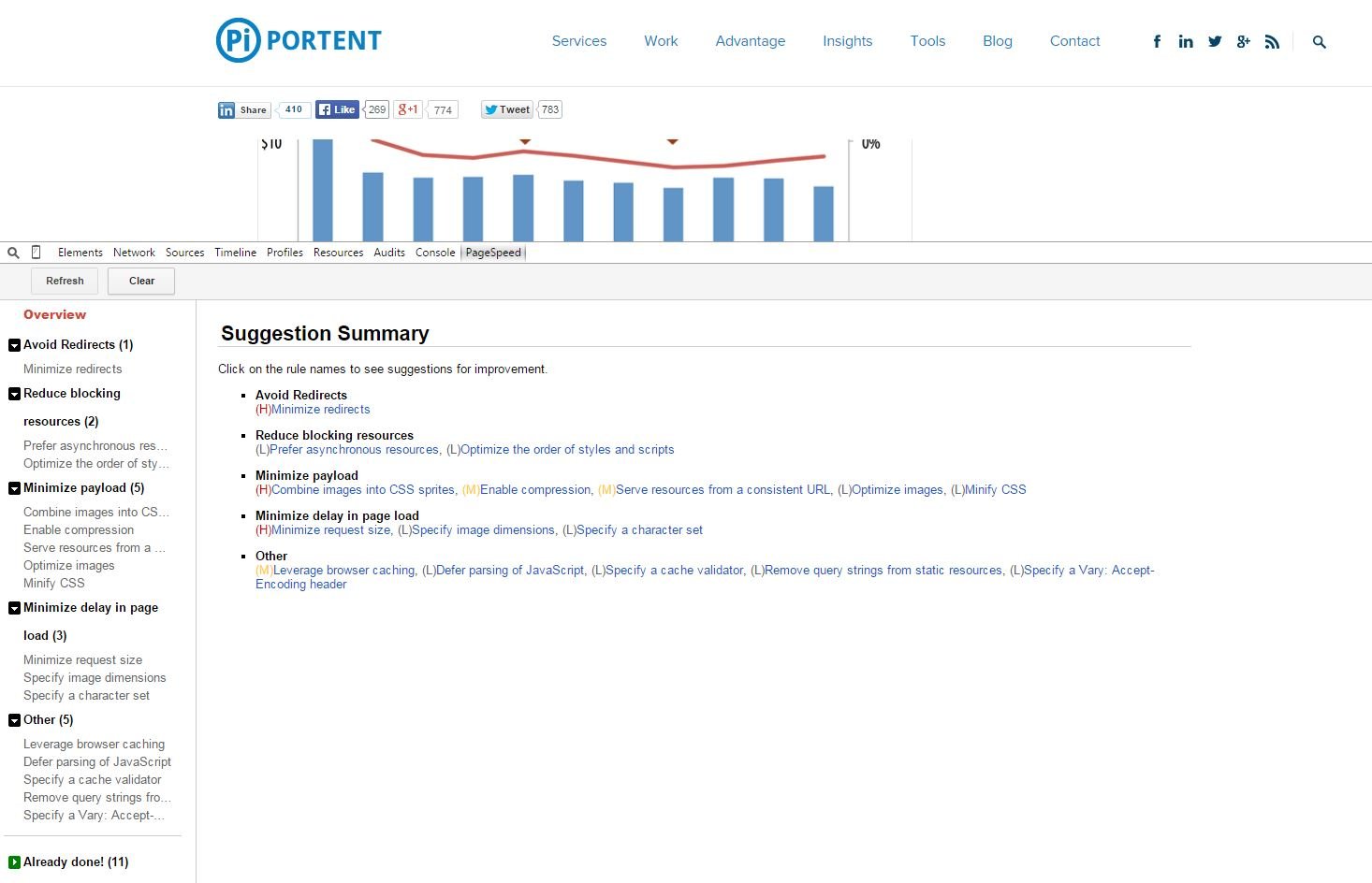 Note: I expanded the developer tools to show the full results.
As you can see, suggestions are categorized. Pretty helpful, and should definitely be within an SEO's website analysis toolkit.
6. Hover Zoom
Hover Zoom is as much a quality of life tool as it is useful for website analysis. Honestly, probably more quality of life.
Anyone who's spent any amount of time on Reddit should absolutely be familiar with Hover Zoom. The concept behind Hover Zoom is simple – hover over any link that contains a picture or gif on the other side, and Hover Zoom will open it at your cursor.
No longer will you have to click through to see the image or gif on the other side. If it's an album of pictures, simply scroll or use your arrow keys to load one picture to the next.
Hover Zoom will also open the picture at maximum resolution, wherever it's hosted. This is why it's useful for SEO.
How many times have you been reviewing a website and see a tiny picture somewhere? Or an image that's displaying the broken symbol?
It's bad enough that we start at computer monitors all day, resigning ourselves to an early life of glasses, contacts, or lasik surgery. Anytime we can review an image without further straining our eyes is a moment of victory.
Simply hover over any small image, picture, or even link and let your eyes take their ease. Oh, and did I mention Hover Zoom will display the alt text underneath the expanded picture?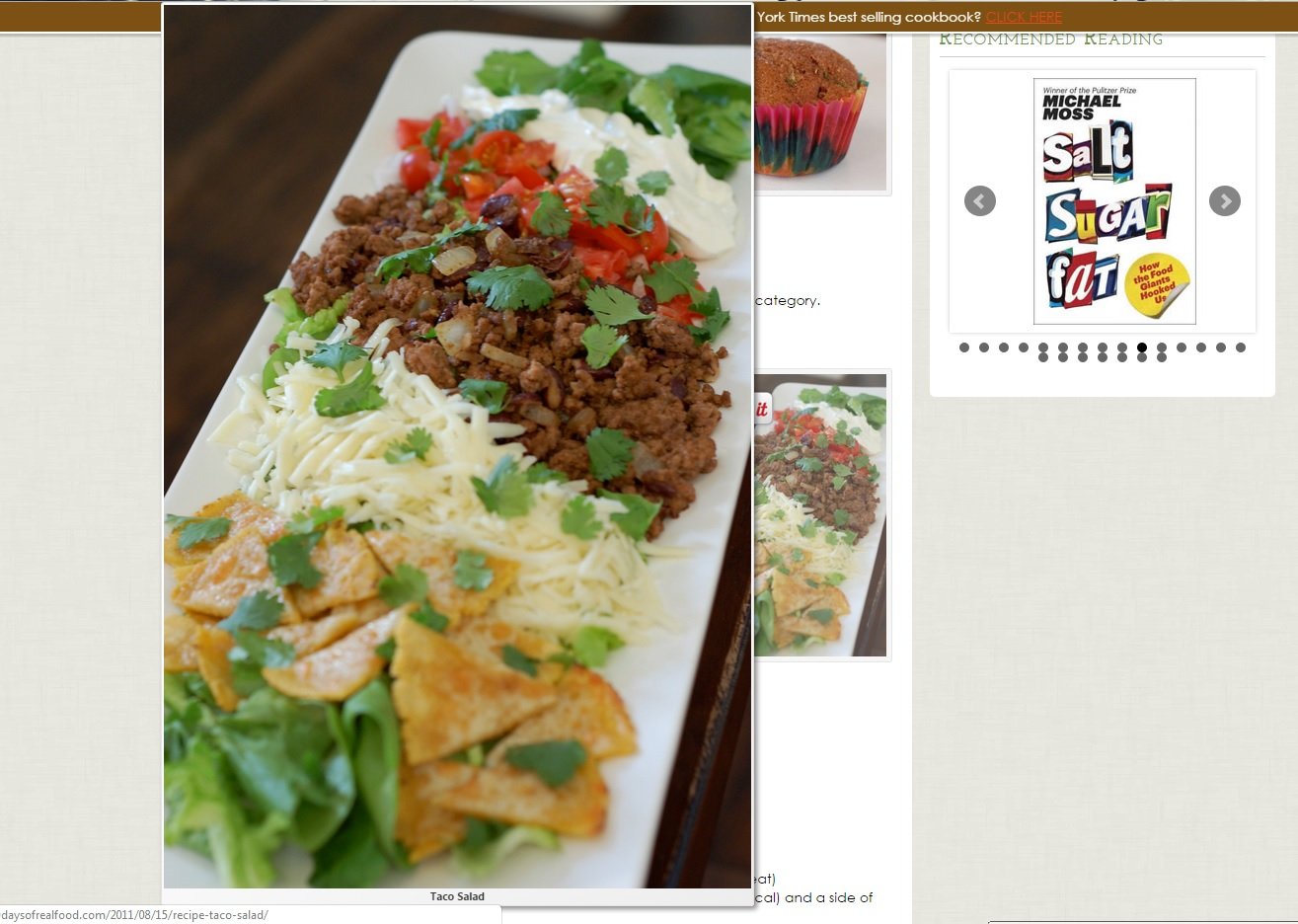 Hover Zoom's features:
Displays maximum resolution images from:

Links
Smaller images
Image albums

Displays alt text.
Wrap Up
There you have it – 6 tools that will improve your daily life as an SEO, which is bound to be riddled with website analysis and examination.
I tried to keep it to the extensions I've found myself using most. There are of course hundreds of others worth trying, which you might use more or less than I myself do.
I strongly recommend checking out a few other posts that are more comprehensive in terms of potential Chrome extensions:
There are some serious gems out there that have nothing to do with website analysis.
Best of luck, and happy (website) hunting.