When I started in search engine optimization and marketing, I had no idea what I was doing, especially when it came to writing for website crawlers. I knew how to write copy, but I also knew that my writing could be better. Now that I've been in this industry for a year, I've learned a variety of skills that have improved the quality of my content, as well as why it is necessary and important to combine writing with search engine optimization best practices.
One of my favorite aspects of my job is writing copy. Copywriting is essentially writing anything--an article, brochure, ebook, social media, emails, blog post, etc.--for the purpose of marketing and advertising. The intent of copywriting is to persuade someone to buy a product, take action, or even influence their beliefs.
Although that is the standard definition, copy is so much more. Yes, copywriting is a little more targeted or product driven, but it is still created to inform, entertain, or answer questions that readers have. If you think about it really, all writing--including copy, opinion and even research papers--is intended to influence readers one way or another. Some just do it more subtly.
One opportunity many copywriters miss is optimizing their writing for SEO. The best part about writing copy is that you can optimize it without compromising the content or your readers.
You definitely need to be natural and subtle with your keyword usage. Having too many specific keywords in your copy makes for bad writing, like having the word "cake" 30+ times in a short 300-600 word article. That's bad SEO writing - not blending SEO best practices into your copywriting.
If you're interested in improving your copywriting while following SEO best practices, below are some of my best tips for melding copywriting and SEO together. The goal is to ensure your writing is at its best, and that the impact and visibility of your content is great as well.
After all, why bother creating something if no one is going to read or engage with it?
Key Features of Great Copy
Whether it is intended to inform, persuade, or entertain, great writing is stimulating and keeps people coming back to read more. This is a sign of good copy, written for its targeted audience; it answers questions and entertains readers at the same time and can even persuade readers. Some other key features of good writing include:
NO sales pitches
Succinct
Well written
Has an interesting headline
If you write something for yourself rather than your audience, you run a high risk of no one else caring about your writing. The same is true of duplicate or repetitive content that can be found all across the internet. If you decide to produce essentially the same content that many others have already written, or create similar copy multiple times on your site, readers aren't going to engage, be informed, or entertained. Duplicate content can also wreck your search rankings due to the search engines correctly detecting that you're spamming.
SEO and Copy
Another crucial feature of great copy is writing that includes features for search engine optimization. Written for both readers and the SERPs, great copy isn't designed to make something go viral (although it's great if it does) but instead made for user intent and answering their questions.
When it comes to SEO, great copy is formatted with header tags, meta descriptions, title tags, and more in order to ensure that the writing can be correctly understood by Google as well as readers.
Some key SEO features in content include:
Relevant internal links with appropriate anchors
Relevant, authoritative external links using natural anchors
External links pointing to relevant, high authority sites
Internal links
Proper keyword usage, including synonyms
Appropriately named images and alt image tags
Clear, understandable headlines (for both readers and search engines)
No uncrawlable content - anything hidden behind java, redirects, etc.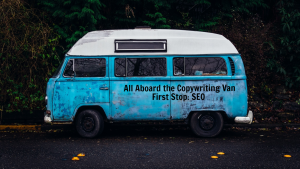 Combine Marketing Content & Keyword Strategies
When writing is optimized for both readers and search, your content has much more opportunity for the niche you are targeting. Keyword research is incredibly important - it should nearly be 50% of your content creation process.
Knowing which keywords to target and use in your writing is crucial to indicate to search engines what your subject is, as well as to demonstrate authority within a particular niche. Putting too many keywords in your copy can be annoying to readers, so finding the balance between natural and common usage is important. Synonyms are a great way to ensure you're using keywords appropriately, as well as targeting a variety of important terms.
Measuring the impact of your marketing and writing efforts is also incredibly important, in order for you to know what is doing well and what isn't. Content performance should guide future content creation.
I recommend using a combination of Google Analytics, Twitter impressions/clicks, Facebook shares, Pinterest repins, and whatever other social media tools you have at your disposal. The more social media you use, the more you can see how well your content is doing across multiple platforms.
Knowing how often content is being shared and read will tell you how successful your content is, and whether you should create similar content or go a different route. Another great way to tell if your content has been successful is how many natural links it acquires, both through the sharing of your copy, and natural link building. The more shares and natural links pointing to your content, the more authority it is deemed to have, and the higher it will rank in search.
Helpful Tools to Use
Many SEOs know marketing tools and many copywriters know writing tools, but combining these tools together can help you optimize your copy. And don't forget the best tools you have: your brain and a dictionary. Knowing how to write, and write well is key. Below is a list of some great tools to help you perfect your copywriting endeavors.
SEO Tools:
Google Analytics – One of the best tools out there for webmasters, SEOs, and writers alike. Google Analytics is incredibly useful and can do many things, but is best used for analyzing the performance of your site and content.
BuzzSumo - An awesome tool that I use on a regular basis when writing. BuzzSumo allows you to search for terms or phrases and shows you which content is performing best in that niche across social media. Although primarily a paid tool, it's still worthwhile to use as a free tool.
Keyword Tools:

Keywordtool.io – A great tool that generates over 750 suggestions for every keyword/phrase you submit, allowing you to target relevant keywords. Best is it's free!
SEMrush – A competitor and keyword analysis tool. I wouldn't rely on their traffic metrics much, but definitely one of the most advanced keyword search tools out there.

If you have WordPress:

Yoast WordPress SEO – one of my all-time favorite SEO and copywriting tools.
All in One SEO pack – Although I haven't specifically used this one, I know that it is highly recommended by others. Along the same likes as Yoast, it helps you fine tune your SEO, XML sitemap, and Google Analytics support.
Copywriting Tools:
Copyscape – A free web-based tool that, once you enter the URL of your copy, allows you to check the content of your page to see if it can be found elsewhere on the web.
Read-Able – Read-Able is a great site for testing your copy. Not many people know that you should be writing at about the level of 7th-8th grade (depending upon your audience), and it will automatically test the reading level of an excerpt.
Unsuck It – An awesome app that I love to use when I'm having a hard time coming up with wording. It helps you convert words, just as business jargon or keywords, and replace them with fun words that flow better.
Rhyme Zone – Most copywriting needs to have a flow, and not having a rhythm can make your writing fall flat. Rhyme Zone is great for helping you find a rhyming word that strengthens your copy.
Photo Sites – Below are the top 5 photo sharing sites that I use for when I'm using images in copy. Finding photos on each of these sites is painless, simple, and each has very high quality photos.