Hey there y'all, and welcome to this week's Tutorial Tuesday! Each week on Linkarati we walk you through a specific tool, strategy, or process related to the SEO industry.


Due to all the recent hoopla surrounding the announcement of Google's Mobile algorithm update, I thought I'd cover a topic related to mobile search. Specifically, I'm going to walk you through how to check mobile search traffic for your site, and identify if there have been any major changes since the update.
In this tutorial you'll learn to:
Test your site for mobile friendliness
Check current mobile search traffic numbers
Compare current mobile search traffic to past data
Let's dive in.
Step One: Test Your Site's Mobile-Friendliness
Before we look at any traffic data, first you need to check if your site is mobile-friendly.
But Andrew, how do I test mobile-friendliness when I know nothing about coding a website? Well, fortunately Google has been kind enough to offer a free tool for testing the mobile-friendliness of the pages on your site.
Keep in mind this is just a free tool and should not be treated as the be-all and end-all for testing mobile-friendliness. If your site relies heavily on mobile traffic you should dig deeper than this tool to ensure your site is properly optimized for mobile. Tom Demers outlines some helpful steps toward mobile-friendliness in this fantastic resource on Search Engine Journal.
With that being said, Google's mobile-friendly testing tool does offer some quick (and free) insight into your site's mobile performance by testing various pages.
Here is what the homepage of the tool looks like:

The tool is pretty straightforward. All you need to do is input the URL of the page you would like to test into the provided box:

And click the "Analyze" button:

We'll use Linkarati's Link Building Resources Page as an example for this tutorial. This is a great page to test; although Linkarati is designed mobile-friendly, the Link Building Resources Page has many unique elements which may hinder the page's mobile-friendliness.
Here is the results page we arrive at after entering "linkarati.com/link-building-resources/" and clicking "Analyze" (analyzing a page will only take a few moments):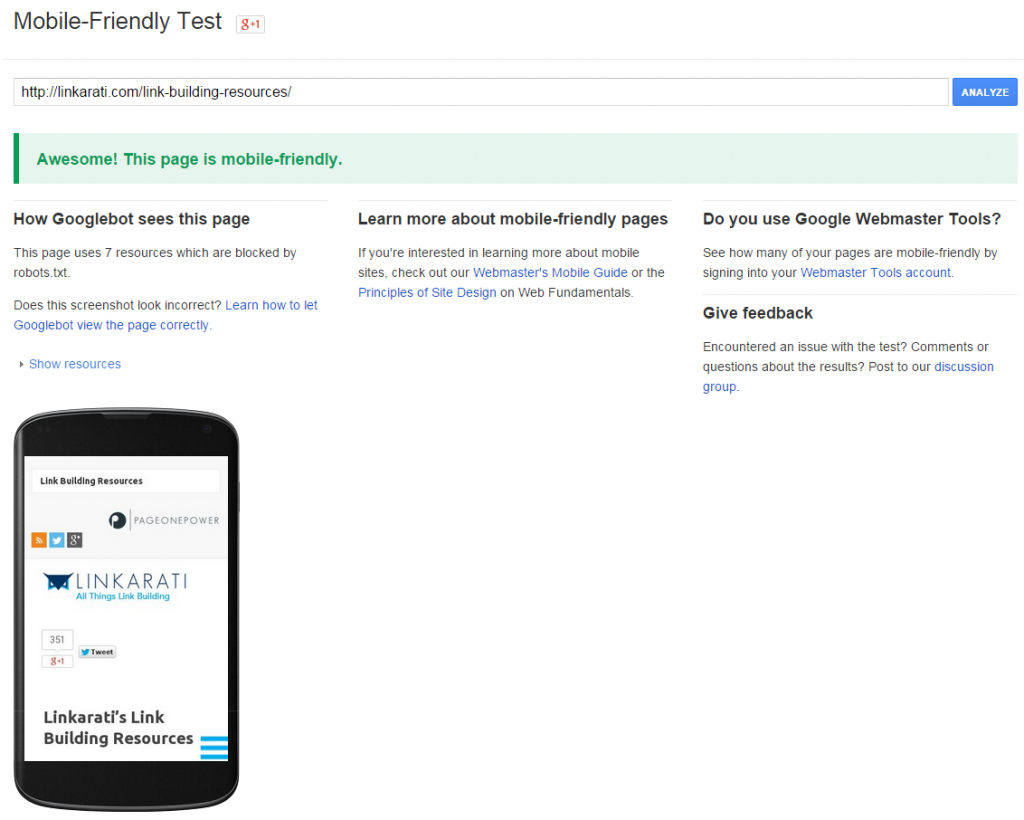 As you can see, Google has rated this page as mobile-friendly! Along with this confirmation, the tool provides some other information regarding our page.
We can see how Googlebot views the page through a screenshot: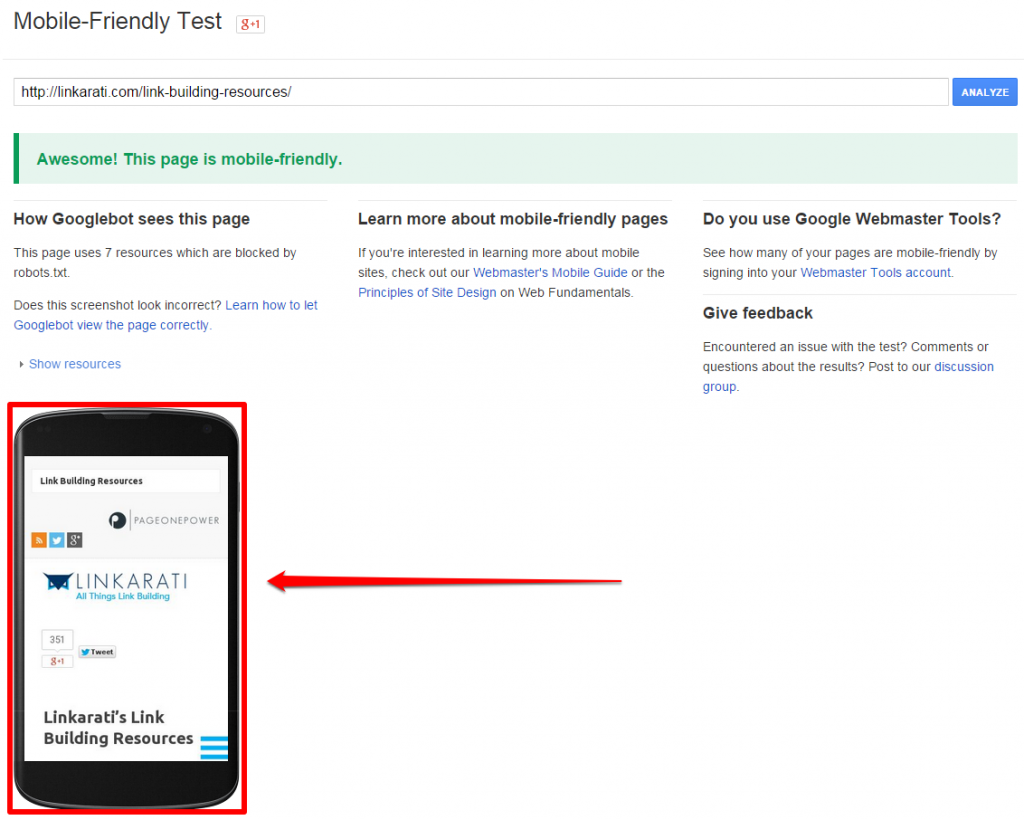 And we can also see that some of our resources on the page are blocked by robots.txt: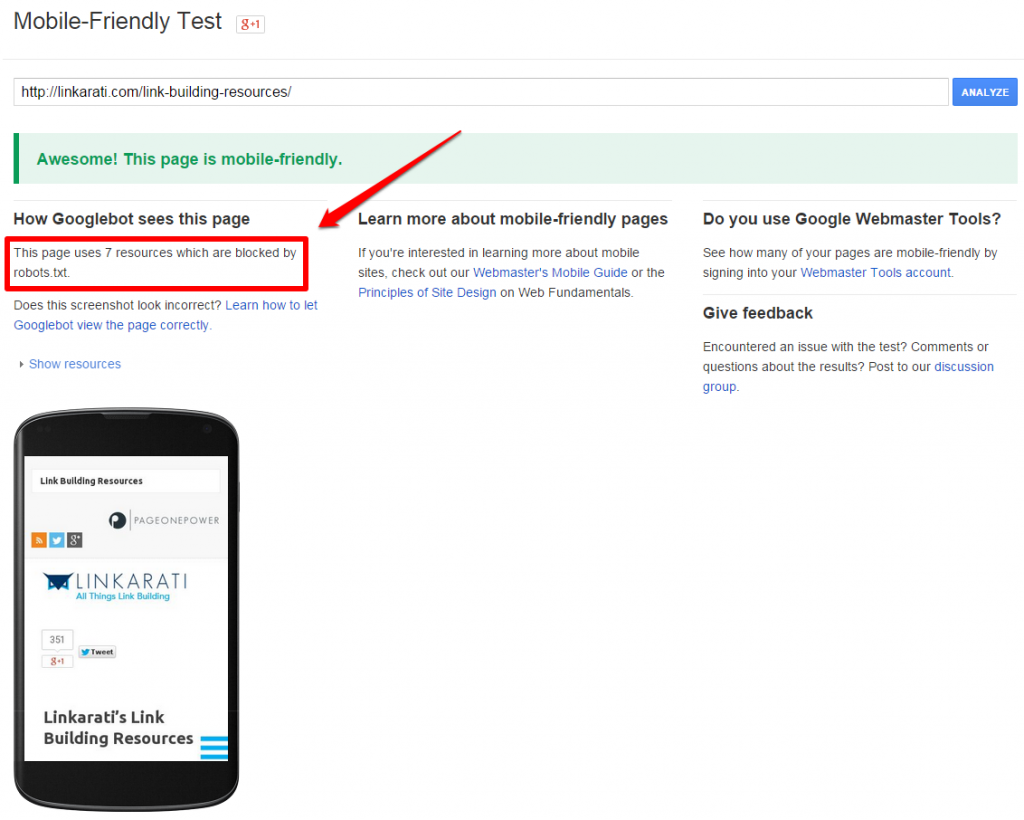 We can find out which specific resources are being blocked by clicking "Show resources".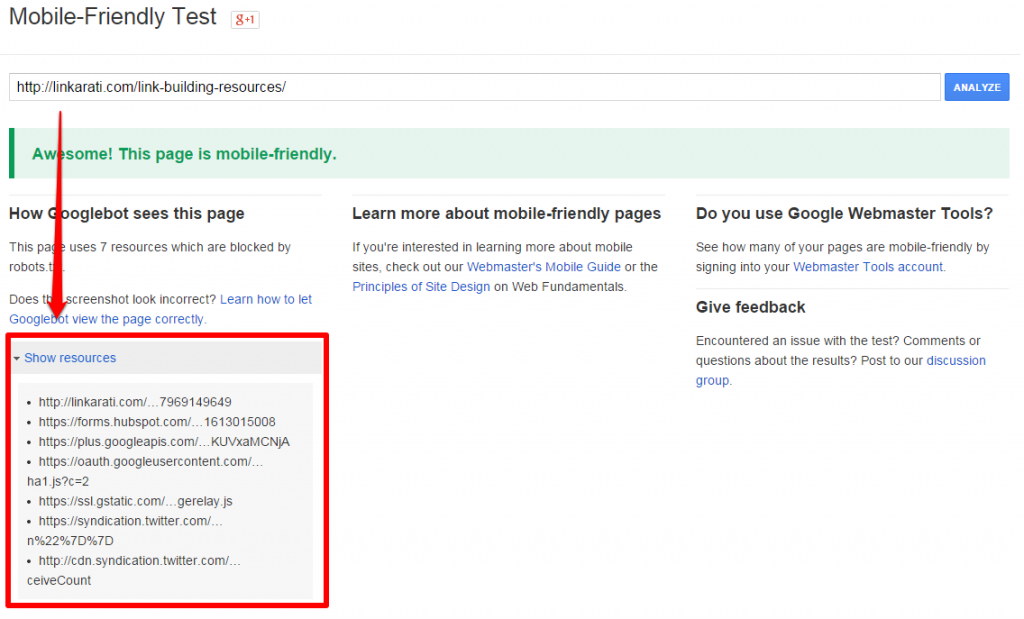 On this page, Google provides some more resources for learning more about mobile-friendly pages: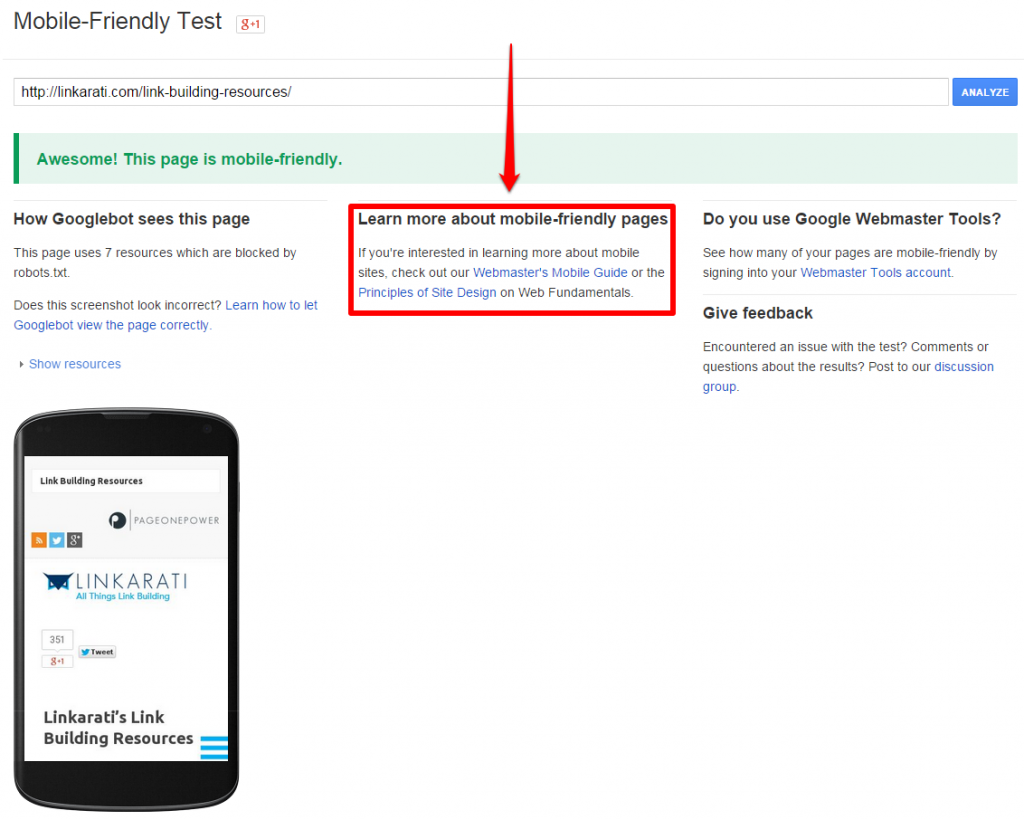 Again, if mobile traffic is important to your website, I would advise checking out the two resources provided here.
However, let's get back to the task at hand – gauging your own site's performance in mobile search. There is a bit more information to be gleaned beneath the phone screenshot: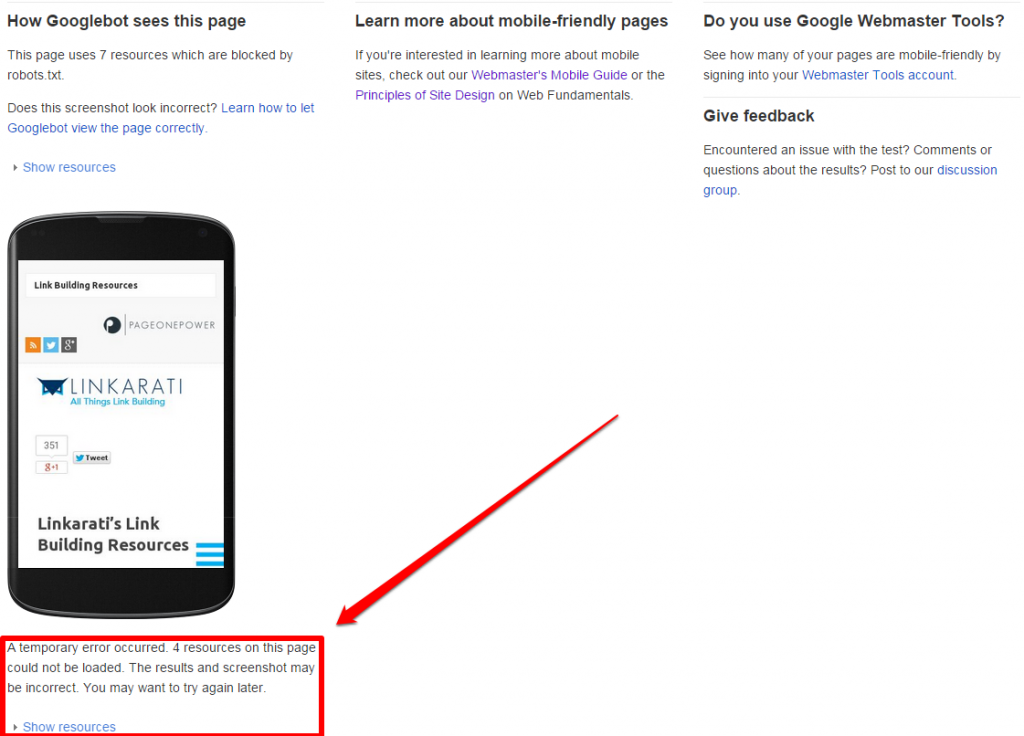 As you can see, the tool informs us that there was a temporary error, and four resources on the page could not be loaded (this goes back to why this tool should not be your basis for mobile testing).
Again, we can click "Show resources" to see what couldn't be loaded: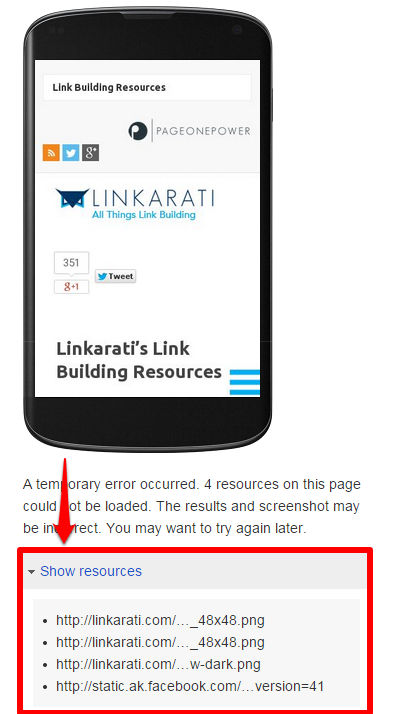 While the Google Mobile-Friendly Testing tool is far from perfect, it will give you a quick glance at the mobile-friendliness of your site's pages.
Knowing that Linkarati's pages are generally mobile-friendly in the eyes of Google, we are now ready to examine our mobile search traffic in Google Analytics.
Step Two: Check Mobile Organic Search Traffic via Google Analytics
Our next step is to look at mobile organic search traffic data using Google Analytics (GA).
I'll continue using Linkarati as the convenient example. When I log into GA I'm taken to an overview page that looks like this:

From here, I need to filter by mobile traffic. To do this, I click on the arrow labeled "Mobile" on the left side bar:

Clicking on this button will drop down two more options – "Overview" and "Devices":

We want to look at "Overview". Here is the data GA generates after clicking the "Overview" button:

Looking at the data, we can see that there have been 619 mobile sessions this month, which represent 11.86% of Linkarati's total sessions:

However, we only want to look at mobile organic sessions. To do so, we must filter by "Organic Sessions" by adding a new segment: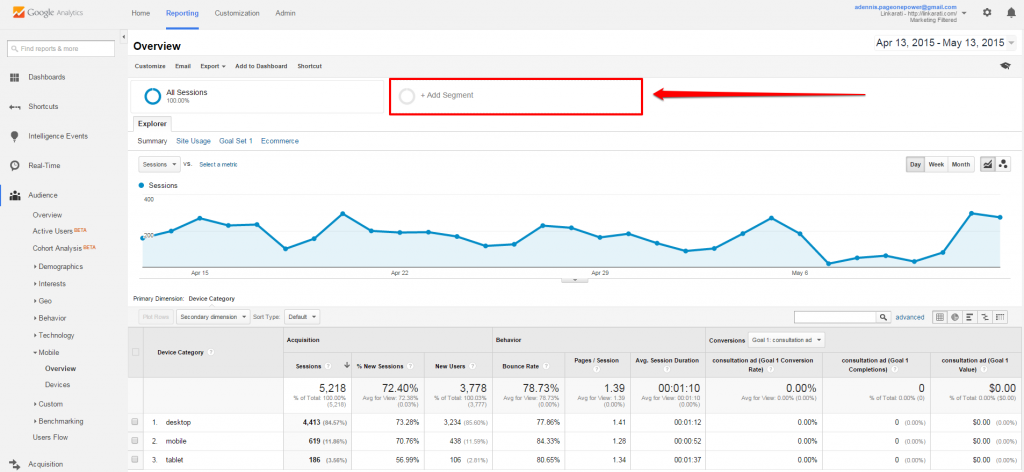 To filter for only organic traffic, simply uncheck "All Sessions" and check "Organic Traffic":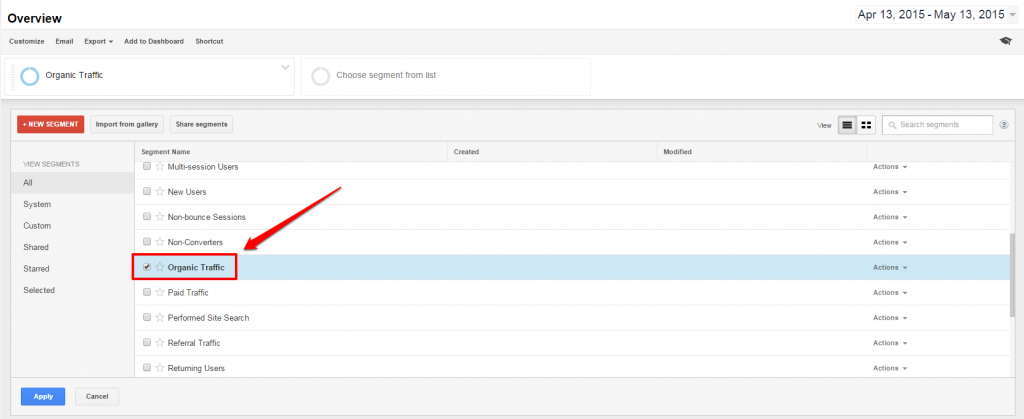 Now we can view mobile organic traffic data:

Looking at the data, we now know that there have been 204 (10.46% of organic sessions) mobile organic sessions on Linkarati this month.

Now that we've confirmed we're still receiving mobile organic traffic, we should compare it with our data prior to Google's Mobile Update to determine if there has been an increase or dip.
Step Three: Compare Current Mobile Organic Traffic to Before Google's Update
After examining your current mobile organic traffic, you can then compare it to your traffic numbers prior to Google's update.
To look at your previous organic mobile traffic numbers, simply adjust the date range in the top right corner:

By clicking on the drop-down arrow you can adjust the date range for the data you're viewing.

GA makes it easy to compare various date ranges through the "Compare to" function in this drop-down menu:

In the "Compare to" boxes I can input dates to reflect Linkarati's mobile organic traffic from a twenty-two day period (equal to the amount of days post-update) before Google's update. Here is the data GA provides:

Looking at the data, Linkarati has had 2.08% decrease in mobile organic traffic since Google's Mobile Update:

This isn't a significant change. Linkarati's traffic primarily comes from desktop, so I didn't expect any drastic changes in mobile organic traffic. However, the slight dip can be explained by the fact that our site was down for a few days.
If you notice that your site has experienced a major drop in organic mobile traffic, it's probably time to refer to one of the resources referenced in this post and start working to improve the mobile friendliness of your website.
That concludes this week's Tutorial Tuesday - I hope this guide can help you ensure your site isn't losing traffic due to Google's recent update. Cheers!