I've written about Google Authorship benefits in the past, as well as the potential of Author Rank.
Today, I want to talk about something I skipped over before: Google's 'Author stats' in Webmaster Tools.
The reason I skipped over the Author stats tool? Simple – I didn't even realize it existed. After stumbling over it (see the image above), I looked around for a guide, an overview, an explanation, anything. But, to my surprise, all I could find regarding Author stats were brief mentions, mostly news style announcements. This was extremely surprising, because Author stats is freakin awesome
Since it's so awesome, I decided I'd take the time to write up a guide to Google's Author stats, why it's important if you're using Google Authorship, and how you might leverage this in the future (not to mention nerd out on analytics for self-enjoyment/ego boosting).
The History of Author Stats in Webmaster Tools
First, a little history on Author stats. Author stats, available to anyone who's utilized Google Authorship, is analytics on the performance of the content you've claimed (via Authorship) in the SERPs.
Google released Author stats on December 11th, 2011 via announcement at the Webmaster Central Blog.
Author stats is accessible through Google's Webmaster Tools, under the 'Labs' section in the upper left hand navigation menu. After you click on 'Labs' simply select 'Author stats'. Viola!
Author stats is in fact considered an experimental feature, and is thus placed under the labs section. In fact, Google actually temporarily discontinued Author stats between April 2012 and July 2012. So, make sure to take advantage of it while it's around!
Some thoughts on why it might be considered experimental:
Authorship is still catching on, and Author stats seems to be a little known feature even inside of Authorship usage. Thus, it's not a very popular tool.
The tool seems fairly lightweight currently, so further features might be in the works.
Author Rank, if it's ever implemented, could change the feature entirely. Google might rescind such transparency, or might decide to be rework it completely to include Author Rank statistics.
I would definitely guess that lack of popularity is the real cause, but as is typical with Google there's no sure way to know their intentions or future behavior.
Author Stats Walkthrough
Author Stats is a tool that contains the performance of you Authored posts in terms of impressions and click throughs.
Before we proceed further here's what Author stats looks like: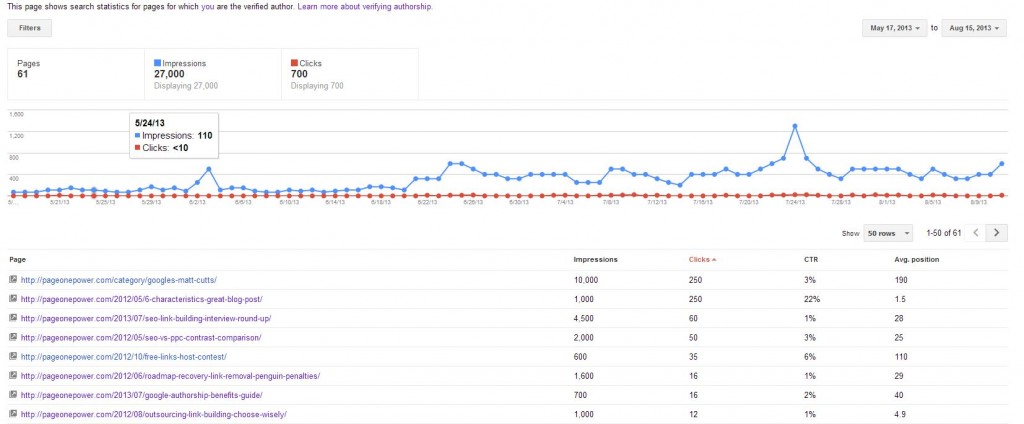 Very humble stats from yours truly (an Author in progress).
As you can see there's a few different stats displayed, completed with a graph, individual page statistics, filter button, and date range.
The graph displays impressions (how many searchers saw your content in the SERPs) in blue and clicks (how many times searchers actually clicked on your content) in red.
Next are the individual page level metrics, with a little more depth of data.
The individual page metrics includes:
The URL of the page
The number of impressions
The number of clicks
The resulting CTR (click through rate)
The average ranking position of your content in the SERPs
Now realistically, the data represented is a little thread-bare. Essentially, you can see the amount of times your content appears in the SERPs (impressions) and the amount of times it's actually clicked (clicks).
It also gives you an idea of how your content is performing in the SERPs - both via CTR and the average positioning.
Despite this not being the most robust analytics, I'm extremely excited about this data. Before I jump into why however, let's continue with the other features with the Author stat tool.
Author Stat Filters
There are two different buttons designed to further filter the data contained within Author stats. First, the 'Filters' button contained within the top left, and secondly a date range in the top right which is automatically set to a month back from the current date.
Let's take a look at the filters button first:

As you can see there are three different categories in the filters section: search, location, and traffic. Unfortunately the traffic filter is only limited to greater than or less than 10 clicks or impressions – not very interesting. (Perhaps for authors with more clicks there are more options?)
Search, however, is rife with interesting possibilities:
As you can see, you can filter down to image, mobile, video, web, or all. Meaning you'll only see pages that ranked for image search, mobile search, video search, web search, or all.
Web seems to be on by default - at least for me.
So, if you interested in further understand which content is successful, and why, this will potentially help reveal where content is best performing.
For example, perhaps a video contained within one of your authored pieces is doing particularly well in searches, creating a higher CTR for your content. This could very well mean you can and should use more videos when possible in the future.
And that's just one possibility.
Now, let's take a look at the search date buttons:
The date range consists of two buttons – a start date and an end date. This gives you the ability to fully customize how large or small a date range you want.
The date is automatically set to a month of data, from the current date. Author stats only saves 90 days of data at a time – meaning you'll only ever be able to see how well you've been doing for the last three months. This could change however, as Google recently announced it will be extending Webmaster Tools top term data out to one year.
The impressions and click cells above the graph do have a % up or down indicator, letting you know as well how general trends have been going over time:
Positive (upward) movement is displayed in green, negative in red.
Alright, that handles the Author stats tool walkthrough. Now for the fun part: why Author stats is awesome.
Author Stats Application – Creative and Critical Thinking
When I first found this tool, I was immediately excited. Even after I realized it only showed impressions and clicks, with 90 days of data, I couldn't help but think of the benefits of Author stats.
I realized there are some important opportunities here – especially if you get a little creative.
1. Understanding which content Google's attributing to your Author Profile
Google Authorship is by no means 100% refined at this point. What better way to understand which content Google is attributing to you as an author than taking a look at Author stats? Every single page is there, along with performance stats.
Likely there will be a few surprises here, both in pieces missing and pieces wrongly attributed to you. If you're using Authorship, you should absolutely use Author stats to double check what Google's attributing (or not attributing) to you. Odds are you'll be able to find a few mistakes – mistakes that could be pretty important.
2. Guest posting, columns, and contributing outside your own site
Obviously I'd rather have webmaster tools and analytics to look at content performance on a site. However, when you're contributing to a site you don't own, and can't access Webmaster Tools or Analytics, Author stats data can help fill the gaps.
Contributing to another site is generally used to raise an author's visibility on the web. And sites generally bring in writers to further their own circle of influence as well. With Author stats, you'll be able to see just how much traffic you're driving to other sites (in terms of search traffic, anyways).
Run that against a tool like SEMrush, which will let you see how much search traffic a website is netting per month, and you'll have an idea of what you're contributing in terms of traffic to a site. Definitely information worth knowing. A potential measure of your influence, which you can do yourself directly.
What's more, you can see how much better your content performs on another site versus your site, which can help demonstrate the potential visibility boost contributing to that site is giving you as an author.
3. Leverage for becoming a contributor to authority sites
Oftentimes becoming a contributor to an authority site requires some sort of leverage – social recognition, prior relationships, proven authority.
Would you be interested in someone who had an established ability to drive traffic? Moreover, would you be interested in someone who not only had the ability to drive traffic, but the wherewithal to prove such an ability, demonstrably?
Even if Author Rank is never implemented, having the ability to demonstrate your ability to drive traffic means you should be using Google Authorship, and the Author stats tool.
4. Keyword implications
There are quite a few possible keyword insight opportunities through the information provided in Author stats. First, based upon the keyword research you've done prior to producing content, you'll have an idea of the traffic possibilities.
Also, that keyword research should give you an idea of which SERPs you're appearing in, and the ability to manually check performance.
Having a decent grasp on overall impressions your keywords can drive should give you an idea of the amount of keywords you might be ranking in. What's more, if it's substantially more than expected then you can infer that you're ranking for unexpected keywords.
Obviously there's no definite metrics here – but having a general idea of how wide your net is, and how many longtail searches you're included in, can be very powerful.
5. Inspiration
Author stats will accumulate every piece of content you've ever done (at least that which you've claimed via authorship) into one place. What's more, they'll show you which content is driving the most clicks, from most to least.
If that's not enough to inspire a post or an idea, I'm not sure what is.
6. Enjoyment and Ego Boosting
A bit frivolous, but people produce content for a reason – not just to hear themselves speak. Seeing the amount of traffic you're pulling in from Google is often an ego boost. Everyone enjoys tooting their own horn occasionally, and sometimes when you're stuck on a piece of content and spirits are low it helps to go and data dive for a bit.
Takeaways (TL;DR)
If you're using Google Authorship, you should be using the Author stats tool located in Webmaster tools. It's an interesting set of data based on every piece of content Google recognizes as yours. What's more, it's still an experimental tool, so there's no way to know when Google might take it away.
A few of the benefits:
Able to see which content Google is crediting Authorship to you
Track the performance of your content on sites you don't have analytics to
Increased leverage for contributing to authority sites
Keyword insights based on reasonable guesses (not super reliable, but interesting)
Inspiration for further content based on past content performance
Sheer enjoyment if you love data and your own ego.