Editor's Note: Every Friday, Jon Ball answers YOUR link building questions! This week we're talking about social media and the B2B sector.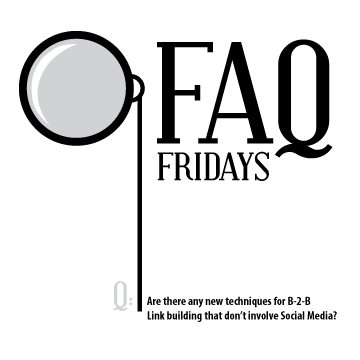 "Are there any new techniques for B-2-B link building that don't involve Social Media?"
Almost all of them. B-2-B in Social Media space is really, really hard precisely because it's B-2-B. Usually people on social space are consumers or experts in the industries. We've had a lot of success with B-2-B because it's usually not spammed. If you can find someone who is talking about your industry and you're a B-2-B business, you can usually find pages where there are good places to get links in that industry.
I don't know if you can do much Social Media link building with B-2-B unless you have an expert or someone who can say, "Okay Jim, you have 5,000 followers on Twitter. Let's talk about this piece of Link bait we just built that talks about the wonders of some research study we just did."
I mean, it's different if you're doing B-2-C because you can talk about a product and a thousand people can comment on it on how much they like it or don't like it. But usually B-2-B doesn't do that. And once again, if you dig into my past Digital Market Depot webinars, most of them have a whole batch of strategies.
We build for every conceivable niche here and we use the same blend of 12, 15 strategies for all of our clients because they all work pretty well. Some don't, some do, and, and that's okay. All you need is a few. You don't need 25 strategies-- you don't even want to do 25 strategies.
I recommend maybe doing two or three different link building initiatives at once. It seems that when someone starts doing link building, the first thing they want to do is build a piece of link bait and hope it goes viral. I would caution you against that. That could take a lot of time, effort and money. Making something go viral is also extremely difficult.
I know it's possible because I've seen it, but that effort and time is better spent elsewhere. I would rather have you take the time and effort and that you'd invest in a piece of viral content, whether it's a video, infographic or anything like that, and just find a good list of target sites, do outreach as a human being and get yourself 25 links on those sites.
If you can say, "We're going to get 25 links and that's our goal. In the next three to four months, we're going to work towards that." If those are 25 good, solid, real links, then I applaud you. That's hard to do. And you'll feel very good about those links because it's hard to get great links. It is really difficult.
Last year, it was because Penguin came out and everyone freaked out about links and asked "are links valuable enough?" Social Media came up as the new avenue for SEO.
Now that the dust has settled a bit. When people talk to me about Social Media and link building, I tell them that Social Media is a marketing channel.
You can go out on Social Media, talk about your products, talk about your business, get people to retweet you and get people to like your Facebook posts. You can generate interest and buzz about your product. You can get people to come to your sites and get traffic and maybe get leads and sales.
SEO is a different matter. SEO is going out and trying to get your site to rank higher in the organic search engine; which is a worthy objective. You can get leads and sales through that channel. I do know that it overlaps a lot, but I think people have it overlap too much because links on the open web are rarely derived from Social Media outlets.
From a realistic, day-to-day standpoint, if you're trying to get better rankings through link building, you need to really focus on the human aspect of these target sites that you find. You have to realize that not everyone's on Twitter and not everyone's doing Social Media.