Thanksgiving is a time for families to gather and for communities to share their bounty with each other.
We take this time to express gratitude for what we have, be that our loved ones, our health, or something simple and small. There's a lot to be thankful for and it feels good to focus on that.
We were inspired by Aleyda Solis's brilliant hashtag, #SEOhorrorstories, to celebrate the season by investigating what the SEO community is thankful for.
We went around and bothered our workmates and industry friends, who were busy doing their jobs, and asked what they're thankful for in SEO this year.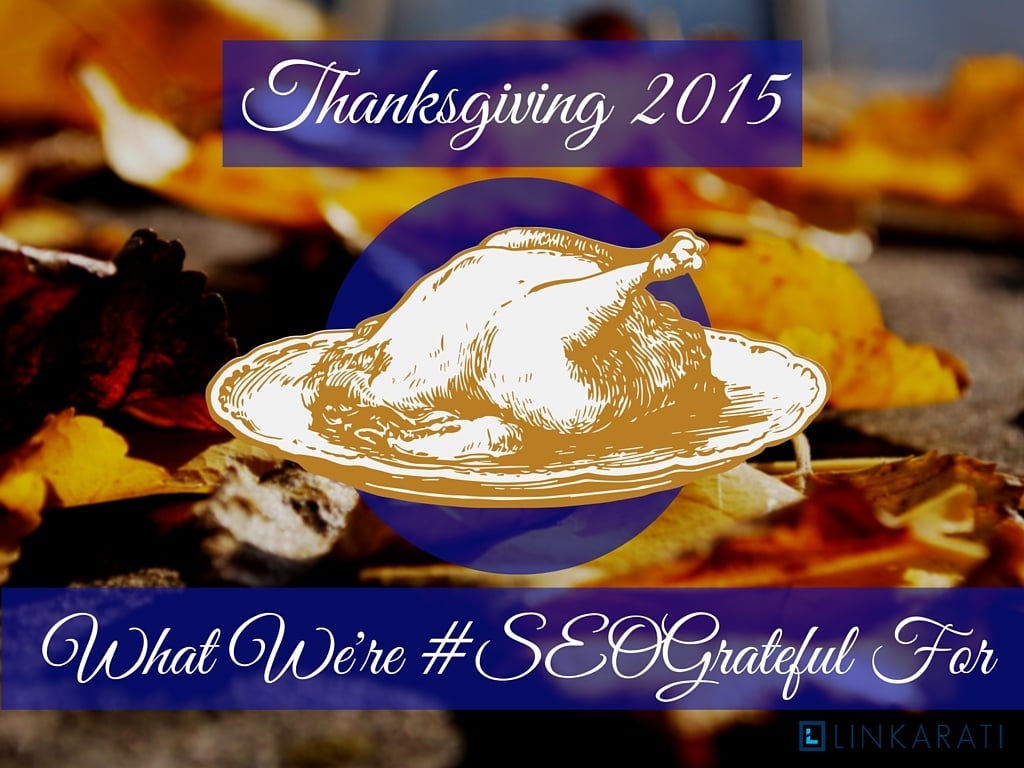 ---
We're Thankful for a Fulfilling Career in SEO
SEO and online marketing requires unique skills, encourages creativity, and lets intellectual curiousity flourish. It's easy to be wrapped up in our first world problems day in and day out, but when we stop to reflect on the course of our lives, nearly every SEO is ecstactic with the direction our career provides and the fact that we truly help businesses succeed.
Not everyone is lucky enough to build a career that they genuinely enjoy, but by and large SEOs seem to be the lucky few that have a fulfilling career.
We're grateful to use our knowledge in disparate fields in a meaningful way, like Alex:
And we're thankful that the skills we learn from SEO follow us wherever we go, whether we like it or not:
In a way, I'm thankful the ghost of SEO haunts basically everything I do on the internet. I don't even do a ton of SEO work these days, but once you've seen 'behind the curtain,' and you kind of understand who the Great and Powerful Oz actually is, you can never look at anything the same way again. Understanding SEO basics forces me to think critically about stuff I used to take at face value. SEO is also constantly shaking me by the collar, demanding that I continue to read and learn, just to keep up. I am thankful for all of these things.
Oh, and I guess some of the people in the community are pretty cool too or whatever. idk.
Ideas are powerful in SEO:
And we get to give back to an industry that gives us so much:
We're thankful for the independent, empowering nature of SEO (and the lack of SEO monarchs):
SEO gives us extraordinary opportunities to grow, learn, think, and do. Not everybody gets that out of their career.
---
We're Thankful for the SEO Community
Arguably the best part of SEO is the people.
The SEO industry is a tight-knit group of people who genuinely care about one another and often willingly help those that need it. We're not the typical group of jaded marketers — we're a community.
We brighten each others' days:
We share with each other:
And love one another:
We keep each other going:
Like family. Kind of:
This was the unifying theme throughout putting this post together: who we talked to and what they talked about. People. SEO is absolutely full of the best people.
---
We're Thankful for the Improvement of the Internet
We can all agree that today's SERPs are so much better than they were even three years ago. Collectively, as an industry, we've put a higher premium on quality content and it's made us stronger for it.
We're grateful that these changes reflect well on our industry:
And we're grateful that these positive changes can also make our jobs easier:
Updates can be slow and teeth-gnashingly frustrating, but we have hope for the future:
And it's all worth it in the end because we're grateful that we're moving in the right direction:
...and let's not forget to be grateful for tools that allow for optimization in all things:
Hear, hear.
---
What P1People Are Grateful For
And us? Here at Page One Power, we're thankful for many things. We're grateful that search is continuing to improve, so we can continue to stand behind the work we do every day. We're grateful that people and companies are starting to really embrace link building as a legitimate (and necessary) SEO tactic. We're grateful for the studies done throughout the industry that provide data we can build our future on.
But more than anything, we're grateful for the hard work and creativity of our employees. Here are just a few of our kick-butt SEOs and what they're grateful for.
We're grateful for getting to make a difference:
We're grateful for what we learn in this job:
And how we learn it:
We're thankful for tools:
We're grateful for awesome clients:
We're grateful for our teammates:
And, of course, for webmasters who give us the time of day:
We're hugely grateful to everyone who contributed to this post. Thank you, everyone.
We have a lot to be thankful for in our SEO community: clients we love, algo updates that help us work better, tools that save our butts, and each other. Cheers to you all.
Have a wonderful Thanksgiving!