Hello everyone, and welcome to our educational series — SEO From Home.
Over the coming months, we'll be hosting live presentations and educational sessions in an effort to keep the SEO community connected and engaged during these difficult times of quarantines and isolation.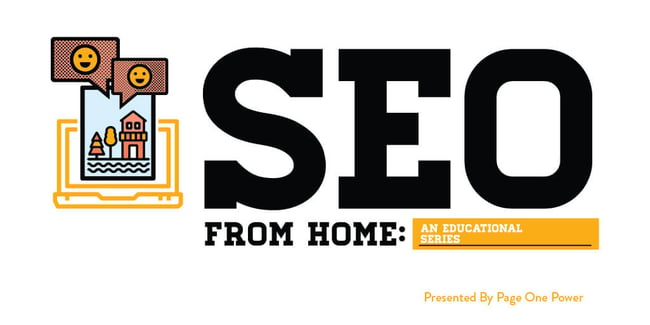 Our goal is to provide a platform for experts and leaders from around the SEO community to share their experience and knowledge with others who want to learn more and continue to grow in their careers.
The format for these presentations will vary from week to week, including:
Panel discussions
Open Q&As and AMAs
Full slide deck presentations
And more.
As long as it's educational and enriching, we'll work to bring it to you. Also, if you have feedback on formatting or topics you want to see discussed, please reach out at contact@pageonepower.com.
Below you can find a schedule of upcoming SEO From Home events, as well as live recordings of past sessions. Enjoy!
Upcoming Presentations
This will be a "live" list of upcoming presentations that will be updated weekly, so check back often for new presentation announcements!
---
E-Commerce SEO: Unlocking Opportunities in Organic Search Excellence
Presenter: Anisa Awad (SEO Manager, SSENSE)
Date: 1/21
Description: E-commerce SEO is a different game, it requires a dynamic approach for optimizations beyond titles and metas and the occasional blog posts. If we learnt anything from 2020 is that e-commerce is here to stay! The industry experienced an exponential growth due to Coronavirus with customers shopping online for everything from toilet papers, loungewear to office desks. With an increasingly competitive landscape, how do you increase the organic footprint of your e-commerce business and identify opportunities to fuel SEO traffic and revenue? In this session, you will learn about E-Commerce SEO and how to tie organic search to every aspect of your business strategy.
---
How Your Outreach Practices Should Change During and After a Pandemic
Presenter: Danica Laurence (Research Team Manager, Page One Power)
Date: 2/4/2021
Description: Join us as we sit down with Danica Laurence from Page One Power to provide some best practices for your SEO email outreach during, and after this current pandemic.
---
Recordings of Past Sessions
After each live event has concluded, we will be posting links to the recordings here. Check back often to see new recordings!
---
Fantastic Links and Where to Find Them
Presenter: Michael Johnson (SEO Consultant, Page One Power)
Date: 3/26
Description: Michael Johnson takes you on a magical journey through the (admittedly, not-so-magical) process of earning a quality backlink. In his presentation, Michael will demonstrate how to create and leverage linkable assets, identify relevant link opportunities, and communicate with other site owners in a way that compels them to link to your website.
---
SEO vs Site Migrations
Presenter: Charles Taylor (SEO Manager, Verizon Consumer Markets)
Date: 4/2/2020
Description: Charles Taylor, SEO Manager for Verizon Fios, will be sharing his findings, experience, and advice for conducting a successful site migration. In the midst of a massive migration himself, Charles will be discussing the current challenges he's facing and how you can apply his strategies to your next migration.
---
Changing Your SEO Mindset During a Crisis
Presenter: Garrett Mehrguth (Co-Founder and CEO, Directive)
Date: 4/7/2020
Description: With events and other budgets being cut and Q2 targets looming, Garrett Mehrguth will share a playbook you can leverage for a cohesive go-to-market (GTM) strategy when hard times hit.

The goal is to get your wheels turning and offer inspiration as you prepare for SEO success.
---
AMA With Adam Riemer
Presenter: Adam Riemer (President, Adam Riemer Marketing LLC.)
Date: 4/9
Description: Join us for an Ask Me Anything (AMA) with Adam Riemer! Adam is a seasoned digital marketer with over a decade of experience in the industry. He is also a leading voice in the community with publications on Search Engine Journal and FeedFront, and he has spoken at industry conferences such as Affiliate Summit and Pubcon. Come ready with questions for this engaging session with one of the brightest minds in the business!
---
Tips For Your Content Marketing Strategy During the Coronavirus and Beyond
Presenter: Vince Nero (Director of Content Marketing, Siege Media)
Date: 4/14
Description: Things are changing rapidly during this pandemic, and your content marketing should be no different. Vince Nero joins us to explain how you should approach content marketing during the coronavirus, including: providing status updates, creating hub pages, adjusting your site architecture, and finding trending topics.
---
What Is Linkability, Really?
Presenters: Cassidy Richey (Content Link Builder, Page One Power), Jeriann Ireland (Content Link Builder, Page One Power), Dan McClure (Content Link Builder, Page One Power)
Date: 4/16
Description: Join three members of Page One Power's Content Outreach Team to discuss that age-old SEO question: What is linkability and why does it matter? The P1P content outreach team spends their days knee-deep in linkability: both pitching topics to editors and, once those articles have been written, defending the necessity and value of the links within them. These outreachers are on the front lines of the linkability battle field, and they're here to share their stories for the betterment of linkabilty the world-over.
---
How To Do Less and Get More
Presenter: Ryan Stewart (CMO + Founder, Webris.org)
Date: 4/22
Description: Webris Founder Ryan Stewart joins us to teach you how to work smarter rather than harder. Ryan will walk through how you can become more efficient with SEO as well as which tasks to prioritize for the fastest results.
---
Panel Discussion: Content and Search Intent
Presenters: Mike King (Founder, iPullRank), Casie Gillette (Sr. Director of Digital, KoMarketing), and Lily Ray (SEO Director, Path Interactive)
Date: 4/23
Description: Three of the brightest minds in the SEO industry join us for a panel discussion on content and search intent. During this panel, we'll learn about how search intent is shifting during coronavirus and how brands can adapt to capture the right organic traffic.
---
Why Clients and Bosses Don't Implement Your Recommendations
Presenter: Heather Physioc (Group Connections Director, Discoverability, VMLY&R)
Date: 4/30
Description: Are your search recommendations overlooked and misunderstood? Learn how to navigate corporate bureaucracy and cut through red tape to help clients and colleagues understand your search work — and actually get your recommendations implemented.
---
Misconceptions of Outreach
Presenter: Stephen Panico (Head of Growth, BuzzStream)
Date: 5/7
Description: There are a lot of "best practices" out there when it comes to link building outreach, but unfortunately not all of these tips are actionable or applicable to an actual link campaign. Working at BuzzStream, Stephen Panico understands how to effectively outreach for links and he'll be clearing up some common misconceptions for us.
---
SEO Burnout - Causes & Solutions
Presenter: Kameron Jenkins (Director of Brand, Content & Comms, Botify)
Date: 5/12
Description: SEO burnout is a very real thing — and the issue can be amplified during these tough times of quarantines and isolation. Luckily, Kameron Jenkins has been there and she's worked to find the sources of this burnout and can offer solutions for us to overcome it. Join us to learn from Kameron and the research she's conducted to avoid SEO burnout in your career.
---
Building Content for Search
Presenter: Norm Vogele (Senior SEO Content Strategist, Page One Power)
Date: 5/14
Description: Norm Vogele knows a thing or two about building content that will succeed in search. As Senior SEO Content Strategist, it's Norm's job to account for SEO at every step of the content creation process, and he'll be sharing the answers to the most critical questions content creators should ask when building content for search.
---
Enhance Shopping Experiences via Image Optimization
Presenter: Joelle Irvine, Executive Growth Marketer
Date: 6/4
Description: Joelle Irvine, a seasoned growth marketer with over a decade of experience on the agency and brand-side, will share opportunities for retail brands to increase visibility, help their customers find what they're looking for, and drive results through visual eCommerce SEO strategies. She will also impart actionable tips to optimize images and associated product data to boost discovery, reduce friction, and streamline shopping experiences on Google and Pinterest.
---
Qualifying Links for Better Link Acquisitions
Presenter: Venchito Tampon (Marketing Director & Co-Founder of SharpRocket)
Date: 6/11
Description: Link building often feels like a numbers game - a simple ratio of how many emails sent, versus how many responses. However, what if you could improve that ratio in your favor? Venchito Tampon joins SEO from Home to discuss how to qualify your links to increase efficiency and improve link acquisition.
---
How to use Google Ads to improve your SEO
Presenter: Ryan Meghdies (Founder and Director of Operations at Tastic Marketing)
Date: 6/18
Description: Ryan Meghdies joins us to explain how leveraging Google Ads can boost your SEO. Many businesses and agencies approach organic and paid search in isolation of each other. If you're in that boat you probably don't realize that you're throwing away extremely valuable data that could help you uncover significant growth opportunities. Joins us to learn a practical process to help you improve your SEO and Google Ads performance.
---
Analyzing Algorithms and Diagnosing Traffic Loss and Tracking SERP Changes, Oh My!
Presenter: Dr. Pete Meyers (Marketing Scientist at Moz)
Date: 6/23
Description: Dr. Pete has spent years tracking, analyzing, and reporting changes in Google's search algorithm, and with the recent volatility in the SERPs (from both COVID-19 and Google's May update) he'll join us to share what he's learned and offer advice for navigating these chaotic times in search.
---
SEO Analytics the Prove VALUE
Presenter: Brie Anderson (Program Director of Digital Marketing, Wichita State University Tech Foundation)
Date: 6/25
Description: Understanding where your data intersect and how it is working together is of major importance. However, knowing how to view all the information can be very daunting, and outright confusing. Brie is here to show us how you can parse your data to understand the value of your efforts in SEO.
---
Creating a Holistic SEO Strategy
Presenter: Connor Bonam (SEO Strategist for Dealer Inspire)
Date: 6/30
Description: Guest speaker Connor Bonam shares his presentation on taking keyword research, data, and creating a comprehensive SEO plan that can drive results for your website.
---
Using Business Intelligence for SEO
Presenter: Cody West (Founder & Head of Strategy, Assisted Reach)
Date: 7/30
Description: Much of link building, like SEO, is trial and error and it's difficult to determine what your results will look like before you start a project. However, Cody West has developed an approach that uses business intelligence (BI) to help answer some of the tougher questions about investing in link building. These questions include: how many links do you need, how much will it cost, and how long will it take to see positive results? Join us to learn how to apply this approach to your own link building efforts.

RECORDING HERE
---
What is Linkability (Part Two)
Presenter: Katie Frank (SEO Content Creator, Page One Power), Bob Hand (SEO Content Creator, Page One Power), Maddie Baker (SEO Content Creator, Page One Power)
and Katie Wiese (Content Outreach Team Manager, Page One Power)
Date: 8/18
Description: Linkability is something we deal with every day at Page One Power as we work to secure relevant links for our clients. This all-P1P panel of experts shares some of the philosphies and strategies that go into helping our partners identify and infuse linkability into their content. Join us to learn how to build linkable pages for your own site.

RECORDING HERE
---
Leveraging Paid Search for SEO
Presenter: Dave Conklin (Founder & CEO, Conklin Media)
Date: 8/27
Description: Join us and our special guest Dave Conklin, of Conklin Media, as he shares with us his process for using paid search to find meaningful opportunities for creating SEO content.
---
Google My Business & Local SEO
Presenter: Joy Hawkins (Owner, Sterling Sky Inc)
Date: 9/8
Description: Joy is the owner of the Local Search Forum, LocalU, and Sterling Sky, a Local SEO agency in Canada & the USA - and she will be discussing how to use Google My Business, and Local SEO to keep your business growing during a pandemic.
---
Internal Search
Presenter: Peter Buffington (SEO Manager, Australian Broadcasting Corporation)
Date: 10/1
Description: SEO is about understanding your customers, and internal search data is the real gold when it comes to insights. The people searching within your owned digital products are often key to developing strategy from both a technical and content perspective. This episode will provide actionable insights from a national broadcaster in Australia, which applies to businesses small and large from all industries.
---
Learning About Link Attributes
Presenter: Patrick Stox (Product Advisor, Technical SEO, & Brand Ambassador, Ahrefs)
Date: 10/6
Description: Seasoned SEO Patrick Stox joins the SEO From Home series to discuss link attributes. Patrick will cover the new(ish) "sponsored" and "ugc" tags, as well as the familiar "nofollow" attribute. Join us to learn more about how these tags should be used across the web.
---
Creating and Executing an SEO Content Strategy
Presenter: Michael Johnson (SEO Consultant, Page One Power)
Date: 11/19
Description: The end of the year is a great time to review your content efforts and strategize for next year's efforts. Join the Page One Power team as we host a round-table discussion about how to craft winning content strategies. We'll walk through the entire process including:
Tips for Keyword Research
Linkable Asset Creation
Internal Linking
On-Page Optimization
And much more!
Come learn how we create content that ranks and earns links for some of the best brands in the world.