SEO From Home: An Educational Series
Hello everyone, and welcome to our educational series — SEO From Home.
Over the coming months, we'll be hosting live presentations and educational sessions in an effort to keep the SEO community connected and engaged during these difficult times of quarantines and isolation.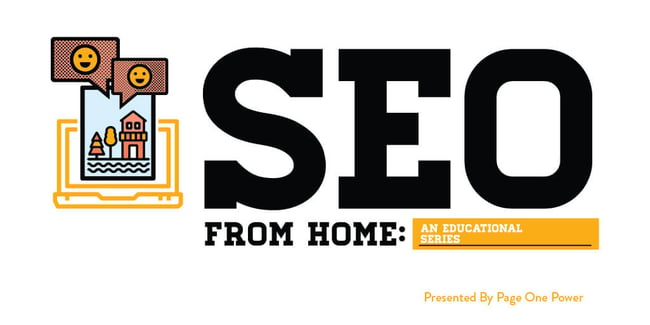 Our goal is to provide a platform for experts and leaders from around the SEO community to share their experience and knowledge with others who want to learn more and continue to grow in their careers.
The format for these presentations will vary from week to week, including:
Panel discussions
Open Q&As and AMAs
Full slide deck presentations
And more.
As long as it's educational and enriching, we'll work to bring it to you. Also, if you have feedback on formatting or topics you want to see discussed, please reach out at contact@pageonepower.com.
Below you can find a schedule of upcoming SEO From Home events, as well as live recordings of past sessions. Enjoy!
Upcoming Presentations
This will be a "live" list of upcoming presentations that will be updated weekly, so check back often for new presentation announcements!
SEO vs Site Migrations
Presenter: Charles Taylor (SEO Manager, Verizon Consumer Markets)
Date: 4/2
Description: Charles Taylor, SEO Manager for Verizon Fios, will be sharing his findings, experience, and advice for conducting a successful site migration. In the midst of a massive migration himself, Charles will be discussing the current challenges he's facing and how you can apply his strategies to your next migration.
---
AMA With Adam Riemer
Presenter: Adam Riemer (President, Adam Riemer Marketing LLC.)
Date: 4/9
Description: Join us for an Ask Me Anything (AMA) with Adam Riemer! Adam is a seasoned digital marketer with over a decade of experience in the industry. He is also a leading voice in the community with publications on Search Engine Journal and FeedFront, and he has spoken at industry conferences such as Affiliate Summit and Pubcon. Come ready with questions for this engaging session with one of the brightest minds in the business!
---
What Is Linkability, Really?
Presenters: Cassidy Richey (Content Link Builder, Page One Power), Jeriann Ireland (Content Link Builder, Page One Power), Dan McClure (Content Link Builder, Page One Power)
Date: 4/16
Description:
REGISTER HERE (Coming Soon)
---
How To Do Less and Get More
Presenter: Ryan Stewart (CMO + Founder, Webris.org)
Date: 4/22
Description:
---
Panel Discussion: Content and Search Intent
Presenters: Mike King (Founder, iPullRank), Casie Gillette (Sr. Director of Digital, KoMarketing), and Lily Ray (SEO Director, Path Interactive)
Date: 4/23
Description:
---
TOPIC TBD
Presenter: Heather Physioc (Group Connections Director, Discoverability, VMLY&R)
Date: 4/30
Description:
REGISTER HERE (Coming Soon)
---
Recordings of Past Sessions
After each live event has concluded, we will be posting links to the recordings here. Check back often to see new recordings!
Fantastic Links and Where to Find Them
Presenter: Michael Johnson (SEO Consultant, Page One Power)
Date: 3/26
Description: Michael Johnson takes you on a magical journey through the (admittedly, not-so-magical) process of earning a quality backlink. In his presentation, Michael will demonstrate how to create and leverage linkable assets, identify relevant link opportunities, and communicate with other site owners in a way that compels them to link to your website.