After recent comments made by Google employee Gary Illyes at SMX East, it appears an update to Google's Penguin algorithm (which targets manipulative backlinks) is coming soon. (Update: Penguin 4.0 officially launched on 9/23/16)
With an update looming, it's definitely a good time to take a look at your backlinks. Illyes did state that disavowing links at this time will not influence this soon to release update, but it is still worth starting the process to find any potential red flags in your portfolio.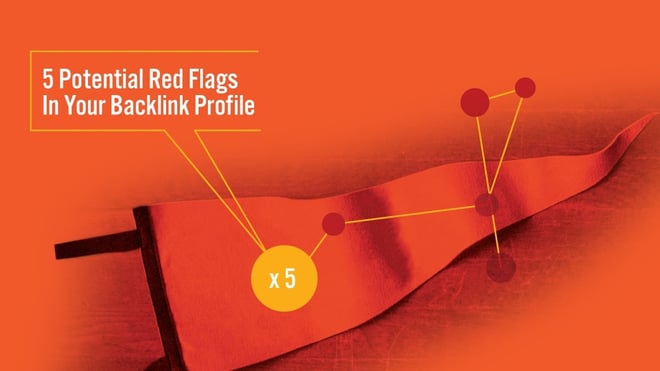 Continually monitoring your backlinks is always a good idea because Google largely judges your site based on links. There are a few different options available for monitoring your backlinks.
Google Webmaster Tools represents a viable free option for monitoring your links. If you are looking for something more comprehensive you may want to invest in a paid tool like Monitor Backlinks. (For a full guide on how to use Monitor Backlinks, check out Cory Collins' Tutorial Tuesday.)
However, these tools will only allow you to analyze new or recent links. If you want to go back further and analyze all of your links you will need to use a backlink explorer.
Here are some possible backlink explorers you could use:
These tools allow you to scrutinize your links and identify anything that might look suspicious.
In no specific order, five potential red flags you should look for include:
Over-saturation of a single link type
High-velocity of links in short time
Links in bad link neighborhoods
Over-optimized anchor text
Irrelevant links
Identifying these issues within your profile will help guide you in determining which links don't make sense from a human perspective.
Over-saturation of a Single Link Type
One of the first red flags you should look for within your backlinks is an over-saturation of an individual type of link.
A healthy backlink profile is a diverse backlink profile. Using a wide array of link building tactics is important, as any one tactic becomes spammy when done at scale. As Jon Ball said,
"My argument is that when it comes to link building, it's not the tactic that becomes untouchable, it's the application of those tactics" - Jon Ball, CEO of Page One Power
Much like a stock portfolio, a link portfolio requires diversity to avoid potential problems. Leveraging the same link type over and over again is clearly manipulative.
High-velocity of Links in a Short Time
Another potential issue would be a sudden influx of links in a short amount of time.
Your website should accumulate backlinks in a natural progression. If thousands of links suddenly appear in your profile overnight, that is something that would certainly draw negative attention from Google.
Now typically thousands of spammy links pointing to your site aren't going to pop up without your knowledge, and I advise against purchasing any sort of link building packages offering this. However, it is possible that large numbers of links could be generated by a competitor engaging in negative SEO (NSEO) against your site.
If you fear you are the victim of an NSEO attack, simply use the Google disavow tool to swiftly disavow these potentially toxic links.
Velocity of links is something you should monitor and a high-velocity of links in a short time definitely looks suspicious.
Links in Bad Link Neighborhoods
The term link neighborhood refers to a group of sites that all reside in the same "neighborhood" via links. For example, site A links to sites B and C – even if site C doesn't link to site B they are still in the same link neighborhood due to the linking of site A. This is a bit simplistic as a true link neighborhood would have quite a bit more linking and websites involved, but generally speaking this is how a basic link neighborhood would look.
So if a site linking to you is part of a bad link neighborhood (with links to porn, gambling, payday loan sites, etc.) your site can become associated with that neighborhood – a potential red flag. Along with the quality of the sites, relevancy should also be a primary concern when examining your link neighborhood.
Again, using one of the aforementioned backlink explorers will help you dig into the websites linking to your site and their corresponding link neighborhoods. The disavow tool will come in handy again if you spot something sketchy.
Over-optimized Anchor Text
Over-optimized anchor text is a major concern.
Anchor text are the actual words that appear within a hyperlink. Similar to having a large number of the same types of links, repeated occurrences of the same anchor text within your link profile looks suspicious and manipulative.
Again, diversity is essential. A natural backlink portfolio will consist of a wide range of anchor text variations – branded, domain name, naked URLs, etc. A small amount of exact match anchor text, anchor text that matches your keywords exactly, is okay as long as it's a very small portion of your overall anchor text distribution.
However, a lot of exact match anchor text or specific anchor texts used over and over are problems that you should look for when examining your links.
Irrelevant Links
Irrelevant links are links that seem out of place or come from sites that are unrelated to your own.
At Page One Power, we refer to ourselves as a "relevancy first link building firm" because above all else, relevancy matters in link building. After all if a link isn't at least in some way relevant to someone, then it is completely useless.
Not only are irrelevant links worthless, they can also garner negative attention from Penguin and Google's webspam team. For example, if you're a website dealing primarily in the technology sector it makes no sense for you to have a large number of links from blogs about stylish cat outfits.
It is not uncommon to have a few oddball links, but if you have a large number of irrelevant links it can be a problem. Make sure to disavow these extraneous links as you find them.
Recap
It is always a good idea to regularly monitor your backlinks and ensure you are aware of your backlink profile. When scrutinizing your links consider if they make sense from a human value perspective. Useless links that provide no human value should be removed so that only the links that belong from a common sense standpoint remain.
Here are five potential red flags to look for:
Over-saturation of one type of link
High-velocity of links in short time
Links in bad link neighborhoods
Over-optimized anchor text
Irrelevant links