For the Christmas season, we decided to write a link building parody of the classic Dr. Seuss tale. We wish you a very merry Christmas! Enjoy.
Every builder in whoville.com liked Linksmas a lot
But the competitor Grinch absolutely did not
The Grinch hated Linksmas, he hated the whole season!
He thought links had no value, even if he had no reason
It could be his old agency didn't sport the hat of white
It could be he had no linkable assets on his site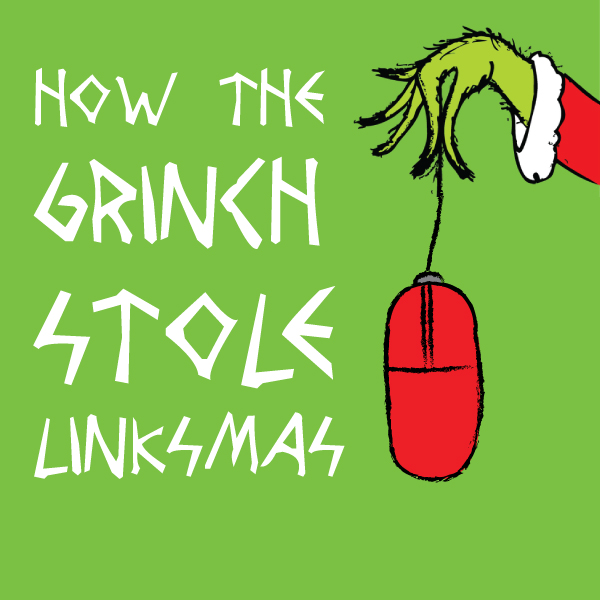 But I think the most likely reason of all
May have been that his heart was two sizes too small
Whatever the reason (twas his heart, methinks)
He sat at his desk on Linksmas eve, hating all links
Staring at his MozBar with a sour, Grinchy frown
He crafted a plan to send Whoville's rankings crashing on down
Soon the link builders would experience a numbing
Because the Grinch had a plan to stop Linksmas from coming
For tomorrow he knew, after all the hooplah and hijinks
The talk of the web would be nothing but "Links! Links! Links!"
That's one thing he hated, the links!
LINKS, LINKS, LINKS!
Then the link builders, young and old, would watch their sites rank.
And then they'd rank! And then they'd rank! And then they'd RANK!
RANK! RANK! RANK!
The Grinch hated the value of links to be frank
For his own link profile was purposefully blank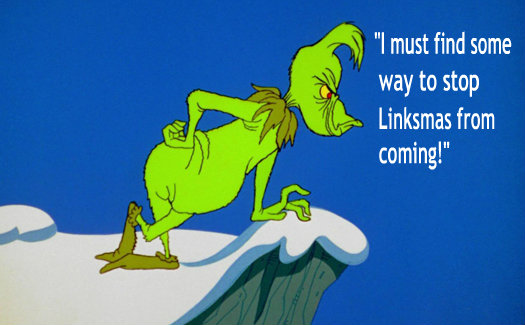 How could he stop the linkers from ranking on Google?
How could he do it while being both vicious and frugal?
Then he got an idea! An awful idea!
The GRINCH GOT A WONDERFUL, AWFUL IDEA!
"I know just what to do!" The Grinch laughed in his throat
He made a fake email, and plentiful outreach he wrote
He would tell the webmasters the links were all SPAM
And then the link builders could not enjoy their Linksmas ham
The links the Whos built would instead point to the What's
No one could stop the Grinch, not even Matt Cutts
"These links on authority pages will be the first things to go!"
"The links will soon vanish, as will the trust flow."
Long tail phrases! Branded text! Keyword rich anchors!
They were erased as an extension of the mad Grinch's rancor
The links he couldn't remove he instead nofollowed
It would still be a bitter pill for the cheerful Whos to swallow
The grinch had come close to stealing every link's juice
His heart was two sizes too small, and his morals horribly loose
But before the night's end he saw an email so new
He knew not the sender, one Cindy Lou Who
Cindy Lou Who was a linker, twas a job she just started
She would be susceptible to whatever lies the mad Grinch imparted
She emailed the Grinch and said, "SandyClause44, why?
"Why do you want your link nofollowed, oh why oh why?"
But you know that old Grinch was so smart and so slick
He thought up a lie, and he thought it up quick!
"Dear Cindy," he so earnestly replied
"I'm nofollowing this link as a matter of pride!"
"The world needs no link building, all links should be earned!"
"Tis an important lesson, one that even I have only just learned."
The Grinch put Cindy Lou Who's query to rest
The answer he gave left her charmed and impressed
Here came the sun on another Linksmas morning
Linkers would wake to find their links gone without warning
This was the Grinch's deceptive plan all along
So imagine his surprise when the Whos… broke out in song?
The Grinch who stole Linksmas had a feeling so sinking
As it became so apparent that the Whos were still linking
The Whos sat at their desks, and sang a merry tune
About the links to be built, and the ranking that would return soon
He hadn't stopped Linksmas from coming. IT CAME!
Somehow or other, it came just the same.
The Whos had been robbed of sweat, plus creativity
You couldn't tell it from their tree and scene of nativity
The Grinch puzzled for three hours, til his puzzler was sore.
Then the Grinch thought of something he hadn't before!
"Maybe Linksmas isn't only about a backlink report""
"Maybe Linksmas...perhaps… means a little bit more."
And what happened then? On Whoville's blog they say
That the Grinch's heart grew three sizes that day!
The Grinch found it in him to scrounge up some gifts
To give to the Whoville office, to settle their rifts
He promised that with guile and determination
That he'd restore link juice through link reclamation
He'd build the best links, it would be his intention
From content to resource and even fresh mention
The mischievous Grinch was no longer so stern
He knew that great links could be both built and earn'd
The Grinch had saved Linksmas, and all enjoyed their drinks!
And he, he himself! The Grinch now loved to build links