Are you a link builder? If so, is that where you want to be? Is it really? Would you rather be a link builder than an inbound marketer, a relationship builder or a growth hacker? If the answer is yes, that's great. I'm a link builder, too. I love it and wouldn't trade it for anything.
Link building doesn't get much respect, though. A couple of months ago, Barrie Moran wrote a post called "A Little Respect" that deals with the relationship between SEOs and their clients. It tackles another issue, too—why aren't we respected by the inbounders, the growth hackers, webmasters and even some online publishers?
It's because we need to clean up our act. This article isn't here to tell you how to build effective links; it's here to make some suggestions about how we can all clean it up a little bit and remove link building from the "four letter word" category.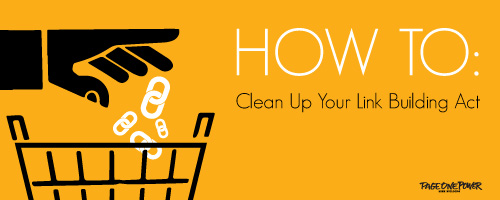 Most of us do great work, and I think we deserve the respect that comes with a job well done.
Let's leave that legacy of spam behind.
Squeaky Clean Outreach
Good outreach has been written about a million different times, but there's a reason for that—a ton of link builders still use messy, impersonal, template-based outreach when they're contacting bloggers. These bloggers usually blog as a hobby and their blog is something they're very invested in. When they receive emails that don't address them by name, get the name of their site wrong or just consist of nothing more than the sentence "I will write a high quality article of 500+ words," they feel very bad about the situation.
There's no magical method for outreach, and everyone does it differently. For the love of everything that's pure, though, just try to come off as a human being. The rest you can figure out through trial and error, but we're not going to clean up our acts if we don't follow that one rule.
Make your outreach short, make it long, make it vague, make it straight forward—just keep it clean and considerate.
Making Promises
If you want to be respected as a link builder, you have to keep your end of the bargain.
When you're looking to make a sale, it's easy to make a bunch of promises, break them and then come up with an excuse later on. SEOs have already done enough of that in the first thirteen years of this century to last a lifetime. We can't make those promises anymore.
Don't make empty promises that make you sound great. Instead, tell your client exactly what you can offer, even if it doesn't sound huge. If your work is great, that's much better than a huge promise that never delivers—good work speaks for itself.
Whether you charge by the hour, charge by the link or offer some other service, you need to be transparent, realistic and honest.
If a potential customer wants you to promise them 100 links a month and there's no way you can do that without building some shady links, that's a client you might want to pass on. Even if you do get that client 100 links, those links are going to cause one or both of you some pain and suffering down the road.
Bo modest with what you offer and awe-inspiring with what you deliver.
The Smell Test
There will come a time when you sigh, look at the clock, remember your deadline and say, "That target website is good enough, I guess."
Not every link is built on Forbes, TechRepublic or Mashable. Most aren't, in fact.
It happens to everyone, and that website usually is good enough even though it's not exceptional. It just happens sometimes, even to seasoned link builders. The thing is, though, that website has to be a decent, human-curated site that real people might read. But how do you determine which non-exceptional websites are okay and which ones aren't? We use a method called the "smell test."
Does the target site have easy-to-find contact information?
Is there evidence that there's a real human posting content?
Is the content itself passably well written and original?
Does the site look clean and presentable?
Are the ads normal or sketchy?
Is the site regularly updated?
Answer all of these questions. A decent site, even if it's not a knockout with a Domain Authority of 80 and 30k readers per day, passes all of those tests. Also keep in mind that some spam sites look very attractive, so you'll need to dig a little bit deeper with each and every target site. It's a pretty quick test, honestly, and you should be able to complete it in under three minutes per target site.
Immaculate Links
Imagine, for a moment, that your friends and family were actually interested in your job. Imagine that the people you love the most were really passionate about links, websites and search engine rankings.
Keep that improbably scenario in your head, and then look at every link you build through that lens—would you be proud to show it to the people you love the most? Is the link you've just built something you'd put your name on? Would you put it in a family scrapbook or bring it up the next time you're golfing with your friends?
I know that no one outside of the industry and your clients are invested in the kind of links you're building, but you need to be. The easiest way to build immaculate links is to be proud of each and every link—the kind of proud where you really want to show someone and talk about it. Build links that you wouldn't mind being directly associated with.
I realize, realistically, that you're going to build some decent links that you're just not thrilled about. That happens once in a while. Your end goal, though, should be to build as many of those immaculate links as you can and minimize the amount of links that are just "decent."
Link building is great, and most link builders are smart, reliable, honest and hard-working people. We've come a long way with our reputation, but there are still quite a few people who turn their nose up at us.
All of the inbound marketers, growth hackers, bloggers and online publishers in the world will change their tune if we start cleaning up our act and stepping out of the shadows. Let's finally make the cover match the book.