They say mimicry is the sincerest form of flattery.
No fresh link building campaign would be complete (or even truly begun) without a competitor backlink analysis.
Link building through competitive analysis is nothing new – it's been around and espoused for years. Often it's a solid tactic to score easy links, with the "if they can do it, why not us" attitude. It's certainly something you shouldn't be skipping over.
I would caution spending too much focus solely on competitors however. I strongly believe the best link building tool in the world is human creativity. Time and time again the best links I've seen built are solely the product of 100% human ingenuity, not the result of mimicry.
Having said that, there's no reason not to pursue great link opportunities that your competitors have already secured.
Just remember to be selective in the links you do pursue – just because a competitor is outranking you and has the link doesn't mean the link is inherently good. More than likely, competitors who're currently ahead of you will have plenty of links that you should actually avoid.
So, instead of getting trapped in this self-defeating cycle of mimicry, you need to take competitor analysis a step further and be building links with your competitors, instead of behind.
What do I mean by that? Simple – use your analytical skills to determine their strategies, tactics, and link building goals to supplement and inspire your own link building campaign, and add your own creative energy to that, taking it beyond simple mimicry.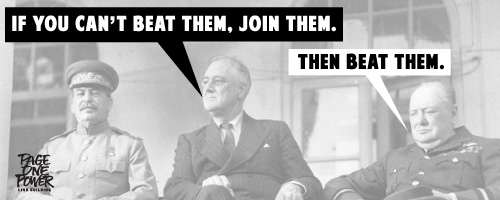 Step One – Determining Competitors
The beginning of a link building campaign should be earmarked with a competitor backlink analysis. And step one of a competitor backlink analysis is determining competitors.
A quick note – I often find this step to be glossed over, with a quick list provided by the client and subsequently followed. Determining competitors can facilitate a lot of understanding and insight within an industry, and should be investigated further than a list of three potential competitors handed over by a client.
Instead:
Ask the client for a list of direct competitors

The client should be the expert, and have good insight into proper competitors

Ask the client for a list of indirect competitors

This should provide further insight into the industry and your client

Ask the client who they admire within their industry, and why

This often leads to good examples of a strong competitors in the industry, as well as provide important insights within the industry

Check the industry money keywords and see who's ranking at the top
Check random industry long tail phrases and see who has a decent portion of the real estate

This is to get a sense of what's going on within the industry, and I've found can provide a surprising amount of insight (and sometimes link targets)

Check out client analytics to find fluctuations, then see who's winning when the client loses

If you need to, there are tools such as SEM Rush that are able to show organic keyword gains and loses
Simply said, dive into industry research. Get to know the players and who qualifies as a competitor worth mimicking.
Step Two – Competitor Backlink Mining
Once you have a suitable list of competitors it's time to pull their backlink portfolio. There's a variety of tools capable of accomplishing this, including:
Use whichever software you're most comfortable with. The more data you can grab, the better. We often use Open Site Explorer and Majestic to make sure we have a diverse set of backlinks.
Once you've grabbed CSVs I recommend merging them into an excel doc and deleting duplicates. This will leave you with a hefty list of domains linking to your competitors.
Next, grab the backlink portfolio of your client and again merge it into the centralized Excel. Make sure the links to your client stand out in some way – either marked in a separate column, highlighted, etc.
Again, delete duplicates.
This should leave you with a list of domains linking to your competitors, but not your client. Adversely, you should also have domains linking to your client that aren't linking to the competitors.
I shouldn't have to point out the usefulness of this.
For a more in depth guide of merging CSVs into Excel, check out this handy guide from the YouMoz blog.
Step Three – Competitor Backlink Analysis for Link Opportunities
Now comes the fun part – actually analyzing the domains/links that your competitor has that your client does not.
There should be a variety of metrics included in your data set that will help you parse down to quality link opportunities.
A few we often look at:
Domain Authority
Page Authority
Source Citation Flow
PageRank
TLD
Number of links from the site
Although these won't tell the full story of each link, it should give you an overview, a quick filter, of which links are worth pursuing and which are worth taking a deeper look at.
Step Four – Quick Takeaways
So, now you have a list of quality links your competitor has but your client does not. That should help create solid momentum right out of the gate for you link building campaign.
Before you move beyond research there are still a few vital steps left however.
First, head back to your backlink tool of choice, and see what kind of insights they provide with an overview.
A few questions you should be asking concerning your competitors backlink portfolios:
What is their anchor text diversity?
How many unique linking domains do they have?
How many links per those domains?
Anchor text usage and variance?
What type of sites are linking?
What types of links are most prevalent?
What pages are performing exceptionally well?
How does my backlink portfolio compare?
Ask the interesting questions that will lead to an understanding of your competitor's backlink portfolio. I love to sit and simply click around, examining links at random. Link building is as much an art as it is a science, and with enough experience you should develop a sense of intuition.
Often times it takes a lot of sifting to find the good links. In the industry there's something we call the smell test – essentially you know when a link stinks. If the link seems fishy, it probably is.
So, try for some overview understand by viewing the backlink portfolio as a whole, rather than link by link.
Step Five – Determine Competitor's Strategies
At this point you should be pretty well versed not only in your client's competitors, but the industry as well.
You should be able to understand where the links are coming from, and how they're (primarily) obtained.
You should even have a list of obtainable quality links already secured by competitors, which have the potential of resulting in a quick win.
This is the time to consider the different link building strategies your competitors are using, what would work well in conjunction with your client's site, and what you're capable of accomplishing with your budget.
And, once you've decided what can work, it's time to take a moment and think creatively.
I've always been a big believer in the power of human creativity in link building. Time and time again the best links I've seen came 100% from human ingenuity.
This is the point of this deep research – to deeply understand the industry, the interconnected links, and the strategies used. To understand on a subconscious level how your competitors are functioning, and then let creative ideas flow. Take this deep understanding and brainstorm – see what comes to the surface.
It's time to not just build links based on your competitors; it's time to build links with your competitors and beyond.