Editor's Note: Every Friday, Jon Ball answers your frequently asked link building questions. This week we tackle one of the big ones-- how to ask for a link!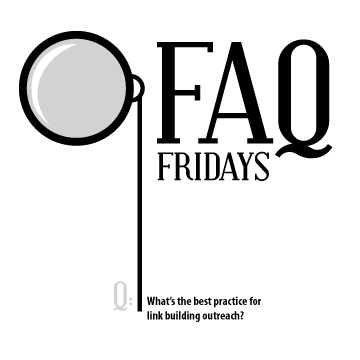 "What's the best practice for link building outreach?"
This is such a good question. First of all, one of the things I always talk about when I speak and talk to people is that you need to give love. If you are trying to build links then you're trying to get links. The nomad out on the tundra looking for links, I invite you to give some links, give some love. Put something back into the circle of life.
If your site doesn't have a page that talks about helpful resources for your users, the people that come to your site, then do that. Add a link to people who you think are worthy. Not just associations and groups and government agencies, I mean people who have done an outstanding job within your industry. They don't have to be direct competitors obviously.
The second thing is that website owners are people, and people link to people. So if you want to get a link, first, of course, give a link. Second, be a person. Just talk to people like people talk to people.
Don't write some God awful ten paragraph, copy and paste thing that no one wants to read. You don't even want to read it after you've written it. Write something that's just simple, straight forward, and to the point. And don't copy and paste anything. Spend the 10, 12 seconds writing a decent email and send the email because like I said before, link building breaks down to two processes: finding a site and getting a link.
If you have spent your time and effort getting a good list of target sites, then you should spend your time and effort writing a decent e-mail to contact those site owners. I recommend calling. If there's a phone number, make a phone call. I know that's uncomfortable and you don't want to do that.
But if you really want a link, it's a much more effective way to get a link because people give links. Websites don't give links. You have to make a connection with the person. So in terms of best practice, be cordial, be friendly and just be a person.