Editor's Note: This week we're answering two questions in one. Penguin 2.0 is waddling around the internet now, and we thought we'd tackle some link removal questions.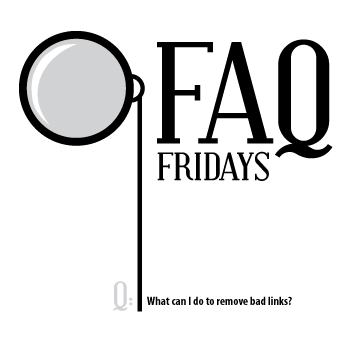 "What can I do to remove 'bad links' that are not relevant?" and "Which types of links should I disallow?"
Let's start with which type of links I disallow. We have a simple system here called the "Smell test." You look at any given webpage: does it have a place to contact someone behind that site? If it does not, it does not pass the smell test because a normal functioning webmaster would include contact information.
If you have a link on that page, you should get rid of it. If the page is very poorly or sloppily designed, that doesn't pass the smell test either. You don't want a link on that page. Does the textual content on the page make sense? And further, if you copy a snippet and put it into Google, is it duplicated anywhere else?
If it doesn't pass any of those tests, then it doesn't pass the smell test. You should try to remove any links that don't pass the smell test. That's just the first rung on the ladder here. That's without relevance or anything. I wouldn't worry so much if a site passes a smell test and you have a link on it, I wouldn't worry so much about that link. It's unlikely that many links are really damaging you, they're just not being counted.
Now I don't say that categorically as Google definitely does penalize people and they issue penalties; though I think it's far less frequently than people realize. Once you detect the list of "bad links," the only way to remove them is to find a way to contact the person behind the site and to ask them nicely.
And if they say no, then you're out of luck. If you want to take it to the next step, Google has unrolled their Google Disavow Links tool. If you need advice on how to use that tool, you can send me an email. We've done it many, many times for lots and lots of people.
But basically, Google says if there's a link (if it's a spam link, or it's a negative SEO link or any link you aren't responsible for) that you feel is hampering your SEO or your rankings, then "please tell us and we'll consider those" as you're disallowing these links. They have a process.
It's not very rigorous, but it's rigorous enough. Then comes the question "How do I find my links?" That's probably five or ten of you thinking that right now. You find your links through third party tools.
SEOmoz has a tool called "Open Site Explorer." You can download your link profile according to them. Get an account, and then you can download a CSV Excel file from them that details what links they found. The other tool we use is Majestic SEO.
You can get an idea of what you have and which sites are linking to you. Now, you should be aware that these two resources aren't comprehensive because they have their own web crawler bots going out and finding the links on the web, and I highly doubt they're nearly as powerful as Google's bots-- but they should be more than enough to give you a good start and get the job done.