I'm not here to write a perfect guide to SEO/link building outreach. That's been done before. I'm here to tell you how I approach outreach and how it works for me. Unless you're me from an alternate future, a magically engineered doppelgänger or a government clone cyborg, you're not the same person as me. My exact approach won't work for you, and that's the point.
My hope, however, is that you can take my approach, apply it to yourself and create some successful outreach.
I define successful outreach as "making a human connect, finding a good home for my writing and hopefully making a new friend (or at least a new associate in the industry)." Some outreach is less successful, but that's my end goal.
Low Hanging Fruit
I've had outreach experiences where my piece gets published but I don't make a connection. Sometimes the owner of a good, relevant site either doesn't have time to converse with me or doesn't care to. That's fine. To me, that's low level outreach and sometimes it has to happen.
As I've progressed in my SEO career, I've mostly eliminated those encounters. If I take the time to write something, I care about it. I torture myself with writing, re-writing, editing and citing sources. I want to make sure that at least one other person actually reads that post, and that one other person is the blog owner.
I want my newborn piece of content hosted on a site that's run by someone I've talked to (and might talk to again). But how do I approach that goal?
Authenticity
The best tip I can offer for successful outreach is this: be yourself.
People can smell a phony, even through 10 pt Calibri font. If I pretended to care about football (either kind) in my outreach, both my American and International peers would scoff at me. You can't be inauthentic.
At the same time, though, you have to find common ground. I can't assume everyone loves Marvel Comics, obscure 90s hardcore bands and Star Trek. You have to find something to relate to. Explaining something you like about a person's website, social media posts or writing is a good start, but you can take it further than that.
Have you interacted with someone before, been featured on the same site as them or even just commented on the same article? If so, that's a good place to start.
Here's how I approached Chris Dyson for a post on his site, TripleSEO:

And here's how he responded:

I knew that Chris and I both like alcoholic beverages, but that's a pretty superficial thing to focus on in a piece of outreach unless you pull it off just right. I wasn't sure that I could. So instead of using just that, I determined that Chris and I knew some of the same people and that we both have a similar sense of humor.
I threw in a little self-deprecation (I know neither of us drink that much but I thought it was funny), got to the heart of what I wanted to write about (note the title being 'The Human Side of Black Hat SEO,' so Chris knew I wasn't going on a witch hunt, though I probably could have been more clear about that) and gave it a go.
This little email resulted in this post, The Human Side of Black Hat SEO, and it worked out great. Chris and I explored an interesting aspect of SEO without judging or demonizing anyone. Real people read it. It was one of my most successful posts ever.
Treat people on the other end of your outreach like human beings. Don't treat them like a link. I can't stress that enough. Be a real person—the results are surprising.
Offer something
Introducing yourself is only half of the battle. You have to offer something of value to whoever you're talking to. Sometimes the value is in your writing; sometimes the value comes from social shares. Be honest.
I want to give two examples of me offering unconventional value to someone. We'll start with my outreach to Ben Wills, who I interviewed a while ago for this site.
I couldn't find Ben's email address, so I found him on Twitter. He wasn't following me, so a DM was out of the question. After a bit of research, I knew I wasn't too familiar with his main passion (rock climbing), but it was clear that our personal values aligned and that we both like music and laughing at things.
I took a chance and tweeted this: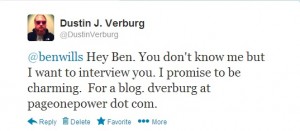 My promise to him was that I'd be charming. In our later email correspondence, I sent him a cute picture of my dog as a thank you. That's something I can offer. It wasn't a thousand social shares or even a hundred page views, but in the end the interview with Ben Wills was great. Ben had a good time (so much so that he even said so in the interview), so I fulfilled my promise. He didn't get tens of thousands of page views out of the deal, but he did get a decent amount and he enjoyed himself. I got a great piece of content for this page. That's a win/win.
I want to go back to honesty for a second. I can always give something in exchange for a guest post or an interview, but I have to be up front about it. Here's my second example—when I was starting in this business, I told someone I'd share it with my friends. That maybe resulted in only ten people clicking through, but two of them commented. Two real people who would not have commented otherwise. To me, that's huge. The site owner was also pleased.
Hopefully you can take something away from this little post, even if you don't resemble me in the slightest. We all have to make do with what we have. I find that being honest, sincere, authentic and a bit charming is the best form of outreach. I have no desire to publish my work on a site I can't associate a face with, which makes good outreach important. This approach works for me. What works for you? Let me know in the comments.