Domotz provides cloud-based network monitoring software for MSPs, system integrators, IT, and security professionals. Domotz had a strong background in paid search, with 65-70% of their traffic branded. However, they were fully invested in digital marketing and wanted to increase traffic in organic search.

CAMPAIGN GOALS
Domotz partnered with Page One Power to increase visibility for their target queries, including "network monitoring" and "network management." Capturing these keywords would allow them to improve their visibility and help increase their overall traffic.
Domotz chose us because of our work with another SaaS company. With our strong background in helping SaaS companies increase rankings, Page One Power understands the intensely competitive industry and what content ranks well within that space.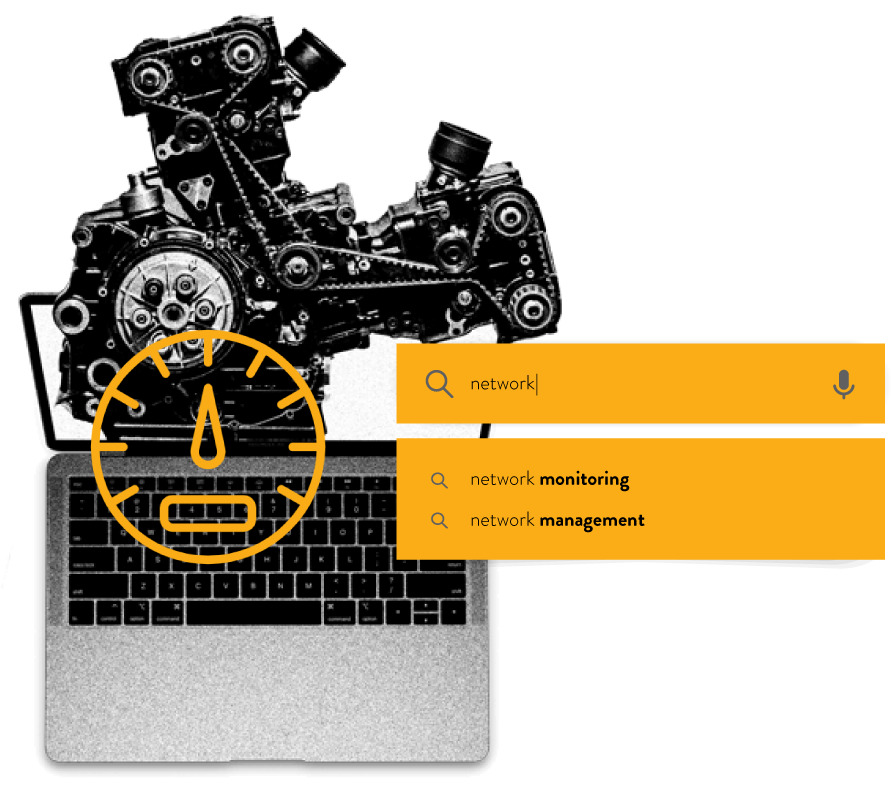 THE STRATEGY
SaaS companies often want to target product or service pages that are bottom of the funnel. These pages need help to acquire links because they come across as advertorial. To combat this, we created relevant, top-funnel content for Domotz that links to the target pages internally. This strategy helps pass link equity where it needs to go while the linkable content is more appealing to target site owners during outreach.
01
Focus Pages
We devised a unique strategy to help increase traffic to Domotz's homepage and network monitoring page.
02
Existing Link Opportunities
We found existing content in Domotz's blog that could internally link to our newly created content or link to the target pages. This strategy helps distribute link equity to bottom-funnel pages, which can help boost their rankings.
03
Creation
We created a mix of linkable and keyword-focused articles. The keyword-focused articles help develop topical authority, while the linkable articles help send authority to target pages.
04
Linkability
We created five linkable articles and one long-form guide to acquire links. The long-form guide helped Domotz achieve strong resource links that would help boost their authority.
05
Keyword Focus
Then, we created keyword-focused content to support non-branded target keywords. For example, we prioritized keywords related to "network monitoring" and "network management," per the client's goals. Capturing related keywords helped position Domotz as an expert. This content was also internally linked to the target pages to send signals to search engines for authority.
06
Strategic Link Acquisition
After the content was published in mid-October, we built links within the campaign's second full month.
THE SERVICES
LINK BUILDING
In 12 months, we built 48 links with an average DA of 53.
Our relevance-first approach to link building allows us to build relationships across the web to secure real links that are relevant to the client's website, brand, and keywords.
CONTENT CREATION
Content created by Page One Power ranks 13.8% of Domotz's keywords in the top ten.
Our content is built with search in mind. Each article is meticulously crafted to answer the searcher's intent while upholding Google Webmaster Guidelines.
THE RESULTS
During the campaign, we saw the following:
of keywords rank in top 10 from P1P content
YoY impressions improvement
positions gained from 40 to 23
Using on-page SEO tactics and link building, content created by Page One Power ranks for 13.8% of keywords in the top ten. Domain impressions increased from 512,066 to 630,186, and "network monitoring software" increased from below 40 to 23.
AVERAGE RANKING POSITION FOR "NETWORK MONITORING SOFTWARE"

Additionally, our link building enables Domotz to gain new keywords in their space. Below are the new keywords Domotz now ranks in the top 20 for: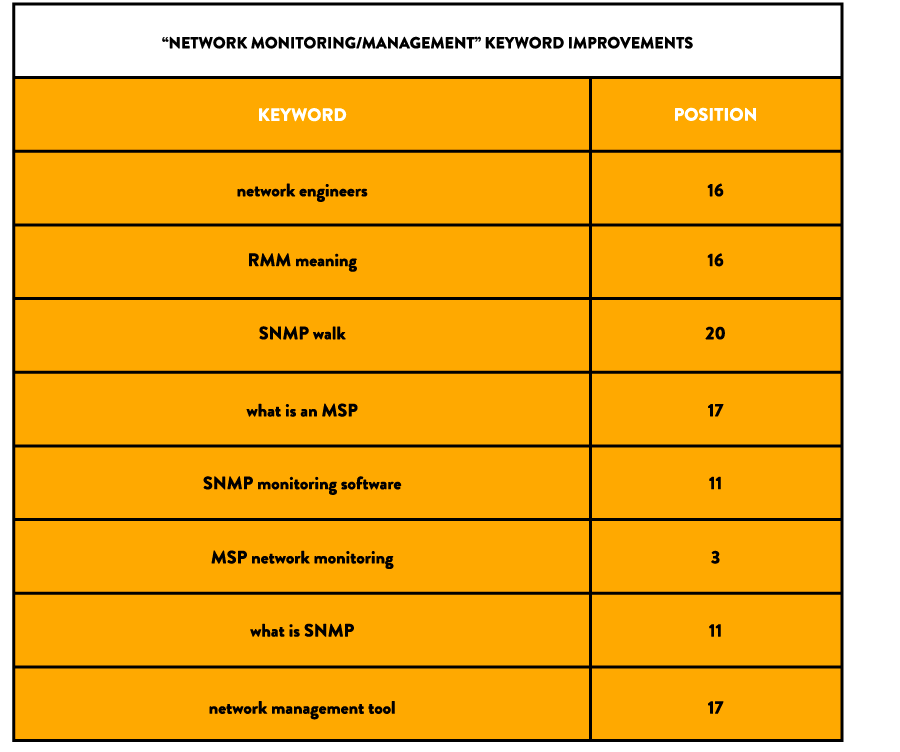 Lastly, our link building efforts helped improve Domotz's backlink profile. The average DA of Domotz's links is 25, while the average DA of P1P links is 53. Improving the backlink profile increases authority, which signals to Google that Domotz is worthy of ranking in SERPs.
LINKS.
CONTENT.
CONNECT.
MEET YOUR PARTNERSHIP DEVELOPMENT TEAM
You need relevant, reputable links and strategic, well-written content to grow your brand. We've got 13+ years of experience doing just that for our clients, and we're ready to help you.