Hello and welcome to the Linkarati Weekly Roundup, where we feature all of the best link building content of the week!
This week, without a doubt, has been yet another hard week for the link building community. We're still seeing echoes of fear, uncertainty, and doubt (FUD) across the web after Matt Cutts and the spam team's manual action against MyBlogGuest and the various publishers connected to the service. In fact, the spam team has arguably targeted one direct supporter of MyBlogGuest with a manual penalty. Let's start there:
Doc Sheldon's blog received a sitewide manual penalty, causing it to not even rank for his own name. There's been great discussion over at Inbound about the merits of the punishment. Suffice it to say that most think a single guest post doesn't deserve sitewide manual action. Cutts specifically addressed the penalty after Doc wrote an open letter:
@DocSheldon what "Best Practices For Hispanic Social Networking" has to do with an SEO copywriting blog? Manual webspam notice was on point.

— Matt Cutts (@mattcutts) March 24, 2014
Despite Matt's comment, social networking indeed fell within the purview of Doc's blog. Perhaps more alarming was the fact that Cutts seemed to believe choosing what is or is not on topic falls within the spam team's agenda, and that a single post can cause removal from search. Cutts further defended this action in yet another tweet:
@mattcutts @theyodelingdad seems to me that there's a big difference between not giving weight and penalizing.

— DocSheldon (@DocSheldon) March 27, 2014
There's been arguments around both sides of the issue, but I don't think anyone genuinely believes this is a well-earned penalty. Take the time to read Danny Sullivan's article and his comments back and forth with Michael Martinez.
Gerald Weber wrote a poignant post outlining why the penalty against MyBlogGuest is in fact a PR stunt directly designed to generate FUD. It's a brilliant condemnation of Google tactics and very much on point. Anyone who has any feelings whatsover about the MyBlogGuest and subsequent penalties should take the time to read it. Seriously.
Jon Cooper is a prominent member of the link building community. I love the insights, advice, and perspective he has to share. His writing is often intelligent and direct, and he adds a solid voice to the overall SEO community. It's been a shame to see him write less.
Having said that, I have mixed feelings about the message he's sending here. Legitimate link building needs more support now, not less. The fact of the matter is we can't control what Google will do, unless we're willing to speak up. Maybe not even then. But silence certainly isn't the answer.
4. Amit Singhal's SMX West 2014 Keynote
http://youtu.be/HViSQjZxhnY
Amit Singhal is more or less the head of search at Google. I'm not sure I should need to say anything more to prompt you to watch the video - it's an hour, but believe me it's worth it. Plenty of insights shared, and straight from the leading mind of search.
On a normal week, this new eBook from BuzzStream would undoubtedly make the top of our list. Although I'm still digging through it, everything I've read has been useful and on point. It's completely 100% free. Not even an email or newsletter signup. So go grab your copy and enjoy.
I almost feel bad featuring this game. Based on the new app sensation this web based version has an SEO twist to it. Don't click the link unless you're prepared to lose a few hours.
Spam of the Week
This week's spam is: http://www.realestatearticles4u.com/
An old school article directory composed of junk content, stuffed links, and wide ranging subjects. I really don't miss these.
Caption of the Week
This week's winner of the caption contest is Kyle Sanders of Complete Web Resources: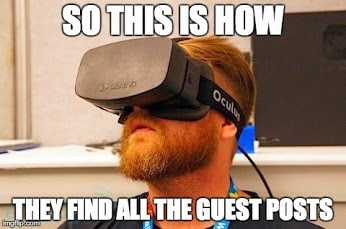 Facebook's acquisition of Oculus Rift has many gamers bummed. With this clever caption Kyle hits two birds with one stone.