Editor introduction: Welcome to our guide on guest blogging in SEO. As is appropriate, this is a guest post from our friend Alex at ProfContent. Alex breaks down everything beginners should know to start guest blogging across the web. Take it away, Alex.
What is guest blogging?
Guest blogging — also known as guest posting — is the practice of contributing a post to another person's blog in order to build relationships, exposure, authority, and links.
Links are a primary ranking factor in Google, and in SEO guest blogging offers a strong opportunity to secure a link back from another website, in addition to the other marketing considerations.
Guest blogging establishes a relationship with the blogger hosting your post, taps into their audience for additional exposure, and helps you establish authority among an audience.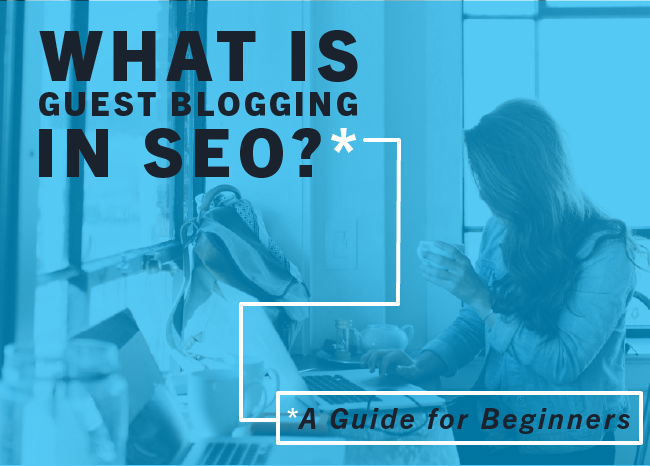 The concept is simple: you write a blog article according to the requirements of a particular blogger and get a backlink in return, usually in the bottom of the article which is called the Author Box.
Bloggers are interested in publishing high-quality content on their blogs which they can use to attract new readers, as well as share with their current audience. This makes guest blogging a win-win solution for both website owners, who want to rank higher in search engines (and need links to do so), and bloggers who are interested in attracting more readers to their blog.
Is Guest Blogging Good for SEO and Link Building?
The short answer is yes.
Like any tactic, guest blogging can be abused however.
In 2014 Matt Cutts, then Head of Webspam at Google, announced "the decay and fall of guest blogging".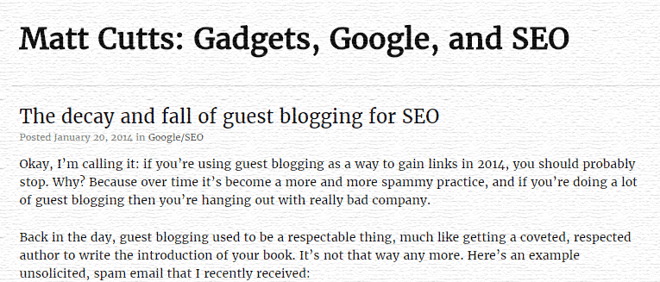 Despite this proclamation, guest blogging remains a powerful online marketing tactic. Today in 2017, guest blogging is probably one of the best methods to build powerful links.
In this article I will share with you valuable information on how to guest blog the right way and minimize risks.
Is Guest Blogging Good for Bloggers?
The short answer is again yes.
As long as the blogger is discerning and willing to spend time sorting — and editing — posts from outside sources, then guest blogging can be a great source of valuable content for a blogger's audience.
An important part of editing any outside contribution is reviewing links within the content. You shouldn't include a link unless it makes editorial sense.
Just have a look at this (or any other) post about guest blogging and inbound marketing written by Neil Patel. There is an external link in almost every paragraph. You see, Neil knows that links add value to a post by providing further information and additional resources. Be like Neil.
To stay on the safe side, scrutinize guest posts for quality and make sure you link to only quality websites that add value to the web.
You might also regularly check your external links with a tool like Screaming Frog in order to make sure the websites you are linking to are still available, not returning a 404, or redirect to different content.
How to Find Sites Accepting Guest Posts and Outside Contributors
There are two main ways to find sites for the purpose of guest blogging:
Prospect the web (search with Google, social media, mine resource lists, etc.)
Use websites that connect publishers and bloggers.
Four websites that exist to connect publishers and bloggers are described in this post.
I have used some of them and can tell you that they are really not as effective and popular as I would like. Most of the blogs are really young, and managed by webmasters who write seldomly and want quality content for free. Even though the fish are relatively small, I recommend registering with a few of the services to monitor the offers and wait for your white whale.
There are some really cool ways to find blogs for guest blogging via the first method — prospecting the web — which I will cover below.
1. Search for Lists of Top Blogs
The first step in prospecting is quite obvious: type a phrase like "Top [specific industry] Blogs List" i.e. "Top Personal Savings Blog List" into Google and review the results.
Visit all the blogs listed one by one on every page in search results.
Most likely you will find really great blogs this way, but only few of them might accept guest articles from contributors.
2. Advanced Search with Search Strings
Google has many search strings to help you find specific material on the web, which you can combine into search strings.
If you are new to this, you can learn more here or here. If you search ["keyword" and "write for us"] your results will look like the one in the image below:
This search command will show you pages that contain the exact phrases, in this case pages using both "blogging" and "write for us".
This process is both simple and complex; there are only a handful of modifiers, but they can be combined in many different ways. The only limit is your creativity.
---
Still building out your content calendar for 2019? Download our free template!
---
There are an almost endless amount of combinations that will help you to find blogs that are interested in accepting guest posts.
A few example search strings:
"guest author" "keyword"
"guest post" "keyword"
"keyword" inurl:contributors
"keyword" inurl:authors
intitle:"guest post" "keyword"
inurl:"keyword" "contributor"
3. Follow People or Companies who Actively Guest Blog
One of the best ways to find great guest blogging opportunities is to find others who consistently contribute quality guest posts to industry-related websites.
Most people and companies share their posts via social media profiles. One time I ran across a Twitter profile that was primarily sharing their guest posts, so I managed to considerably extend my own list in a short period of time.
Try this search string to find sites where a specific person or company published a guest post: "person name" OR "company name" "guest post".
There are many ways to find relevant blogs, but these three approaches should keep you busy for a long time.
I'd love to hear your own prospecting ideas in the comments.
The Inconvenient Truth: Some Bloggers HATE Being Asked About Guest Blogging
Sites that do not solicit guest posts may not be open to outside contributions, at all.
It depends upon the industry, but you should be ready for a low reply rate. Good blogs receive constant emails pitching guest posts, so they may not even reply. This is especially true if you email a blogger who doesn't accept guest posts.
Why do some blogs not accept outside content? The answer is simple – the tactic has been spammed in the past by SEOs who are not interested in readers. They send cheap and poorly written articles, only caring about the link.
All good blogs have real readers and care deeply about the content they publish, so they review each copy sent to them, which is VERY time-consuming. After so much spam they've given up and prefer not to accept guest articles at all.
Armed with the knowledge that bloggers are really busy people, don't expect them to do extra work – reading lengthy emails. Make sure your email is as short and concise as possible, while personalized and offering explicit value to the person you're emailing.
Here you can see the pitch I sent to secure the guest post you're reading right now: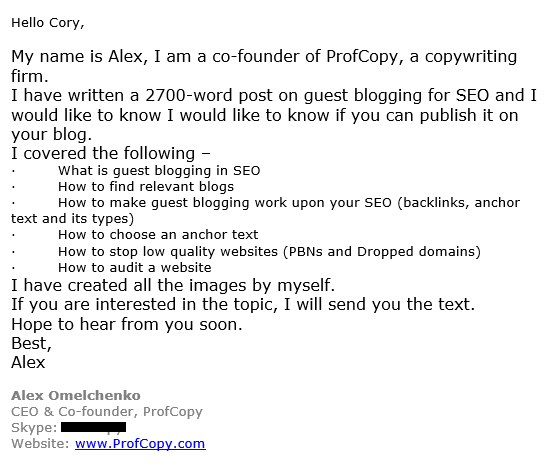 As you can see I pitched a topic I knew the editor, Cory, would care about. I also explained a short synopsis of why it was valuable — the length, the topic, the information covered, the unique assets.
Most bloggers are sick and tired of generic topics that are covered on every website and are looking for something unique and interesting.
So if you're going to pitch a guest post, make sure it's worth their while.
How Guest Blogging Improves SEO
Backlinks
The primary impact guest blogging will have on your site's SEO is through your site's link profile. As you contribute to new sites, you should secure new links on new websites (where you contribute your post).
Backlinks are one of the most important ranking factors in search engine optimization, and will be for the foreseeable future.
There are a few aspects to how Google gauges a link. This includes the domain and page the link is on, the placement of the link on the page, and the anchor text (the clickable part of the text).
In this section I will explain how to use the links you earn from guest blogging to improve your SEO strategy.
A quick word on nofollow links: you should aim (in most of the cases) for a normal link from blogs, but don't sweat a few nofollow links in the process.
Link Placement
Ideally your link will be placed within the body of the article, relevant to the surrounding context and supporting the article.
Guest posts also commonly have a biographical paragraph that speak about your background and/or your company. Typically the author includes a link explaining their background within the bio.
That is pretty fine, but you should be willing to ask the blogger for a link in the article's body, particularly if it serves value to the post, the reader, and makes sense in context.
Why is a link in the body important?
It creates a more natural link - for the reader, for your website, and should support your post. It's not only better for SEO, but it's more likely to actually be clicked by readers.
Anchor Text in SEO
The anchor text in a link are the words hyperlinked.
Here is the html for the creation of a link:
<a href="http://www.pageonepower.com/videos/seo-quick-tips-anchor-text-with-page-one-power">This is an example of anchor text.</a>.
In this instance, the anchor text would be "This is an example of anchor text."
There are a few different types of anchor text:
Branded: your brand's name, i.e. Page One Power, P1P, pageonepower.com.
Keyword rich: the specific keyword you want to rank for i.e. "link building agency", "link building company", "link building service".
Partial match: a piece of the specific keyword you want to rank for, i.e. "Page One Power is a link building firm", "this company who specializes in links", etc.
URL: the full or partial URL of the page, i.e. http://www.pageonepower.com/videos/seo-quick-tips-anchor-text-with-page-one-power.
White noise: this, here, that, link, click here, etc.
Anchor text clues search engines and users alike into what the page is about, and can have a large impact on rankings. For instance, if you want a certain page to rank for 'social media marketing' on Google, then you might want to have lots of links with that particular anchor phrase pointing to that certain page (see the image below).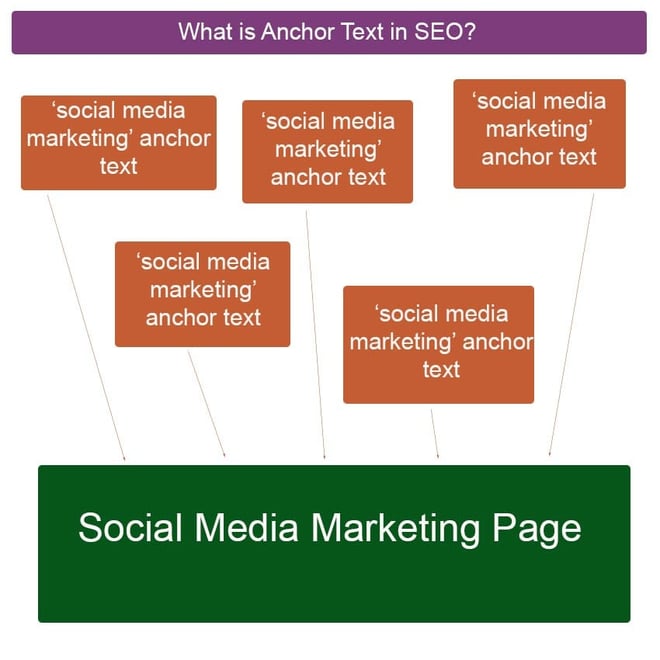 However, it's not as simple as including your keyword in every link — otherwise Google will view your link acquisition efforts as manipulative.
It is simply not possible that all people used the same anchor phrase to link to your page. In order to build links with a natural profile of anchor text you must have links that are not only SEO-focused.
The easiest method is just to build links that add value, and make sense in context. Building these links means you won't be able to use the exact same anchor text over and over again.
Important Question: How Many Keyword-Rich Anchors Are Safe to Add?
Disclaimer: First of all, SEOs don't know the specific equation of Google's algorithms, they only know their principles. No SEO or SEO company is able to provide the exact recipe for a mix of anchor phrases for high rankings.
However, in order to stay on the safe side, I prefer to keep keyword-rich links no more than 20% of all links. Ahref did a good study on how anchor text influences rankings. You should read their study if you're concerned about the ratio of keyword-rich anchor text.
Tip: in order to maximize the effect of anchor text as you build links you should analyze your current link profile for your entire site, and the anchor text usage.
This will help continue to build a natural, diverse profile with other link building activities (e.g.: links from forums or Q&A websites).
The Inconvenient Truth – You Will Be Asked to Pay for Publishing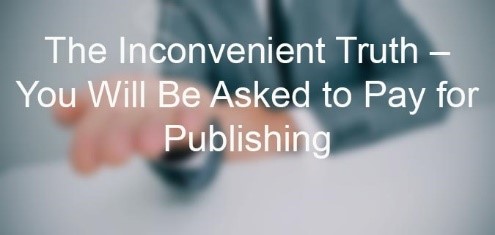 Be prepared for bloggers to ask you for money in exchange for publishing your content. It may be called a 'sponsored post', 'native advertising', 'editorial fee' or any other creative phrase. The main point remains the same – you are asked to pay for the link, which is against Google's policies.
I would not recommend this activity, as in the long run the risk isn't worth the reward. It's directly against Google's guidelines to pay for links, and if you're caught doing it you will face a manual penalty.
The most important thing about link acquisition is building a link profile that looks natural. This means there should be different types of links.
Beware: Dropped Domains and Private Blog Networks
While searching for blogs you will most likely run across blogs built on dropped domains and PBNs (Private Blog Network).
Dropped domains in a nutshell, are expired domains with a link profile, which SEOs purchase, add low-quality content, and then sell links. This is a money-grab by an SEO whose main concern is selling more links.
There is nothing wrong in buying an old, expired domain for your needs, but it requires hard work to make it an authority website. Also you need to make sure the old links really affect the site's rankings.
PBNs (Private Blog Networks) in a nutshell are websites (sometimes thousands of websites) that were built privately (meaning, Google shouldn't know there is a single owner). The goal of a PBN is to serve as a source of backlinks for a main website. SEOs building such networks are breaking Google's Guidelines, and Google has a history of finding and punishing PBNs.
An example of a dropped domain: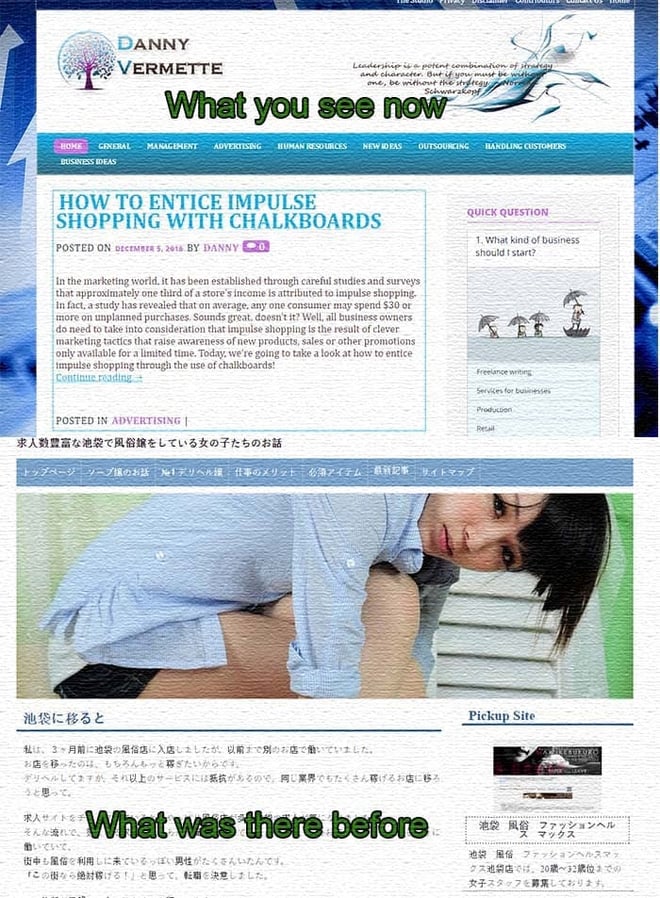 The above example is two screen shots of the same website using the website Wayback Machine, which archives websites so you can see what a particular website looked like in the past.
As you can see a new website owner changed everything, with an exception of backlinks pointing to the domain. This is why it may seem like a trustful source to publish your guest article.
Not all websites are what they appear to be, so it's a good rule of thumb to review a website's backlink profile and past editions in the wayback machine.
How to Spot Low Quality Websites?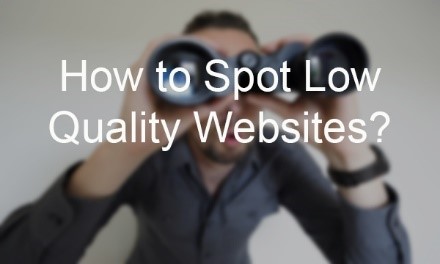 You can spend a significant amount of time on a website audit to estimate its quality.
If this is you, it's entirely possible you're looking at the wrong websites. If you have to critically examine every aspect of a website, it's probably not the quality option you're looking for.
Here are some tips on what you should consider while auditing a website or link provider.
1. List of Websites
Most PBN and Dropped domain owners have a huge list of websites under similar IPs, where they ask for payment and accept almost whatever quality content passes the CopyScape plagiarism test.
If a webmaster replies with a large list of other domains they control for you to post on, they're not the type of sites you want to be on.
2. Domain Name and Domain History
Whenever you're analyzing a new website, you should review the domain's history.
First, look at the domain name. Good websites usually have good and understandable domain names.
Secondly, check the site's historical backlink profile with a backlink checker such as Majestic.
Last, review the website itself with the Wayback Machine like in the example above.
3. Traffic
Valuable websites should have decent traffic. You want links from websites that cater to an actual audience.
Of course the best way to see how a website is doing in search is to request access to Search Console and Google Analytics, but that's not often possible, so you can use SEMRush or Ahrefs.
SEMRush allows you to compare traffic change after the release of an important update of Google's algorithms.
Good websites should be visible in SERPs (Search Engine Results Pages). That doesn't necessary mean on the first page, but you should clearly see the website in the SERPs for their important SEO keywords and within the top 50.
If the data shown by tools is not enough for you, you may want to manually check rankings of certain posts published.
3. Links
If you didn't check the backlink profile of the website during the domain history check, you'll want to do so before you pitch a site.
A good website should have a good link profile.
Don't be fooled by dropped domains or a PBN, either. Again, Ahrefs is pretty good at counting live and disappeared links. Moz's DA (Domain Authority) is also a pretty good litmus test for the authority of a given site.
One way to spot a great website is to check if Google shows sitelinks for the domain search query.
With time you will be able to spot suspicious websites easily and not confuse them with young but quality websites (e.g. personal blogs) without a strong link profile.
Finally…
There is one more thing that you shouldn't forget – your guest post can rank in search and give you or your brand some extra awareness and maybe even clicks, depending on the traffic amount.
In order to achieve that you may want to write an SEO optimized article. I have written a 1500-word guest post on SEO-friendly blogging that you might find helpful as well. It tells not only how to rank, but also how to understand your audience for better engagement and conversions.