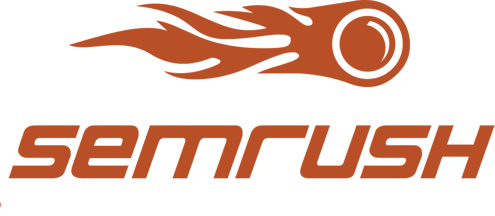 Hello and welcome to reviews from Page One Power. As an ever-growing link building agency we wanted to share our thoughts, opinions, and insights into the various tools we use everyday to do our jobs and get results.
Today we'll be reviewing SEMrush.
We not only use SEMrush everyday, but publicly recommend them as well. Their toolset is vital to our ability as a large company to stay agile, cohesive, and collaborative.
We believe in the power of humans, teamwork, and process-oriented innovation. SEMrush is ingrained in the processes we use company-wide, allowing us to work effectively and efficiently.
We've created 8 different categories which our staff will rate in these reviews. The categories are:
Reliability
User experience
Difficulty level
Power
Price and value
Reporting
Customer support
Innovation.
Let's get into our review of SEMrush.
SEMrush Overview
Page One Power has had the pleasure of using SEMrush for the past 3 years. Across our production floor of SEO consultants, the tool is in constant use.
It's important to note that SEMrush has grown considerably over the last three years, and continues to innovate new features, tools, and functions.
Currently, SEMrush offers 8 different features:
Have we mentioned yet that SEMrush is truly comprehensive?
Just check out this screenshot of the dashboard: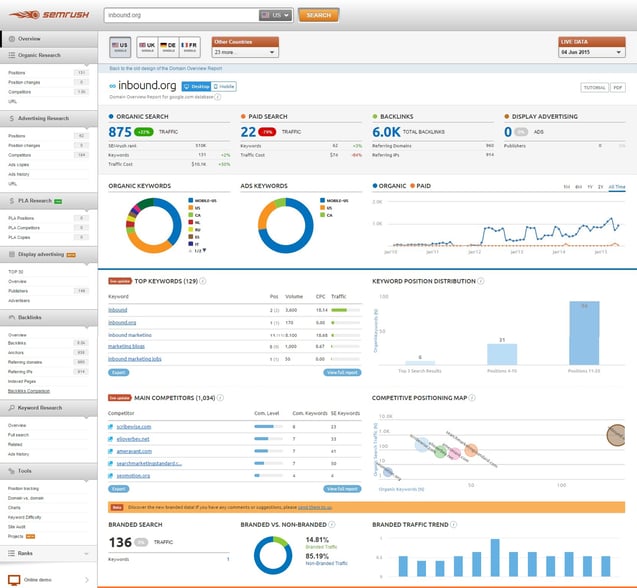 As with any third party tool, bear in mind that SEMrush won't have all the data available to Google when reporting on metrics such as rankings, traffic, keywords, PPC, etc.
However, SEMrush's data is usually accurate within the scope of what it reports.
At Page One Power, we rely constantly on SEMrush for competitive landscape analysis. The main areas in which we use the tool are:
Keyword research

Link prospecting/quality assurance

Position tracking

Backlink overview.
We heartily recommend the tool to anyone serious in search engine optimization.
Overall Grade:
8.6/10
SEMrush lives at the top of our must-have tools list. It is the longest held subscription we've had to any single tool.
We're not planning on changing that anytime soon.
So why not 10/10? Because nothing is perfect, and this is a real analysis of SEMrush's features, product, and functions.
Bear in mind that a 7/10 means a functional, average SEO tool. 10/10 means it's perfect in everyway - which is hardly possible.
Categories SEMrush is first in class:
Reliability
User Experience
Power
Customer Support
Categories SEMrush is strong:
Price and Value
Innovation
Categories SEMrush does well, but has the opportunity for improvement:
Difficulty - Learning Curve
Reporting
Let's dig in deeper, diving into each specific category.
Reliability: 9.1/10
Reliability is one of the most important creteria in any tool used daily. Because our jobs often rely upon our ability to perform certain tasks at certain times, it's imperative that any tool we consistently use be completely reliable.

We're happy to note that SEMrush is definitively reliable. Why not 10/10 then? Here are direct quotes from the people who use the tool, day-over-day:
"I've had results not load fully a few times. They have always loaded when I tried again, however."

"Keywords are generally accurate, but traffic estimates are not always."

"SEMrush works great and I use it all the time. Its only issue is that it only populates for sites that rank in the top 20 for their desired keywords."
Considering the amount of data SEMrush needs to process in order to work across the hundreds of industries, niches, and sites we're involved with, we're very happy with the reliability of SEMrush.
The data won't always be perfect, but the tool is always reliable.
User Experience: 9.2/10
Usability is a key ingredient in any must-have tool.
Sure, we could adapt to oddities and hiccups in the user experience if the tool were important enough - but why would we want to?
Good tools complete the tasks they're designed for. Great tools provide an amazing user experience while accomplishing their tasks.
How does SEMrush fare? Well, well indeed. Our SEO experts had glowing things to say about the user experience for SEMrush, citing an intuitive layout, easy-to-follow design, and solid packaging.
Critical feedback from our staff:
"I'd love to be able to look at in depth historical keyword data, but it looks and works very well."

"It looks good and all of the sections are clearly labeled and easy to navigate."

"For a new or inexperienced user, it is very overwhelming and looks like tons of data."
SEMrush provides a vast amount of features. Some of our staff felt that in the beginning these various features--complete with graphs, data, and information--could overwhelm new users. Veteran users found these various features to be critical however, and appreciate the depth of data.
Difficulty Level: 7.9/10
Not all tools are meant to be beginner-friendly. Nevertheless, constant growth means we're forever training new individuals to use the tools we employ everyday.
The difference between an easy-to-learn tool, and an impossible-to-master tool can be the difference between a smooth training period and a frustrating onboarding process.
Our staff was split on SEMrush's difficulty level: some said it was one of the easiest SEO tools to learn, while others felt to truly use everything SEMrush had to offer meant months of learning the tool.
"As long as someone is trained to use SEMrush, it's fairly easy. However, those with no training might find it much harder to understand."

"SEMrush is one of the easier web tools to use. I've trained several people to use it in less than an hour."

"It's fairly straightforward, but without outside help it becomes a little more difficult to understand its uses, and what each section is actually telling you."

"It's not hard to use, but there's a ton of data being thrown at you and it can feel overwhelming. Don't need deep SEO experience, just some time using it."

"I think that a newbie can use the tools on a very superficial level very quickly, but if you want to get full use out of the tool it takes more knowledge and SEO experience."
Power: 9.2/10
How much computing power resides in the tool? How fast does it run? How deep is the data? These were the questions we asked ourselves in this category.
Analyzing websites, scruitinizing backlink profiles, and sending intelligent, articulate emails hundreds of times a day is draining work. The mental acuity is constant, and we need the same from the tools we use.
A lag in either processing or switching between functions means we lose our own focus. We stop leaning in and sit back, waiting for the lag to end.
Power is absolutely critical in any tool we employ across our floor and processes. Any delay in functionality results in loss of focus.
SEMrush is up to the challenge, matching our own SEOs' pace.
Some critical feedback from our staffers:
"The tool runs quickly and has a lot of data overall. It is a matter of sorting through and finding what you are looking for."

"Considering it's a browser tool it's plenty fast, and the Chrome extension adds a lot of usability/speed."

"It stores all the data I need it to, with plenty of room to spare."
Price and Value: 8.6/10
We work hard day-over-day to help our clients build the visibility they deserve and earn more money. Therefore, we're acutely aware of how we invest our own money.
We're willing to invest into the best tools, but the price still needs to be competitive.
SEMrush is not only priced at a reasonable point, they provide a tremendous amount of value.
Our staff reports:
"Compared to the price of other tools, this [SEMrush] is highly valuable."

"For an independent SEO it is a bit pricey, but the tool is a must-have."
Reporting: 7.9/10
How does the tool report the information? Can you download the data? How is it formatted? Can you create custom reports that you're able send straight to clients?
There are a million ways tools can report the vast information SEOs are interested in.
SEMrush does a fantastic job presenting the complex data available. Furthermore, all the data is downloadable as a CSV file, which translates well into Excel.
The only missing piece is customizable reports which you could send to clients, were you so inclined.
Here's what our staff had to say:
"I can export excel/csv and take screenshots, but ultimately I have to craft it into my own report."

"I mainly use the browser interface, but the more detailed CSVs it reports are much like the industry standards (Moz, ahrefs, Majestic)...meaning tons of data. Best use of the exports, IMO, is to just get the data in a very quick and editable field rather than just seeing it in the browser."

"Good information in the form of lists and graphs."

"It does allow you to generate reports and gives you a lot of information to compare against a competitor. Could be valuable when comparing several months to show value of work."
Customer Support: 9.1/10
If you use a service, tool, or product often enough, you'll eventually need customer support.
Since we use SEMrush every single day in our office, customer support matters to our experience as customers.
We're happy to report that SEMrush excels in this field. The staff at SEMrush are universally friendly, helpful, caring folk.
Here's what a few memebers of our staff had to say:
"Anytime I've had an issue it's been quickly resolved."

"We've had to reach out to SEMrush support staff a handful of times and I've always found their staff to be helpful, friendly, and polite."
Innovation: 8.6/10
SEO is an evolving field, and link building even more so. Innovation is part of our company's DNA. Any tool we partner with, and build into our systematic processes, needs to be innovative as well.
We've been using SEMrush for the past three years, and in that time period alone they've added numerous features, designs, and tools. SEMrush continues to improve and innovate.
Some notes from our staff:
"I've been using SEMrush for a year or two, and it does seem like it's grown and improved, although I can't definitively place my finger on what has improved. I think they've added and bulked out the keyword section.

Bottom line, though, it does seem they've been growing and improving the tool, and I'm always happy to find a new thing it can do."

"I like how SEMrush comes up with new features on a regular basis."
Takeaways
If you're not currently using SEMrush, you should reconsider. SEMrush is one of the premier SEO tools.

If you've never tried SEMrush, we emplore you to give it a try today.
Here is what we hope you takeaway from this review:
1. SEMrush is a top of the line SEO tool
Learning SEMrush is high on the priority list for new hires at Page One Power. We use the tool across our production floor day-in, day-out for client work.
2. SEMrush is competitive in every category.
There just isn't much SEMrush does wrong. The tool isn't perfect, but it does competitive and keyword analysis better than any tool currently available. It is consistent, powerful, easy-to-use, and worth every penny.
3. Learning to use SEMrush is easy, difficult to master.
The basics of SEMrush are wonderful, and easy to learn. Getting full use of everything SEMrush has to offer, however, is difficult. It requires a deeper understanding of SEO, SEMrush, and the data offered.
Don't expect to pick up SEMrush and use it optimally overnight. After three years we're still learning to use the tool in new ways.
4. Any reporting will need to be done manually.
SEMrush has terrific visual graphs and elements which help you better glean insight into the performance of various websites. Despite this, any reporting you wish to do using SEMrush's data will need to be created manually.