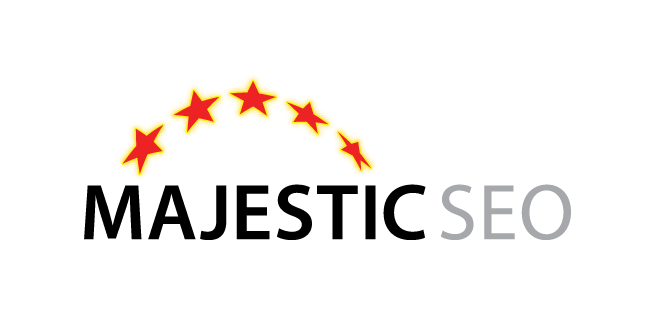 Hello and welcome to reviews from Page One Power. As an ever-growing link building agency, we wanted to share our thoughts, opinions, and insights into the various tools we use everyday to do our jobs and get results.
Today we'll be reviewing the backlink explorer Majestic.
Before we start a link building campaign, it's customary for us to conduct a thorough backlink analysis of not only the site we're building links for, but that site's competitors as well. It's important for us to have access to a tool that will accurately reflect the backlink profiles and can sort all of the data in an organized fashion.
Majestic is that backlink explorer, and we publicly endorse them.
We've created 8 different categories which our staff will rate in these reviews. The categories are:
Reliability
User experience
Difficulty level
Power
Price and value
Reporting
Customer support
Innovation.
Let's get into our review of Majestic.
Majestic Overview
Page One Power has had the pleasure of using Majestic for several years now. Our SEO consultants rely on it extensively.
Currently,Majestic has a bevy of tools in its kit, including:
My Reports

Site Explorer

Search Explorer

Compare

Link Map Tools

Webmaster Tools

Majestic Plugins

Workflows
For the purpose of this review, we'll focus primarily on the Site Explorer, their most prestigious feature. There are several backlink explorers available to any SEO, but Majestic has become the favorite withing our office. The data it provides is comprehensive and customizable. It's also incredibly well-organized.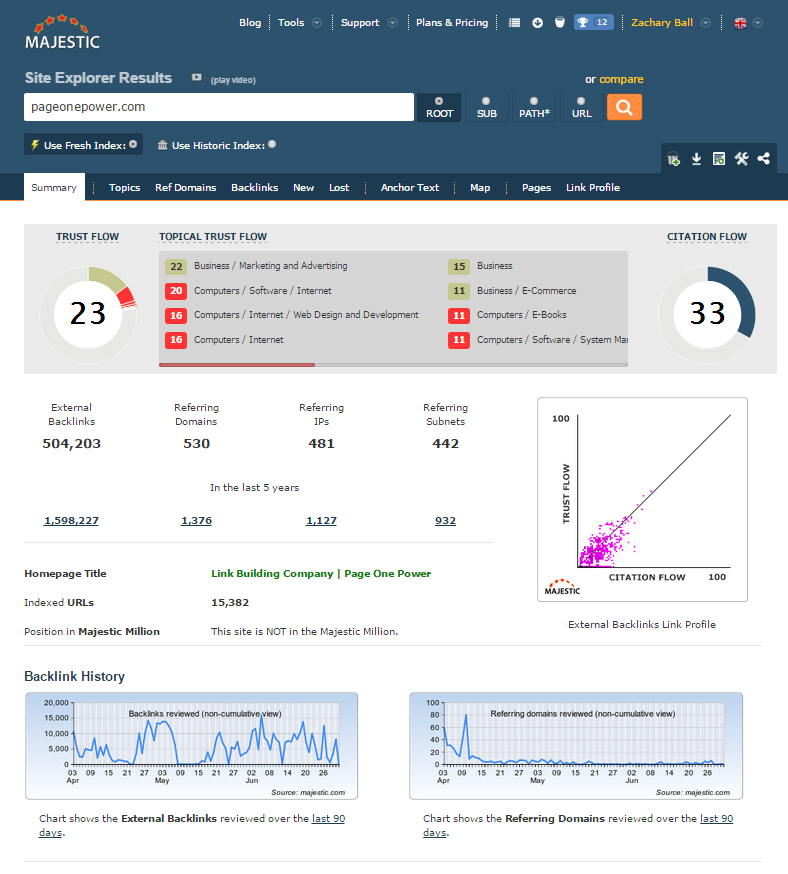 We heartily recommend the tool to anyone serious in search engine optimization.
Overall Grade:
8.9/10
Majestic is a tool that has made the lives of everyone at Page One Power far more convenient. It's deeply ingrained in our daily routines.
So why not 10/10? Because nothing is perfect, and this is a real analysis of Majestic's features, product, and functions.
Bear in mind that a 7/10 means a functional, average SEO tool. 10/10 means it's perfect in everyway - which is hardly possible.
Categories Majestic is first in class:
Power
Price and Value
Customer Support
Categories Majestic is strong:
Reliability
User Experience
Reporting
Categories Majestic does well, but has the opportunity for improvement:
Difficulty Level
Innovation
Let's dig in deeper, diving into each specific category.
Reliability: 8.8/10
Reliability is one of the most important criteria in any tool used daily. Because our jobs often rely upon our ability to perform certain tasks at certain times, it's imperative that any tool we consistently use be completely reliable.

We're happy to note that Majestic is definitively reliable. Here are direct quotes from the people who use the tool, day-over-day:
"I never really have issues with Majestic. My only complaint is the lack of ability to look at subdomains, which would make it substantially more useful for my particular project."

"I have used Majestic frequently since I started. It has never given me false data or skewed results. "

"It's very reliable. No one on my team has had a problem I know of."
User Experience: 8.9/10
Usability is a key ingredient in any must-have tool.
Sure, we could adapt to oddities and hiccups in the user experience if the tool were important enough - but why would we want to?
Good tools complete the tasks they're designed for. Great tools provide an amazing user experience while accomplishing their tasks.
How does Majestic fare? We're happy to report that it's outstanding. Our SEO experts consistently lauded Majestic in this section.
"Incredibly useful and friendly to use."

"I've never encountered a problem that I couldn't figure out myself quickly. Majestic makes my job much easier."

"All of the features are somewhat intimidating to a beginner, but once you get used to how it works, you wonder how you could possibly work without it."
Difficulty Level: 8.3/10
Not all tools are meant to be beginner-friendly. Nevertheless, constant, steady growth here at Page One Power means we're forever training new individuals to use the tools we employ everyday.
The difference between an easy-to-learn tool, and an impossible-to-master tool can be the difference between a smooth training period and a frustrating onboarding process.
While Majestic still ranks above average in this category, this is where it receives its lowest score. Our employees explain:
"Pretty difficult to get a hang of. I have problems teaching the features of this to new-hires. Great tool otherwise."

"Understanding the reports can be a little confusing at first, but it is easy to learn."

"This is the kind of tool where it doesn't really matter how long you have been involved in SEO. Even those with a rudimentary knowledge can see beneficial information. With advanced knowledge of SEO there are still plenty of tools/reports/options to get exactly what you need."
Power: 9.0/10
How much computing power resides in the tool? How fast does it run? How deep is the data? These were the questions we asked ourselves in this category.
Analyzing websites, scruitinizing backlink profiles, and sending intelligent, articulate emails hundreds of times a day is draining work. The mental acuity is constant, and we need the same from the tools we use.
A lag in either processing or switching between functions means we lose our own focus. We stop leaning in and sit back, waiting for the lag to end.
Power is absolutely critical in any tool we employ across our floor and processes. Any delay in functionality results in loss of focus.
Much to our relief, Majestic scores unanimous praise here:
"Overall, it is very smooth and rarely has a delay. Obviously tools like this are going to be affected when you are pulling large amounts of data."

"Never had speed issues and the data it uses is substantial and great. "

"Sometimes exports to Excel will take a chunk of time, but that's really the worst I can say."
Price and Value: 9.7/10
We work hard day-over-day to help our clients build the visibility they deserve and earn more money. Therefore, we're acutely aware of how we invest our own money.
We're willing to invest into the best tools, but the price still needs to be competitive.
According to our SEO experts, Majestic is perfectly priced for what it provides, and almost registers a perfect score.
Our staff reports:
"If I could just have one tool for link building, it would be MajesticSEO. For the price, it's a slam dunk and everyone should consider it as part of their SEO toolkit."

"It's worth evyerthing we put into it."

"Considering the time it saves us and the level of productivity it helps us to achieve, Majestic is completely worth what we pay them."
Reporting: 8.7/10
How does the tool report the information? Can you download the data? How is it formatted? Can you create custom reports that you're able send straight to clients?
There are a million ways tools can report the vast information SEOs are interested in.
Majestic scores highly here. The reports are finely detailed, and the export functionalities are sublime.
Here's what our staff had to say:
"I highly prefer the reports it generates to other tools."

"I use this frequently to generate backlink reports. I moved from MOZ and SEMrush because Majestic is consistently more accurate and gives you more options when pulling a report, ie number of backlinks per domain and what not."
Customer Support: 9.5/10
If you use a service, tool, or product often enough, you'll eventually need customer support.
Since we use Majestic every single day in our office, customer support matters to our experience as customers.
We're happy to report that once again Majestic excels in this field, and almost registers a perfect score. According to our consultants, the customer support staff is caring, helpful, and willing to go the extra mile.
Here's what a few members of our staff had to say:
"I sent them an email regarding page I couldn't find, and they responded quickly. They were polite, and were able to solve the problem."

"I interracted with them one time, and they were able to help me. The fact that I don't know anyone else who has had to contact them about anything speaks volumes about the functionatily of their product."

"I've never heard of a bad interaction with their customer support staff."
Innovation: 8.4/10
SEO is an evolving field, and link building even more so. Innovation is part of our company's DNA. Any tool we partner with, and build into our systematic processes, needs to be innovative as well.
We've been using Majestic for a few years now, but in that time frame we've found them to be willing to adapt and improve.
Some notes from our staff:
"I haven't noticed new features being added since I've been using it, really. Give me subdomains and I would be happy with it forever."

"The addition of the citation flow metric was a good decision on their part."

"Even though the changes they've made haven't greatly impacted my day-to-day work, those changes are still a signal that they are willing and eager to adapt."
Takeaways
Despite heavy competition, Majestic has become a favorite backlink explorer in our office.

If you've never used Majestic, they provide limited access to their basic functionalities for free. If you're interested in more than the basic functionalities, take a look at their plans and pricing page here.

Here is what we hope you takeaway from this review:
1. Majestic is a premium backlink explorer.
Despite heavy competition, Majestic is the explorer that gets used at the highest frequency. The accuracy and the reporting system are hard to beat.
2. Majestic is competitive in every category.
There's no glaring, crippling flaw to Majestic's Site Explorer that diminishes its overall worth.
3. It can be hard to learn.
The biggest gripe we heard from our team of SEO experts was the acclimation period. Because a Majestic backlink report is so comprehensive, it can be somewhat intimidating to a beginner.
4. It's worth the price.
There are several packages that an SEO or team of SEOs can purchase, but no matter the package, it's hard to believe that any serious SEO will regrets it.