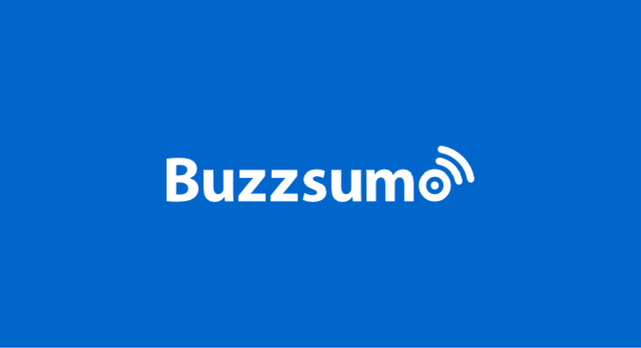 Hello and welcome to reviews from Page One Power. As an ever-growing link building agency, we wanted to share our thoughts, opinions, and insights into the various tools we use everyday to do our jobs and get results.
Today we'll be reviewing BuzzSumo.
Link building doesn't depend wholly on content, but there's no question that content makes the process of link building less arduous. In order to produce popular content, we have to glean ideas from industry trends. BuzzSumo helps us pinpoint those trends, and we endorse them publicly.
At Page One Power, we firmly believe in the power of collaboration and innovation, and BuzzSumo helps us stay ahead of the curve.
We've created 8 different categories which our staff will rate in these reviews. The categories are:
Reliability
User experience
Difficulty level
Power
Price and value
Reporting
Customer support
Innovation.
Let's get into our review of BuzzSumo.
BuzzSumo Overview
Page One Power has had the pleasure of using BuzzSumo for the past year. Our SEO consultants rely on it extensively.
Currently, BuzzSumo offers five different features in their pro package:
Trending

Top Content

Influencers

Content Alerts

Reports

BuzzSumo is the premier content ideation, analysis, and research tool. Its comprehensive nature will help any marketing team discover and/or produce quality content.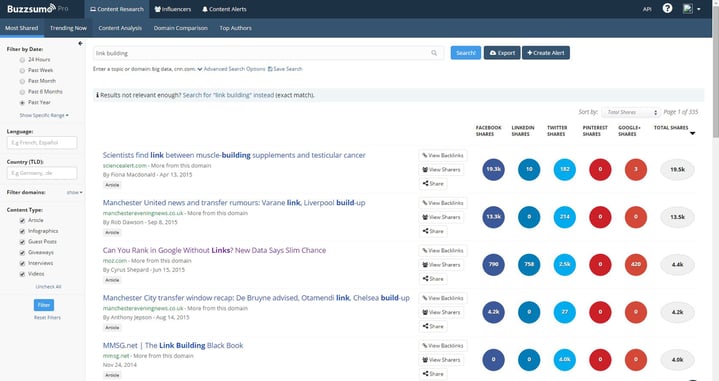 We absolutely recommend the tool to anyone serious in search engine optimization, or any form of marketing that relies upon content.
Overall Grade:
9.0/10
Without a doubt, BuzzSumo is a tool that has made the lives of everyone at Page One Power far more convenient. It's deeply ingrained in our daily routines.
So why not 10/10? Because nothing is perfect, and this is a real analysis of BuzzSumo's features, product, and functions.
Bear in mind that a 7/10 means a functional, average SEO tool. 10/10 means it's perfect in everyway - which isn't really possible.
Categories BuzzSumo is first in class:
User Experience
Difficulty
Price and Value
Customer Support
Innovation
Categories BuzzSumo is strong:
Reliability
Reporting
Categories BuzzSumo does well, but has the opportunity for improvement:
Power
Let's dig in deeper, diving into each specific category.
Reliability: 9.3/10
Reliability is one of the most important criteria in any tool used every day. Because our jobs often rely upon our ability to perform specific tasks at specific times, any tool we use must be completely reliable, consistently.

BuzzSumo is definitively reliable, day-over-day. Why not 10/10 then? Here are direct quotes from the people who use the tool:
"I haven't experienced any glitches, and I don't know of anyone else who has either."

"I have yet to encounter a problem with BuzzSumo. It's reliable."

"The results are slow to load from time-to-time, but it's nothing too terrible."
User Experience: 9.3/10
Usability is imperative in scaled use of any tool.
It's possible to adapt to oddities and hiccups in the usability of a tool, but that hardly fills our hearts with joy.
Good tools complete the tasks they're designed for. Great tools provide an amazing user experience while accomplishing those tasks.
We're happy to report that BuzzSumo is nothing short of outstanding. Our SEO experts had great things to say about the user experience of BuzzSumo.
Feedback from our staff:
"BuzzSumo provides me with the information that I'm looking for in a quick, easy to comprehend way."

"Content ideation was always a chore before I started using BuzzSumo. It's made my job much easier."

"BuzzSumo isn't just helpful; it's easy to use too."
Difficulty Level: 9.1/10
Some tools are meant to be for advanced users only. Despite this, our constant and steady growth here at Page One Power means we're forever training new individuals to our everyday tools.
The difference between an easy-to-learn tool, and an impossible-to-master tool can be the difference between a smooth training period and a frustrating onboarding process.
Thankfully, our staff agrees that BuzzSumo is a relatively easy tool to learn and get accustomed to. Here is some of the feedback:
"It's a little more complicated than other tools I use for my job, but not a great deal more."

"Pretty easy, but the advanced options can be cumbersome to a newcomer."

"Accessible from an SEO standpoint, but getting value often does require more tool-specific knowledge, if not SEO expertise"
Power: 9.3/10
How much computing power resides in the tool? How fast does it run? How deep is the data? These are the questions we asked ourselves in this category.
SEO and link building is work that requires constant critical thinking. Analyzing websites, scruitinizing backlink profiles, and sending intelligent, articulate emails hundreds of times a day is draining. We need the same critical intelligence from our tools.
A lag in processing or the need for constant switching between functions means we can lose our focus. We stop leaning in and sit back, waiting for the lag to end.
Power is critical in the tools we employ across our floor and processes.
Thankfully, BuzzSumo registers well here:
"Whenever I search for anything, the results are quick to return. I've never had a problem with BuzzSumo's functionality."

"I can't remember a single moment when I had a problem with BuzzSumo malfunctioning."

"I've had slow returns on searches here and there, but that's to be expected with any widely used tool."
Price and Value: 8.0/10
Our number one goal is to help clients build the visibility and earn more money, and we work hard for them. This constant focus on our client's bottom line means we're conscientious of how we spend our own money.
We're willing to invest into the best tools, but the price still needs to be competitive.
According to our SEO experts, BuzzSumo is reasonably priced for the value it provides.
Our staff reports:
"It's expensive, but that makes sense for something this valuable."

"All of the pricing plans look reasonable to me given the nature of the tool."

"If a large portion of your job consists of content creation, then paying the price for BuzzSumo is completely worthwhile."
Reporting: 8.0/10
How does the tool report the information? Can you download the data? How is it formatted? Can you create custom reports to send straight to clients?
There are a million ways tools can report the vast information SEOs are interested in.
BuzzSumo gets a good grade here, but there is some criticism here.
Here's what our staff had to say:
"When there are a whole bunch of results, the exports will take longer, but not much longer. "

"There aren't a lot of reports to generate that are helpful for showing clients. For our own use, however, the reports are fine."

"I greatly appreciate all of the date I'm able to procure using BuzzSumo."
Customer Support: 8.7/10
Us a tool or product often enough, and you will need customer support somewhere along the line.
Since we use BuzzSumo every single day in our office, customer support is important for us.
ALthough there hasn't been much need for such support, we're happy to say BuzzSumo has efficiently handled any problems we've encountered.
Here's what a few members of our staff said:
"BuzzSumo's customer support has been nothing but helpful."

"The one time I had to contact BuzzSumo, they were quick to respond and effectively solved my problem."

"The person I talked to was nice and helpful."
Innovation: 9.6/10
SEO is a fast paced industry that spans the entire web. We deal with every industry, site type, and product imaginable. Innovation is part of our company's DNA. Any tool we partner with, and build into our systematic processes, needs to be innovative as well.
BuzzSumo has only existed for less than a year, but in that time frame we've found them to be willing to adapt and improve, from an already strong core product.
Some notes from our staff:
"The fact that they added a feature for backlinks indicates to me that they're interested in consistently improving."

"Even though BuzzSumo is relatively new, I've already seen considerable growth."

"BuzzSumo seems like they're incredibly responsive to feedback."
Takeaways
When it comes to content ideation and preparation, BuzzSumo is as good a tool as you will find in the industry.

If you've never tried BuzzSumo, you can sign up for a free account today.
Here is what we hope you takeaway from this review:
1. BuzzSumo is a premier web content tool.
We weren't aware that we needed a tool like BuzzSumo before it was created. Now that it exists, it's perplexing to us how we ever managed to do business without it.
2. BuzzSumo is competitive across the board.
It's not a perfect tool, but it's about as close as we've seen. Even where it scores weakest, BuzzSumo still ranks highly with other industry tools.
3. The amount of negative feedback is mimimal.
The survey we sent out elicited less negative feedback than any other tools we surveyed.
4. It's an ideal tool for content ideation.
BuzzSumo has been a game changer for our content-based link building. Being able to track trends and shares has helped us tremendously in creating content that different audiences appreciate.