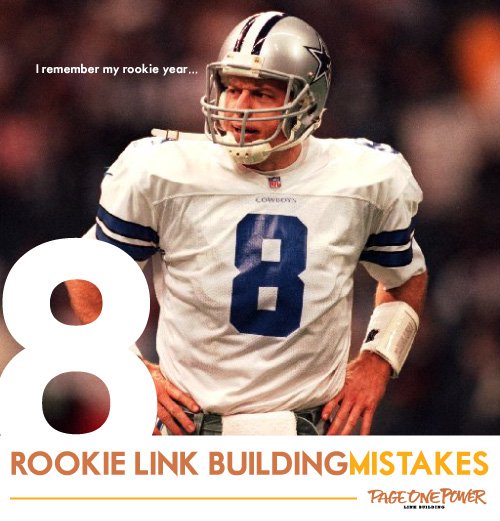 Troy Aikman is one of the greatest quarterbacks to ever play in the NFL. His stat sheet is impeccable, not to mention that he has a spot in the hall of fame and three Super Bowl rings on his right hand.
But it wasn't all downtown Dallas parades and tributes for the California born QB. His rookie season was one of the worst on record. He threw twice as many interceptions to touchdowns, started off with eleven consecutive losses and put up a paltry 1,749 yards during the course of the season. The robot arms that Japanese engineers built a few years back could throw for more than that; they don't even have eyes.
The point of all this is that being a rookie is tough. There's a learning curve to everything. Sure, a lot of these NFL players have years of football experience from Pop Warner all the way to the SEC championship game, but there's a reason they have to take all of those steps before finally becoming a professional football player.
Being a rookie link builder is even tougher. Alabama may have the best football program in the country; how's their SEO department? It doesn't rank… nor does any other university. To the best of my knowledge, no university conducts courses on best SEO practices. As a result, Page One Power has built a lot of experience in training incoming employees how to build links. We've seen some rookie mistakes. Fortunately, we know the remedies.
1. Not Following Up on Outreach
Sending a second, third and fourth e-mail, if necessary, is vital in outreach. Here's why: did you know that there are people with social lives? Yeah, it was a bit of a shocker to me too. Even blog owners will occasionally escape from their computers in order to hang out with friends, participate in community functions etc. Movie bloggers are the exception here. They don't leave their keyboards for anything less than a Benedict Cumberbatch autograph signing.
Consequently, the majority of bloggers won't catch everything in their inbox. There's too much in the inbox to tediously sift through all of the garbage link requests. This requires following up on unanswered outreach on the part of the link builder reaching out. Some rookie link builders confuse this for "pestering or bothering the blog owner." It's really not.
2. Adhering Strictly to E-Mail
Contacting a blog owner via e-mail is a habit. It's not necessarily a bad habit, but it's something that people born before 1990 are conditioned to do. Our production floor consists of a bevy of twentysomethings, many of whom lived in a pre-Twitter and Facebook world (hard as that is to imagine). A lot of blog owners do still use e-mail as their primary source of contact, but just as many, indeed probably more, are past that.
A lot of blog owners are much easier to reach on various social media platforms. It's a huge mistake not to expand your outreach horizons beyond the increasingly decrepit electronic mail, but it's all too common a mistake for an inexperienced link builder. Using social media also provides the advantage of appearing to be a real human; someone looking to build links for genuine reasons, not a spammer.
3. Generic Outreach
As far as I'm concerned, outreach is the crux of link building. We all know that the inboxes for web masters who manage authority sites, even lower quality sites frankly, are overburdened with link requests. That's the game right now. We also all know that a lot of these link requests are borne from spambots, complete with broken English and stripped of anything that could possibly be confused for personality.
Sometimes a link builder will come in step in not comprehending this, and will think that the link is good enough leverage. It's not. If you don't pique their interest or elicit an emotional response in your pitch, forget getting that link. You're far more likely to get grade B content published with grade A outreach as opposed to the vice versa.
4. Targeting Everything Under the Sun Sites
The Huffington Post has an Alexa rank in the United States of 20. The site has a category for just about everything you can imagine, from "politics" to "GPS for the soul." I'm convinced that with a little advanced digging, there's a designated category for "twerking" nestled in the deepest pockets of the site. A link on the Huffington Post should provoke any client to imitate Julie Andrews in the opening scene of "The Sound of Music."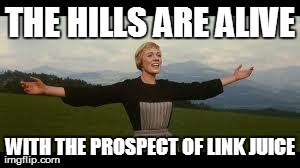 Having said that, not every site with a smorgasbord of categories should provoke a similar response. In fact, HuffPo is the exception here, rather than the rule. The internet is filled to the brim with directories that will accept a link for just about anything. An experienced link builder should know to avoid these sites, knowing that these have the potential to adversely affect a client in the future. A newer link builder that hasn't been instructed otherwise won't comprehend this, and will believe that link on the "proper" landing page of this site will still provide valuable.
5. Don't Just Get the Link
If you ask a link builder what he or she should be building, the answer seems obvious, right? Yet in order to build links, a link builder should be using his or her architectural hat to build relationships as well. Indeed, the more relationships effectively built, the easier the links will come. Unfortunately, a rookie builder will start with the mentality that the link is all that matters. The builder will get caught up in a frenzy of a numbers game that leads to impersonal outreach and insufficient target site preparation.
The best way to build a link is to get to know the blog owners and webmasters in the community. Throw in a comment on a popular article, even though you're not necessarily targeting that site just yet. Send a thank you e-mail after your article gets published, and poke the blog owner for a couple of leads. Not only does this make for productive link building, but frankly, it's also just more human this way.
6. Bad Link Prospecting
So you found a site. The layout of the homepage is exquisite. All of the H1 and meta tags have been applied perfectly. And yes, it's relevant to the client in question. You've spent a lot of time in crafting an e-mail pitch that is tailored to the blog owner's sensibilities. You followed the site on twitter and left a comment on a previously published article before sending the pitch. It's going to be a gimme link. Days go by. No response. How is that possible?
Take a closer look. That article you commented on is the most recent article that site has published… and it was in April 2011. Sometimes a rookie link builder will be so excited by a potential target site that they don't perform the sniff test to the fullest. Instead of a Cyrano de Bergerac nose, the link builder used an Audrey Hepburn nose.
7. Forgetting to Even Insert the Link
At Page One Power, we put a strong emphasis on providing outstanding content. We've hired a slew of writers that display exemplary literary skills on a regular basis. But sometimes, these writers will get a wee bit ahead of themselves. Yes, we want to supply quality content, but the main priority for our clients is to provide a quality link within that quality content. A rookie writer will sometimes get on such a roll with what he or she is writing that the insertion of the link takes a backseat.
8. Oversaturation of Anchor Text
A rookie link builder gets handed a client. That client wants to rank for a collection of low competition keywords. Should be easy to get that client to rank for the keywords, right? All you have to do is stuff one of those keywords in the author bio. Repeat. In the old link building frontier, this was a successful tactic.
Yet with every passing update, Penguin has made that tactic obsolete and dangerous, and for good reason. A seasoned link builder knows the importance of anchor text diversity, and to optimize the anchor text to heighten the chances for a solid click-through rate. A rookie will all too often not be as comfortable doing this though, and will use exact match anchor text to the high heavens.
Three seasons after his disastrous rookie year, Troy Aikman posted career high numbers in touchdowns and passing yards. He shattered Joe Montana's record of consecutive passes without an interception. And oh yeah, he won his first Super Bowl, and the Super Bowl MVP prize with it.
Everyone is going to make mistakes when they start out as a link builder. I know I did. During my second week, I probably sent a good 30-40 guest post pitches in a row from the wrong e-mail. The key is to learn from these mistakes. The quality links will come before you know it.